SONGS LAUGHTER & SURPRISES
A Marvelous, Magical Evening captures the colorful craziness
and cleverness of the circus
Impresario John De Marco has raised the bar for this season of Circus themed entertainment in the continually escalating level of performance in the Art Projects productions.
.
"We've got magic to do as we go a long our way…." Delivering the magic as the show promises is music director Christopher Vassiliades, choreographer David Auxier, the latest in extraordinary Grove talent, and set designer Eddie Knasiak.
But the Circus can be bittersweet as the evening was divided into the magic and wonder and vaudeville of a circus but then John segued into his roots, cabaret, which offers a darker side of life. I am told that John generously let the ambitious performers choose their own songs for this segment and each demanded rehearsal time to come as close to perfection as possible and it showed!
The ever accommodating Hoffas set the tone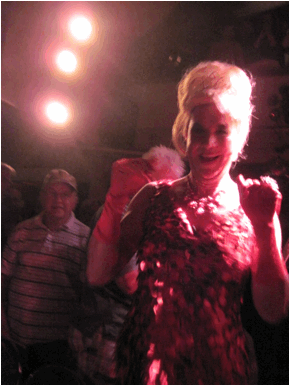 .
By Far the Happiest of Homecoming Queens, HRM DeBree giggled her way through her requisite royal presence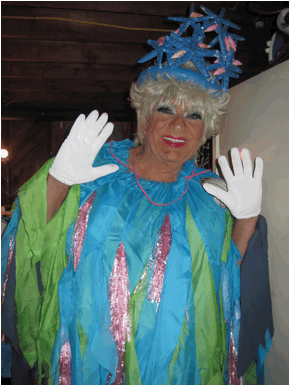 Bondi at his most beautiful and fanciful…….beckoning
ACT I THE CIRCUS
With true directorial instinct John chose to open the show subtly with an irresistible invitation from Colm Reilly enticing with "Come with me and we'll be in a world of pure imagination…"
THE BIG OPENER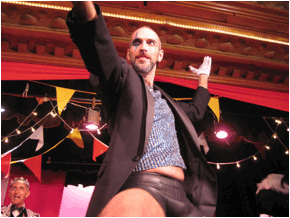 Using his huge persona (and height) David invites in the cast
and the audience into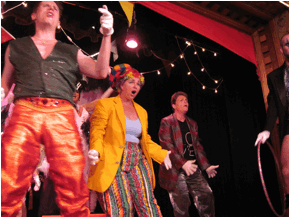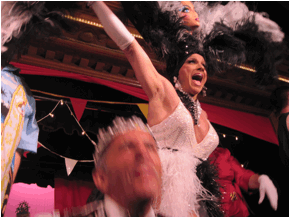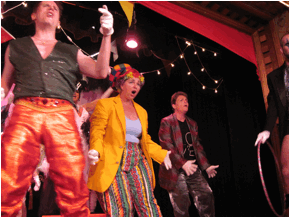 … circus themed extravaganza casting its spell in "Magic to Do," from Pippin.
The irresistible Dale Lally, presented his gleeful cynicism as P.T. Barnum in
"There's a sucker born every minute"
Legendary Panzi (see Invasion article) displays her ever expanding repertoire in a savvy Grove custom made song , "Masculine women, feminine men … it's hard to tell 'em apart today" cleverly incorporating Marge Cozzolino, Bella, Bobbie, Doreen, Wendy, Paul Jablonski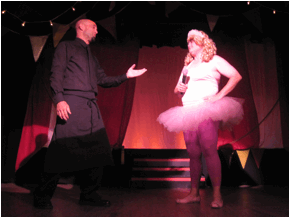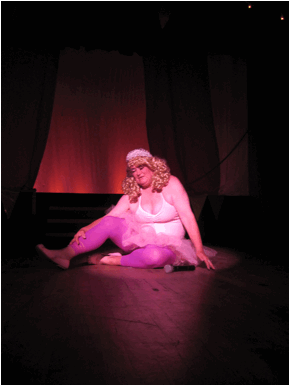 In an insanely funny new approach to Sondheim's heretofore untouchable "Send in the Clowns" Denise Dell Harbin presents a broken down trapeze artist reluctant to make her entrance despite the entreaties of Ken Woodhouse.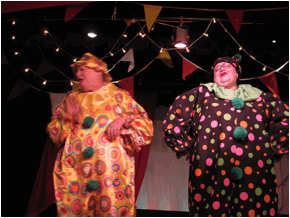 Ruth and Susan Freedner in clown suits that seemed very natural as they charmed the audience with stanza after stanza of "Be A Clown" (where are those index cards?)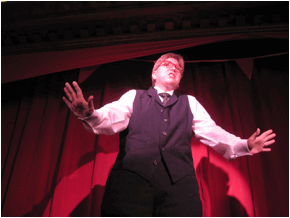 A studious Sherri Rase took on Sondheim's serious tongue twister "Everybody Says Don't" from Anyone Can Whistle earning credit for intensity and level of difficulty that underscored many of the cast's selected songs.
James Duus tested the audience's capabilities in a tongue twisting "sing along" – he was much better than us!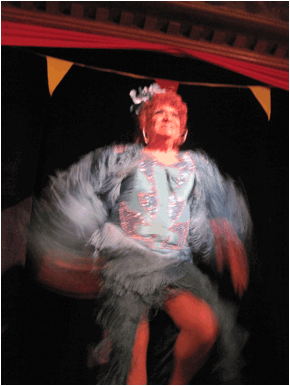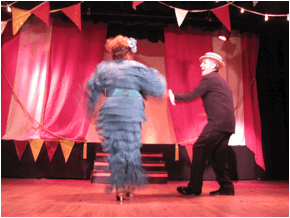 It is known that Tony Bondi starts off as a sight gag but that is only the beginning of a comic journey that took her through "Cuban Pete" with her equally capable partner Dale. With enough fringes and shimmies for any Doctor's Fund show she shook her way through a manic "Boom Chicky Boom" so good I had to shoot it from all angles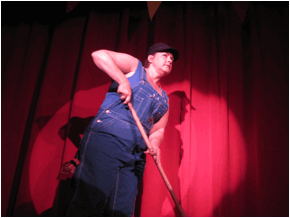 Jeanne McDonald was cute as a button sweeping up while confiding in her dream "I'd like to be a lion tamer,"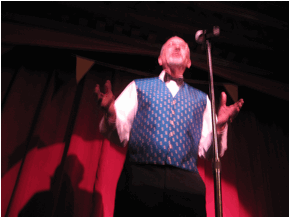 Cabaret artist Jim Speake convinced the crowd "I don't want to be young… Thank God, I'm old." (Ask him about his new CD)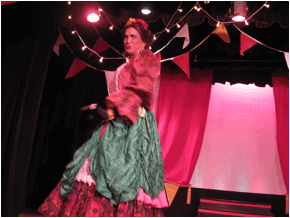 Adventuresome "Ruby Delight" Verbrugge sashayed through an exotic Yma Sumac number like an aristocrat losing it at a soiree.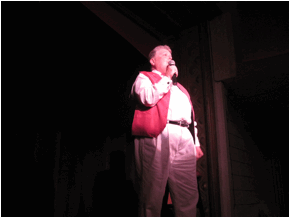 In a surprisingly touching song Ruth revealed "Baby cried the day the circus came to town," that ended with "Don't cry out loud."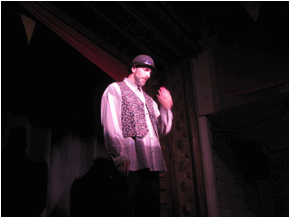 The surprisingly intense David illustrated that all is not laughter and yuks in a circus as a sad clown in the cynical, somber Jacques Brel song, "If I could be cute, cute, cute in a stupid ass way!" rebuffing a pick up attempt with "I feel so bad to turn you down cause god knows I'm a whore…I'm not that interested."
Jim Speake starts it off with "I'm a Brass Band" ….
and then proves it in the dazzling first act finale with Dell on sax, Robin as a majorette, James on trumpet, Panzi on tuba (another great sight gag) and the rest of the cast including Director John in gloriously colorful band costumes,
WOW! Had the show ended there it would have been enough!
But the wonders continued….
With brilliant vocal arrangements with Chris at piano David led a vocally sophisticated quintet in tight harmony through a medley of period jazz songs like "Java Jive" that really evoked the era.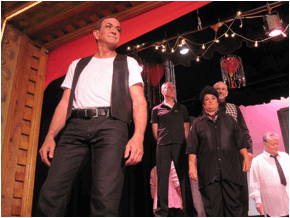 Bob V stretched his new career even further singing live
"The Colors of MY Life"
"Doors" from Maltby and Shire's Closer than Ever enlisted the full company in its multilayered song…"everyday another door"
The had working Chris took a show off moment for himself, well deserved,
amusing crowd with a kinky rendition of "Golden Showers (they don't bring flowers")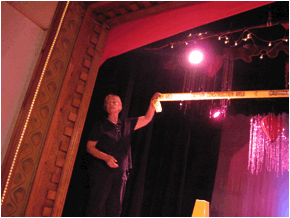 Crew members Martha Pitkin, Lynne Tunderman and others tried to distract the audience as…….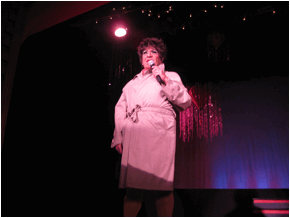 Tony Bondi sang "Stormy Weather" in his own voice. A riot as always when Bondi is onstage.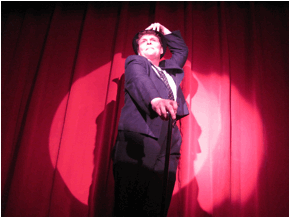 Sally Ann Piacentino, always dashing, beguiled us with the favorite "Once in Love with Amy" and everyone happily sang along this crowd pleaser specially with the real Amy in the audience.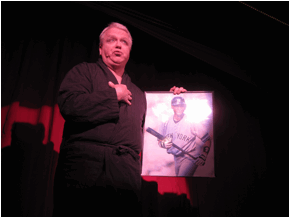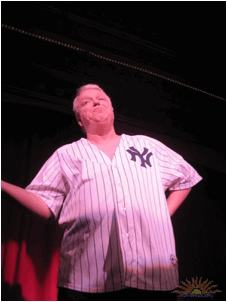 Panzi's numbers require a second and third take as "he" (?) regales us with his love song to Derek Jeter, donning the Yankee baseball shirt. "I'll always be here when you admit you switched teams".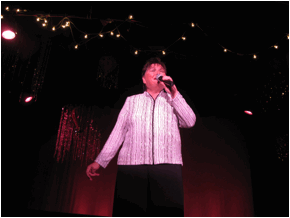 Lana Kelly's costume draw murmurs of crowd approval even before she turned in a sultry "At Last." Torched it!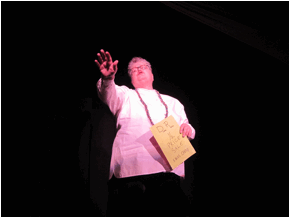 I am told it took years to get the rights to the specially written song as Susan remarked that "Duane Reade" is everywhere (to the tune of "Downtown" ) satisfying "a desperate need for condoms, men's underwear, a cup of soup and a tweezer…its all there"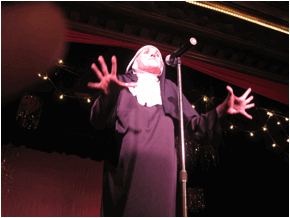 James Duus inhabited (sorry) the Nunsense razz ma tazzy show stopper as Sister Mary Robert Anne in "(I don't care if you don't know what my name is..) I Just Want to Be a Star."
Bill Perez, in a smart Garland inspired outfit exhibited poise and poignancy with his unrequited love in "Mad About the Boy," adding original topical references to Mel Gibson, Myrna Loy (!), Matt Damon, Brad Pitt & George Clooney
Cute Colm charmed the crowd with a novel arrangement of "Let your hair down and…. Go on and Cry,"
<![if !supportLineBreakNewLine]>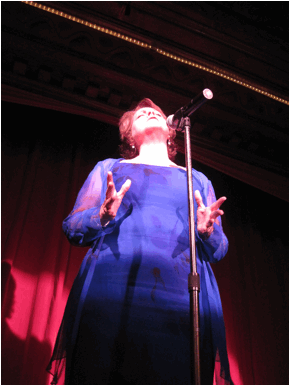 In a complete departure from her earlier number Jeanne dressed up for the serious, sensitive "Both Sides Now"
Robyn Cradles delivered such a cynically convincing portrayal of "Is That All There Is?", a nihilistic song that really depresses me, that the camera wouldn't cooperate for my sake.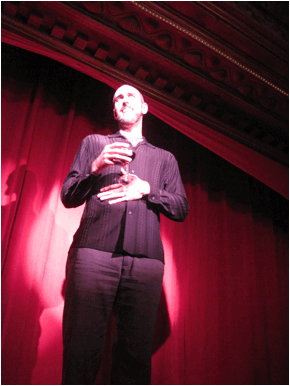 David's Piano Bar Confession….. leads into
THE FINAL FINALE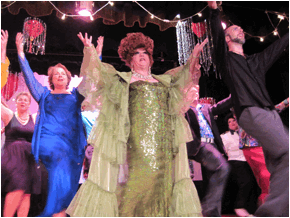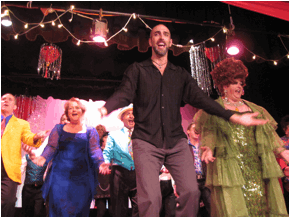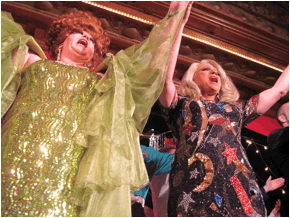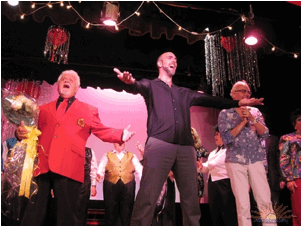 The colorful swirl of "Before the Parade Passes By," from Hello, Dolly sung by the full cast ended on the up beat!!!
THE BOWS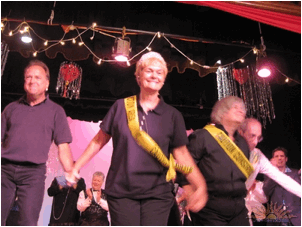 The Crew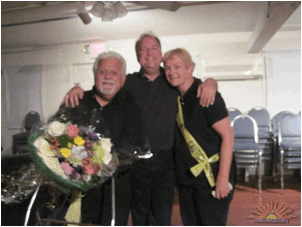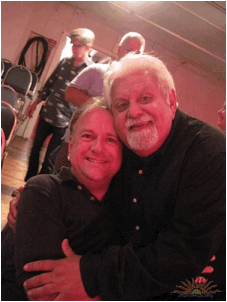 John & Jerry – hugs & flowers afterwards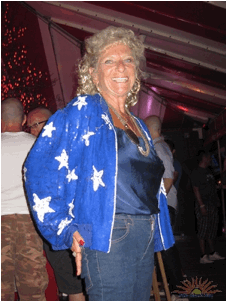 What woud a show be without Joyce, the Grove's biggest fan, in the house.
GREAT SHOW EVERYBODY!!!