THE ROARING 20'S
THE 14th ANNUAL DOCTOR'S FUND BENEFIT
Flappers, bathtub gin and the Black Bottom
Photos & text by Jeannie
Even the grim greeter couldn't help smiling at the door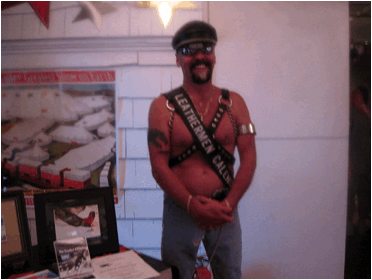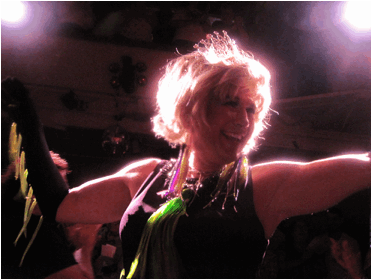 Hail to the happiest of Queens
THE SHOW
Director Donald LaBohn chose a no fail theme with the outrageously high spirited and good humored "roaring twenties", and in his capable hands – once again – met the mark!
Thoroughly Modern Millies:
Clever tease – who are these flappers in pearls, fringes and cloches?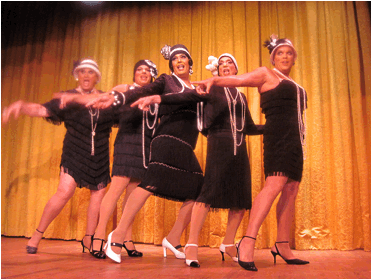 Worth the wait! Its Charity, Shirley Shapiro, Luisa Verde, Sylvia Shapiro and Coco!!!
And their "Boyfriends"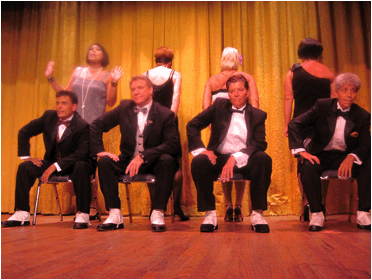 The rest of the cast representing "flaming youth" Rob Ferri, Renée Flaming, Gary Greene ,Urban Sprawl, Lola, Joanne Tavis, Margo and Doreen Rallo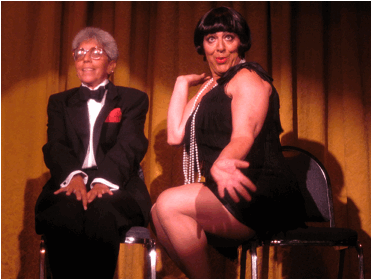 Watch out, Doreen – Margo demands "I Wanna Be Loved By You"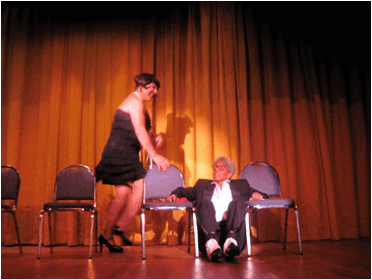 Saw this coming didn't you? (no one puts more fearless glee into her numbers)
As "Red Hot Mama" Sophie Tucker Bella not only had all the moves but lip synched
expertly as Sophie sang her difficult signature unique phrasing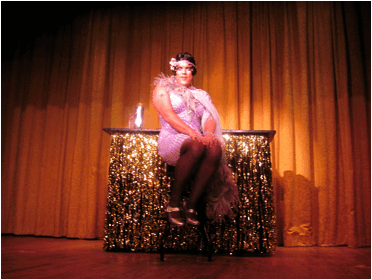 Stockings rolled, knees rouged, and full of wild abandon Coco had "It"!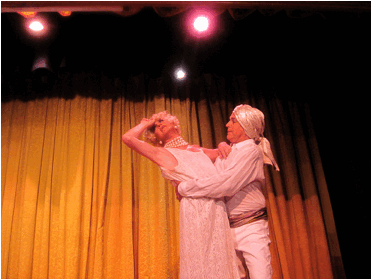 Urban was the damsel in distress (!) Jack as "the Sheik"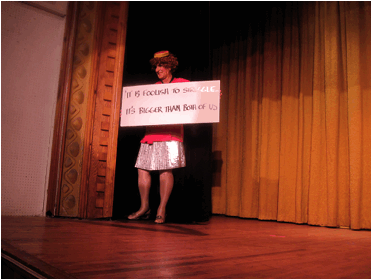 And Cobra reprises her famous role as Card Girl with silent film captions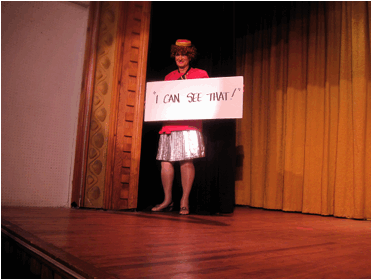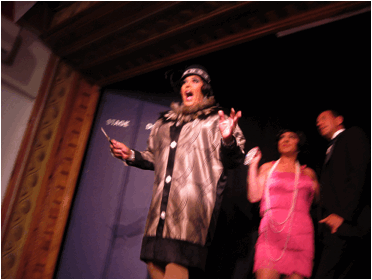 Stage Door Johnnies Dan Daly, Rob and Gary wooing chorus girls Margo, Charity and Luisa with jewels & fur …"Who Could Ask for Anything More?"
But Luisa wants "More"
Until Gary warns her of the danger of becoming "A Faded Broadway Blossom"
Clever pairing of Gary & Luis as Gary gamely lip synched a talking part)
Men are powerless in the grips of Shirley and Sylvia as they do "The Vamp"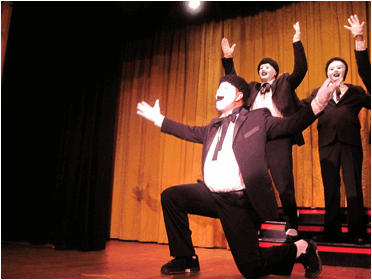 A new version of the 1927 "talky" offers a politically correct white face Don as Al Jolsen
finally capturing Ann Phetermine's manic persona
"Won't You Charleston With Me?" brought the house down as Bobbie valiantly tries to keep up with Doreen's choreography
Another brilliant interpretation as pregnant Lola delivers "Too Late Now"
THE SPEAKEASY
LaBohn's legendary tight direction evident here as the cast is disciplined into practically synchronized eyelash batting, all focused, and expertly staged (not a movement out of place
Note their positions and expressions in these pictures)…
Until a boozy trio………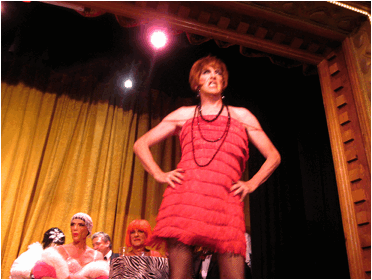 The Sassy Urban Sprawl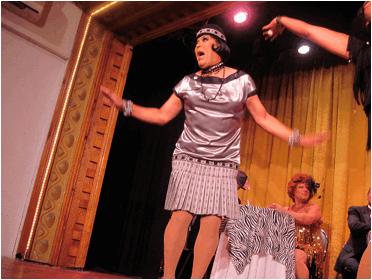 A loony Luisa
And rambunctious Renee warn "Ya Gotta See Momma every Night"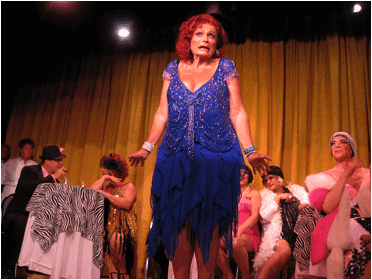 Legendary hostess Texas Guinan (Bella) imported from New jersey sings "I'm Queen…the hottest thing you ever seen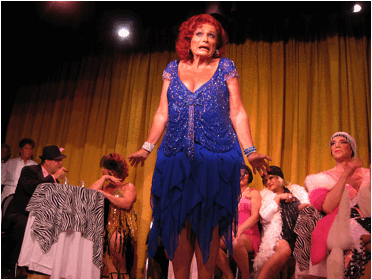 Legendary hostess Texas Guinan (Bella) imported from New jersey sings "I'm Queen…the hottest thing you ever seen"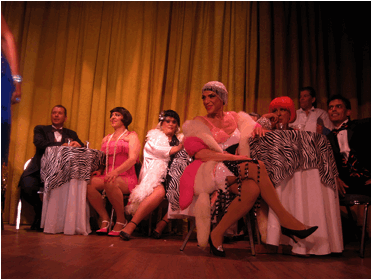 Watch the cast watching her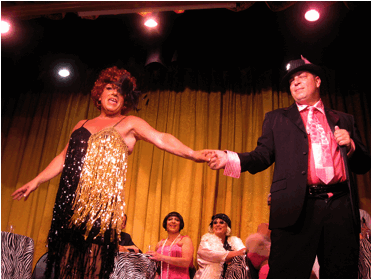 And wannabe showgirl Shirley is moved to flirt with Big Time Producer Don in an adorable "I'm Available…I'm very sexy in a high class way" (also a chance to see Don's dimples sans makeup)
After Charity, Margo Doreen & Joanne bemoan "I'm Unlucky In Love" (and Charity realized both she and her movie date were in love with Jack Guilford)….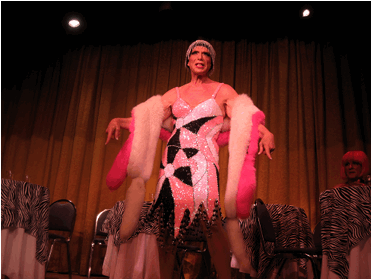 Sylvia, stunning, svelte, sexy delivers a sizzling "Let Yourself Go"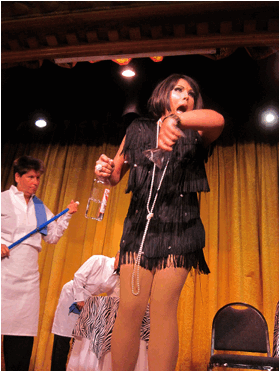 Renee outdoes herself overserved in the boozy "Vodka"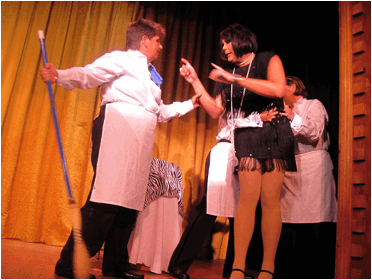 While the staff: Bobbie, Doreen and Joanne try to ease her out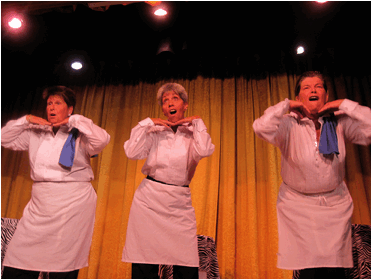 Before their boffo number as the day dreaming wanna be stars "When I Get My Name In Lights" (Sinatra, Dean & Sammy Davis)
A welcome staple in the show Dan Daly delivers an original song with partner John
"1920's Trivia" which debunks the popular theories on such era icons as Babe Ruth, Lucky Lindy
Clever and a needed break while the cast dresses for their spectacular
FINALE: A PRETTY GIRL
(and none more gorgeous, in sumptuous costumes that have become synonymous with the ultra glamour of a LaBohn show)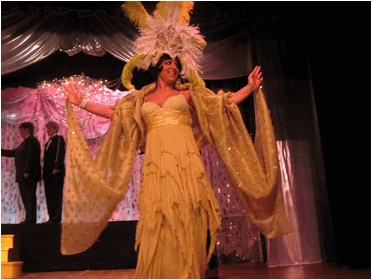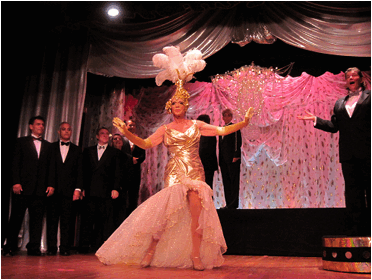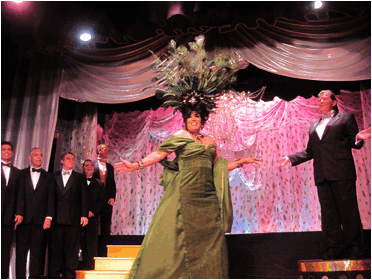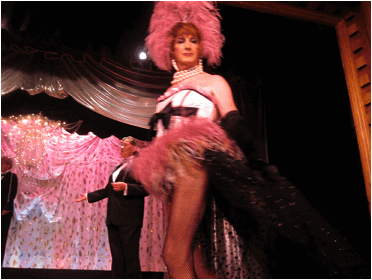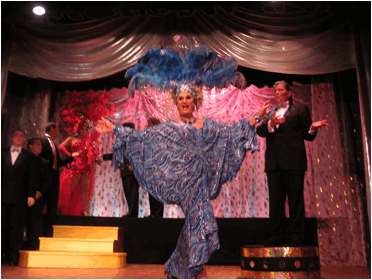 And with senses over loaded – all together in a stunning memorable moment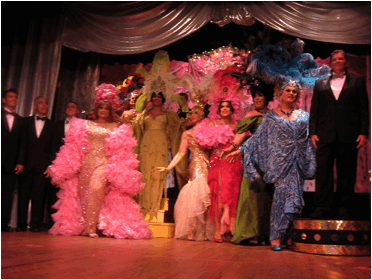 Don't forget the "boys":
b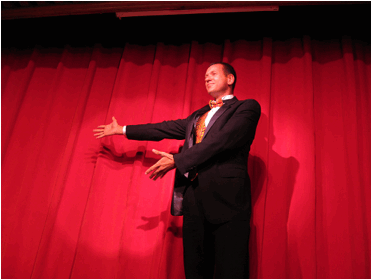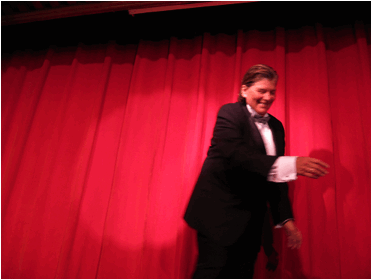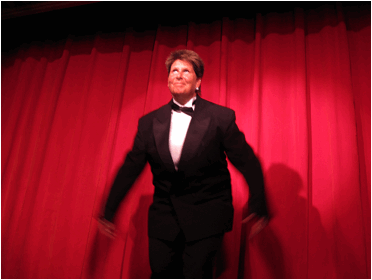 (most went too fast for my camera -they don't know how to "milk it")
So back to the girls who deserve another look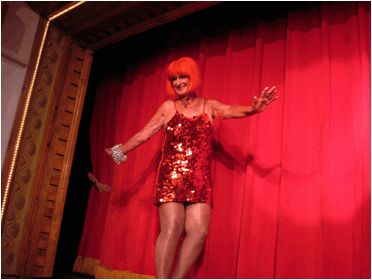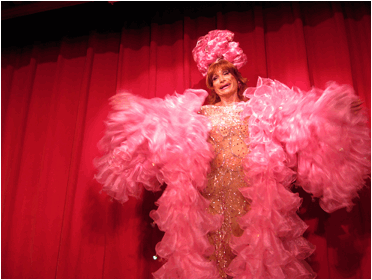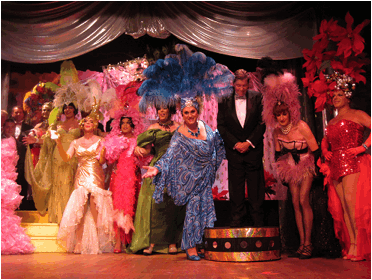 and the crew
And then of course a word form the show's creator throwing a kiss to everyone involved
"the cast and crew are all worth mentioning – we don't do this on Broadway but then in Cherry Grove the pay ain't so hot
Thanks to the ushers and tech without them we are just a lot of gowns and sequins, to Doreen for special choreography, to producers Meryl Facterman and Lois McIntosh who, 14 years ago, started this with a cast of four in the tiny space at Cherry's (I remember sitting on the floor when the show's instant popularity exceeded its seating space)… and to the hospitality of the Arts Project for giving us their house. and a special 'thank you' for the man who has had a love affair with this theater – to Harold Seely for special sets"
Then……….. downstairs (where the air conditioning broke down and onstage for both shows)
the behind the scenes work of the miracle of theater as the cast prepares for their next show!
Charity wondered if her fringes were alright "when you pull your pants up and your dress down some of them get caught in the wrong places" (we know dear)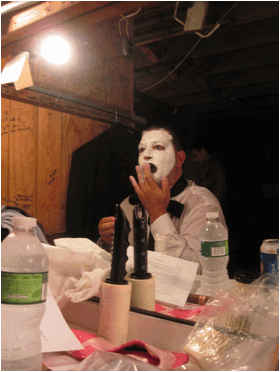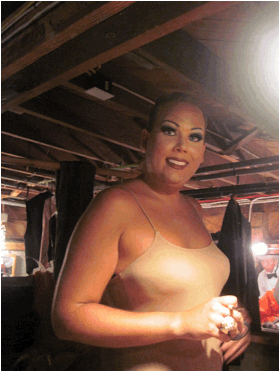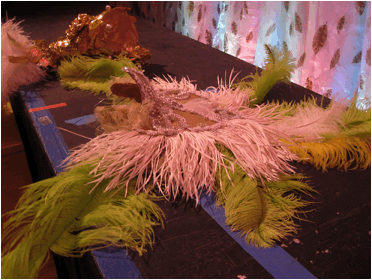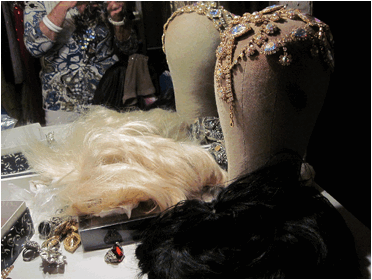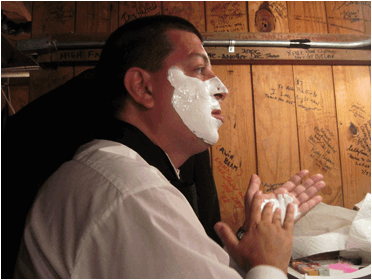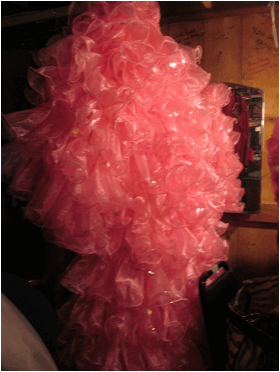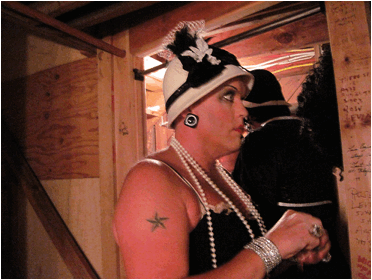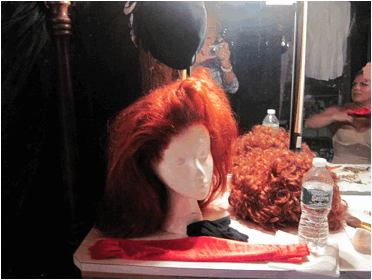 And that's show biz!
Overheard in the crowd, a group from the Suffolk County Fire Academy "we were flabbergasted…..never seen anything like it", from Joanne "the best show ever…everyone says that", from Arthur "the reviews are great", from the exiting crowd "really good".
They say your pupils widen when seeing something pleasurable – I didn't blink once!
Thank you all so much………………………………………..JEANNIE