THE KISMET KOLUMN
PASTRIES PAINTINGS & PARTIES
We're having heat wave…a tropical heat wave ……..despite that true art devotees straggled from house to house, cake makers slaved over hot stoves for the Bake Sale, outdoor bands at the INN & OUT melted even in the shade to absent crowds who hugged the beach for what little relief it gave, walking on the sand like "a cat on a hot tin roof" (thank you Tennessee). Only ones enjoying this are the Suffolk County Water Company and Lilco who prospered as people took outdoor cold showers and houses with AC became very popular.
Here's an up date:
BAKE SALE
Kismet definitely has a sweet tooth.
Before it even started there was a sell-off in front of Pat's house custom ordering bark cookies in multiples the day before while Janet Chiro was inside baking last minute for the sale.
David from Mermaid, a real baker at restaurant Amis in Chesea, bought Michelle's Pecan Pie and promised to bake for us next year The hard working committee: Pat Villisca, Phyllis Bakalar, Michelle Schleicher, Sherri Roth with additional assist of Nancy Goldstein, Ginny Butler and all the wonderful bakers who came out in droves and made all of the goodies that were sold!! Andy Whitney from the Market made his own delicious sheet cake. The Out donated not one but 3 gorgeous cakes and cupcakes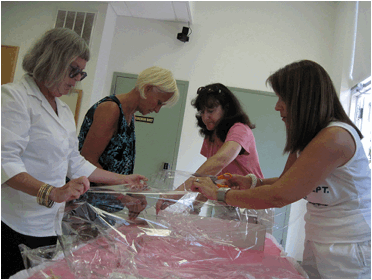 The hard working committee: Pat Villacci, Phyllis Bakalar, Michelle Schleicher, Sherri Roth
8:30AM they were lined up till Patti let them in at 9 when they whooshed in and bought like crazy
Hey, Big Spenders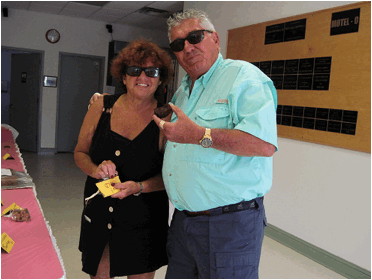 You mean us???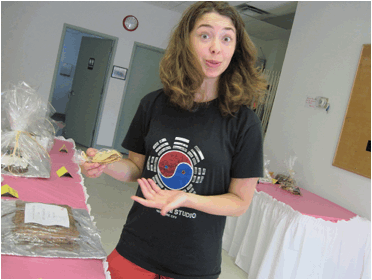 Wow! Tough decision……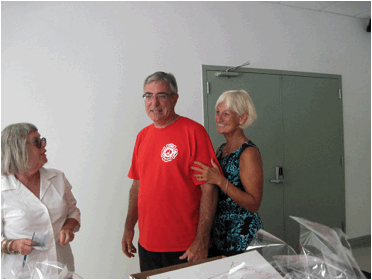 Pat's hubby Phii was disconsolate because there were no bark cookies left for him not even at the house (but he has an in with the baker).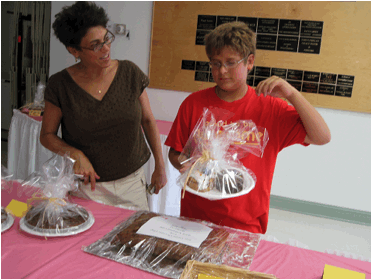 Are you sure that's the one, Jack?
Manly men buying dainty cup cakes.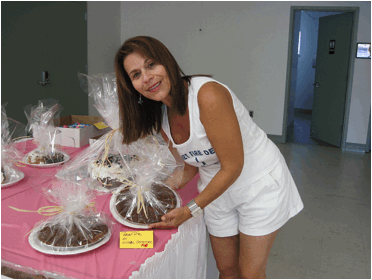 I made this one……..bragging rights
SOME OF THE CAKES & DONORS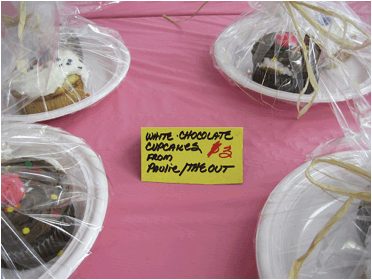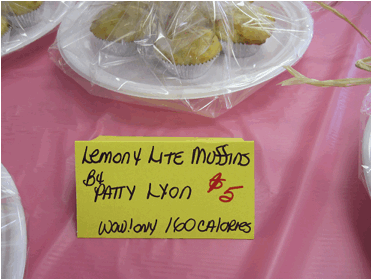 On a diet???
There was a bidding war over Andy's sheet cake.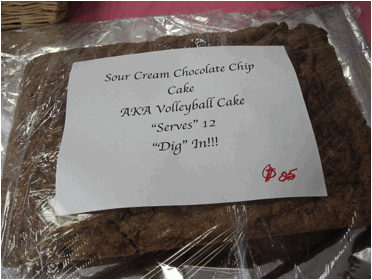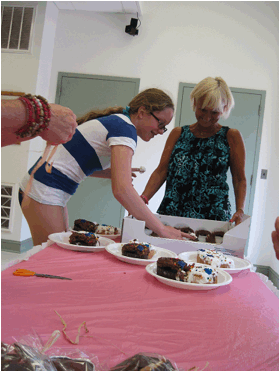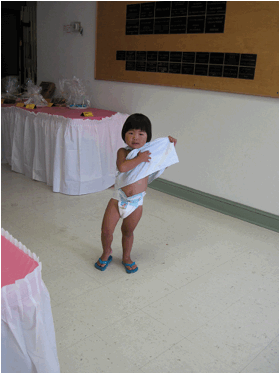 Girls behaving badly!
Guy from Dom's house eyeing huge platter demurred when he found out it was commercially baked – took one by a Kismetic "to support the community"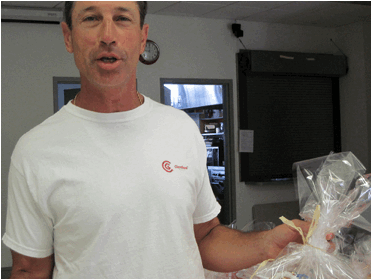 Altieri bought a black & white cake combo because he believes "in integration",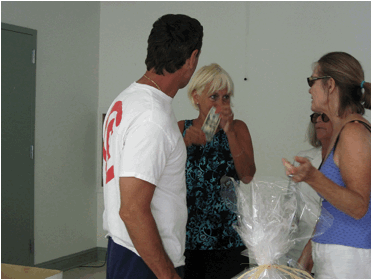 And here's the dough (why does Patti look surprised?)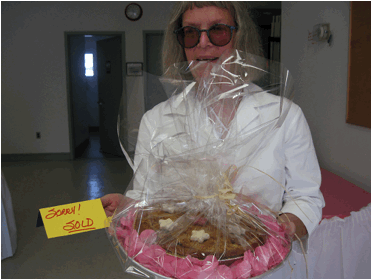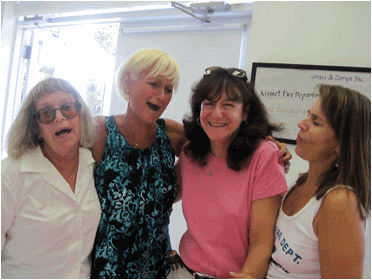 We did it!!!!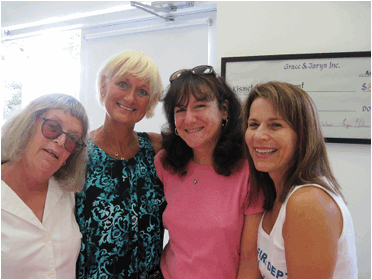 Oops! Smile for the camera
PIECE OF CAKE!!!
7th ANNUAL KISMET ART SHOW
Seems to be a tradition that the hottest, muggiest, best beach day will be the day of the show. But 11 stalwarts stood by their posts hosting the exhibits. Well not all, Carolyn went to the beach till after 3, and another closed up really early. John Altieri took Dorothea's place taking a small entourage on the tour.
A varied assortment of work by an equally varied group, here are some bios compiled by Bradlee.
Art Connoisseurs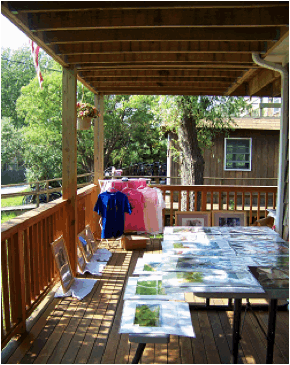 photo by bradlee
he Bark House Deck of the Butlers was filled with the art work of Kevin & Ginnie's multitalented children: Coty's (a recent RIT grad) individually designed t-shirts,
Amber photography and Shane (a designer) Butler, including The work included Coty's, Amber's photography, and Shane's pencil drawings.
trips to Italy and Puerto Rico.
photo by jeanne
Andrea Wikso and Peter Schmidt a combined showing of their photographs. Peter's work includes reflections of his time in Colorado and Massachusetts. Andrea captures the Kismet experience in glorious color and detail.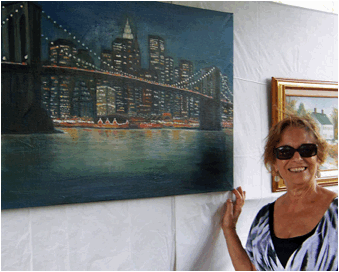 by bradlee
Mary Lou Fiore-Parise, an art "krawl" favorite. Showing at her brother and sister-in-law's, Mike and Marge, sold 3 of the oils she brought and promised to do a painting in the "old style" for one fan. Mary Lou took up painting following her retirement a few years ago.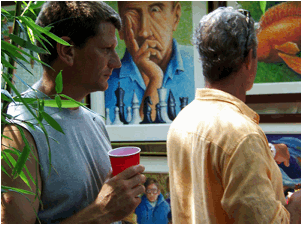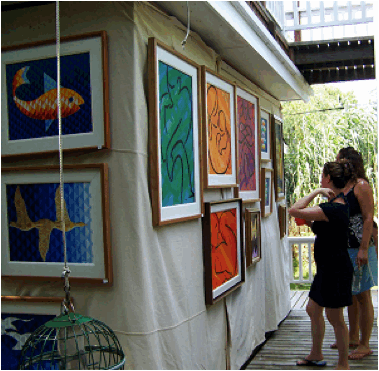 photos by bradlee
Bill Poindexter, the organizer of the 7th Annual Kismet Art Show, had his paintings artfully hung along the shaded walls of his house-deck area and in the delightful upstairs deck area he built several years ago. Bill had just finished exhibiting at the annual Lighthouse show where one of his paintings sold within the first 30 minutes. He sold three paintings at the show though he said he was reluctant to part with them.
by bradlee
Robert Negrin's exhibit of watercolors atop BVT is always spectacular. He moved between a new, large-scale surf vista that he just finished the day before and an even larger, longer oceanscape that he painted 20 years ago. Bob's work is always popular and his fans can also look forward to his annual Labor Day exhibit.
By Bradlee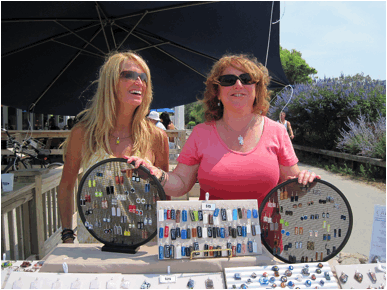 photos by Jeanne
Stephanie Calinoff creates her one-of-a-kind jewelry using several kinds of glass, including one that reflects one color while transmitting light through the glass. Her hand-crafted work has been featured in boutiques, specialty shops, craft shows and even the Queens (NY) Museum of Art. stepephanie@stephaniecalinoff.com.
SOLD!!! photo by jeanne
by jeanne
Susan Strider, first time on the art show, specializes in impressionistic watercolor views of Kismet, Saltaire and panoramas seen from the ferry.
by bradlee
Eileen Shields is a gifted photographer and teacher, reflected her travel to Nicaragua with her students as well as recent trips to Italy and Puerto Rico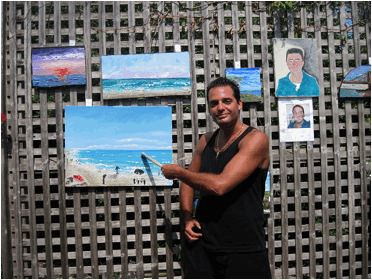 Jonathan "Thunder" Toth, famous for his dancing and his painting. takes classes at least 3 times a week at two art institutes in NYC. He refers to his work as autobiographical, an expression of his thoughts. He sold 5 of his works during the show. johnny78thunder@aol.com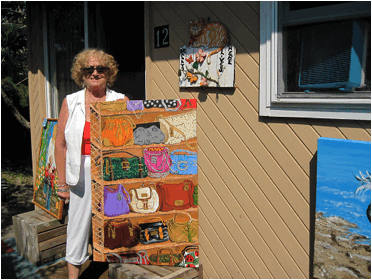 by jeanne
Teri Dahl also covers a wide range of subjects and styles in her acrylic painting, ranging from the impressionistic "Bed on the Beach" and girl on a bike with her dog, to horses, to whimsical portraits of "Carl's Cat Café" and "Wally and the Gecko" to her series of designs for the KLAW T-shirts. Her daughters put out the word on her Art Show exhibit through a Face book invitation.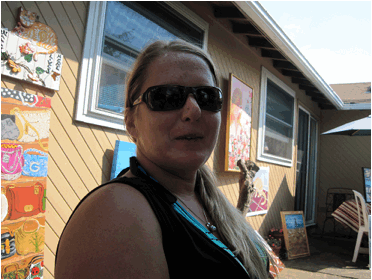 Judy Dahl who came in from Hawaii for the exhibition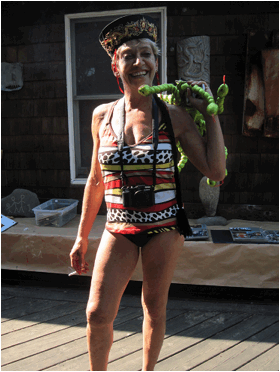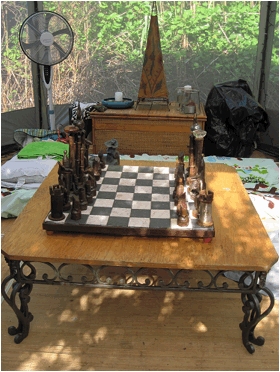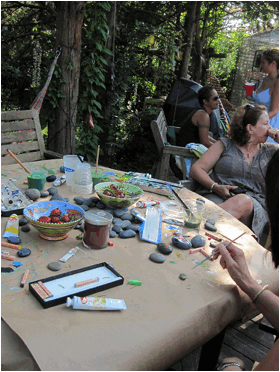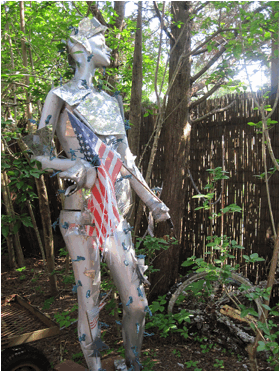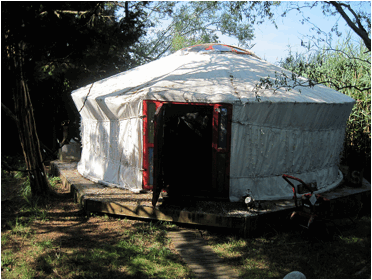 Caroline Stern titled this year's exhibit an "Invitation to an Eyegasm Exploratirum of Art and Science." With an emphasis on participatory art and exploration, guests were invited to paint small grey rocks salvaged from a dismantled city condo lobby for Caroline's new rock garden. Her photographs were hung on a new – birdless for now – aviary and shell work adorned a table. Guests of all ages were challenged to try a hula hoop, stilts and a unicycle.
Congrats to the artists and thank you for sharing your work on such a hot day…
ANNUAL 'OOL HOUSE PARTY
First a thank you to our hosts for a most generous
Annual a event: Sarge, Ernie, Shagman, Susan & Tony, Claire, Marybeth, Nancy, Zebo & Antman: on the hottest day they threw the party expecting many guests from America who perhaps found the voyage too taxing, others fled to eh AC OUT on their way to the last ferry – but estimates are 75 guests partying and even dancing through the evening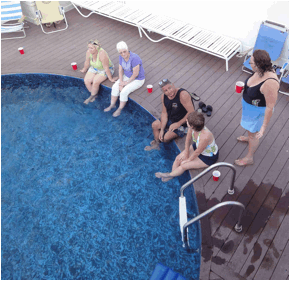 The party planners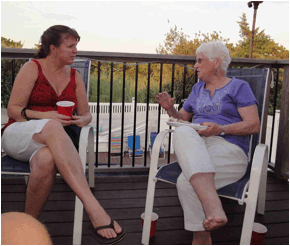 Still working it out
Its gonna be great
Dips???
First guests must be hungry
Shaggy says "I'll take care of the liquor"
Good idea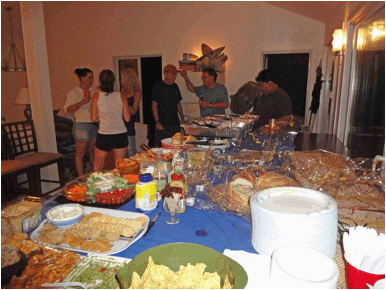 The food…………….mmmmmmmm
Myrna brought her own
Waiting for the guests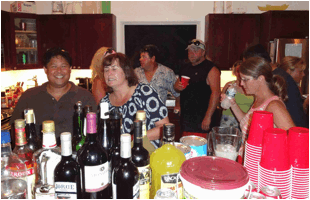 They're here!!!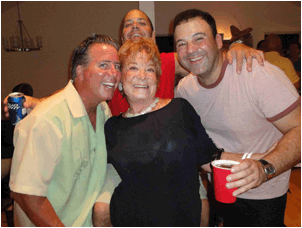 My kind of party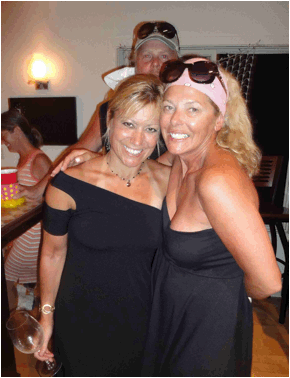 We're having fun…….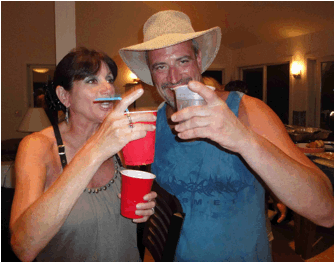 Timing!!! (a slow lens)
We're having more fun………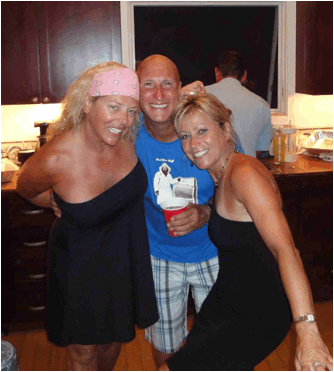 Lucky Pierre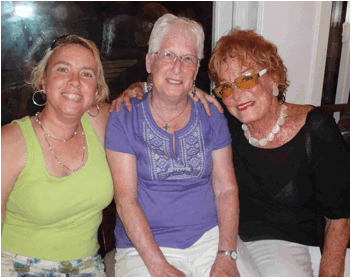 Shaggy's mom – always a pleasure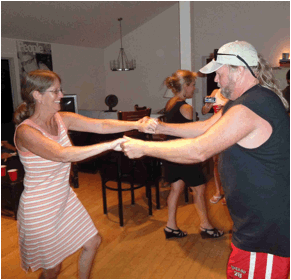 Let's Dance!!!!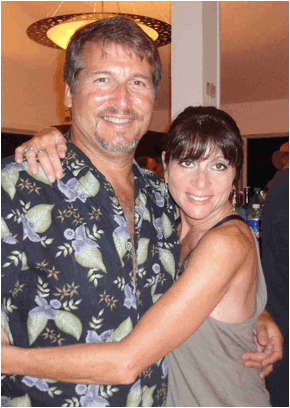 Gorgeous couple
"I'm working"….this guy from San Diego thought this was the best party he ever
crashed!!!
Girls just wanna have fun…….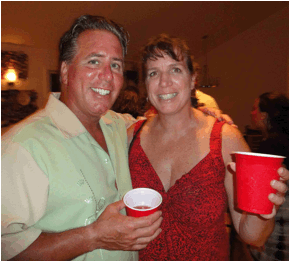 Hunkel doing his thing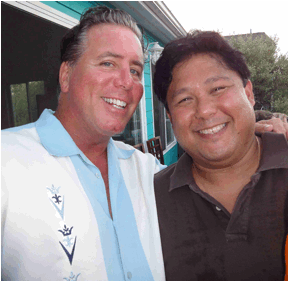 Oops! Changed teams?
A big Thank You to the hosts
Check out the Kismet Kolumn in the next Kismet Kronikle for more stuff!!!