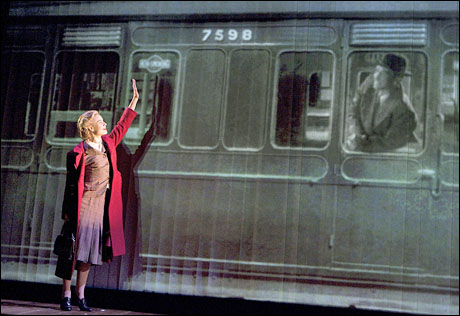 Hannah Yelland
Photo by Joan Marcus
BRIEF ENCOUNTER
Noel Coward's  classic film has new lives in what may be the most original,  earthy to entrancing theatrical musical delight the Brits have sent us.
                                                                     by EUGENE PAUL
Emma Rice, the madly gifted director and fashioner of Noel Coward's unforgettable Brief Encounter writes a considerable note in the playbill which, fortunately, I read after the show.  Firstly, quickly, departing the theater, I have to tell you I overheard cell phone conversations in which people were saying, "This is the best show in town" in a couple of variations, but that's the gist.  The best show in town.  Well, everybody's a critic and once in a while, everybody's right.  Yes, the moon is blue.  This, the current, bright, fresh, odd, appealing Brief Encounter, knocks you sideways with its charm, its cleverness, its invention, its attitudes, its wittily wise approach to Coward's most touching theater piece and makes it better than it ever was, because director Rice trusts the emotional honesty of the original and keeps it intact. Her playbill note doesn't convey a fraction of the delight she has put on the stage, indeed, in the entire theater.  All of her fiddlings, all of her endearingly playful nuttiness is woven heart and soul around the love story between housewife Laura and staid, married doctor Alec who fall in love with each other because they can't help it and are transported.  It happens, and when it happens, it affects the scenery, the sound effects, the lighting and everybody else in the cast, even, especially the music.
Tristan Sturrock and Hannah Yelland
Oh, the music, oh boys. When it isn't those dear songs of 1938, it's new melodies by Stu Barker for half the Coward pieces  You come into the theater and this spiffy combo in spiffy period uniforms is playing songs your parents learned from their parents.  And are they ever peripatetic!  They're up one aisle, down the other, across the back, thence to the stage.  Where they take up residence not only as our musicians but as our cast, the cheeky devils.  All except Laura and Alec.  Laura and Alec are our love story inviolate, magically able to move from film to stage and back, never finding a place for their love, bound, eventually to return to their dutiful lives. The Cheeky Devils have their own shenanigans going on which prove often trenchant commentary on aspects of love while scenery wheels about, flies about, everybody surges with the winds of time, the roils of passion, every bit of it keyed to Alec and Laura.  And us. We have become that most precious of theatrical commodities, conspirators.  We want our familiar love story to stay pure while we enjoy the whiskey, cherries, whipped cream, sass and silliness we didn't know we hungered for until director Rice ladled it all over our heads.  And, yum, it's good.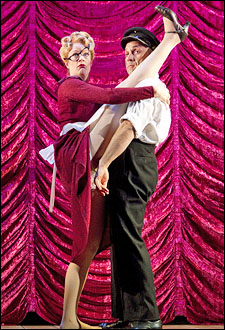 Annette McLaughlin and Joseph Alessi
Photo by Joan Marcus
She has marvelous, marvelous servitors and I didn't recognize but one face, Joseph Alessi's, who is a whole cornucopia of good things all in one, lecherous station attendant, forbearing husband – each of his characterizations is full blown, even with that same face. (I never dreamed he looked like Noel Coward, too, but there he is, in the tortured flesh.) I adored Annette McLaughlin, top to startling callipygian bottom and absolutely loved every winsome creature Dorothy Atkinson created.  Gabriel Ebert is a wry catcher among other splendid accomplishments.  Hanna Yelland as Laura is pitch perfect and so good with her children you believe in the instant.  As Alec, Tristan Sturrock fills our hero head to toe; it's more wonderment he sings and plays  Coward's "A Room with a View" in a way you will never forget. The members of the company are so in synch with the technical connivings enhancing the production you have the eery feeling they're all one, part and parcel with the magical workings of John Driscoll and Gemma Carrington's projections which are part and parcel of Neil Murray's sets and costumes, married to Malcolm Rippeth's lighting and Simon Becker's sound.  How did it come together and out of Emma Rice's mind… Oh, you'll have a grand time, maybe even with a tear or two.
Brief Encounter. At Studio 54, 254 West 54th Street.  Tickets: $37-$127. 212 719-1300 or roundabouttheatre.org.  Tue-Sat 8 pm. Mats, Wed, Sat, Sun 2 pm.