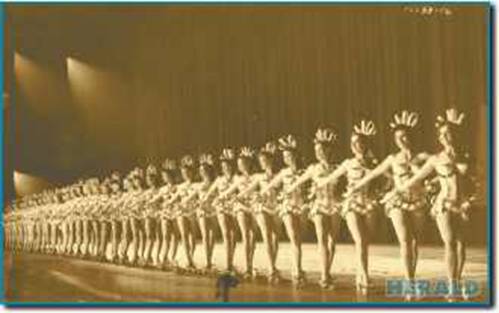 CORLISS FYFE WHITNEY, EIGHTH FROM RIGHT, JOINED THE RADIO CITY MUSIC HALL ROCKETTES JUST DAYS AFTER HER HIGH SCHOOL GRADUATION
---
December 15th, 2010
Dear Friends of Corliss,
I am writing to inform you of very sad news. My mother Corliss Fyfe
Whitney, passed away peacefully on December 13th at NYU Hospital.
Even though she was 83, it was still a shock, for us all.
So many of you have reached out to us with love and support. We appreciate your words and wishes so much. It has only confirmed what we already knew, that Mom was amazing in how she touched so many and was loved for her efforts to make people happy.
I would appreciate it if all of you would forward this email to anyone who you think should receive it. Feel free to respond to this email with questions or thoughts.
Mom has asked to be cremated and she was explicit in her wish to not have a funeral service of any kind. So you all know – I personally asked her to reconsider a service on many occasions over the past months – pointing out that everyone would want to celebrate her at a ceremony of some kind, but Mom made clear that she felt she was honored by all of us in life. After much discussion within my family, we have chosen to adhere to her wishes.
Photos, messages, condolences can be sent to arocketteremembered@gmail.com
I¹ll end this with a message directly from one of my Mom's emails on the topic of how people can celebrate her life – she wrote:
"You might mention people can make donations to their favorite charities. Most important to me is being nice to people you do not know, the world needs more of that. Be nice to a stranger and whisper to yourself, 'Corliss, that one was for you."
With Love,
Scott
Corliss Whitney
HIGH STEPPING HISTORY
By Ariella Monti (Rockville Centre Herald - December 11, 2008)


In 1945, Rockville Centre resident Corliss Fyfe Whitney made her Radio City Music Hall debut with the famous, and leggy, Rockettes. The 81-year-old Hewlett native is now the official Rockettes alumni historian, a lecturer and a dance troupe leader.

Fyfe Whitney started dancing at age 3, and in 1939 she shared the stage with famous tap dancer Bill "Bojangles" Robinson at New York's World's Fair. "Those were the glory days of the Music Hall," said Fyfe Whitney, who joined the Rockettes just days after her graduation from Woodmere High School in 1945. "When I first came into the Music Hall, I worked with a lot of girls who left within those first six months because their fellows came back from the service," recalled Fyfe Whitney, whose history with the dancers is displayed throughout her home on Seaman Avenue. "I was working with a lot of the original Rockettes, which to me was fantastic!"

The Rockettes were founded by Russell Markert in 1925, and made Radio City Music Hall their permanent home when it opened in 1932. Today the Rockettes are known mostly for their holiday season performances, but in Fyfe Whitney's time, they entertained crowds 52 weeks a year. "We were there all the time," said Fyfe Whitney, noting that there were no unions for dancers at that time. "We worked seven days a week." When a movie opened at Radio City, the statuesque dancers would perform up to four times a day in between showings. The troupe could often be found on the seventh floor rehearsing while a film played in the auditorium below before they jumped back on stage.

Fyfe Whitney danced with the Rockettes until 1953, a year after she married Frank Whitney. The couple had three sons, Jeff, Chip and Scott. The Rockettes founded an alumni group a year after Fyfe Whitney left. "I was the baby on board at the time, because all of the gals who started the alumni were almost my mother's age because they were the original Rockettes," she said.

After her tenure with the Rockettes, Fyfe Whitney opened and ran a general store in Fire Island's Fair Harbor called Corliss on the Bay.

She also got involved in the Ms. New York Senior America, a pageant for women over 60. That experience led her to found the Seasoned Steppers, a dance troupe of women over 60, some of whom had been pageant contestants. Fyfe Whitney underwent surgery for a cyst in her brain five years ago. "I thought I'd never dance again," she said. "I'm lucky I can." She recounts her days on the world-famous stage for seniors and dancers across the country with the help of photos and film from the era. The active octogenarian can still high-kick and perform splits just as easily as the young Rockettes with whom she often speaks.


Hi Jeannie,
Yes she was my Aunt. She is the name behind Corliss on the Bay in Fair Harbor. I am including her obituary from Newsday.
http://www.newsday.com/long-island/obituaries/corliss-whitney-former-rockette-dies-at-83-1.2550774
http://www.newyorksenioramerica.org/corliss.html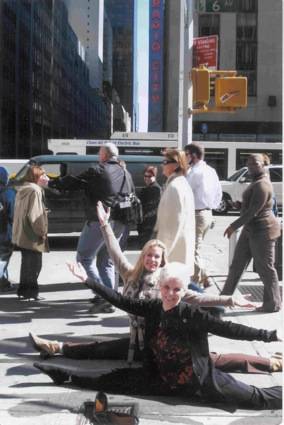 CORLISS WHITNEY

<![if !supportLineBreakNewLine]>

CORLISS, FOUNDER AND
CHOREOGRAPHER OF THE SEASONED STEPPERS,
JOINED BY ANOTHER FORMER
RADIO CITY MUSIC HALL
ROCKETTE DOING THEIR SIGNATURE SPLITS ON THE
AVENUE OF THE AMERICAS
IN NEW YORK CITY
IN FRONT OF THE THEATER.
THE FAMOUS LANDMARK
RADIO CITY MUSIC HALL
MARQUEE CAN BE SEEN
IN THE BACKGROUND.
Thank you Jeannie, She was a remarkable person!
Regards,
Andrew Whitney
Kismet Market
631-583-8449
631-495-3227 c



<![if !supportLineBreakNewLine]>