ITS NUNSENSE TIME AGAIN!
Its open season on Nuns again – first, the original long run 1998 Nunsense Off Broadway success, then the fabulous fun version as last year's Pines' opus, which no doubt prompted another off Broadway revival and now Whoopi Goldberg is bringing her musical Sister Act to Broadway this Spring.
My transition to the world of theater became easier when a frequent visitor to Fire Island, Charles Busch, the ultimate drag queen, parodied his way through his latest production The Divine Sister made more familiar as it brought back memories of last year's Pines' opus, Nunsense and Sondheim himself, the composer of this summer's musical, Merrily We Role Along, was four seats way from me.
So now Charles Busch, frequent persona on Fire Island, (who inspired one of my best articles: "A Grove Garden : a Panzi, a Rose & a Busch") is taking them all on in his newest hit. There's just something about those Nuns that is inspirational!
The night I saw it Stephen Sondheim was in the house and Charles was kind enough to remember when I interviewed him in his village apartment for the New York Law Journal'
And so I feel it appropriate to publish Theaterscene's review of his new hit, The Divine Sister
Since he is practically one of us.
                                                                                       Jeannie Lieberman, editor
The Divine Sister
                                                          By Victor Gluck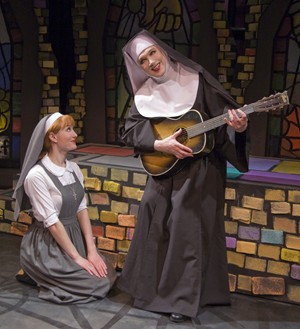 Amy Rutberg as Agnes and Charles Busch as Mother Superior
in a scene from holy outrageous comedy, The Divine Sister
(Photo credit: David Rodgers)
Playwright and female impersonator Charles Busch has been best when using his encyclopedic knowledge of Hollywood movies to write delicious stage parodies of various genres for himself to star in. His recent plays have seemed to be out of his comfort zone. However, his latest, The Divine Sister which brings him back to the stage in the title role, is a hilarious return to form and his early triumphs.
In The Divine Sister, he gleefully parodies, with tongue in cheek, the whole genre of movies concerning nuns, from the 1940's The Song of Bernadette, Bells of St. Mary's and Come to the Stable, to the 1960's The Sound of Music, The Singing Nun and The Trouble with Angels, up to the more recent Agnes of God and Doubt. With a character from The Lady Vanishes, and a plot device from The Da Vinci Code, and piece of business from The Exorcist, Busch explodes the entire genre with all the force of a child kicking over sandcastles. The Divine Sister is made up of one-liners, puns, non sequiturs, quotes from pop culture, as well as visual and aural gags, making this the equal of Busch's most famous plays till now.
The equally talented Carl Andress who has often helmed Busch's plays before has collected a cast well versed in the required campy style: Julie Halston whose association with Busch goes back to Psycho Beach Party, The Lady in Question and Red Scare on Sunset, Alison Fraser who appeared in his musical The Green Heart, Jennifer Van Dyck and Jonathan Walker who both worked with Andress and Busch in The Third Story, and Amy Rutberg who played an ingénue in Busch's historical drama, Our Leading Lady. Not only is it a reunion of old friends, but as an ensemble, they work on of the same wave length.
Set in Pittsburgh during the social upheavals of the 1960's, The Divine Sister takes place at St. Veronica's convent and grade school. Mother Superior (played by Busch), a guitar-strumming, bicycle-riding reverend mother, has her hands full with the financially strapped facility which is falling down around her. She also must contend with a new postulant, the wide-eyed orphan Agnes (Rutberg) who is getting a reputation for having saintly visions and hearing heavenly voices. Not the least of her worries, the Mother House in Berlin has sent Sister Walberga (Fraser) to investigate her request to tear down the existing building and put up a new one. Serving as her tough sidekick is Sister Acacius (Halston), the Mistress of Novices and wrestling coach, who represents the voice of sanity in this overheated environment.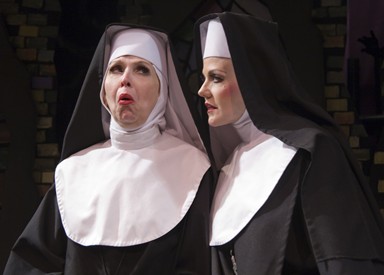 Julie Halston as Sister Acacius and Alison Fraser as Sister Walburga
(Photo credit: David Rodgers)
Mother Superior's visit to the local millionairess, the elderly, cold and atheistic Mrs. Levinson (Van Dyck), for a much needed contribution piques the curiosity of her houseguest Jeremy Templeton, (Walker), a former news reporter, now a film scout on the prowl to reach Agnes for the rights to her story. Jeremy recognizes Mother Superior as the former Susan Appleyard, girl reporter and his girl friend from 20 years ago. Before the final curtain, the real identities of Mother Superior, Agnes, Sister Acacius and Sister Walburga will be established and the convent and grade school will, of course, be saved.
As Mother Superior, Busch is a grand dame in the style of such film nuns as Rosalind Russell, Greer Garson and Ingrid Bergman. Wearing lipstick, mascara and sporting high-heeled shoes under her habit, Busch's comic timing is unequalled for the quick comeback and for stage aplomb. She is matched by the performance of Halston as the bossy and verbally-deflating sidekick, Sister Acacius, in a sort of Eve Arden role, that is if Eve Arden had ever played a nun in sneakers. Halston's role model is more likely Agnes Moorhead's sour-tongued Sister Cluny in The Singing Nun. Fraser has a grand time as the extremely Teutonic and sinister Sister Walberga – who early on warns us she is not what she appears to be.
Both Van Dyck and Walker play contrasting dual roles. Van Dyck demonstrates versatility as the chic and elderly Mrs. Morris Levinson and then appears as Timothy, the 12-year-old student who can't get on the baseball team for being too fey. Walker plays his usual role as the suave and boyish Jeremy but is almost unrecognizable as the sinister albino monk, Brother Venerius. Rutberg appears type cast as the divinely inspired Agnes, until the final scene transformation into her alter ego.
Visually the show is as campy as the writing with scenic and graphic designer B.T. Whitehill's stained-glass windows of the Lord during the four seasons and the pastel-colored brick work that appears to be made from sponges. Aside from the required nuns' habits, costume designer Fabio Toblini has been called upon for everything from Mrs. Levinson's Chanel suit to Mother Superior as hot-shot girl reporter in flashback years before to the other characters' multiples changes. The various sixties style wigs are the work of Katherine Carr.
With Charles Busch back in drag and in a parody of Hollywood excesses that he has tailored for himself, The Divine Sister is an inspired creation. Director Carl Andress, a past master at this sort of camp, has surrounded Busch with performers who have long been part of the official or unofficial Busch repertory company. With such talents as Julie Halston, Alison Fraser, Amy Rutberg, Jennifer Van Dyck and Jonathan Walker, you will be recalling The Divine Sister's outrageous humor for a long time to come.
The Divine Sister (open run)
Soho Playhouse, 15 Vandam Street at Sixth Avenue, in Manhattan
For tickets, call 212-352-3101 or http://www.SohoPlayhouse.come