Editor's Notes: BROADWAY'S BOOM IS BUSTED
   By the first week in January 23 houses out of 39 will have been shuttered.
by  Jeanne Lieberman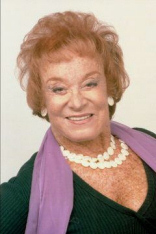 Shows are dropping like flies this year. Traditionally the weaker ones try to hang on till January, gleaning what they can from the holiday tourist trade. By the first week in January 23 houses out of 39 will have been shuttered.
Few, from promising newcomers to sure bet veterans, were immune to a poor economy, questionable subject matter and astonishingly unwise theatrical decisions. Some were still berthed, like the under publicized Elling, which barely lasted a week despite a quartet of mega stars: Brendan Frasier (debut), Dennis O'Hare, Jennifer Coolidge and Richard Easton.
Others that couldn't hang on, mortally wounded on the journey from sold out Off Broadway houses to Broadway, like the aggressively irreverent Bloody Bloody Andrew Jackson, which was supposed to bring in the new young audiences with non traditional "emo-rock" music (a score driven by "emotion", uhhhh?) and the in-your-face defiling of one our Presidents, and Scottsboro Boys, Kander & Ebb's last musical, directed by Susan Stroman, limping away Dec 12th despite its pedigree, hounded in part by protesters outside the theater (many of whom admitted they never saw the show) crying "foul" over the device of a Minstrel Show format to present the controversial but true subject matter of the racist incarceration of 9 Southern black boys in the '30's on a trumped up rape charge.
(note: In a never-say-die move Producers plan to bring it back to Broadway in the spring, in time for the Tony Awards season).
The Talkies:
"Words, words, words, I'm so sick of words" Eliza famously decries in My Fair Lady – and this season was awash in unfettered monologues.
Mrs. Warren's Profession
Except for her impressive stature, brightly colorful costumes and the sheer bravado of Cherry Jones, Shaw's typically talkie chestnut, though tastefully designed and frocked, is bland throughout from its picture perfect English countryside, correctly understated  costumes, the entire production is tastefully soporific with the exciting exception of the aforementioned Ms. Jones and the glaring exception of hand picked English actress, Sally Hawkins, whose grating shrill voice and equine looks, literally buried in sexless oversized dresses, detours the should be lauded evening into the occasionally awkward and unconvincing.
A serendipitous collision of current events and onstage performances had briefly elevated two otherwise talkie plays from middling to memorable:
The Pitman Painters, also heavy on discourse, light on drama, while nowhere near the dramatic recreation of an historic episode (by the same creator of the brilliant Billy Elliot), the development of innocently unaware miners, provided with an art appreciation course instead of the economics coursework they anticipated, inspired them to create their own collection of original art which became quite famous.
However despite that the show, whose real raison d'etre is its reality based theme, lacks drama, a suspension of credibility on the rapidity with which uninformed and resistant minors made an unbelievably rapid ascent into sensitive analytic discourse about painting in general and uniquely sophisticated rendering artistic style.
What elevated the evening was that once in a lifetime moment when art and reality combine in such a way that only happen in live theater, came at the final curtain when the lead actor stopped the applause and announced that during the two hours they were onstage the last of the Chilean minors were rescued, particularly meaningful to the acting company which came direct from a mining town themselves. The house was united in an uproar of lump-in-the-throat emotion
By far the purposely and most excruciating verbosity on the stage is by design, La Bete, David Hirson's Moliere-esque tale of a power struggle -in rhyming couplets, no less!- between royal authority and an existing a theater company takes place in 1654 France. However it is also, if you can  hang in there, excruciatingly funny thanks in total to the stamina and sheer genius of Mark Rylance in a role that could easily destroy a lesser performer.
And while you are waiting, hoping, praying, as is his long suffering onstage companion, David Hyde Pierce, for him to finally SHUT UP you are also rewarded by
David Hyde Pierce's  long pent up key speech in the night, an impassioned treatise extolling the virtues of purity, disciple and intellectual honesty in the tradition of acting/writing vs. the erratic bombastic, intellectually sloppy maudlin, boorish and bearish crude iconoclastic blathering of the new voice of the man in the street, unfettered by such principles. When he delivers his  ultimatum, him or me, to his benefactor, she takes the royal ring of command from his finger and gives it to the young upstart extolling his originality and freedom from such constraints, playing to the lowest common denominator, unfettered, undisciplined, uninformed often outrageous badinage, valued only for originality albeit based on ignorance.
This, on the eve of election night, seemed a reminder of the dangers of, and ultimate endorsement of the new Tea Party.
Beware of extremes:
The exact opposite is a play of too little verbosity. In A Life In The Theater the infamously terse David Mamet has out/undone himself in a production in which the stagehands spend more time onstage than the actors. Begging the question "what was he thinking" Mamet's long time director/collaborator Neil Pepe opted for the literal, investing in complex changes squeezed between some 26 "scenes" many of which are little more that a  few sentences, almost throwaway reflections on gimmicks, approaches, rivalries between two actors (Mamet is terse, but c'mon!).
But for extremely likeable T R Knight in his most welcome stage debut and the ever agile, admirably adept Sir Patrick Stewart, the whole experience might have qualified as a lecture/demonstration on how to ruin a play.
On the brighter side:
In Brief Encounter,  with all due respect to Noel Coward, who wrote the screenplay, the beloved iconic movie, and the music, and the multitalented cast, all of whom not only act but sing dance and play musical instruments as well, the star of this production is its innovative director Emma Rice, who managed to hold onto the plot while investing it with rear screen projections both literal (as the when man waves to his object of desire from the train as it leaves the station ) and exhilaratingly fantastical (in which the would be lovers are airborne, literally dancing among the stars). I can guarantee you will never see such brilliantly reconceived production as this. Run to this one.
Barely hanging on…two overproduced, murky productions:
Pedro Almodovar's cult film classic Women on the Verge of a Nervous Breakdown, adapted by Jeffrey Lane, and the formerly brilliant composer David Yazbek, directed by formerly brilliant Barlett Sher with a dream cast of megastars Patti LuPone, Laura Benanti, Sherie Rene Scott, Bryan Stokes Mitchell, curiously, is mind bogglingly muddled,
and A Free Man of Color,  the formerly eminent John Quare and George C. Wolfe's well intentioned, over inhabited (26 member cast playing multiple roles in almost as many sets) elaborately costumed history lesson tracing the descent of Jacques Cornet (Jeffrey Wright), a mulatto former slave who is the richest man in the multi racial New Orleans of 1801, as he is undone (in almost 3 hours) by the changing politics and mores of an emerging country.
Two Shows That Will Not Go Away:
 In a rare moment of Broadway synchronicity between theater owners and producers, deals were struck to move two Broadway shows to alternate theatres for mutual benefit. Tony Award nominated musical ROCK OF AGES will move from The Brooks Atkinson Theatre to the Helen Hayes Theatre in March 2011 and the acclaimed Beatles concert RAIN – A Tribute To The Beatles on Broadway at The Neil Simon Theatre will move to The Brooks Atkinson Theatre and begin performances on February 8, 2011. In their current homes, ROCK OF AGES will play its final performance on Sunday, January 9, 2011 and RAIN, which has now been extended twice, will play its final performance on Saturday, January 15, 2011.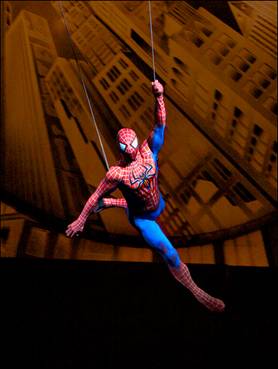 The Spider will Soar
Despite the most negatively critical and intense media blitz in high tech theater history, the announcement went out after the much publicized glitches and quoted audience outrage during its first preview that Spider-Man Turn Off the Dark wrapped more than $1 million in ticket sales the day after first preview. This is good because the musical is also expected to cost about $1 million a week to run. But fageddaboudit! All that publicity has generated such interest that I predict it will be a long running cult classic. Get your tickets now!   
Coming Attractions:
Priscilla Queen of the Desert Broadway previews begin February 28 at The Palace Theatre for a March 20 opening
The Book of Mormon  to open 3/24 Eugene O'Neill theater
How to Succeed to open 3/27 at the Hirschfeld
Anything Goes to open April 2011 at the Sondheim
Catch Me if You Can to open 4/10 at the Neil Simon
Sister Act to open 4/20 at the Broadway