FIRE ISLAND ASSOCIATION MEETING IN OCEAN BEACH
July 31, 2010
On a gorgeous day civic minded citizens from all communities and even a few from America gathered in OB community house to hear about plans to improve and protect our Fire Island lives
Newly elected Ocean Beach Mayor Hon. James S. Mallott welcomed his distinguished visitors and opened the meeting.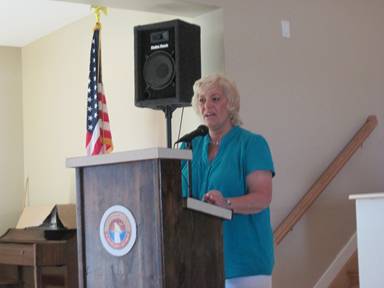 Ginnie Fields, NYS Assemblywoman whose district covers Fire Island has worked tirelessly on behalf of Fire Island communities including with colleagues in County and Town governments and State and federal elected officials. Specifically over the past few years, she has convened high level discussions with the County Executive and the Suffolk County Police Department to bring more law enforcement to FI communities, including checking the bars for overcrowding and overserving and was successful in working toward reinstatement of seasonal police officers to Fire Island communities. She has also worked for increased emergency and other essential services including enhanced communication between Verizon and Lilco  in the event of emergencies.
Angie Carpenter, Treasurer, Suffolk County Legislature has worked on behalf of Fire Island's best interests Island for many years. She was instrumental in getting the legislature to fund an economic study some years ago on the impact on the Long Island economy of barrier beach islands and coast line and tourism. She continues to believe the barrier beaches should be protected and cherished and that elected officials should be kept informed.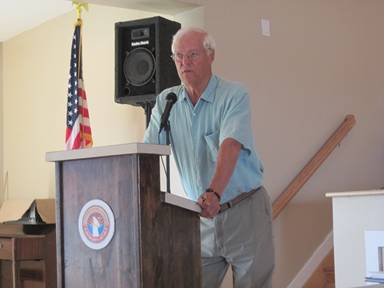 Jerry Stoddard, President of the FIA, introduced the keynote speaker, US Congressman Steve Israel, noting that Congressman Israel is an elected official who has been involved for many years in support of the Army Corps' Fire Island to Montauk Point beach nourishment project (FIMP).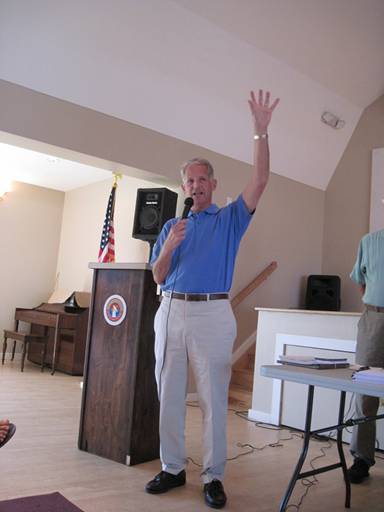 Congressman Israel delivered an impassioned speech that was generally off message for the Fire Island agenda --citing issues such as US independence from oil, and the Gulf oil spill, national security, and clean technology. But he spoke also of his seeking and obtaining congressional funds through his seat on the House Appropriation and WRDA Committees to fund the FIMP Army Corps studies and funding for coastal infrastructure restoration of about $40 million, a critical part of our regional economy --projects such as such as ferry docks and terminals on Fire Island as newly constructed at Ocean Beach and Saltaire for example which increase local economics on long Island concluding with "Thank you for keeping me in congress to fight for building infrastructure – our best investment".
Chris Soller, the Superintendent of the Fire Island National Seashore (FINS)/National Park Service, spoke of the broad agenda of the Park and he specifically addressed the Army Corps' FIMP project and FINS working with the Corps. He said FINS will be hosting public meetings this summer (8/21 in Ocean Beach) to present possible Alternatives to the new FINS' General Management Plan, that not only impacts the federal wilderness areas of FINS but the 17 communities and he believes in joint stewardship of Fire Island by both. He said the new GMP will address the extent to which FINS would support continued beach nourishment both by the Army Corps or, in lieu of that project, by other funding sources. He said Fire Island is an environmentally sensitive area and FINS is here to protect the natural resources of the Island.
(there will be a FINS meeting in OB 8/21)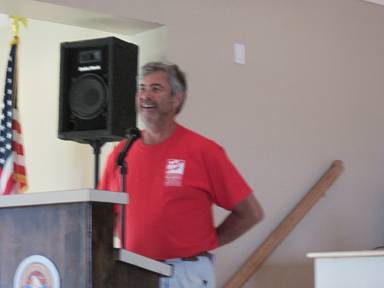 Chuck Bowman, President of Land Use Ecological Services also spoke of the Army Corps FIMP Project and meetings to try to finalize the project beyond the planning stage. He spoke of the need to develop a long term Programmatic Environmental Impact Statement for future beach nourishment projects and to find new sand sources.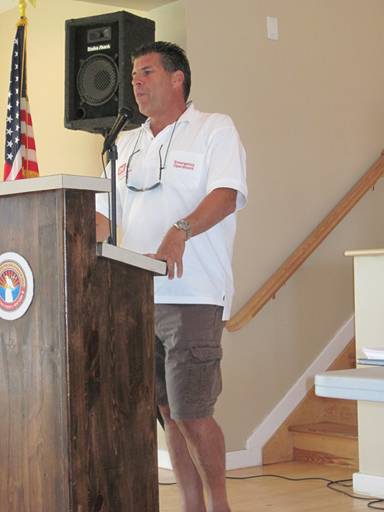 Joe Vietri, Chief of Policy and Planning, North Atlantic Division/US Army Corps of Engineers, was the final speaker. Vietri has worked on the FIMP project for the better part of his career in the Corps. The cost of everything has increased, including sand dredging from offshore—"a project that would have cost $500,000 now costs a billion dollars including elevating homes, drainage conditions, etc."
He stated that Fire Island is the most heavily populated area on the three miles off shore in the FIMP project. We are blessed to have more sand here than any of the other barrier beaches in the country. N.Y.State supports a fill plan off Fire island …It is not our business to prevent new homes or protect homes but there are some that sit where the fill plan will go.  We are not planning large condemnations of houses in dune districts.
As an engineering project it is a pretty simple solution. "It's basically a large scale debate over a small scale project". The challenge is the political input. "It's basically a large scale debate over a small scale project".  The project is 60 years old (New Jersey solved this problem in 8 years)…
Vietry urged it is now time for the Secretary of the Army Corps and the Secretary of the Department of the Interior to determine a mutually acceptable plan in coordination with NYS and the towns and villages of the region.
The Corps will hold a public meeting on the proposals on August 13 at the Ocean Beach Community House, and then over the next three months there should be a final push for the FIMP project.
"We love the place to death (there are so many concepts and ideas)…
We have to close the deal. We have reached that point where either we do something or we do nothing."
Fire Island National Seashore General Management Plan (GMP) Planning Meetings in August

Preliminary Management Alternatives Reviewed 8/20 and 8/21 on Fire Island,

Fire Island National Seashore Superintendent Chris Soller announced that the National Park Service (NPS) will host public General Management Plan (GMP) meetings this August in two communities on Fire Island.

Friday, August 20, 1:00 – 4:00 p.m. at
Whyte Hall, 577 Coast Guard Walk in Fire Island Pines
(Take ferry from Sayville to Fire Island Pines)


Saturday, August 21, 11:00 a.m. – 2:00 p.m. at
the Ocean Beach Community House, 153 Bay Walk in Ocean Beach
(Take ferry from Bay Shore to Ocean Beach)

These meetings will be organized as open houses during which the public will have the opportunity to learn about the proposed preliminary management alternatives. Park planners and managers will be on hand to answer questions and to accept public comments. Refreshments will be served.

Summaries of four preliminary alternatives are described in a newsletter that is available on-line at
www.nps.gov/fiis/parkmgmt/generalmanagementplan.htm.

Copies of the newsletter are available at NPS offices and facilities.

Public input is critical at this point to assist the National Park Service in refining the alternatives for presentation in a formal draft General
Management Plan/Environmental Impact Statement (GMP/EIS), and the identification of the NPS preferred alternative. The public comment period for the preliminary management alternatives opened on April 24; comments will be accepted through September 06, 2010.

Comments about the preliminary management alternatives may be submitted through several avenues.

By email:
fire_island_gmp@nps.gov
By mail:
Fire Island National Seashore GMP
15 State Street
Boston, MA 02109
Attn: Ellen Carlson, Project Manager
By fax:
617- 223- 5164
Or post comments on-line at the PEPC website:

www.parkplanning.nps.gov/fiis.
For more information about Fire Island National Seashore, visit the park's web site at www.nps.gov/fiis.
Paula S. Valentine
Public Affairs
Fire Island National Seashore120 Laurel Street, Patchogue NY 11772
631-687-4759, 631-774-0520 (cell)
paula_valentine@nps.gov
www.nps.gov/fiis



--
<![if !supportLineBreakNewLine]>