FAIR HARBOR : FIGS & FRIENDS, A FRIGID FIRE
FIGS & FRIENDS
Central Park , NYC April 30th
Women of Fair Harbor form a team at The Revlon Run /Walk for Women's Cancers.
EIF Revlon Run/Walk For Women New York 2011

The Revlon Run/Walk for women's cancers was an event I had been aware of for many years, but had never participated in. Like most of us I knew women that had suffered from breast, ovarian or uterine cancer. After being diagnosed with breast cancer myself in the spring of 2009 and spending most of the rest of that year undergoing surgery, chemotherapy and radiation, this event held a greater meaning for me. The fact that this was sponsored by the Entertainment Industry also made me feel connected as I had worked in the theatre early in my career.
FIGS celebrating my end of treatment with me November 2009!
L to R - Maxine Hayden, Bonnie Glazer Joyce White, Marlene Feldman, Carol Leib, Gena Goldstein, Me & Joan Weiss
So in the spring of 2010 I registered for the event online and began to raise money by contacting friends, family & co-workers. In mentioning this to a Fair Harbor friend, Bonnie Glazer, I found out that she had been participating in this event since it began – 13 years ago. Her journey began as a result of a co-worker being diagnosed with breast cancer. Her commitment inspired me. Along with her daughter, Jennifer Ludwig and niece Lisa Kaplan, she has been doing this walk every year (missing a day on Fire Island ) to help raise money for women's cancers.
Needless to say I was emotionally overwhelmed participating in my first walk in 2010. Walking over to Times Square from Grand Central Station and seeing all the people in the streets wearing Revlon WOMENTUM™ t-shirts and hats and then seeing the sea of people on 7th avenue , I began to cry. So many people are affected by these cancers! It was wonderful to have friends to share this event with! While walking we came up with the idea of the FIGS (Fire Island Girls) & FRIENDS team name which we registered for the 2011 walk!
This year, 2011, the FIGS & FRIENDS raised almost $7,000 for women's cancers! The team comprised of Bonnie, Jennifer, Lisa, me and a new team member, Gena Goldstein. The FIGS & FRIENDS walked to create WOMENTUM™! And it was a celebration for me being cancer free for two years!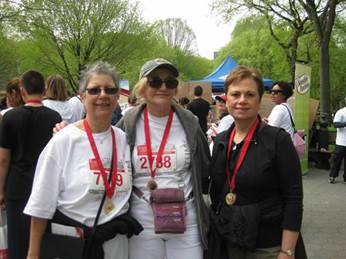 Minda, Gena & Bonnie (the FIGS)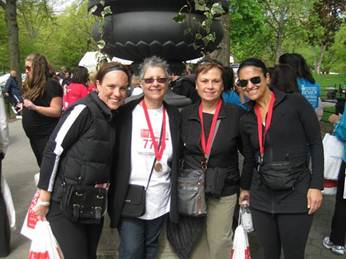 Jennifer & Lisa (the FRIENDS)
Although we had a great outpouring of support via donations, for 2012 we hope to get a larger participating team of FIGS & FRIENDS together. With more participants we can hire a Tommy's Taxi (or two) to pick us up at the finish line and whisk us out to Bayshore - (Margaritas served!)
Minda Chipurnoi Finkelstein
REVLON EIT INFO - We Support
A donation to the Entertainment Industry Foundation Revlon Run Walk for Women supports organizations and programs that research the cause and cure of women's cancers and provide support programs for women's cancer patients and their families.
Proceeds from the Run/Walk are distributed to a variety of charitable organizations leading the fight against women's cancers.
Your Pledges Help Support 2011 Beneficiaries.
These national and New York area beneficiaries are dedicated to researching the cause and cure of women's cancers and providing support programs for women's cancer patients and their families.
Actors Fund of America The Actors Fund's Phyllis Newman Women's Health Initiative (PNWHI) serves women in the entertainment and performing arts community confronting cancer and other serious health diagnoses. PNWHI offers the patient navigation services through medical and support options, and provides guidance for basic life issues, e.g., returning to work, disability, as well as imparting coping skills through individual and group counseling. PNWHI is a portal to The Fund's almost two-dozen other human services programs.
Albert Einstein Cancer Center The Psychosocial Oncology Program of the Montefiore-Einstein Cancer Center is one of the primary organizations to offer free counseling, education, and mind-body therapies to cancer patients/caregivers in Bronx , NY . Through EIF/Revlon support, the "Bronx Oncology Living Daily" Outreach Program will focus efforts on reaching out to the most underserved and socially isolated cancer patients in the Bronx with accessible and portable psychosocial support and care to meet their needs.
CancerCare's Special Assistance Project for Underserved Women provides a full array of free support services to underserved women affected by breast and gynecological cancers and their loved ones. Services include individual/group counseling, information and educational programs about cancer and its treatment, practical help, and referrals. For women who meet eligibility requirements, the project also provides financial assistance for transportation to and from treatment, homecare, childcare, and pain medication.
Gilda's Club New York City creates welcoming communities of free support for everyone living with cancer - men, women, children and teens - along with their families and friends. Our innovative program is an essential complement to medical care, providing support groups, workshops, lectures and social activities, all free of charge. Funding will be used to help reach an expanding and more diverse membership at out Manhattan Clubhouse and at community satellites in Manhattan , Brooklyn and the Bronx .
Memorial Sloan-Kettering Cancer Center The Gynecology Service at Memorial Sloan-Kettering is devoted to studying the molecular genetics and biology of ovarian cancer. Our goal is to develop new screening approaches for ovarian cancer in order to catch it in the earliest stages. Though ovarian cancer is known for having a relatively high mortality rate, this is due entirely to the fact that the disease is difficult to diagnose in its early stages. We have identified genetic and anatomic markers associated with the origins of ovarian cancer. We have also discovered molecular targets that may improve the response to drug therapies. The long term aims of these projects are expected to reduce the burden of ovarian cancer through screening, prevention and improved treatment. (212)-639-2000.
National Coalition for Cancer Survivorship (NCCS) NCCS advocates for quality cancer care for all Americans and provides tools that empower people affected by cancer to advocate for themselves. Founded by and for cancer survivors in 1986, NCCS created the widely accepted definition of survivorship and considers someone a cancer survivor from the time of diagnosis through the balance of life.
EIF Women's Cancer Programs (National Women's Cancer Research Alliance) The goal of the Entertainment Industry Foundation's National Women's Cancer Research Alliance (NWCRA) is to accelerate promising research to treat cancer patients more safely and to increase patient access to some of the most significant clinical trials in the nation. Co-founded with Lilly Tartikoff, EIF NWCRA grants have yielded preliminary data demonstrating that all breast cancers are not alike, and that malignancies in the breast can be divided into clearly identifiable sub-types based on the pattern of their gene expression. That explains why clinical outcomes for women treated with standard one-size-fits-all treatment regimens vary widely. To improve these overall outcomes, NWCRA researchers are committed to the development of new treatments specifically designed for each sub-type of breast cancer. Institutions receiving continued support to advance this work are Cold Spring Harbor Laboratory, Harvard University , Jonsson Cancer Center (UCLA), University of Chicago and the National Breast Cancer Coalition. The NWCRA has already had success with this approach using the drug Herceptin. There is also a new research effort in identifying the unique pathways driving breast cancer in African-American women. Finally, there is a major research effort into the mechanisms driving ovarian cancer and how to treat this disease with new approaches.
Ovarian Cancer National Alliance The Ovarian Cancer National Alliance is the foremost advocate for women with ovarian cancer in the United States . The organization developed an educational program to inform health care professionals about ovarian cancer symptoms. This program, Survivors Teaching Students: Saving Women's Lives (STS), brings ovarian cancer survivors into health professionals' classrooms to share stories and information about the disease. STS has now educated 12,000 health care professionals and continues to expand in schools across the country.
William F. Ryan Community Health Network a not-for-profit Community Health Center that provides high quality, affordable, primary, preventative and specialty health care and supportive services to minority and medically underserved populations. Funds will be used to support the Women's Health Education/Patient Navigator programs at Ryan's main site, its satellite, Ryan-NENA, and its affiliate Ryan/Chelsea-Clinton, which serve, collectively, the Upper West Side, Central Harlem, Washington Heights, Lower East Side, and Chelsea/Clinton neighborhoods of Manhattan .
These beneficiaries are selected by The Entertainment Industry Foundation (EIF). EIF is 501(c)3 non-profit organization that provides philanthropic leadership and facilitates the collective fundraising power of the entertainment industry to impact critical issues and create positive social change by making researched contributions to local and national charitable organizations.
http://do.eifoundation.org
It is never too late to donate:
TEXT A $10 DONATION! MAKE A DIFFERENCE.
Text WALK to 50555 to donate $10 to fight women's cancers.
By sending this text, it's easy, safe and secure to make a $10 donation to the EIF Revlon Run/Walk for Women.
A one-time donation of $10.00 to the Entertainment Industry Foundation will appear on your wireless bill, or be deducted from your prepaid balance. All purchases must be authorized by the account holder. Message and Data Rates May Apply. Text STOP to 50555 to STOP. Text HELP to 50555 for HELP. Full Terms: www.mGive.org/T. Privacy Policy
Mail Donation to:
EIF REVLON Run/Walk – New York File 1380
1801 West Olympic Blvd.
Pasadena , CA 91199-1380
WOMENTUM™ SOCIAL POWER.
Tweet. Text. Blog. Post. Rev it up and pass it on! Meet up on our social pages and add your story. Share some inspiration. Find some fundraising tips. Tweet some encouragement. Get the latest updates and exclusive sneak peeks. Let's keep the WOMENTUM™ going and growing.
Fair Harbor residents Minda Chipurnoi Finkelstein, Gena Goldstein and Bonnie Glazer. raised almost $7,000!
This is Bonnie's 13th year participating in this event, Minda's second and Gena's first. We take part in the walk for all the women we know who have been touched by this terrible disease.
We hope that our team will grow next year!
.
MAJOR FIRE IN FAIR HARBOR January 13th
This blow by blow was written by one of the members of the FHFD. I hope it helps.
Scott Cherveny
Chief FHFD
From Heather McDonald, FHFD
January 14th
We had a major fire in Fair Harbor yesterday where a house burned to the ground. Members of The Fair Harbor Fire Department responded and made sure that no neighboring homes or property were damaged. No one was hurt in the fire and the house was not occupied - things that we can all be grateful for. Photos of the house that show what our Firefighters encountered upon arrival as well as the aftermath are attached.
FHFD Chief Scott Cherveny, First Assistant Chief Brendan Reynolds and Captain Bobby Kerr provided the following report:
Things happened fast this afternoon. FHFD First Assistant Chief Brendan Reynolds and Captain Bobby Kerr both saw smoke coming from the Eastern side of Fair Harbor near the Bay and notified Chief Cherveny. First Assistant Chief Reynolds responded directly to the location and Chief Cherveny headed to the fire house, called in the alarm and got things moving. In less than 15 minutes they had water on the fire. The whole interior of the house was burning when the Firefighters arrived. First Assistant Chief Reynolds confirmed that the entire interior of the house was involved in the fire and that nothing could be done to save it. The fire was fought both from Walnut and Elm walks, using the surround and drown technique to protect the adjacent homes and property. Nothing else was lost except the house. Firefighters from Kismet, Saltaire and Ocean Beach responded to fight the fire as well.
We had a great response from the members of the FHFD that were on Island and also from others who responded quickly from off Island, including Second and Third Assistant Chiefs Jesse Ostrow and Cedric Legret who responded from Manhattan.
One item that the Commissioners and Department will be following up on is the poor condition the walks were in due to the snow. The town of Islip did nothing to clear the walks which made getting our equipment to the fire very difficult and slowed the response time. We are following up with the Town of Islip on this issue.
Our thanks to all of the members of the FHFD that responded to the fire and also to our neighboring Departments and local residents that assisted in keeping this from becoming a bigger tragedy than the loss of one home.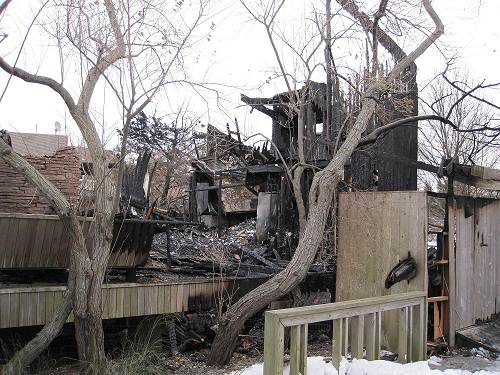 Yesterday (1/13/11) around noon, the house belonging to Lucy and Phil Suarez on Elm and the Bay caught fire.

In spite of the best efforts of the Fair Harbor Fire Department assisted by the Kismet and Ocean Beach Fire Departments, the house could not be saved.

Luckily no one was injured as a result of the blaze, and no other homes were damaged.
This happened today on Walnut and the bay. No one was injured but house totally destroyed. Looked like this when the FD got there
National Park Rangers Luke DeDominici and Joseph Rousseau assisted as well
running hose and securing the area.

John

John J. Stewart
Acting Chief Ranger
Fire Island National Seashore

Sent: Sat, January 15, 2011 8:07:24 AM
Subject: Fair Harbor fire
Fire Island News Frigid Day of Fire in Fair Harbor, One House Destroyed
—By Nicole Pressly Wolf

On a frigid January 13, a fire raged through a Fair Harbor bay front home at 12:30 p.m. causing a total destruction of the modern home. One firefighter was injured and taken to Good Samaritan Hospital in Islip . Neighboring homes were left undamaged.
Four departments, Fair Harbor , Kismet, Saltaire and Ocean Beach , responded to the fire, as well as the Ocean Beach ambulance. OB worked with FH EMTs.

Challenging conditions dominated the fire: extreme cold, high water-front winds and almost a foot of snow. Boardwalks were impassable, hose was run over 1000 feet through the snow and ice to the fire.
The fire also caused a 40 truck traffic jam on Midway, as the road was closed for over three hours and the beachfront was impassable due to over a foot of snow and ice, according to Ian Levine, Ocean Beach Fire Department information officer. The school buses, going west to bring Woodhull students home, and going east to drive Fire Island children back onto the beach to their homes, were also delayed. Some children stayed at school and some went for impromptu playdates at neighboring homes.
"The school did a great job of being prepared. Lots of parents are firefighers, so they had up to the minute news on the conditions and what would be safe," said Tara McBride, Lonelyville mother of children in Woodhull as well as on the mainland and Fire Island News columnist. Traci Murphy handled the school's phones and updated parents all afternoon.

Many firefighters were treated to a multi-department "rehab": health diagnosis and rest in the ambulance, after battling the blaze.

The fire fighter, from Fair Harbor 's department, was one of the first responders. He was treated for smoke inhalation and released later that evening.

"The response was amazing in these conditions. It was all handled very professionally," said McBride.

The cause of the fire is currently under investigation.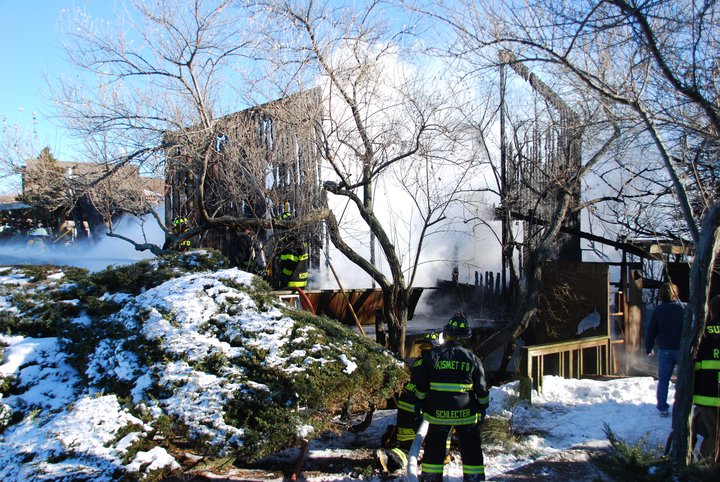 <![if !supportLineBreakNewLine]>