KISMET FIRE DEPARTMENT 38th ANNUAL INSTALLATION DINNER
Perhaps it was the realization that we had all survived the predicted end of the world
at the precise time the party was beginning and cocktails were being served, or that the weather was so depressing the members if the KFD and their guests really needed to party, and they all dressed up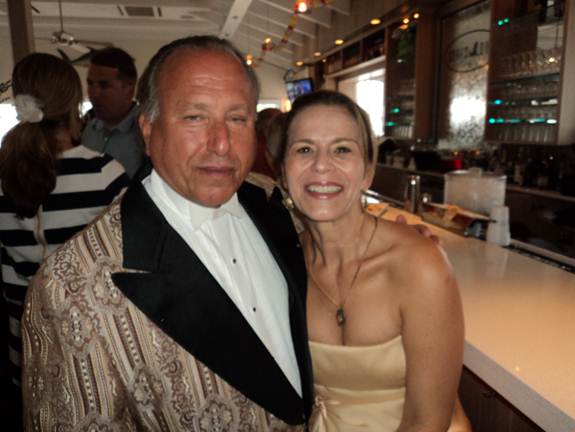 from Peter & Michelle, who made a South Beach statement,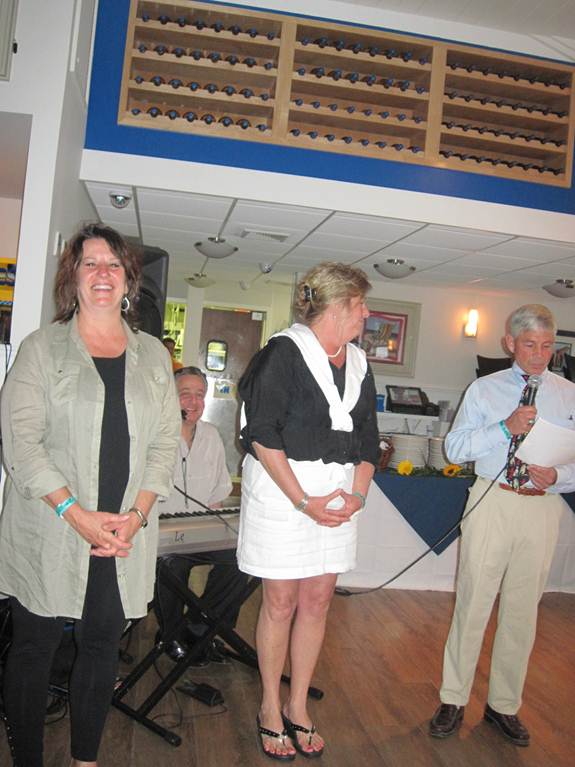 to the Chiros' Kismet Beach chic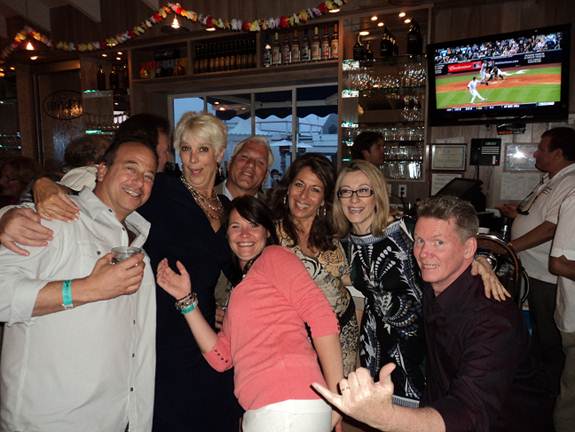 to Dawn Leone's sexpot little black sheathe to celebrate hubbie Gary's induction as Commissioner, to Janet Mennella's always classy couture –
It was up beat and snazzy, an event right out of Americana 's tribute to small town America and their feeling of camaraderie and appreciation and pride filled the already bursting rafters of the Out to overflowing.
From tributes to fallen former members, Chief Sitone and Commissioner Rollie Mennella (This past January a plaque was dedicated in Tom Sitone's honor and was placed in the meeting room of the Kismet Firehouse where a new plaque to Rollie will also be placed)
to the their new "mule" fire truck, blessed by newly retired FINS Jay Lippert "May it go out to save and return successful"
31 year member Buddy did the intros; the retirement of Jay Lippert draw applause.
Buddy paid Honorable Mention to Tommy Field for 30 years of service, 15 years to Artie Goldstein, 5 year members Chiros Linda & Janet, and special congrats to new Commissioner Gary Leone. (joining Art Weinstein, Rusty Phelan, Larry Cole & Sam Wood) and welcome to newest member former "probie" Joey (who says John Altieri is still considered "probie").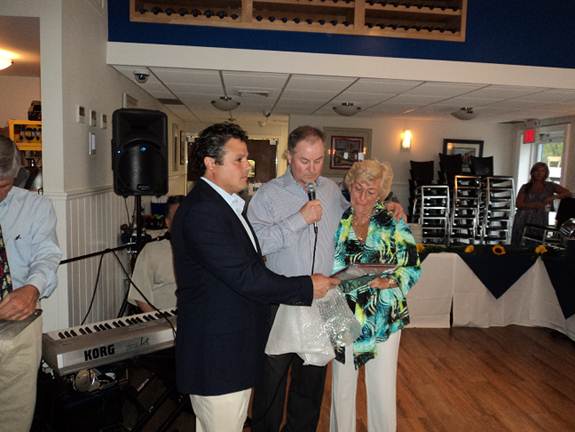 Sam brought up honored guest Janet Mennella and delivered a special speech honoring Rollie "who was bigger than life, who came to us from Bayshore in 1998 bringing us a fire truck we never even got to pay for" and his years of service 'til 2011. Janet Mennella received a special award in appreciation of all the work she and Rollie did for the department (Janet was treasurer of the Fire District and Amy Wood replaced her).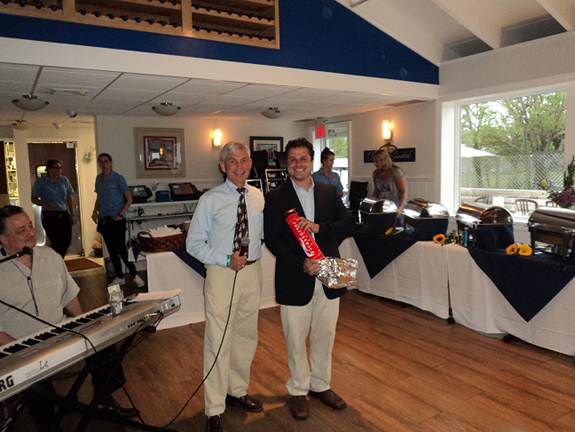 Re-elected chief Dom Bertucci, who received his own fire extinguisher as a gift, stated he was "very proud to be leader of this department and couldn't ask for better spirit and I thank each and every one of you here tonight "adding he has been blessed by the guidance of Tom Sitone and wished he could be there tonight.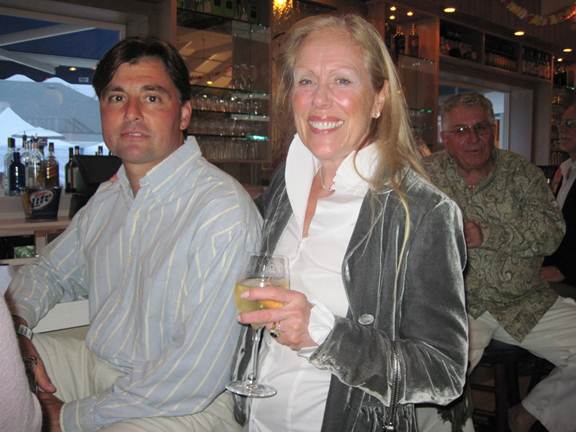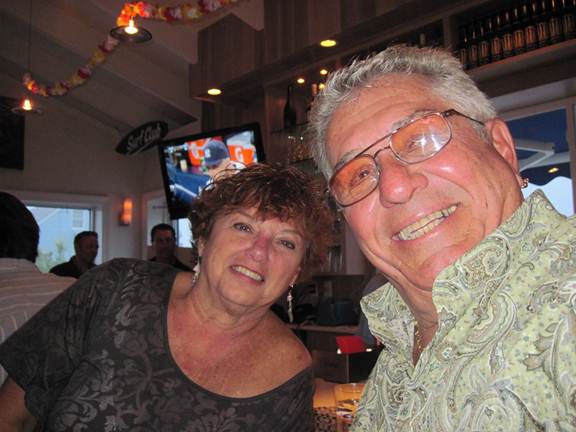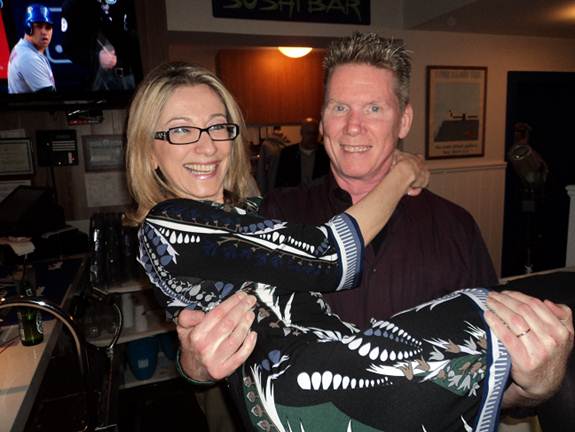 Is this the "Fireman's carry"?
Commissioner Larry just turned 70!!! Both sons in the Department!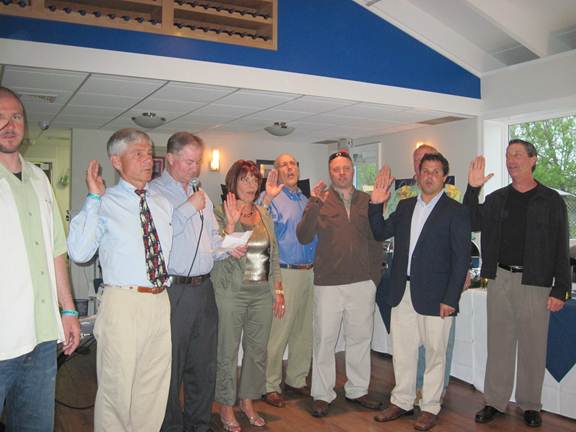 " We hereby swear to ……………………"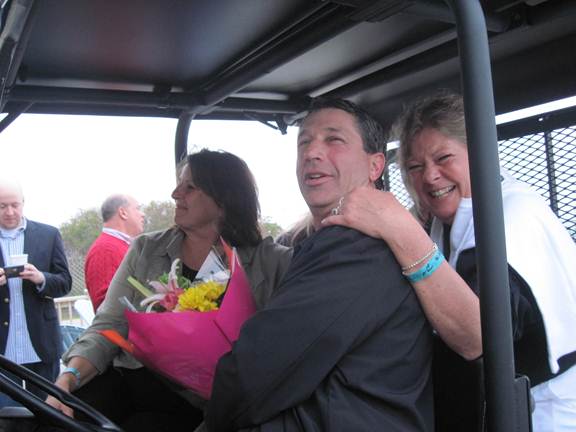 Hi Ho Hi Ho Its Off to Work We Go!!!
………………… here's to a great evening!