CHERRY GROVE HOMECOMING QUEEN CONTEST:
FROM A BEACH TO A DUNE 
By Jeannie
Not just a beauty contest, the Grove's annual Homecoming Queen Contest picks a popular person who has contributed to the welfare of the community and will continue to do so throughout the year – appearing at all fundraising and related events.
But let's not get too lofty. This year's event was the smallest and the loudest. Crowd noise has been the deciding factor (so they say) usually produced by foot stamping, cheers and clapping. For the first time noisemakers were organized and distributed among fans of certain entrants: Donald LaBohn (Sylvia Shapiro) had an actual siren and, later confetti to empower Evan (Shirley Shapiro), other claques had pot & pans, real whistles, and other devices which prompted hostesses Bella and Panzi to admonish the crowd that there were mandatory moments of silence for a fairer tally.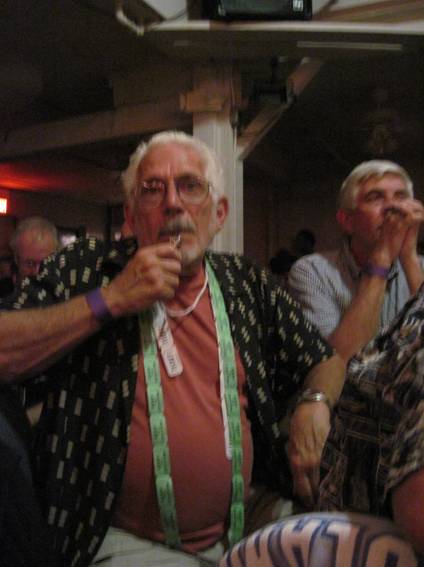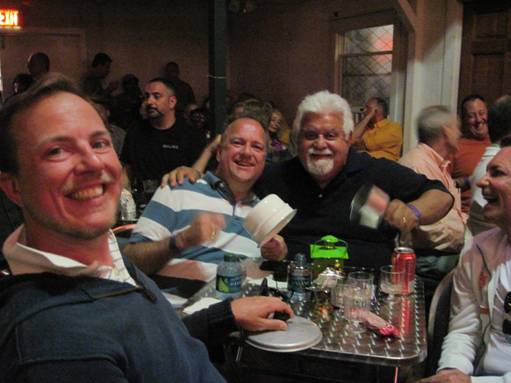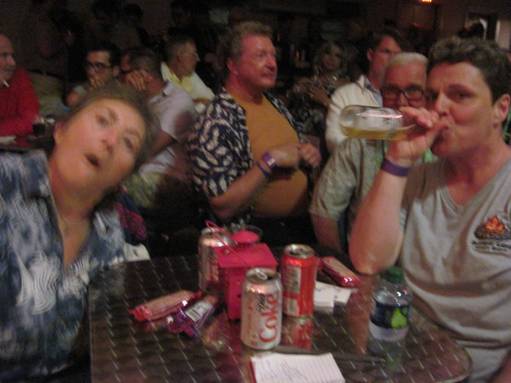 However the rowdy bunch of campers would not be dissuaded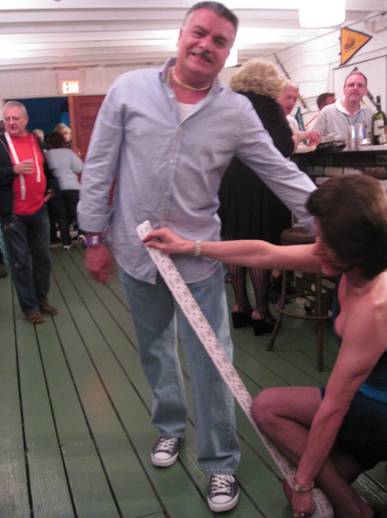 Chief raffle ticket seller, Mme. Hoffa, had a unique and fun way
of measuring how many tickets to sell each customer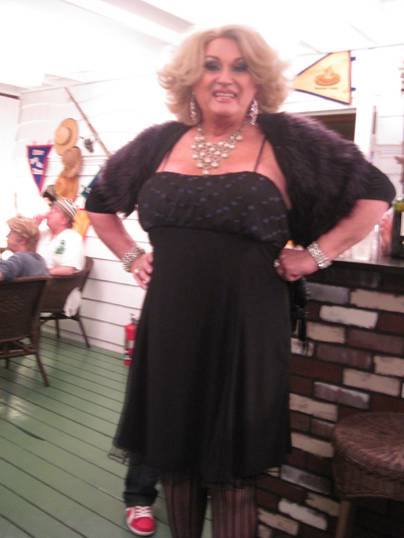 Big, blonde & beautiful Charity was among the luminaries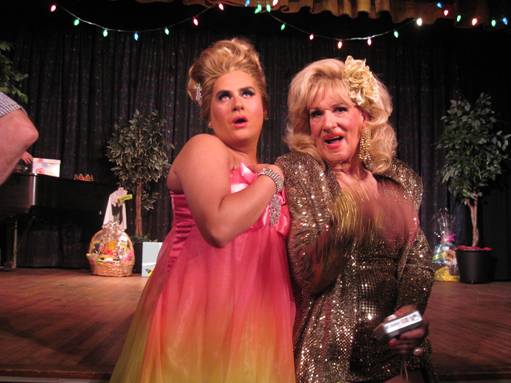 The presence of past HQs added to the importance of the event: Lola & Cobra (above), Coco, Scarlett O, Legs Labohn, China, Philomena, Panzi, Urban Sprawl, Mandi. Other in queens in attendance: Margo, DemiTasse, Toni Bondi,  Ivana Cocktail, Rose Levine, Angela Merci (the house was so crowded with its new tables that photo ops required too much athleticism)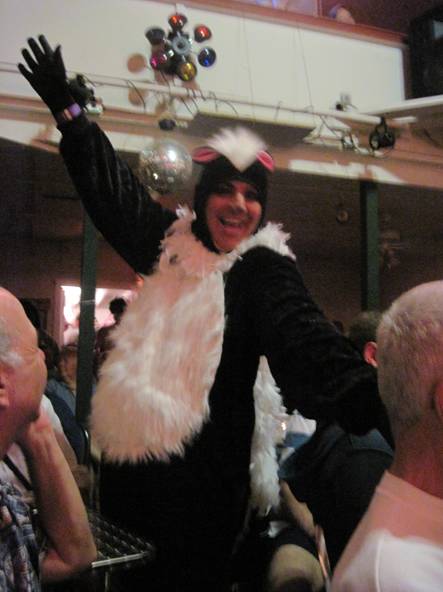 The ever manic Margo masqueraded as the camp Skunk - she obviously has an animal fetish (remember the tiger at the Ball?)
Downstairs (backstage) some of the contestants were prepping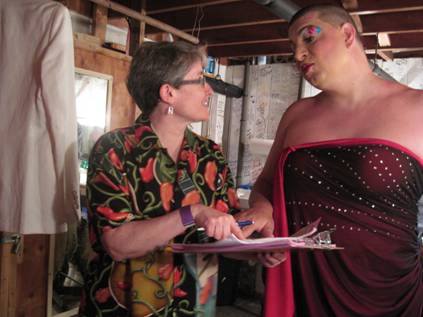 Ellen was getting bio facts from Ann Phetermine "I've been first runner up twice…I will not be the Susan Lucci of the Grove 
Harold Seeley (who never looked better – that is before he went into drag) reminisced that he enters every decade – that he was miss Monster in the '80s, Miss Rebel (?) in the '90's and now is Miss Confused discoursing on the virtues of slap and tickles vs. pain with his S&M "accessories" as Urban Sprawl (who was in drag as a boy) ably assisted in his transformation to a ravishing (ravaged?) blond..
Bella gave up her sacrosanct private corner because of water damage to join Panzi in her sacred corner and they enhanced each other's natural bitc---iness. The stunning and sweet Robin Kradles, who was quietly making herself even more gorgeous, murmured "This time I want to win. I am ready".
In her typical exuberance and enormous wing span last year's Queen Beach DeBree enthused "It was the best year…among her favorite experiences was not leading the Invasion boat into the Pines but walking among the familiar crowds of friends and neighbors of the Grove. To illustrate that she literally tossed her (camp) cookies into the crowd (would she share her milk, too?)
 When she later lip synched the lengthy "A Moment Like This"
 It prompted Panzi to sit down "I'm waiting for this song to end"
SOME NEWS: APCG President Coco Love (Michael Coffindaffer) made some opening comments noting the new cocktail tables, the Air Conditioning and the fact that tickets for events could now be bought online – all fabulous firsts!
Panzi and Bella asked how many of the crowd in the room actually went to summer camp and it turned out that the Jews  were only ones (contrary to the Freedner Twins show stopping song "Jews Don't Camp") ''We had to go" many said revealing that they preferred silk and velvet to burlap for the leg races. Inquiries about first initiation to sex, Panzi said it was with a queen "I wanted to close my eyes" she remarked. "Me, Too" Wendy chimed in.
The contestants were requested to sing (which can turn a lip synching drag queen into a jelly mass of fear)
Robin whispered "When You Wish upon a Star."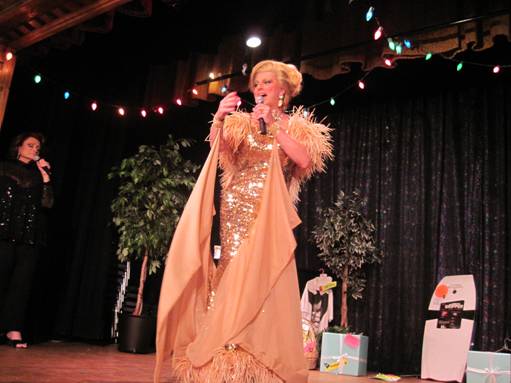 YaNeeda Dune (Uneeda?) deflected the challenge with the summer campy "99 Bottles of Beer on the Wall"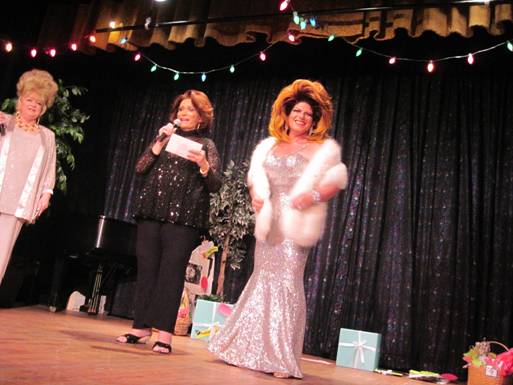 Shirley Shapiro, who had to be lip synched by Panzi last time, delivered the obscure, theme compatible  "B-i-n-g-o was his name, oh!"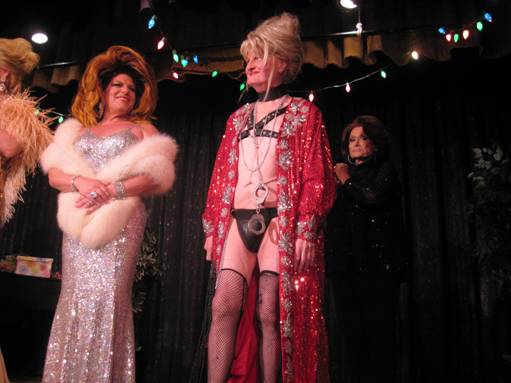 Miss Confused tried to divert the crowd revealing his S&M harness and jock strap, torn fishnets, garnished with handcuffs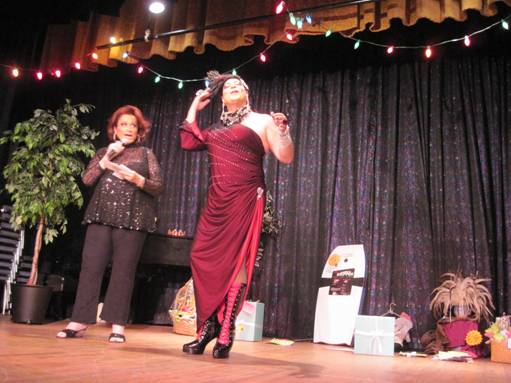 .
The ever hip, always unique Ann Phetermine appropriately went to Lady Gaga with "Born This Way."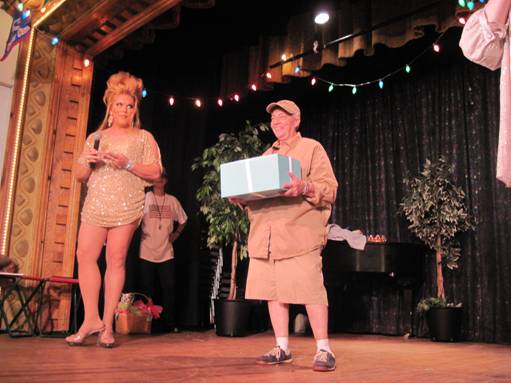 The really cute Anita, first time onstage, delivered the raffle prizes which included a seasons jitney passes "one way"
CRUNCH TIME
As Ann P and Miss C confused were eliminated………..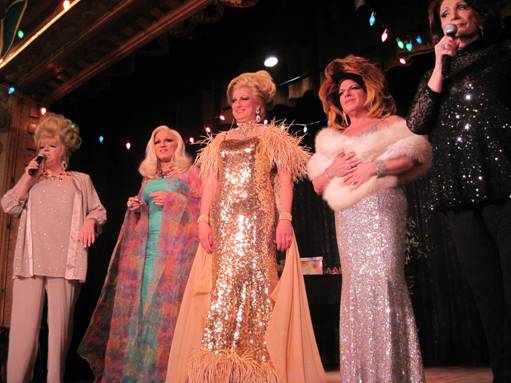 THE FINAL LINEUP 
…and the winner is….
YaNeeda Dune was crowned by former HCQueen (and real life partner)
Beach DeBree in her last official act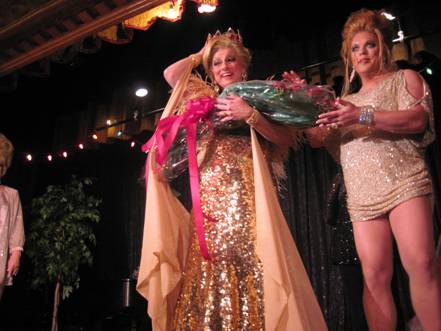 Hail to the Queen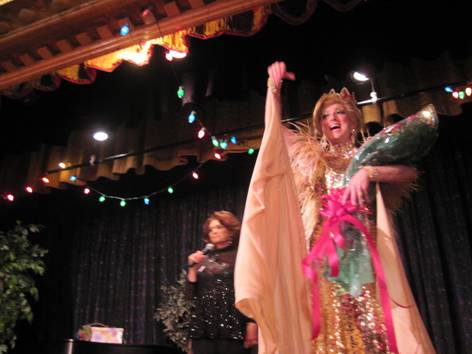 Off to my Kingdom – thank you everybody!
("See you next year" Ann was heard to say)