"ICONS Volume 1" Brings World History to Arts Project of Cherry Grove
by Sherri Rase
Jade Esteban Estrada is changing the world, one performance at a time. The Arts Project hosted the 288 th and 289 th performances of a show that started rocking this world in 2002.
Part of a series that includes Volumes 2 and 3 as well as TransWorld, Jade originally wrote this accessible history with the idea of a trilogy in mind. When he realized that so much of our history was unknown to LGBTI people of all ages, including some who had lived through some of it, he knew he had to give our ancestors a voice.
Volume 1 includes Sappho, Michelangelo, Oscar Wilde, Gertrude Stein, Sylvia Rivera and Ellen DeGeneres, and two performances sat rapt with Jade's portrayals. Many who had attended Win Wells' "Gertrude Stein and A Companion" earlier this season saw two very different portrayals, yet both answer "What is the question?".
An undocumented feature of the second performance was the loud concussions of the Grove Customer Appreciation firework show. Originally scheduled for Cherry Grove's Pride Weekend in June, the fireworks were slated to happen at 9pm. APCG held the show, hopeful it would happen prior to the start, but ever the Supertrouper, Jade not only continued his performance with bombs bursting in air, he integrated the fireworks into the portrait is progress of Michelangelo!
New dimensions of each character, some of whom we thought we knew, were displayed very cleverly. If you've not seen Oscar Wilde segue from tap dance to rap star, you ain't seen nothing!
Rumor has it that Jade has been asked for a return engagement next year. Will it be Volume 2? Volume 3? TransWorld? Watch this space and visit the Arts Project to see what the buzz is all about!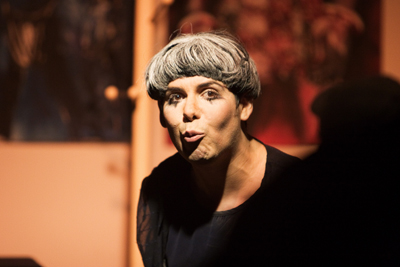 Jade Esteban Estrada as Gertrude Stein, from ICONS

Jade Esteban Estrada signing copies of "Being Out Rocks", HRC's compilation of gay and gay-friendly artists