Starting over………….
KISMET ROCKED ALL WINTER!!!
By Jeannie
Kismet used to be a quiet place in winter. But for a few families: the Woods, Kavans, Coles – the absentee landlords would return after cashing in their rent checks and, at 3:30PM sundown, would crawl into their caves for the night. Then came new streets, year 'round water and the new firehouse with its private club upstairs for KFD's and their guests. Then came Chief Dom & Kelly and the Chiros Janet & K Linda – and Wii Bowling League –who set the town on fire - a mammoth event complete with color teams –which kept going through winter with theme dinners by various teams. By 3/21 there were 4 Teams left in play offs: White, Gold, Black, Red (Green, Black & Blue gone down), playing for the championship, all culminating in a celebration party on 4/9 at Ocean Beach After it ended most could not remember who was on what team. The one thing in common: "it was a great time".
INN bartendress Erin, who usually follows the sun, stayed in Kismet saying "Kismet in winter is a party town. As many as 3-4 parties a weekend!" Joe V confirmed that calls to his friends on island were fruitless as he couldn't entice anyone away to the mainland.
Snowbirds: However not all stayed. Congrats to Editor Gracie who landed the plum assignment of covering events at the Cannes Festival (where were those assignments when I went to school?) after studying in Florida with bro Sam and Casey nearby. Generous hosts Phyllis and Charlie cashed in on their IOUs in an extended trip through Florida at Alyson & Richard's, Nancy & Artie's, Pat & Phil's, Bruce & Elaine's, dining out every night while exploring the territory for future reference. Other Kismetics escaping the endless snow we suffered through: The Coles' Larry just celebrated his 70th. Warren & Lee, Frank Grace & Tina, Rita G , Bradlee ( who actually complained about some 90 degree weather in Naples) Genesis' Zev & Marilyn enjoying their Florida condo & the Caribbean, as did that traveling band of merry makers Liotta's, Skee & Barbara, Karen and the Chiros. Joe & Joanie cruising to celebrate her 60th, and Gary & Dawn just back from Florida last week.
Another loss: Kismet also lost longtime resident Bill Crouch, who lived on W Lighthouse with his wife. When my house washed away '91 I briefly went into exile to OB and Bill took over my Kismet column for the FINews. When I returned I wrote the column for the Tide and Bill and I became rival columnists. One summer I was bitten by the deadly Deer Tick erlichiosus and within 4 days I was rushed to the hospital only 7 hours from death. In my delirium I obsessed over my column which was due. Bill called me in the hospital and wrote my column for me under my name after he submitted his own to the News. It was one of the kindest things anyone had ever done for me. Later, when he was becoming too ill to attend the annual national charitable Drag Queen event, Night of 1000 Gowns at he Marriott Marquis in NYC, he would pay for his very expensive ticket and give it to me. He died this winter after a long illness. His humor and his standards and chivalry were so treasured in today's society. He was a truly unique and giving person.
BLIGHT ON BEAUTY: How often when racing to the ferry or relaxing on the way home have we found the beauty of Ocean Parkway drive irresistible? Well it was also irresistible to a serial killer or killers who dumped the remains of 10 bodies and counting at press time, some3 years old, as Nassau and Suffolk police combined forces on land, air and sea (including Suffolk PD Diving team) and hundreds of cadaver dogs` who are searching15 miles from Jones Beach to Oak, to aptly named Hemlock Cove, Gilgo to Cedar and beyond. I am told the evidence has just been removed but the search continues. Sadly, that drive will never appear the same.
HEALTH TIPS: From Rusty & Sam , at Island Beach Realty Assoc: The Department of State now requires the installation of carbon monoxide detectors in all one-and two-family dwellings. Also, change the batteries in your smoke alarms.
Other tips: Research reports 1/2 hour of light gardening improves man's impotence.Another study indicates that many women use gardening as a substitute for having more children. Does one sense a conflict of interest here?
Eat Bugs: According to herbalist Ron Teegarden, ants and male silk moths are effective sexual tonics. The ant, known as the "Herb of Kings," improves sexual function and increases virility and fertility while easing anxiety and stress. To up your guy's ante, slip him a few squirts of male silk moth. Rich in protein and male hormones.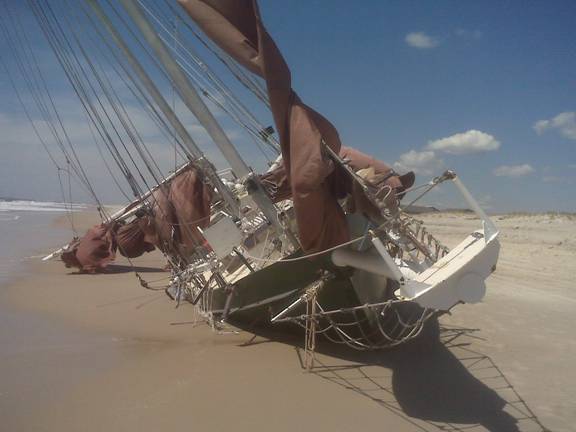 Photos by Gregg
The Saga of the Sailboat: here's the "alleged" story from a variety of sources: A newly retired man in Chile put all his money into a sailboat (48'?) which he bought in Baltimore with the intent of sailing it to Maine for refurbishing. As a "surprise" his son and some friends took the boat up coast - calm sea, visibility 7 miles - kid at helm literally fell asleep at the wheel - and sailed right onto Saltaire beach - wreck there for days while debates raged over responsibility (the man claimed to be broke and unable to pay for removal)- Saltaire, NYS, Feds,USACE? Suddenly it was dragged off to old firehouse Sat AM 9/30 From there who knows? I am told the son is still alive.
House Calls: Villa Nova all estrogen as Joanne and her beautiful carbon copy sister Terry took over in Carmine's absence.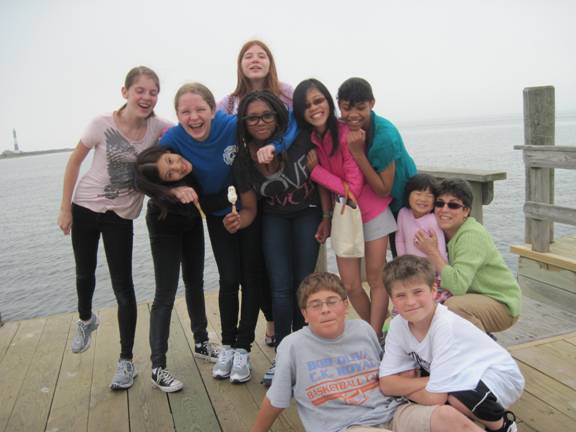 More estrogen at Tigh Agnes bursting with high decibels as Soirse Ryan's 13th BD gal friends – "singing" while 3 1/2 year old Anna (who just filed her dad's taxes, long form)and 12 year Jack Manzo & friends joined in. Veteran dad Jim Ryan, who once again starred in NYC's Inner Circle annual Press Club Roast (sorry, no pictures, privacy code), seen escaping to the Manzo's Summa Casa with Tony. Welcome back to Avalon's Bradlee who found our brood of feral cats fatter and sassier than ever thanks to the winter efforts of Christine, Jean McM, Andy, Annie and Tommy F. – good job! The Merry Marrieds Jen Cindy Neal & Steve on their "preview" visit: while the girls cleaned (and compared new reading glasses, tempus fugit) the guys marched to their "season opener drink" at the Out. Sugar Shack: welcome back to my neighbor Laura already sun kissed brown . Risque-biz Beck just put in a new wine cellar. You can watch his endless line of worker ants – carrying lumber to the house. Xanadus, just Joyce, Joanie and Pinnie, still managed to cook a swell dinner. Sunset's Hunkel and a rare visit from beautiful wife Susan
Party Line: Cozy A hosted Ken's annual BD a week early (so they could clean for renters next week) Lorrie, Ken's sister Marge and the man himself hosted his 53rd (we're counting) saying "this is the best time" and, though it caught some of us unaware – it was the best of the past. (see related article)
THE RACES!!!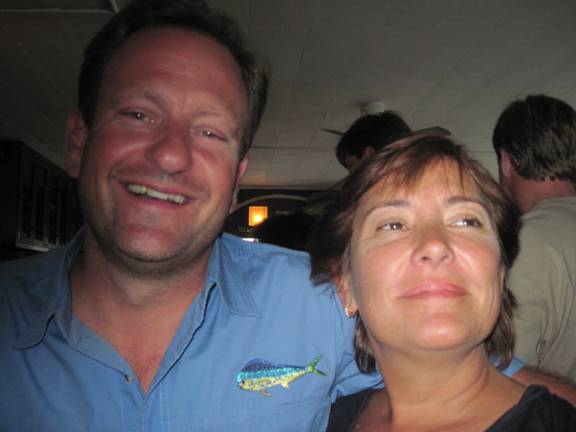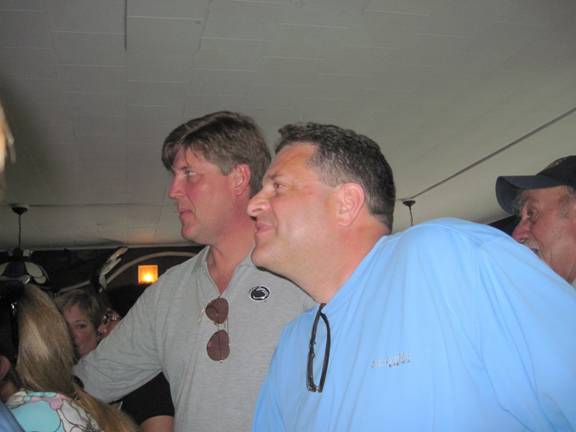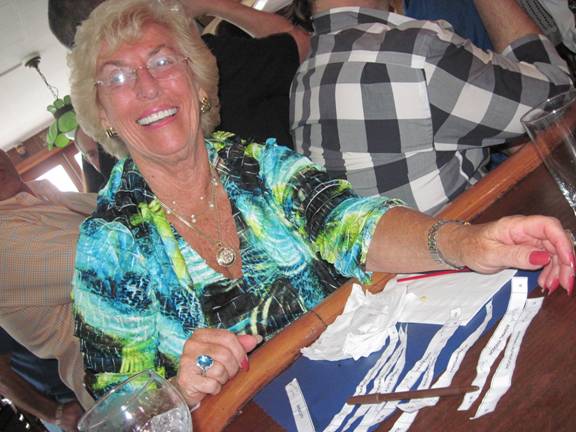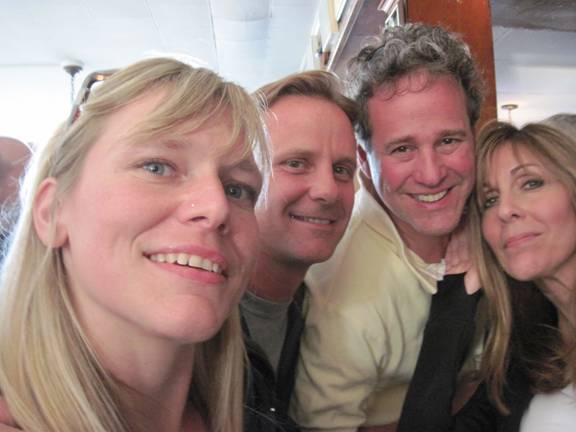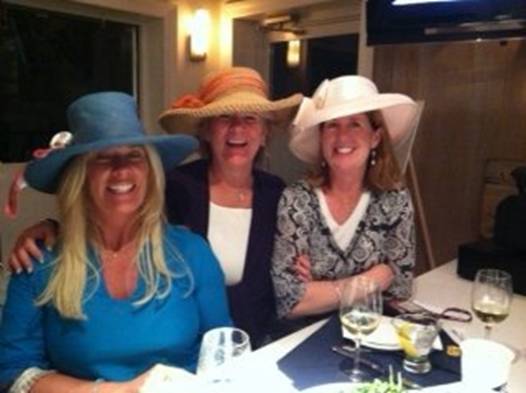 The Royal Wedding at the OUT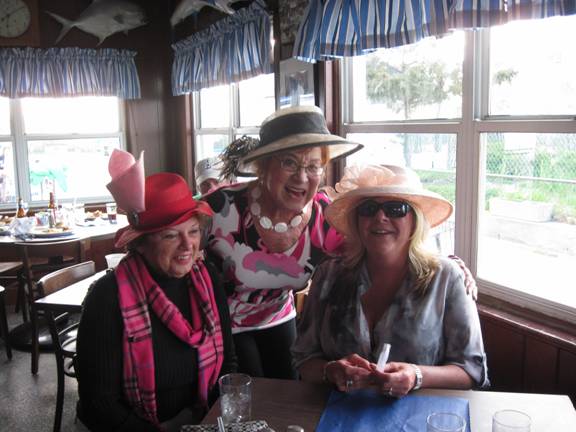 Derby Hats at the INN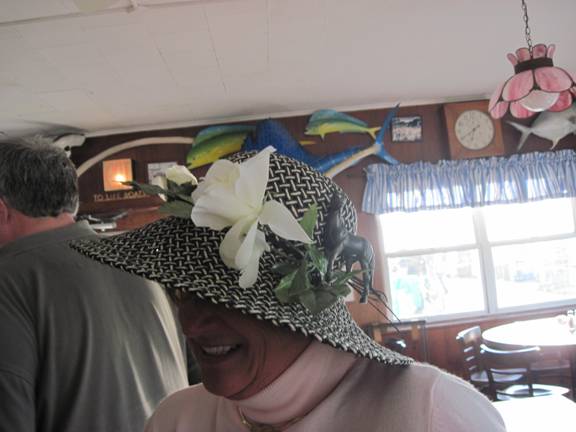 Joyce is wearing her horse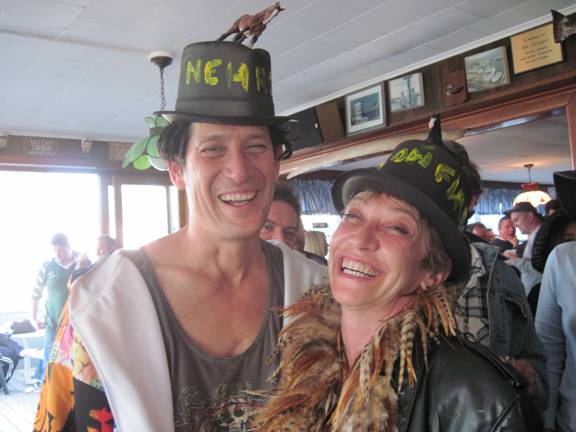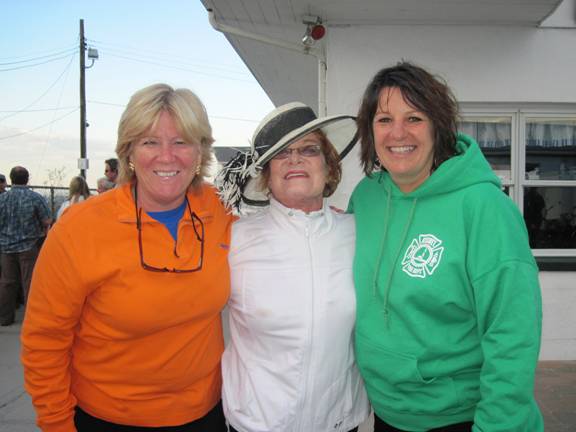 The IRISH FLAG OF COURSE!!!
The INN loudly and thoroughly also celebrating the predicted end of the World at Preakness race. As 6PM the end of the world passed the crowd at the bar congratulated each other – "we are all saved and in the Rapture together (they hugged and kissed) - this is indeed Paradise - now lets see if Paradise includes winners!!!"
Suzie had that rare combo of Midnite Interlude and Isn't He Perfect but left empty! Welcome to fantasy land -
COMING ATTRACTIONS: I will be on UNC Radio 6/11 discussing the Tonys which streams live on www.uncradio.com. Johnny Thunder offering oil painting classes on the beach. Look for a late ferry Sat nites in season to handle our overflow inebriated (Like OB?)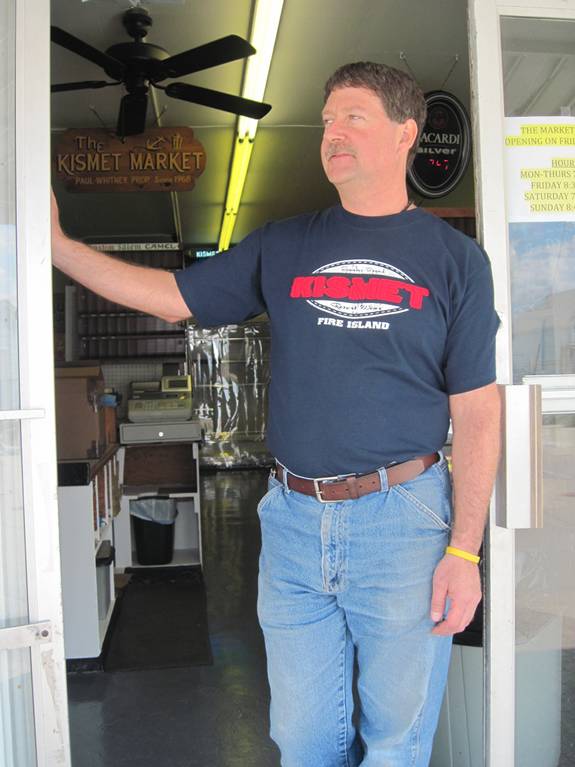 Welcome back to "the new and improved Andy at the new and improved Market!"
KFDAuxiliary meeting TBA this weekend
Kismet Book Club Sat.
KLAWS Flea market June 11-12, 10-4
Kunkel's 15th annual Coach Party Friday June 10
ENDQUOTE: Mayor Bloomberg stated "the upcoming 'Rapture' gave a new meaning to alternate side parking". Where are the Bellinzoni's?
…….and that's Kismet!!!