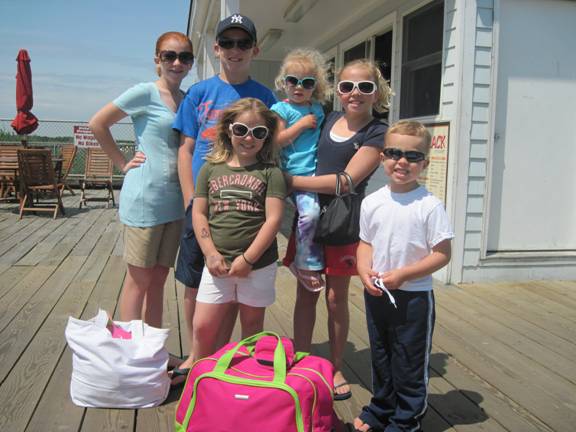 The new groupers
MEMORIAL DAY WEEKEND & RECOVERY
                                          By Jeannie
Memorial Day weekend looked like we were invaded by the Jersey shore. A couple was caught cohabitating in full view of the Mooney's house and the Marina late afternoon Sat. When asked to leave by the cops the randy couple practiced some simulated sex on the pier. And a Massapequa prom group at MotelO caused a ruckus according to the cops. With the economy in the tank weekly renters are becoming the norm. They come here crazed with little regard for their neighbors or their property (lock your bikes). Savvy Kismetics celebrated around town with house parties. One of which was Mike & Marge's petite soiree at Honey Do with just a few good friends and a chance to treasure Marge.
Another Kismet Loss: Fred Rosenberg – Helene's longtime significant other died last week – at a memorial service in NYC many of his friends spoke so very warmly of his kindness and genuine friendship.  2 summers ago Helene Fred and I were disappointed that there was no place to observe the Yom Kippur Holyday in Saltaire or Fair Harbor.  I had a book of the service used in synagogues and on a beautiful day we went to my roof deck (closer to heaven) and took turns reading passages from it – the first time for each of us we really got into the spirit and discussed various parts. It was so significant – meant so much more than doing it by rote in a temple, we formed a deep, significant bond – I know that I will always remember him on that day
CITINGS: Girls night out as Charlie Fagan's dtr- in-law and several of her sexy friends - young moms with a day off from kids and husbands - received the special attention for being "virgin tent occupants'. The glam group graced the tent as the first tenants - waitress Chloe also felt lucky to be serving them and Karen kicked in some shots for good luck –
Congrats to KFD Chief Dom and wife Kellie – expecting their first. With two such gorgeous parents the baby will be a knock out. Speaking of gorgeous Brendan O'H lost 60 lbs this winter.
Keepers of the Flame – Here's to you, boys!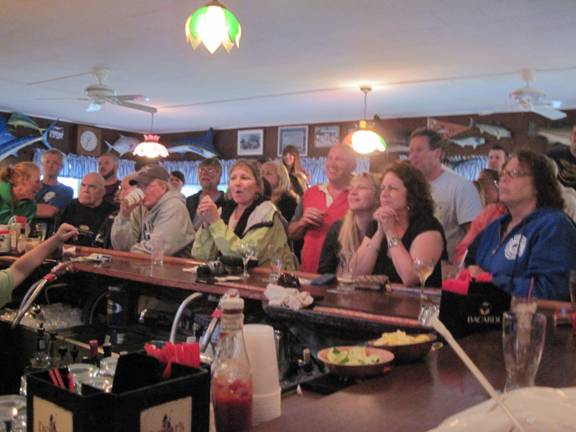 We love the races!!!!
IS IT ME OR IS THE CROWD GETTING YOUNGER?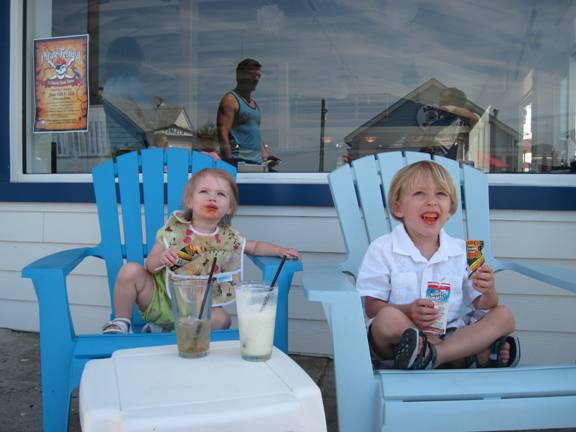 Drinks at the OUT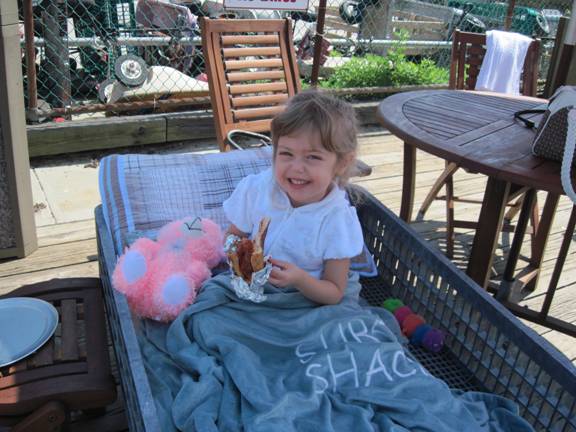 Pizza in bed, er, wagon (Dennis' granddaughter)
The new groupers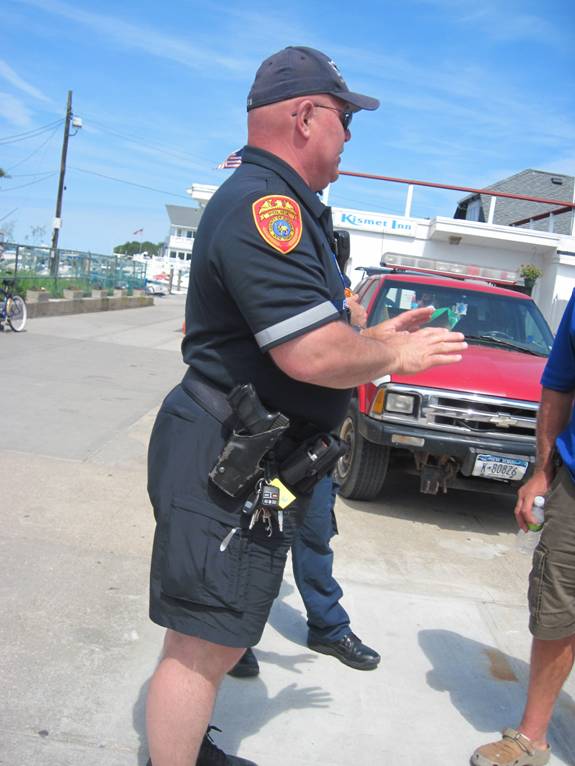 "Do these shorts make me look fat?"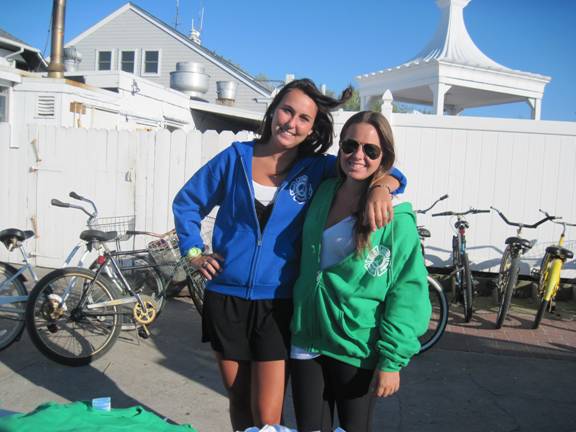 Power Girls Casey & Gracie, editors of the Kismet Kronikle – my bosses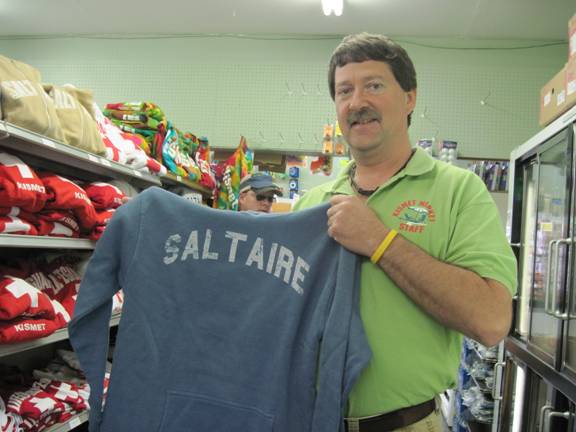 Market news – wouldn't believe this if I didn't see it – Andy selling Saltaire sweatshirts
Everybody's selling sweatshirts!!  Selling KFD shirts to dad – does that count?
I'd buy anything from him!!!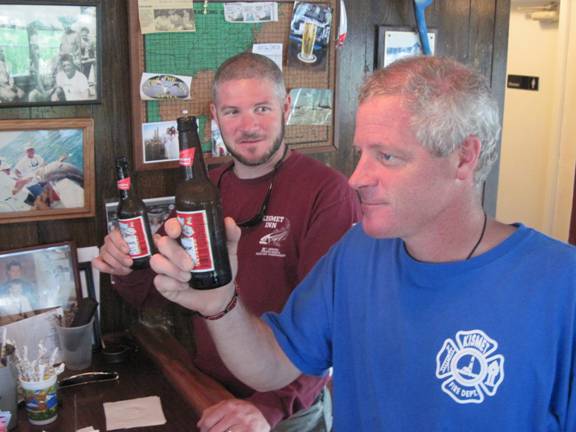 Keep an eye on Muggsy – he will sport at least three different looks this summer – at press time it was shaved head and closely clipped Goatee. He looks good no matter what.
Lauren Leone, whose dad Gary was just made Commissioner, applied for and was accepted for membership to the KFD, She has to take all the training classes this summer, take and pass the Yaphank hands on training then take and pass a written test. Maybe she'll get there before Altieri. Who commented after an FD response to a boat fire off of West Light House last weekend while Geri & Bob of Paradoz watched. "I'm glad people in Kismet can see us at work so they know we are more than just bake offs and pasta nights. We are more like a part of the entire Fire Island system of Fire departments– just one big fire department as we all work together".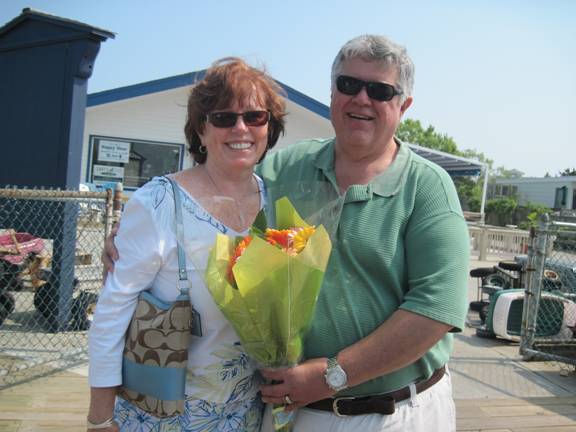 Geri & Bob of Paradoz – uh oh, what did he do to be giving her those flowers?
House Calls: Although imperiled there are still singles houses. Just ask Sanctuary's Dennis and CA's DRP as the devilish duo on the hoof scope out the group houses: Chance, 7 Seas, Woods Hole, Lilly Pond, BVT. Innesfree inherited Seabay renters  - Abe, Stacey & Albert, et al getting used to the sounds of the INN instead of the surf .Ex pat Susan seen visiting from OB "I still love Kismet".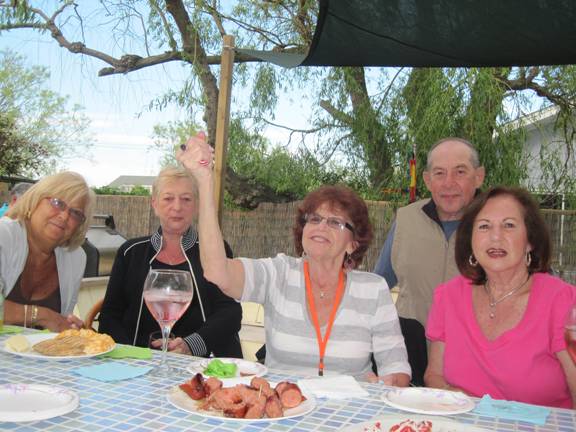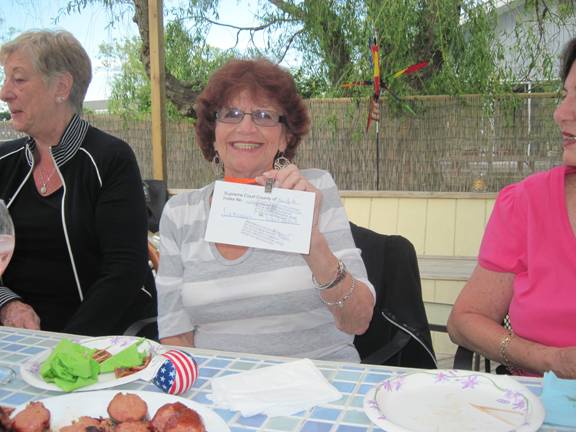 After countless years Xanadu's Judy W just got her divorce from "Mr. Hollywood" for no apparent reason…hmmmmmm.
'Ool House has returned in full force minus Sarge who has defected to the Left coast
The ever merrier Marry Marrieds will be celebrating trio birthdays. Jen at "48 (and holding)", Chris, and Gary "not 48". All lookin' good! (see related article)
The Inn's Joey, who has entered a new career in "journalism" if you could call it that, – has a new teaching job in Queens – "it's better than the Bronx, at least they listen".
SPORTS:
According to Lou R "there will be softball this summer". He is just waiting for Verne to return calla from Saltaire. It will be a match between KFD & SFD. Tryouts for starting lineup will be held. Stay tuned (I hear Pasada is available only if guaranteed a lead off spot)
Fish Tales: Rich caught a 30" on Saturday. If you go to the Kismet dock at midnight you can see squid, crabs, striped bass and small bait fish all swimming around in the bay.(if that's what you are doing at midnight on Sat hope you see more than that!). Water is unusually cold, too cold for fishing off the beach.
Gregg says "Volleyball is played more regularly on the beach but overall quality not what it was; hey, but who is.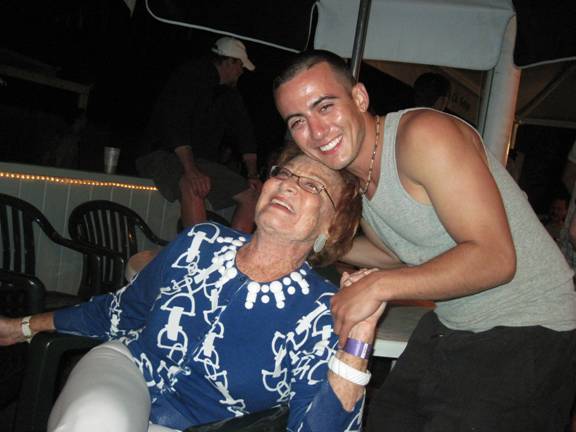 Why I Love this Place!!!
Music Music Music- I regret I have but 2 ears locked in9t one body so I cannot report on all - but I must once again marvel and the variety and endurance of Don & Willy at the INN whose perseverance is no doubt fuelled by the very and well earned adoration if Cosmetics - thank you to Ashley for their continued presence and the endless hours of pleasure given - last Saturday during their performance a siren went off and we saw our KFD burst into. Very impressive. A little later Don said "be careful – the next siren might be for you" and sure enough a siren went off to rescue one of the patrons who was possibly overserved. The Out features the perhaps underappreciated but extremely talented Chilly Willie who will perform solo or with an able accomplice for equally endless hours in heat & chill - segueing from Sinatra to swing to the blues to satisfy the wide range of patrons - sometimes barely listened to but always worth the effort - I salute you  musicians everywhere-
-
Coming events: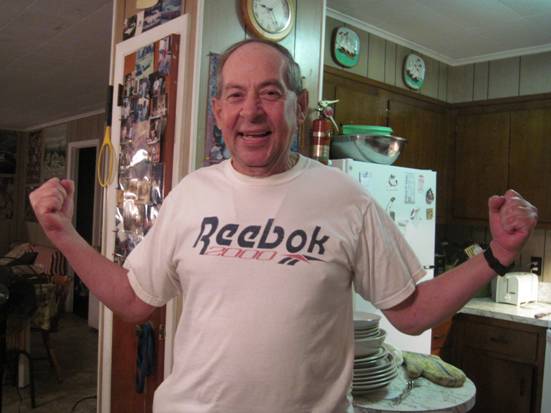 B
AM I invited to the coaches party???
 Coffee will be at Sunset's 15th Annual Hunk, er, Coach party. They' were on the 4:10 Friday (see related article)
The OUT is stealing BVT's BLT Sat nite – black tie toga or lingerie – I'll look in my closet…(only 3 showed up in costume)
This in from Bicycle Bill: BVT will once again be hosting THE REAL BLT this Labor Day Weekend, most probably on Saturday night with a rain date of Sunday night.
The KFDA had a well attended meeting to plan this year's events .It was unilaterally decided by Joe & Joanie to discontinue the Pancake Breakfast unless anyone else wants to take it over. If only I could cook! There will be a Scavenger Hunt and possibly another Talent night. Duck races will continue. The Bake Sale will be repeated sans books. Just as the Out co-opted the BLT night, the KDFA will borrow another Seabay event: and Gregg W will be in charge of a "Tasting" in the firehouse. Yum! Dates for these events were not released for this column.
E Lighthouse Annual Block party will be 7/2 Saturday and feature the live band The fugitives, East Lighthouse Walk, ocean block
There is one Bellinzoni working at the Inn between college & grad school. Chance of a lifetime to enjoy the beach scene. Where are the others?
ENDQUOTE: It was a good hair weekend (Dawn)
                                     …and that's Kismet!!!