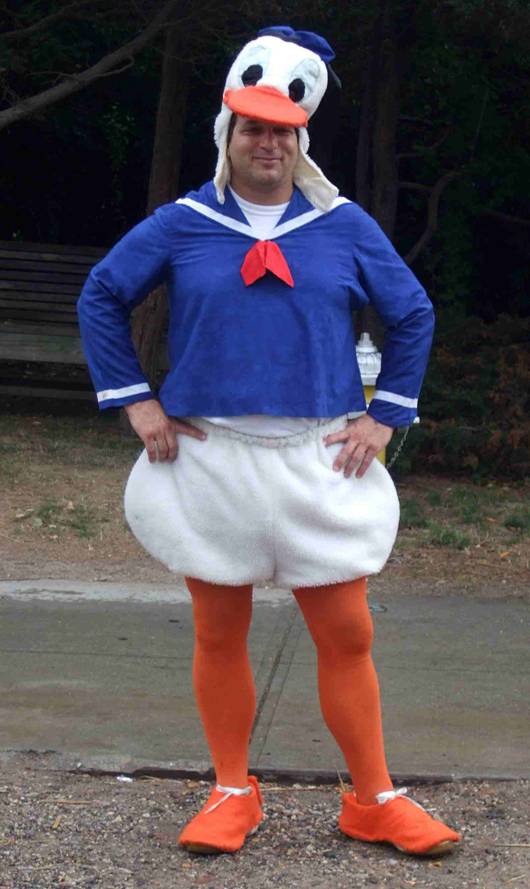 KISMET'S FIFTH ANNUAL DUCK RACES: GOOD WEATHER FOR DUCKS
First time ever for the event it rained – well not exactly – started at 9:30 for an 11 o'clock event. Stopped at 10AM
Set up proceeded at the firehouse, The Frank Boulton sponsored race was to go on  the track designed by Sam Wood was set up,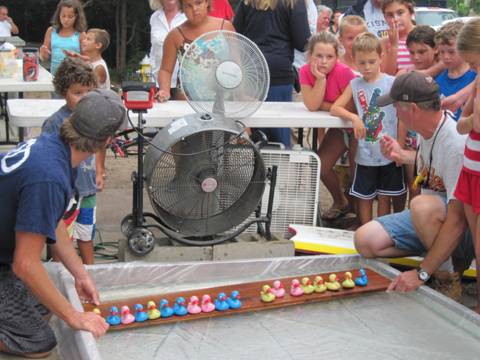 10:50 a steady drizzle "Good weather for Ducks" was the general comment as the
We are a hardy group!!!
Nothing stops Dom from  hawking the ubiquitous KFD sweatshirts covered in plastic
Chiros selling tix in the rain…………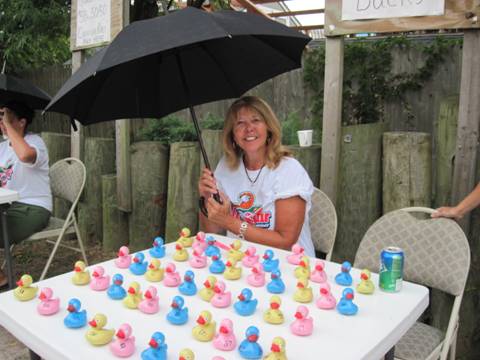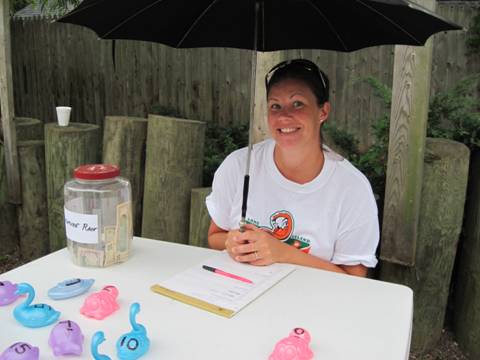 booths for tickets and ducks vendors under umbrellas,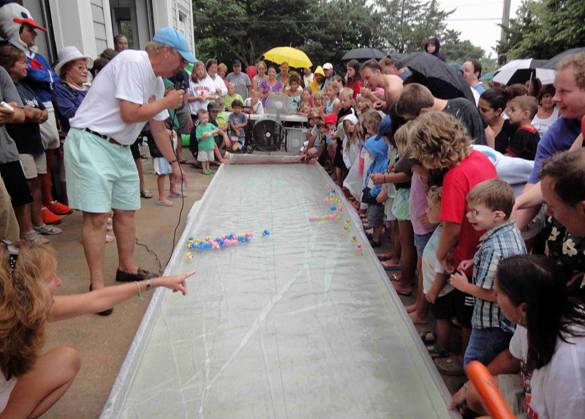 "It's a slow track – rain on the track slowing the pace" announced Bolton as he hawked he races – monitoring each foot of the track in his professional sports commentator voice.
That man is an act in himself!
And they came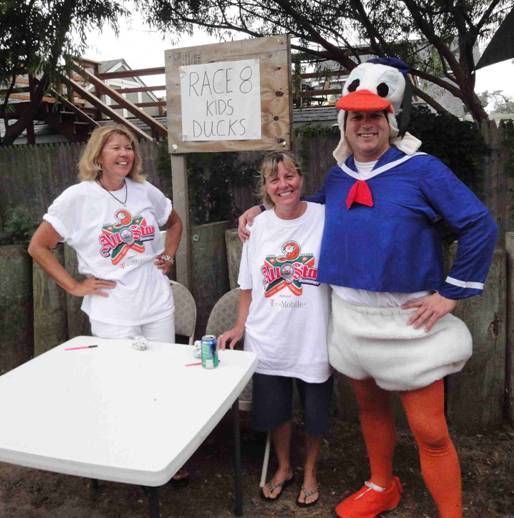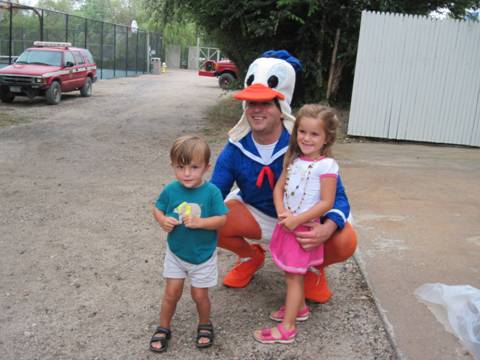 They all love The Duck
THE BIG SPENDERS ARRIVE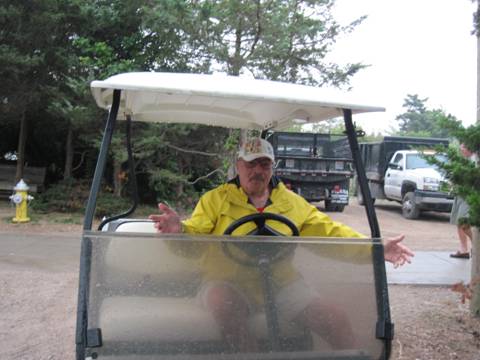 "bettors" showed up from Skee in his motorized handicapped cart
"got pockets full of cash"
 to infants in baby carriages.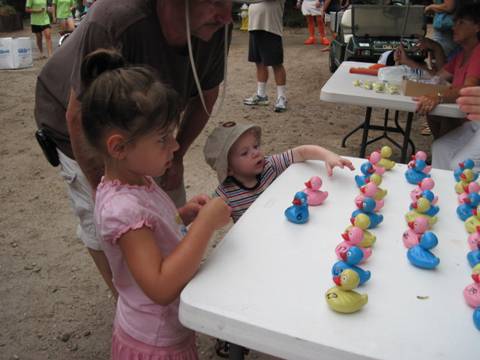 He'll take………
Which ever one he can reach
A double entry – very serious bettor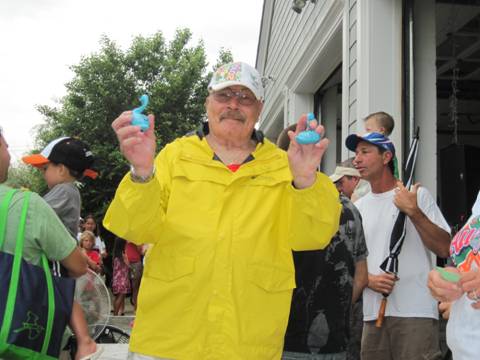 Same technique, a half century later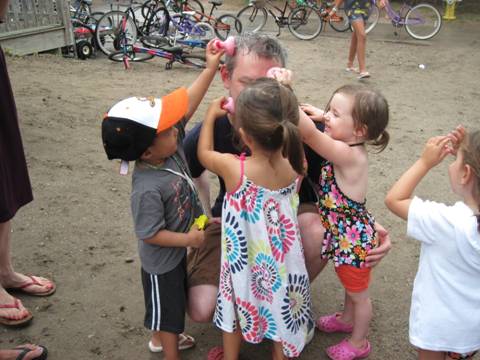 Another technique
THE RACES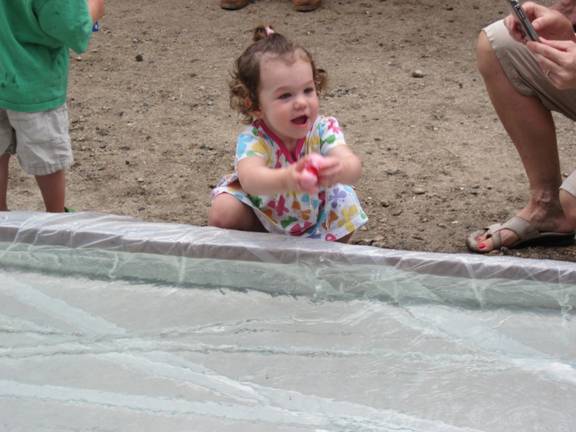 I got the duck right here…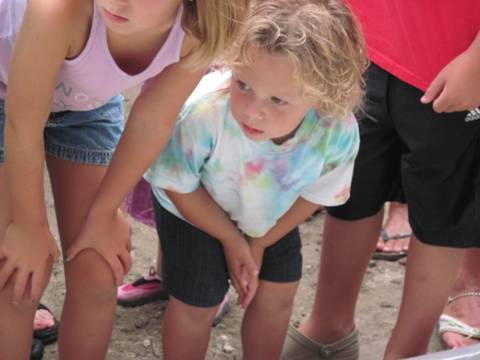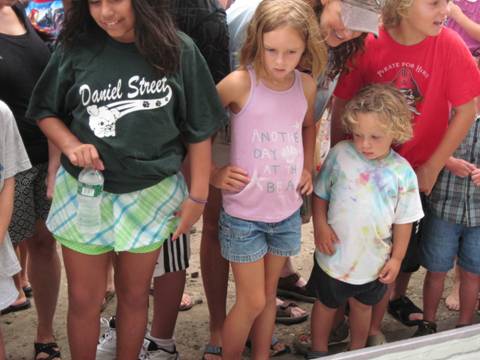 Not going so well…….
A little rain wasn't going to keep them away from the track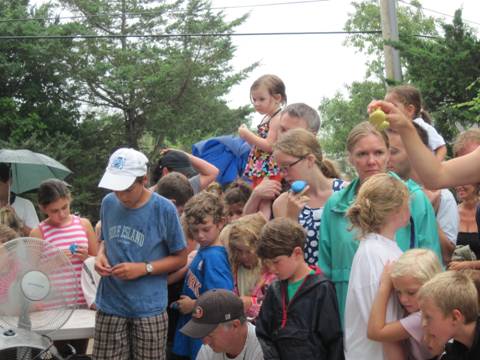 THE WINNERS: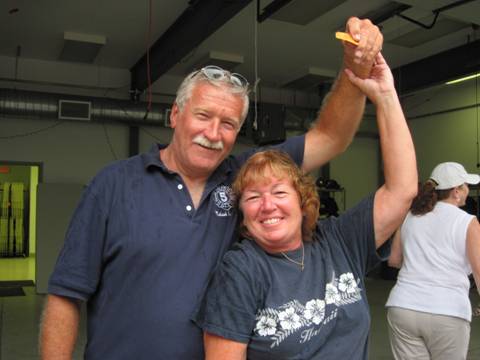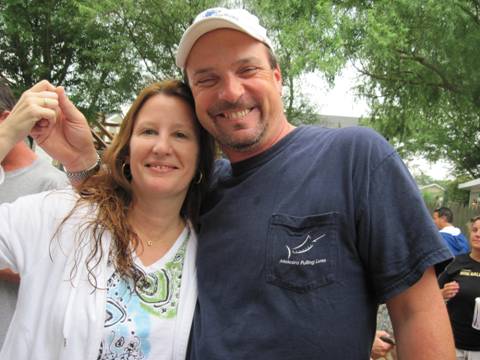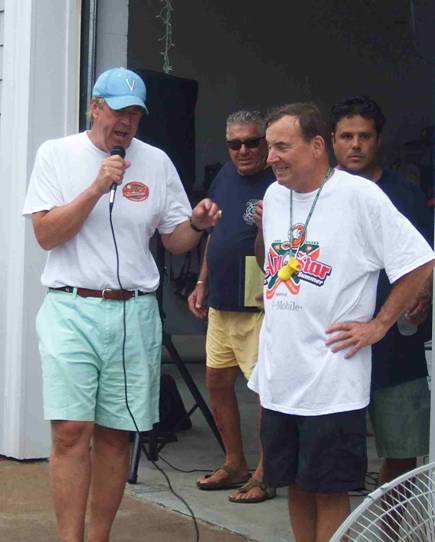 Despite the weather  every duck was sold in every race!!!
BVT'S 5TH ANNUAL BVT BURGER KOOK OFF

<![if !supportLineBreakNewLine]>

Arriving early (for once), at 5PM, the kitchen was in a frenzy of preparation at BVT's 5th Annual BVT Burger Kook Off
Here are the entries divided into red meat and non red meat entries (with recipes and winners as available):
RedMeat
Spicy Guacamole Burger - Lily Pad House
RedMeat
New Eng Burgah -Trouble

RedMeat
White Trash - Sarah Holly
RedMeat
Electric Sliders - Jeremy and Mario of BVT

RedMeat
Bliss Burger - Audrey from Bliss (they gave out campaign sticklers to everyone)

RedMeat
Tank Burger - Frank Ribando of BVT WINNER 2nd PLACE
Made with Gorgonzola Cheese, Shitake mushrooms and carmelized onions. Berninzoni Pretzel Burger Slider comes in 1st. Made of severla different hand-ground meats, Golden Delicious apples, Maple Glaze, Ementhaler Cheese dip.
Frank's winning Tank Burger:
Makes 8 Burgers
4 Lbs prime ground beef
4 Large Spanish onions
1 Lb Shitake mushrooms
1 Lb Stilton Blue Cheese
1 Head Boston Lettuce
1 Large beefsteak tomato
8 Potato Hamburger rolls
1 Stick butter
2 Tbsp Mayo
Kosher salt and Fresh cracked black pepper.
1/4 cup olive oil
1/2 Bottle of beer
1/4 cup of Cognac
Cut the onions into small strings 1/4" wide. Lightly salt the onions and put them in a large sauté pan with enough olive oil to coat the bottom.
Sauté on med low heat and stir occasionally until golden brown. Once the onions are caramelized remove to a large plate that has been covered with paper towels to drain the excess oil. Return the onions to the hot pan and pour in a half of a bottle of beer to deglaze the pan. Cook until most of the moisture has been cooked off. Replate and hold on the side.
For the shitake mushrooms cut them into small strips, salt and put in a pan with enough olive oil that it coats the bottom of the pan and add 1/2 stick of butter. Cook until golden brown, remove to large plate covered with paper towels to drain excess oil and butter. Return to pan and put in the cognac and cook until most of the cognac has burned off. Remove and hold on side.
Melt the other 1/2 stick of butter and brush onto the inside of the rolls. Toast on grill until golden and remove. (30 secs)
Slice the tomato into very thin slices 1/8" Wash and drain lettuce and rip out the hard white middle and use only the green sides of the leaf.
Form 8 1/2 lb patties, salt and pepper lightly on both sides. Cook on very hot grill for 3-5 min per side depending on desired internal temperature (3 for medium rare, 5 for medium to well done)
Assembly:
Spread very thin coat of mayo over the inside of the bun put lettuce on bottom and top.
Put burgers on bun and cover with blue cheese, then the onions, mushrooms and lastly the tomato.
Enjoy!
RedMeat
Pretzel Fondue - John Berninzoni  WINNER SUNSET HOUSE (He's a professional chef)
RedMeat
Short Rib Sliders - Gregg Weisser of Swept Away
7oz Sliders, Short Ribs, Brisket, Chuck ground together, Applewood Smoked Bacon, Talegio Cheese, Bernaise Mayo, Quail Eggs, Blackened Rub

RedMeat
Kismet Kryptonite - Sanctuary Master Chef Dennis Waldman ;sous chef Sharon
History: During the Lois & Clark Expedition they traveled the globe for the mopst exotic spies and meats that d created a unique flavour. They have brought this back to Kismet for the famed Blue View Terrace Burger Kook Off You are about to bite into the most extraordinary culinary delight
NRM
Crab Burger - Ben Beggs of Seven Seas  WINNER BEST NRM BURGER
was a crabcake burger and was made of "crab" as well as breading and sauce.
NRM
Crabby Patties - Jeremy and Mario of BVT
John won rather decisively, with fifteen First Place votes and fifteen
Second Place votes out of eighty-five ballots. Over one-third of the crowd
voted his burger as a top-two burger.
b) Despite that, the competition for second place was *fierce*, with five of the remaining eight burgers getting either ten or eleven first place votes out of the eighty-five total. People clearly brought their A-game.

-Jim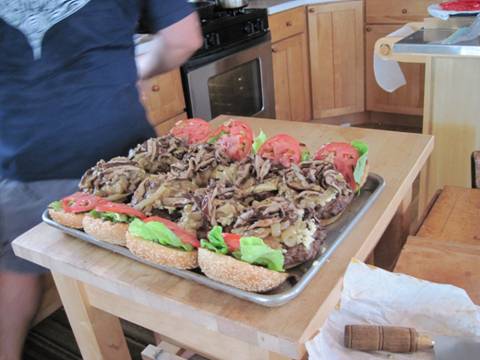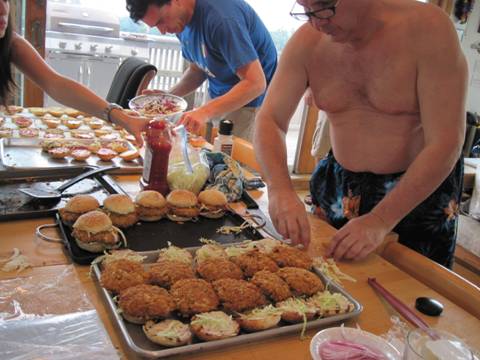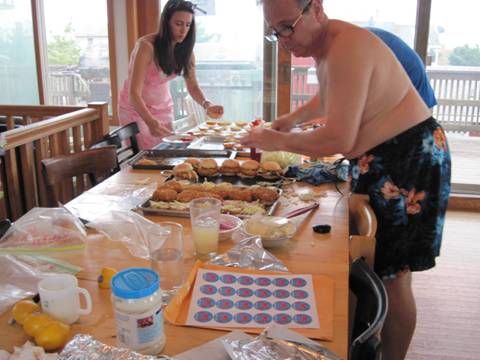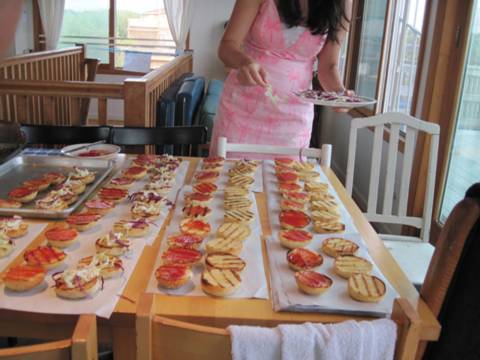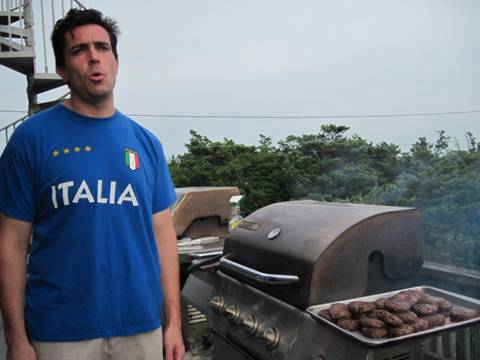 No matter how I urged he would not open grill again (and compromise burgers)
INCOMING…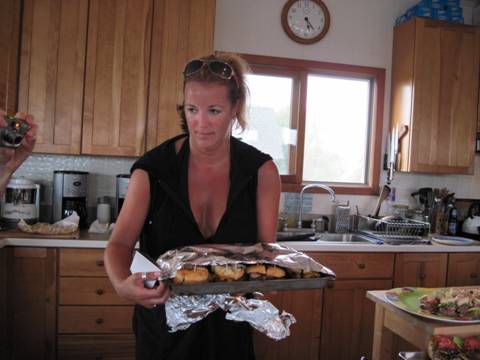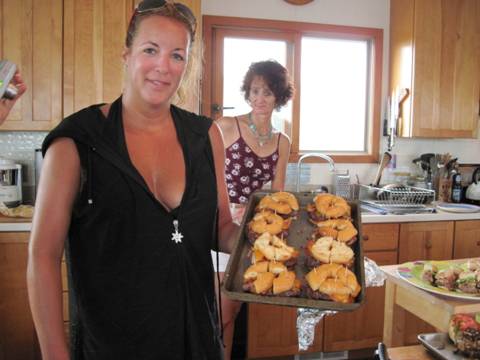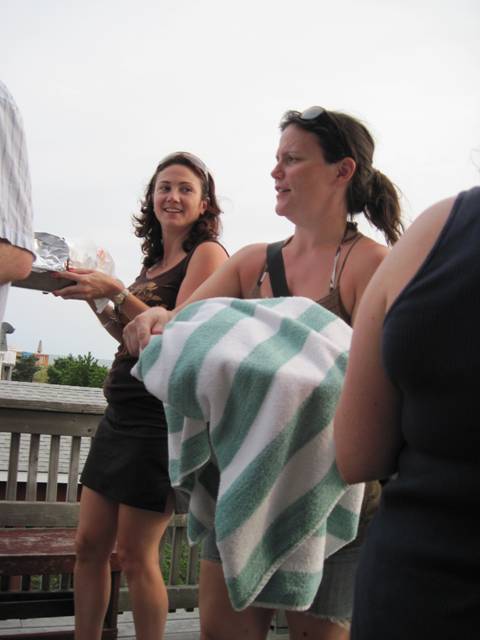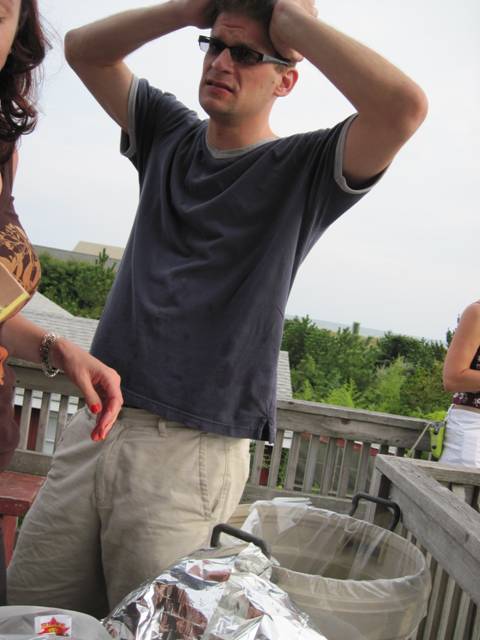 Oy1 they're coming in real fast now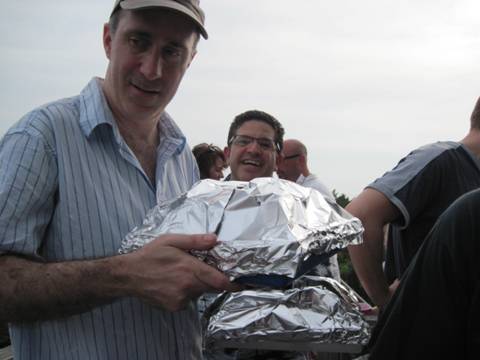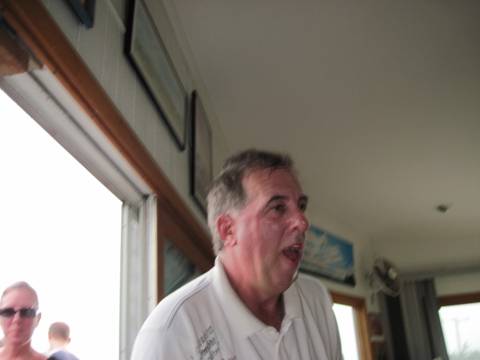 Greg arrives with his usual fanfare – confident he will win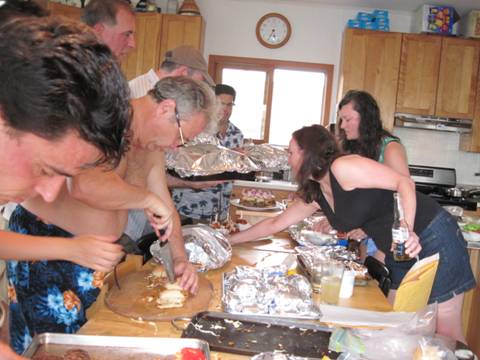 The pace quickens as show time approaches
Burgers are placed on tray and served to specific groups upstairs for voting
Patriotic but how does it taste?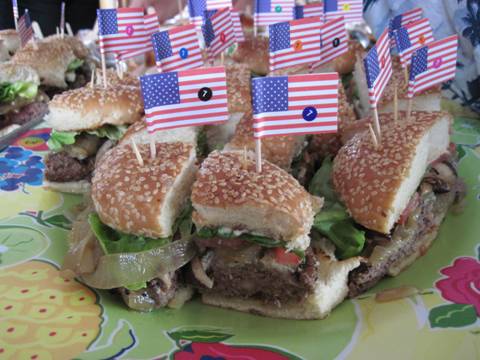 Listen up these are the rules
Those with trays serving the hungry crowd are BVT members: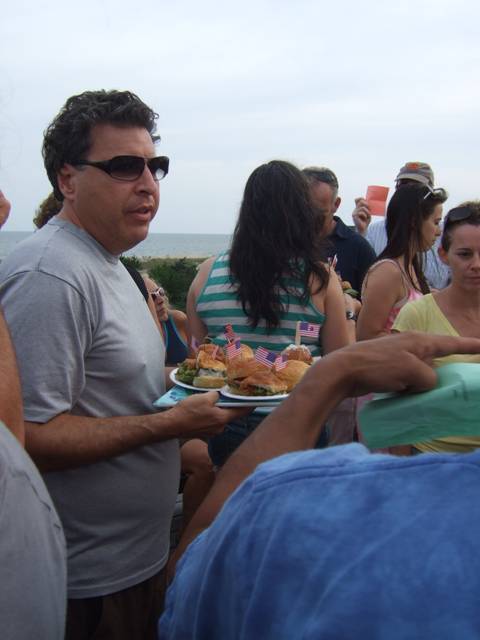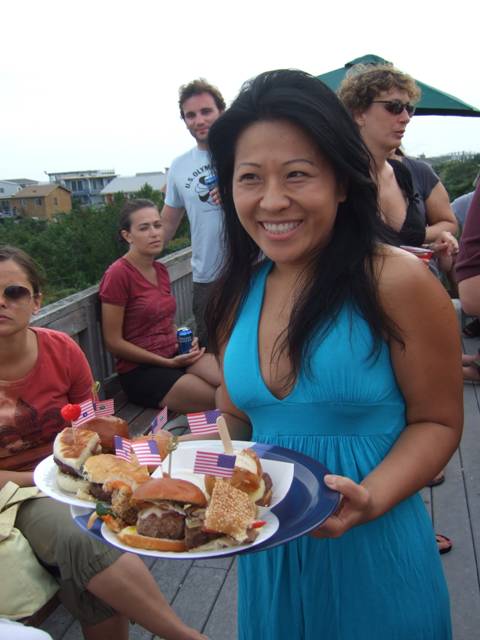 <![if !supportLineBreakNewLine]>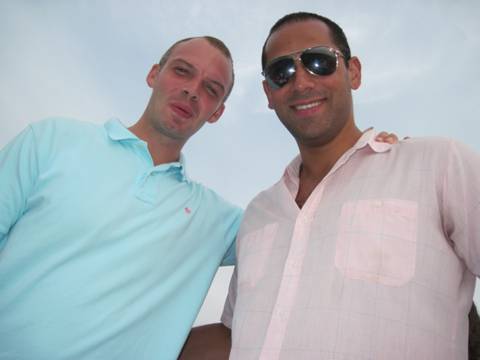 Hunky Brown Sugar "tasters"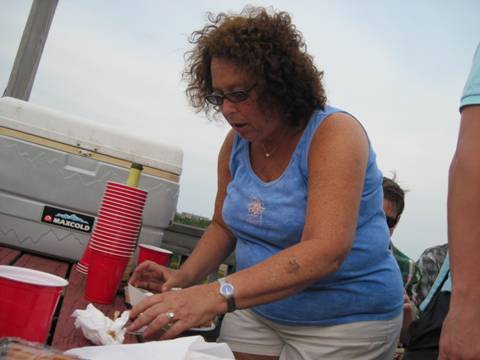 Myrna's getting into it
Superman and Lois lance conferring over merits
Never saw Phil without food at a party
What is Bill Jenks whispering to his Irish sister-in-law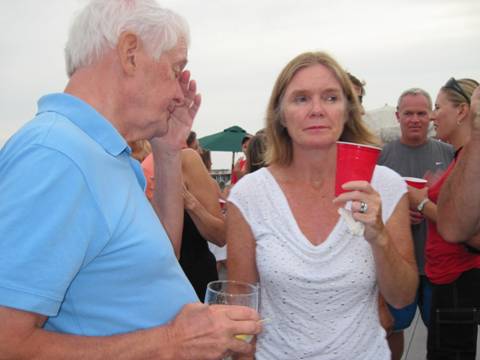 Oh no, not another burger……….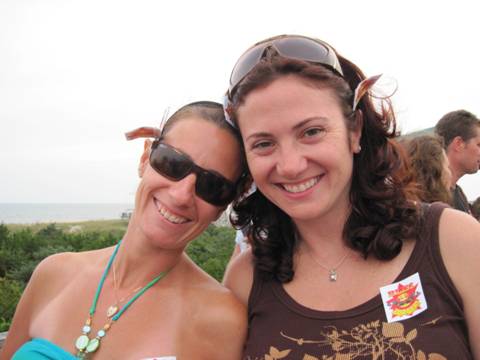 Electioneering for Bliss burgers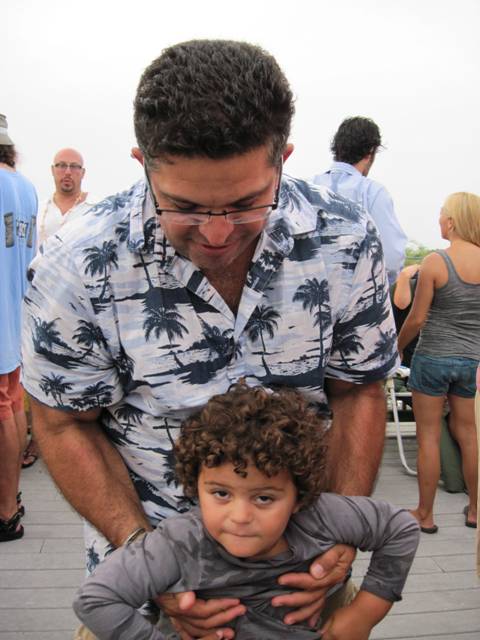 This vote is a shoo-in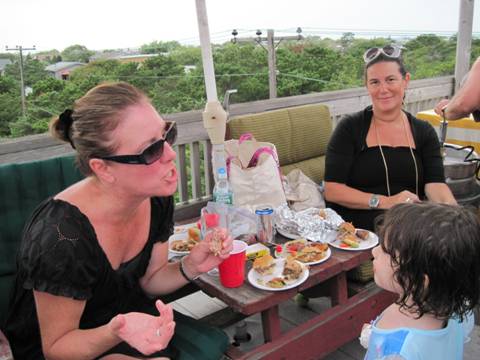 Jane convincing kid to vote for her husband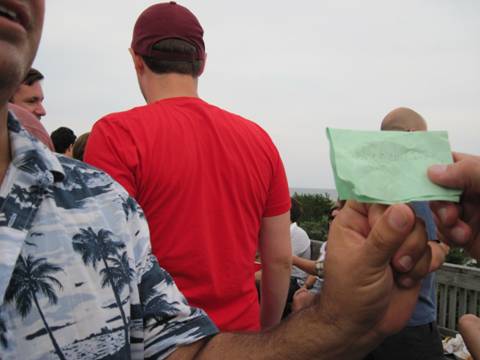 I got the winner right here……..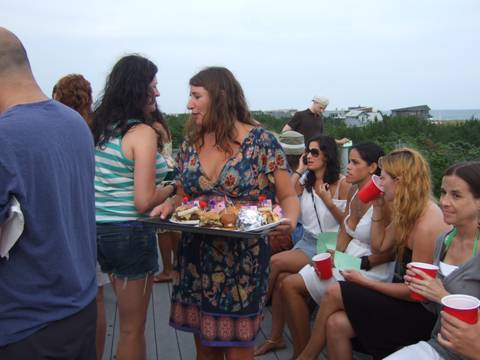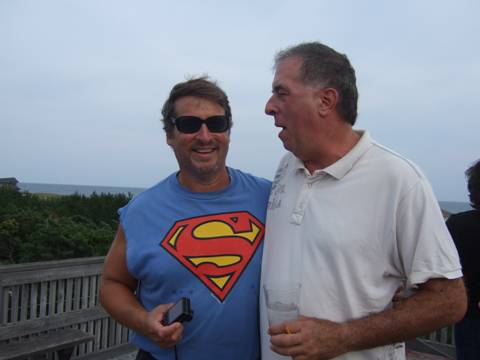 Friendly competitors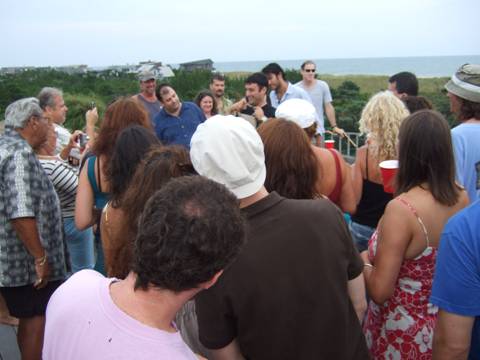 Oh they're announcing the winners……..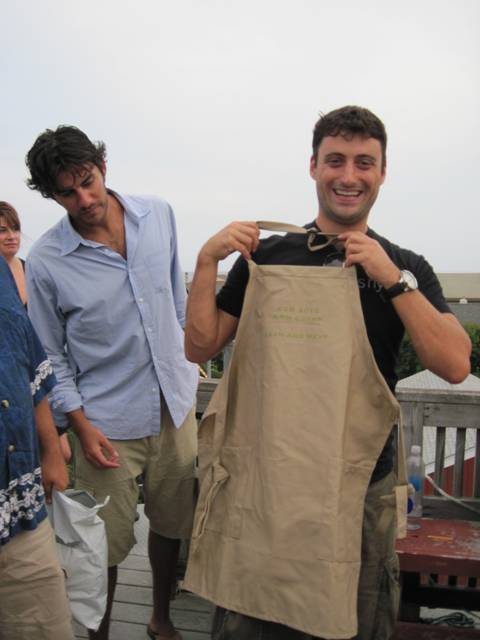 And the winner is ……………….  Ben Briggs for winning the Non-Red Meat
Category.

 Frank Ribando for placing 2nd in the Red
Meat Category
<![if !supportLineBreakNewLine]>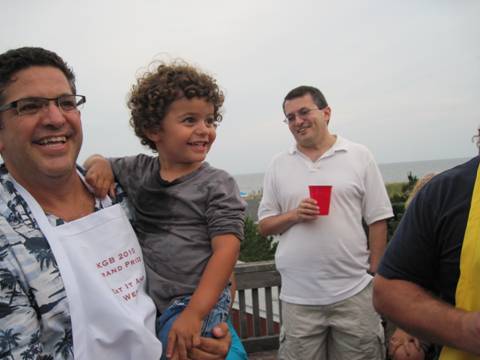 Winner John Berninzoni for winning the Red Meat
Category and his chief supporter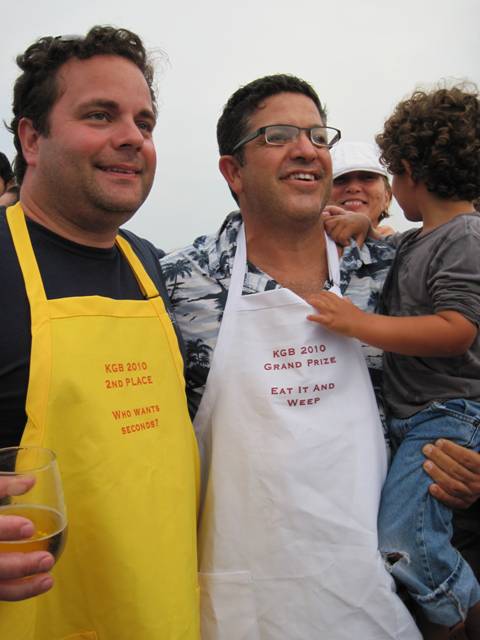 Winners circle
All over but the clean up……………(burp)