KISMET'S GOT TALENT!!!
                                      By Jeannie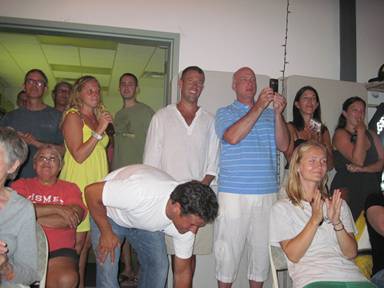 It was SRO and the energy level was high. Tom L, who never saw a microphone he didn't like, bounded onstage "I've been asked to tell a short joke; I'm a lawyer!" before he was yanked off.
It took MC Johnny "Sands" Altieri, dressed in a formal cutaway with a golf club/cane to restore order beginning with a big hand "for our Fire Department" who set up the stage in the truck space.
Once again exhibiting the perfect synthesis of their symbiotic sisterhood, they took it to the stage, sharing the spotlight, as Casey Licari and Gracie Wood, Kismet's  "girls who could do anything" put together a show (where others have failed) and starred in it.
It began with Casey at the piano and Gracie sitting on it (which drew an exclamation "Well done!" from an audience member), and then murmured "this one's for you, Artie", to the audience's delight, set the bar high as they delivered a song from TV's "Glee"  (am told they had professional staging…ahem!). The number was so good the audience could barely contain themselves and began applauding prematurely especially when "Mr Peanut" (Altieri) jumped in and had to be shoo-ed offstage for their final boffo ending. In matching cocktail dresses the girls never looked better.
The number drew a response from Judge Linda "I see no need for you to get a college education", Neal: "Absolutely fabulous, what a way start the evening", Steve: "you hit all the numbers"
(Those words were among the last coherent remarks from the judges for the rest of night)
There was one act which inspired as much buzz before as after. "Sam is doing stand-up?" was the incredulous cry from the Kismet masses who only know him in his business mode – i.e. deadpan, stone faced, delivering his professional monologues in a no nonsense (I am not inviting a response) monotone, (Sam incidentally is unaware of this, actually questioning "why are people are so surprised to find out I am funny?")  and ended with the greatest of all compliments as people after the show were actually quoting parts of his monologue to others.
One thing we learned is that when we say Kismet has talent the show proved the title. It was only when the show opened its doors to the "imports" that it faltered. 
The concept of the show is – it's by us and about us - so in the future perhaps we should stay on point.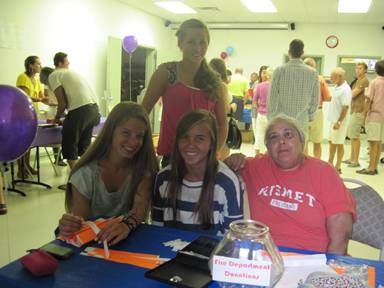 Money please – to get your bracelet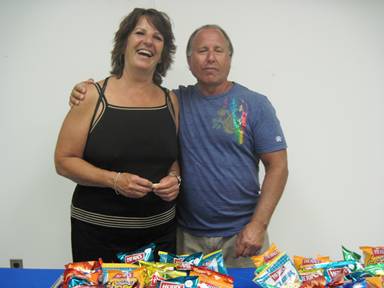 Snacks anyone?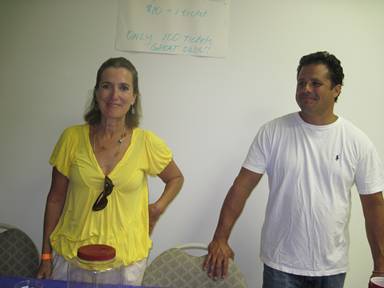 Selling raffles for wagon of cheer
The audience was primed for a good time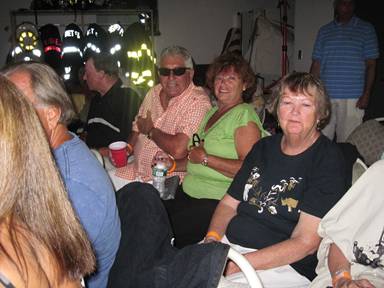 The three judges: Neal Mandel & Steve Stefano, who emerged from 'the black hole" to officiate and "Chiro" Janet, dressed to the nines for the occasion, couldn't have chosen a more apt entrance, donning dark sunglasses as - dare I say it - Three Blind Mice? (Actually this was helpful for some acts which relied more on sight than sound).
Neal was the acerbic Simon of the trio, Steven the good guy and Janet interjected some needed gender specific comments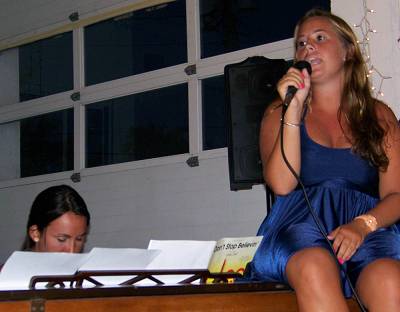 "Well done" shouted one audience member as Gracie assumed her pose at the piano.
Song: Don't Stop Believing – Journey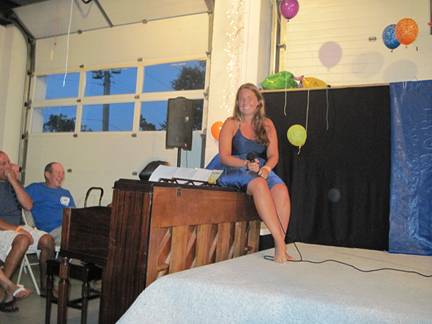 "This one's for Artie" drew laughs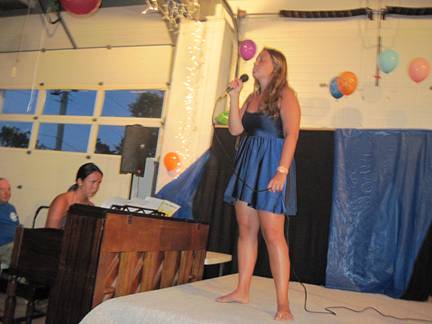 (Proud dad Tom said it brought tears to  his eyes to see Casey at the piano)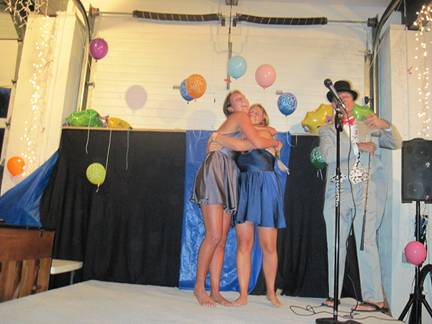 We did it!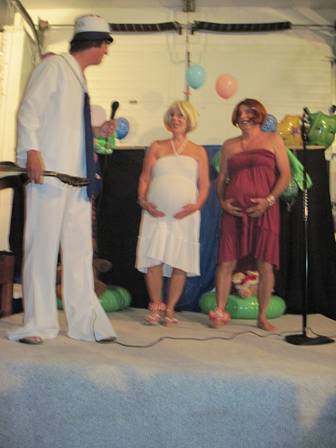 From Fire to Gilligan's Island, so fertile…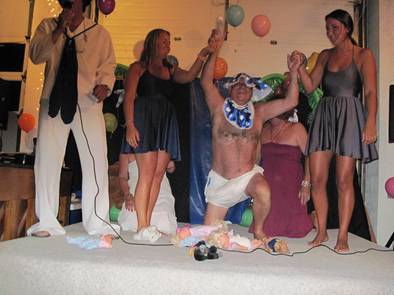 ….it birthed Rudy – looks like you're all set for this year's Halloween party.
Sam opened with "they call me the mayor of Kismet" and asked if there were anyone on the room who had not heard of him – "to get the F out!"
Some of Sam's monologue:
On John Altieri's outfit: give a big hand to Mr. Peanut.
On the Kismet Fire House: to us year rounders the Firehouse is our Lincoln Center which might some day be renamed the Jeannie Lieberman pavilion.
On the cat ladies:  they buy a lot of cat food, what do they do with all of it?
The Italians are taking over Kismet, The Out, The Pizza Place, Dom Bertucci took over the fire department, Carmine wanted to buy out the National Seashore all the way to Saltaire and Paul Barbara wants to buy his way into the pilates.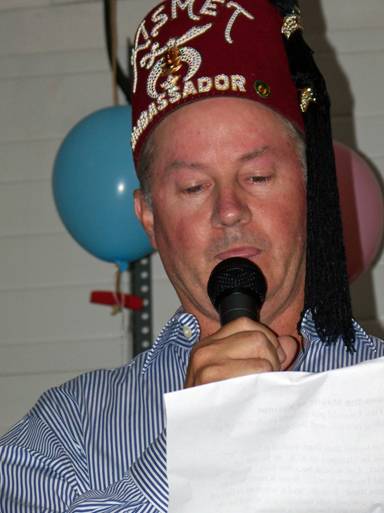 "I actually had a dream that I was mayor" – putting on a Kefir's hat and making proclamations:
All C words would now begin with K in honor of Kismet
There will be Kismet Kustoms on the dock where every item would be put on a conveyor belt right into Jane Mooney's store
Altieri about to grab the mike from comic Matt Strange (an apt name)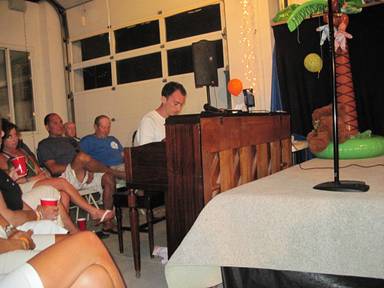 Pianist Tony (an off island import) played so long…Judge Neal said that although he is a very good pianist he "could have stopped after the first note. The song selection was boring. The audience was falling asleep and the song was too long"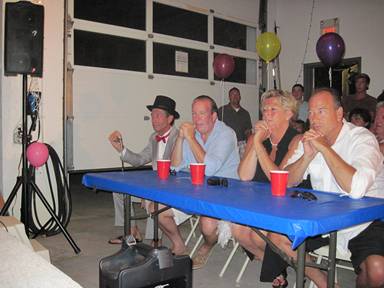 The judges got glassy eyed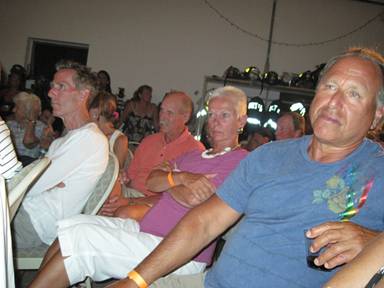 And so did the audience
First day on Fire Island inspired these guys to write an original song rhyming Fire with Desire, Kismet with Magic, but which left the judges cold (except Janet who said "if you want to win you can toss that T shirt right here")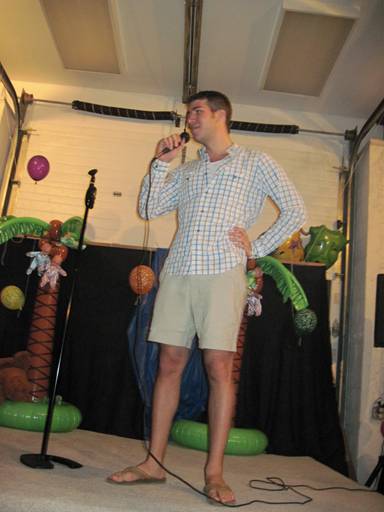 NYC comic Adam (Matt's "fraternal brother") made the mistake of targeting Judge Neal with some jokes…….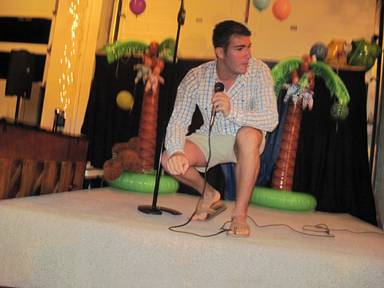 And had to duck the boos to stay onstage
Sam's (actually Amy's) brother in law  Mike Walther's humor was so refreshing after the Strange brothers he won first prize – starting with some comments on the 18 hour bra and segueing to our locals (as did Sam) which brought the comedy home.
Hear he is in the witness protection program after his monologue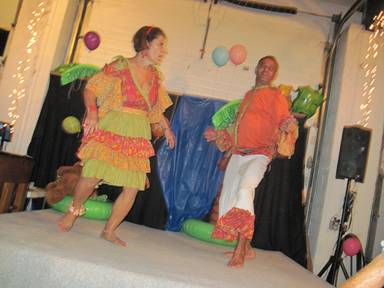 Joan's dancing partner is Chris Castro, a friend of Rudy's
Uh Oh – Its Rudy again, still in his diaper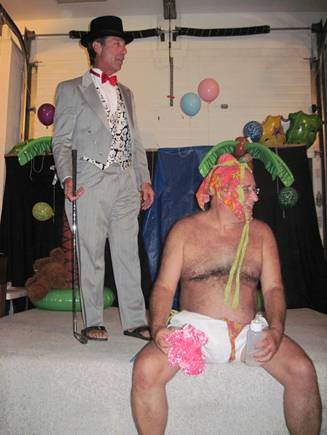 Rudy's love affair with his diaper led Sam to say he was installing a changing table in the ladies room!
The girls take a bow for their event
The event raised around $2000, CDs will be sold for 5 dollars each soon
Over 150 people came.
Said the event organizers, Casey & Gracie:
"This was the first time organizing an event and we had a lot of fun doing it. We are grateful for everyone who helped us out. We can't wait for next year"
Marilyn won wagon of cheer