KISMET KLAW FLEA MARKET
Proving once again that one person's garbage is another's interior decoration the annual KLAW benefit flea market was both enriching and entertaining. The weather couldnp;t  have been more perfect. Cold and misty it was definitely not a beach day and a welcome diversion for weekenders.  KLAW provides care for feral cats in our area including  preventing further litters, aiding in adoption  of new and abandoned kittens, medical care and  providng  year round food and shelter especially through the rough winters. Through a network of volunteers we have an excellent record of keeping track of the animals and sharing information.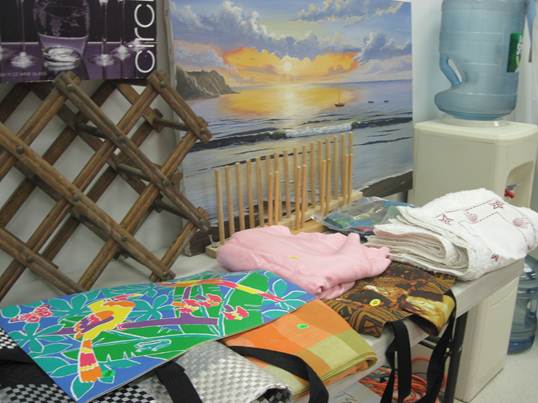 Some of the items for sale, each with a history. That painting was given to Dawn  & Gary when they bought theor house from Linda and Jay as they redecorated theirs. Now it will brighten another's home.
Zev  is bringing donations all the way from Seabay.(he will probably leave with more than he brought)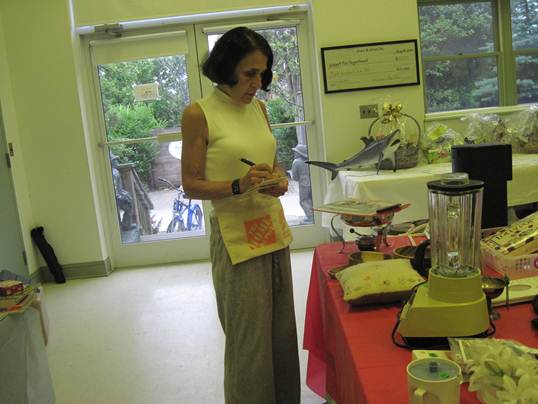 Marilyn is pricing and labeling items before the sale. ..and the prices are so low – usually between $1 and $4 on most items, they fly off the tables.
The Crew: Barbara,  Marilyn, Bradlee, Alice, Carole, Annie, Helen  waiting for the Big
Spenders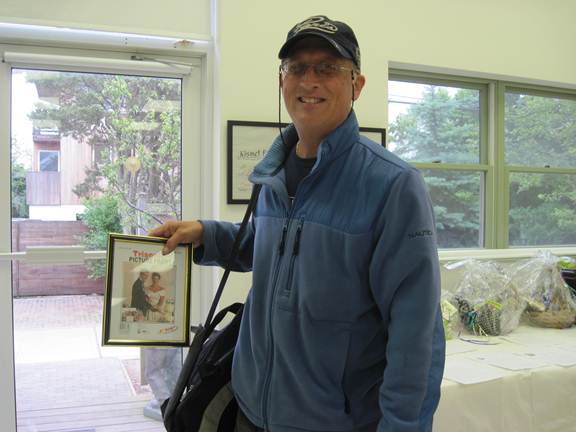 An early shopper Tom can't decide whether he bought this for the frame or the picture.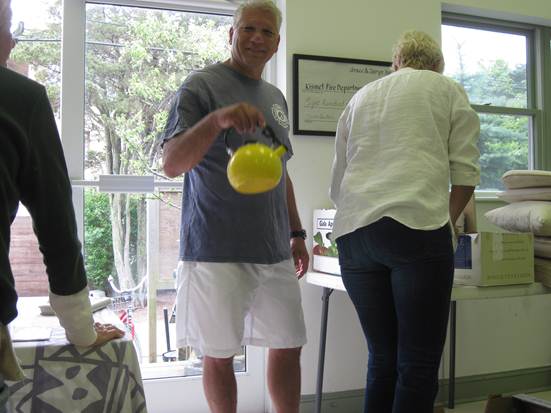 A while back on the ferry Rose Liotta showed Dawn Leone some brightly painted dishes she was giving away. Dawn liked them and took them for her renters. At the market she
found a set of white dishes and went home to donate Rose's dishes.  Gary not afraid to show his feminine side with that dainty pot.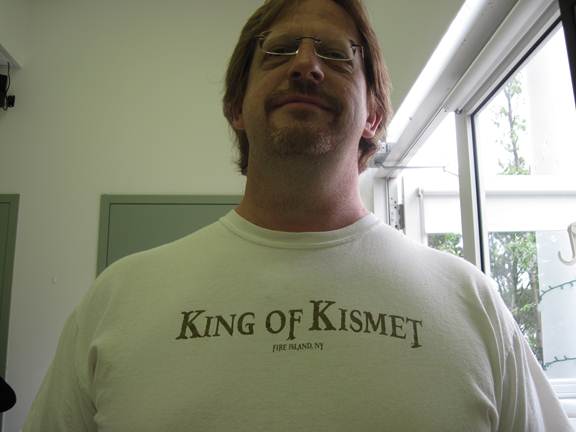 No gender issue here – where did you get that shirt?
Gourmet  chef Gregg bought wine glasses and shot glasses to go with coffee (?) and a decanter – now how t do we get sn invitation? He told the story of his renters who bought him some puzzles – the very ones he  had tried t get rid of earlier that day as a donation!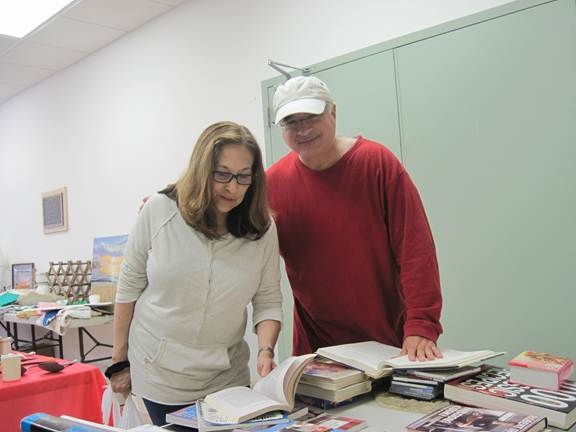 Boatel's Rose & Ken perusing…
Eureka! She found it – "Sex & Cocoa Puffs" – he's thrilled!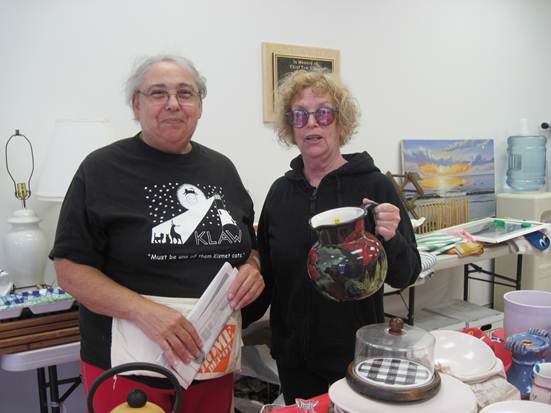 Wearing a vintage KLAW T Shirt (they are on sale all summer) Alice helps Phyllis B decide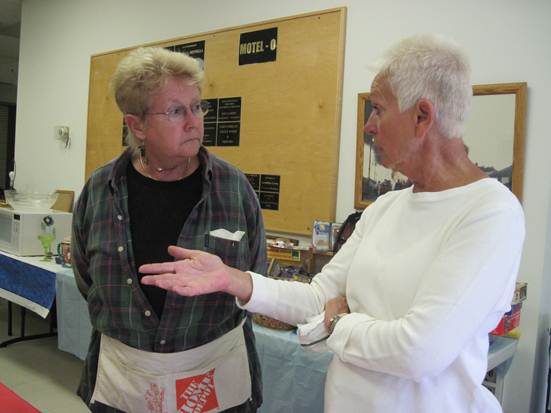 Carole listens as Colettte expounds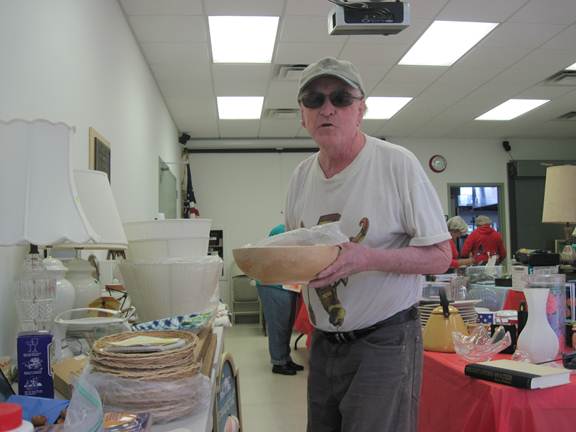 Kismet artist Bill Poindexter seeks advice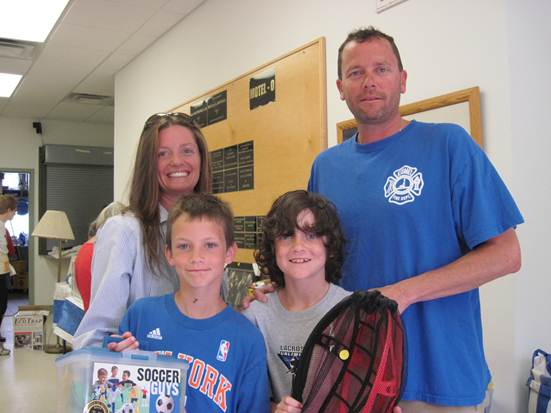 A family that shops together …shops  together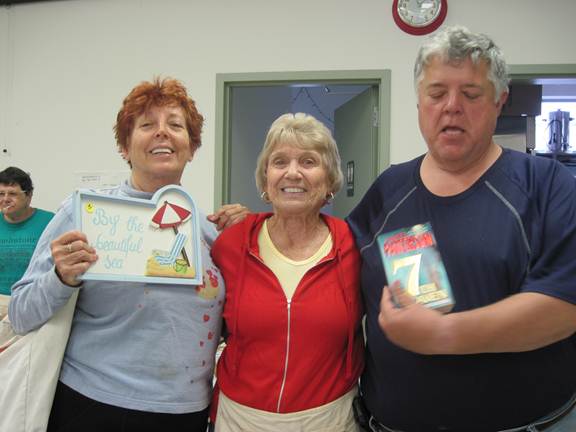 Helen with Rita and Bob, two satisfied customers
Lovebirds George & Caroline going domestic?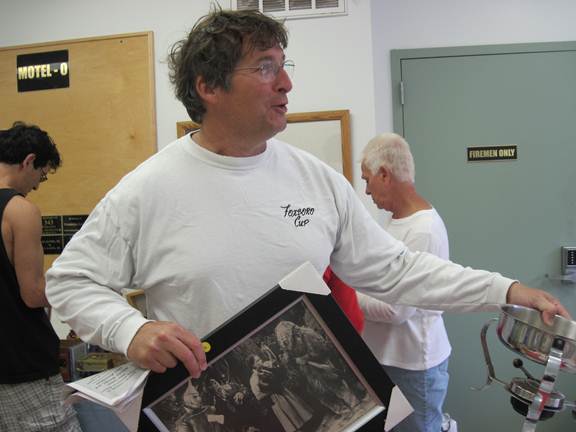 Dennis can't decide…Art or Culinary.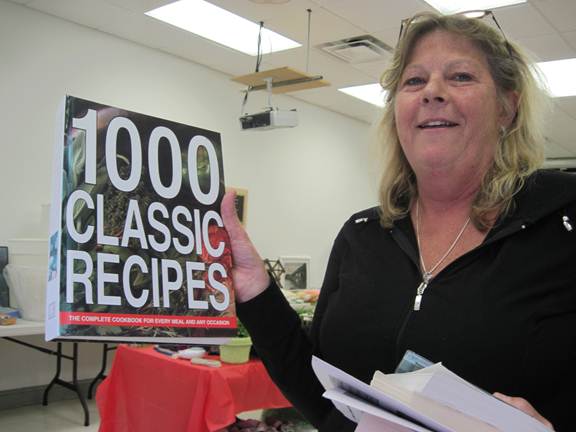 Looks like it will be an interesting winter in the Chiros Kitchen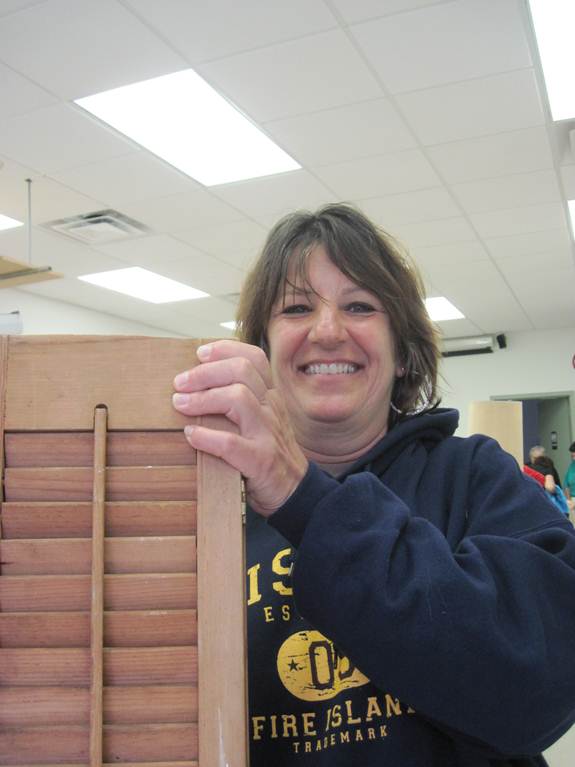 Hey, those were my shutters – good thing they can't talk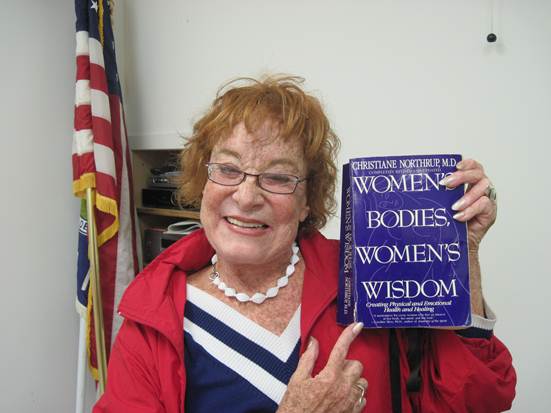 Its never too late to learn
Perfect for those non beach days
Getting an early start – while big sister is already there 
OK – HERE IS THE BIG STORY
Caroline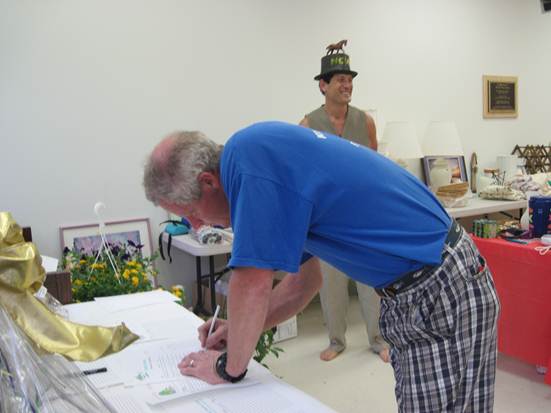 And Ashkey
In a bidding war for the shark – here they are re-grouping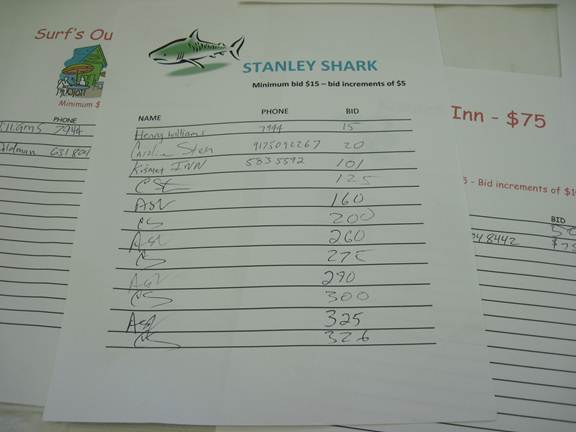 Caroline won the bidding war  after an intense scene finally upping Ashley by $1 at $326
She said "don't wrap it – I'll wear it"! Said she was trying to raise more money for KLAW (but it turned out it was hers)
LATER, AT THE INN  SHE GAVE IT TO ASHLEY. 
You can;t make ths stuff up!
Proving that they closed too soon, shoppers were going through the bags of stuff to be discarded (Other unsold items will be given to a local charity)
Bradlee says thanks to all who helped - from donating flea market and silent auction treasurs, to loading, transporting, unloading and setting up the firehouse, to selling raffle tickets and market items, to cleaning up
Approximate earnings $3200 + $200 from Island Beach.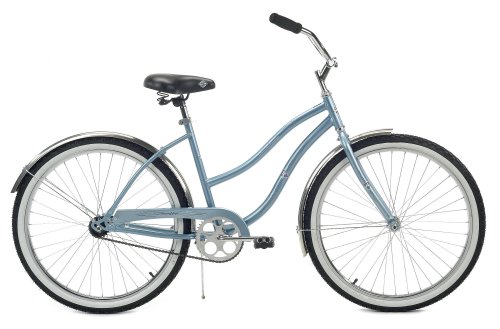 A 26" Huffy beach cruiser bicycle will be raffled Sunday afternoon, July 3rd, at the KLAW table (Kismet League for Animal Welfare)
by the Kismet Market.
$5/ticket or 3 for $10