Kismet's annual Labor Day Mixed Up Kracked Konkrete Tennis Klassic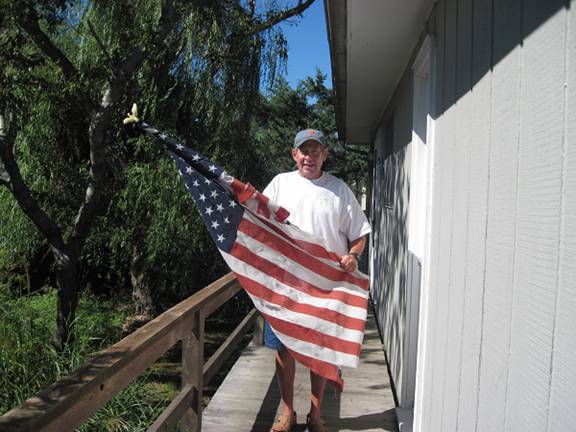 Xanadu's Mel sets the scene across from tennis courts…
Hurricane Earl left us with more sand, little wind and no damage - except the toll he took on the annual Labor Day Mixed Up Kracked Konkrete Tennis Klassic.
Ferry service was suspended Friday afternoon at three, blocking commuting competitors and stalling the draw until noon Saturday.
Earl grounded Tom Licari and sister Mary Anne, in Bermuda, causing two of her pals to withdraw. They returned to take Nicky to school in New Jersey.
Salvaged, however, was Kurt Schoen, who was elbowed into the men's draw by his girl friend, Tom's aggressive niece, Robin, who fell not far from the family tree.
Only eight women entered and preceded directly into the semi finals. Nancy and Mosse lost to 14 year old prodigy Ilyssa and Dame Binnie Steiner, a formidable pair. Nancy lamented only 20 minutes worth of play for her $20 entry fee, but did not demand a refund. Jane Beal, newly minted 4.0, drew Suzanne, a rookie Wall Street Lawyer, who bared her teeth and scared off Carol B. and Andrea. Suzanne drew Ilyssa in the finals, and they chewed up and spit out the veterans from Fair Harbor.
The hardier men fielded sixteen, played their three rounds into the semis, and got their money's worth. Steve Stefano slipped son Andy, a ringer, who drew and took out Joe B and Gary. Spared by Andy, Steve made the semis, were he was taken down by Jeff and the aforesaid, formidable Kurt (or perhaps by his partner, Art G.)
In the men's finals, Jeff and Kurt whipped Jim Sugrue and wore down Tony Falotico. Jim had been previously whipped by Chiara. The much improved Tony F has a bright future in the Klassic. In their traditional rivalry in awarding dinners to the Champions, the Inn beat the Out, 3-1. It was all over in twenty four hours.
Earl, we hardly knew ye.
…Barbosa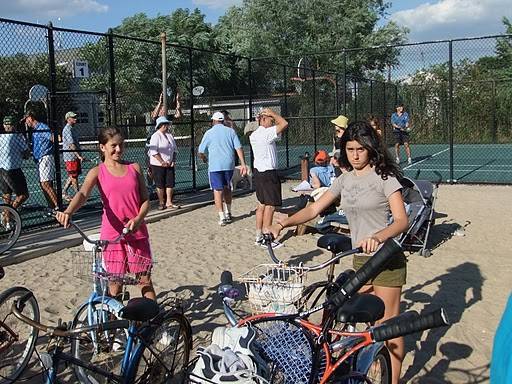 The crowd gathers, the future stars appear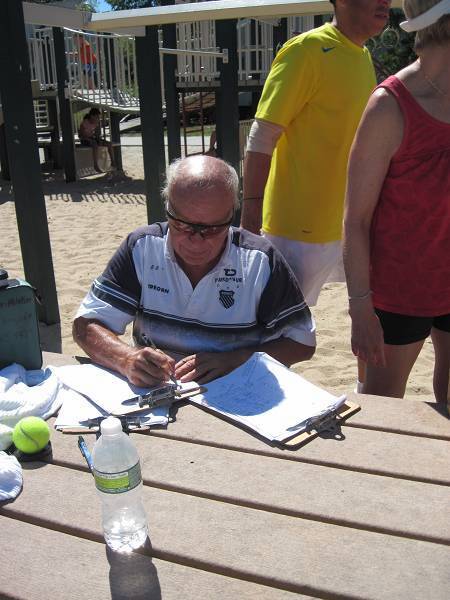 Tourney Meister Barbosa figures it all out
Looking a bit like the sacrificial lamb, Andrew is supported by his team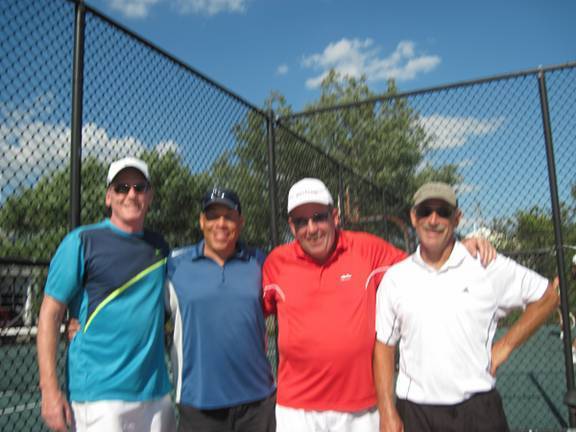 Survivors, First round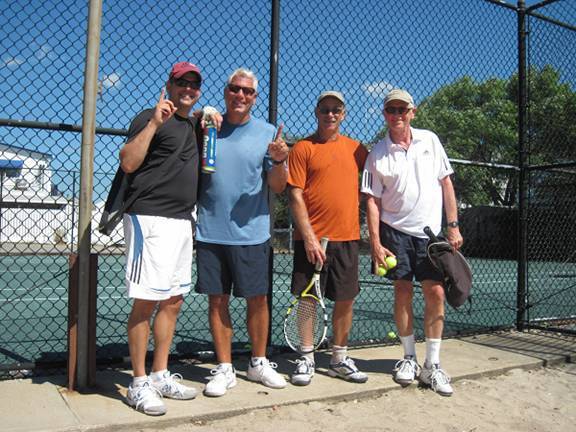 Their competitors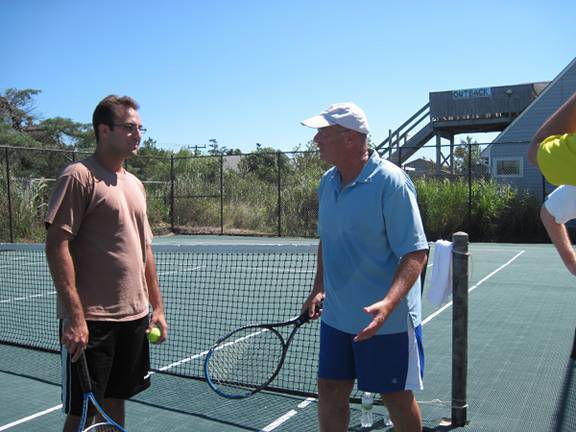 Artie G giving advice, as usual, to Kurt (who eventually won)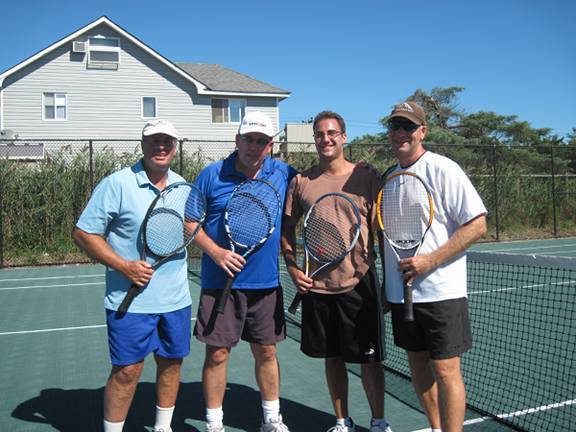 Semis - Art G, Steve, Kurt, Jeff.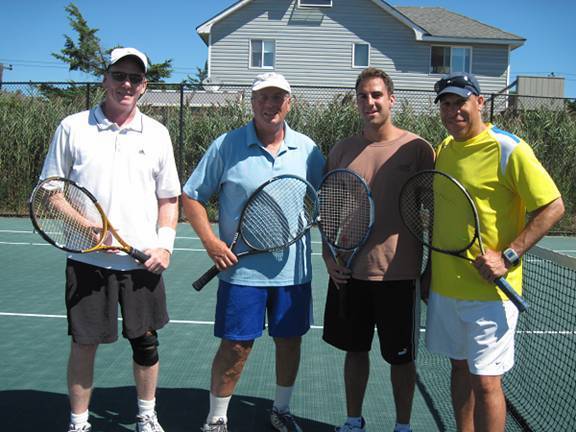 Semis. Jimmy S., Art G., Kurt and Hal
Nancy & Mosse (automatic semi finalists, early elimination but still smiling) wearing Nike and "Vintage"
Semis: Binnie & Ilyssa both wearing Under Armor
Semis- Andrea, Carol B Suzanne, Jane wearing Prada, Vera Wang, Ralph Lauren & Oscar de la Renta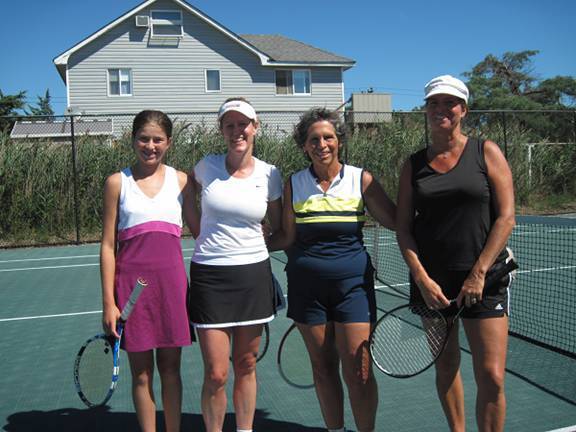 Champs Ilyssa and Suzanne and runner ups Binnie and Jane.
The Winners………Ilyssa & Jane
Making Mom Proud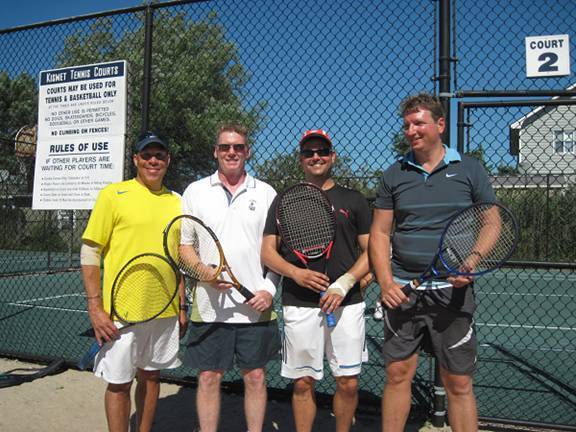 Semis - Hal, Jimmy, Tony and John wearing Verizon, K Mart, Target & Walmart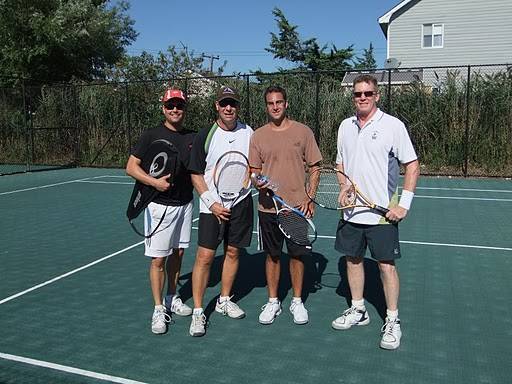 Finals. Tony, Jeff, Kurt and Jimmy.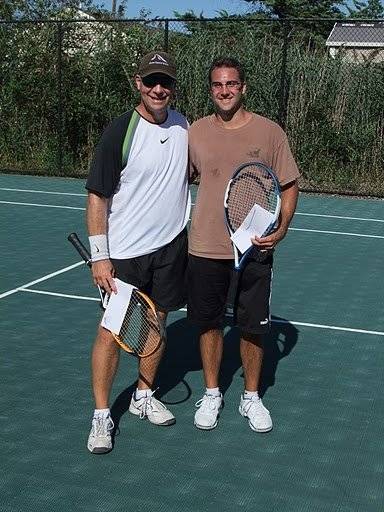 The Winners! Jeff & Kurt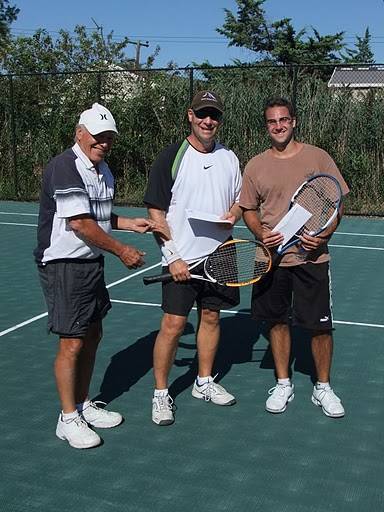 Barbosa presents their awards before a clamoring crowd
(see below)
WHEN will they get off the court?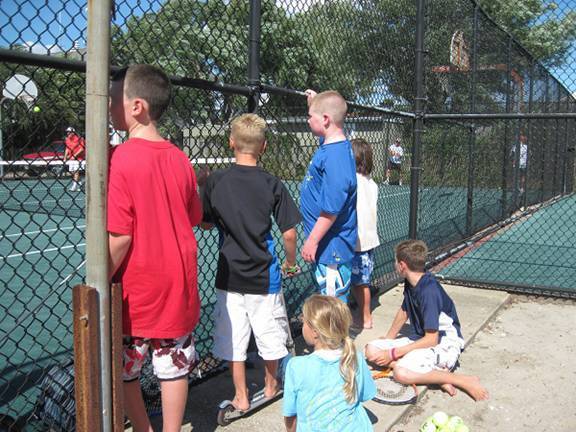 What are they doing – some kind of tournament…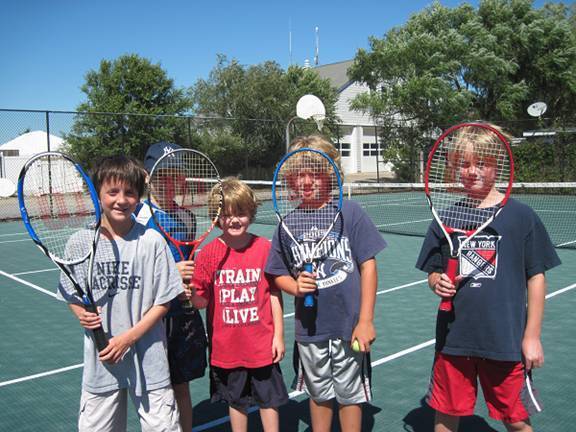 Heck! We can do that – Next Year's Team!!!