Hail to our Queen!
"LOST and FOUND and INBETWEEN" –
 A Performance of "LOVE SCENES" in Cherry Grove
                     by Martha Pitkin
Labor Day Weekend was a busy time at the Cherry Grove Community House!  One of the best shows to come from 'off island' in recent times was the holiday weekend performance of "LOVE SCENES", a series of six vignettes, covering love relationships, new, old, reclaimed, revisited, and finally over, well maybe, since hope (in its many manifestations) springs eternal.
The performance of Moe Bertran in David Pumo's brilliantly written play was riveting, and believable, taking us on an intimate trip into the love lives and relationships of six gay New Yorkers.  Bertran's exceptional talent and steely concentration in delivering each character's personality captivated the audience. It provided that 'I forgot I was sitting in the theater' feeling throughout the show.  The pace of the action was almost non-stop, including between scenes when the audience, turned voyeurs, watched as Bertran retired to his on-stage 'dressing room' (read: clothes tree) to swiftly and deftly change not only his clothes but his character, circumstances, voice and delivery for the next scene. 
This was a fabulous one-man show, using minimal props, no scenery and cleverly chosen popular music to fill the interludes that carried us out of one scene and delivered us to the next, all without curtains or most theatrical formalities.
Scene 1 "A Church in the Bronx"
So, speaking of scenes, the first, "A Church in the Bronx", was definitely the "love lost" portion of the performance. Bertrand portrayed an inebriated, jilted ex-lover who crashes his ex-gone-straight-boyfriend's wedding ceremony. It was a "shoulda been me instead of her" moment, filled with despair and disbelief. Throughout this scene, as well as most of the rest of the play, Playwright Pumo's skillful writing provided Bertran's lines to deliver as if there was another actor present in conversation, but of course there wasn't, as it was a one-man show.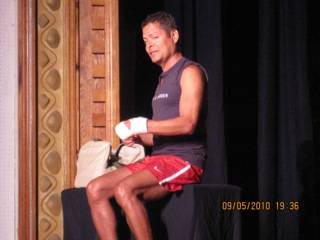 Scene 2 "A Locker Room in Midtown"
One of Bertran's best talents involves the delivery of these one-sided 'dialogs', which continues (albeit between a new set of characters) as the performance proceeds into Scene 2. It begins as Bertran's character arrives in "A locker room in Midtown". Here he coolly confronts another man who has been attempting to woo away his lover.   We are presented with Bertran's forcefully superior and disdainful character and the scene is gripping.  All of the action in this scene takes place while he changes into boxing attire, wrapping his hands, slowly and methodically, before putting on his boxing gloves (for what we can only imagine will be the pummeling he will give his opponent). His message is clear assuming the guy hasn't already taken the hint and headed for the hills!  Not only is he confident that he could whip him in the ring, but he is also certain that he has already won the contest for his lover's affections, by default. His lover simply doesn't love his opponent. The outcome is clear for this scene, but love is not always that (pardon me, please) straightforward.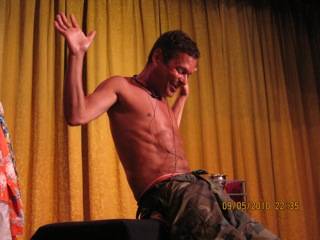 Scene 3 "A Bench on the Hudson"
In Scene 3, "A Bench on the Hudson" introduces us to a male hustler who is hanging out, listening to the French language tapes he received from 'Sir" the suburban man who would have turned him into a My Fair Lady.  Out classed, over his head in an alien lifestyle, and uncomfortable (and possibly a little fearful) in his role as a S&M slave as well as with the prospects of a permanent relationship, he has just run away and left Sir behind, thinking to return to his old life, habits, friends, hangouts and comforts.  In the end we are left with the feeling that backwards or forward, this is the "damned if you do/don't" part of humanness that confounds without regard to social or economic borders.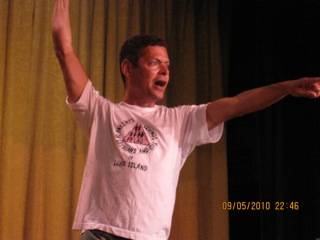 Scene 4 "A P-FLAG Meeting on Long Island", a guy who was engaged in his own heart, soul and sexual coming out story
Speaking of borders, and I know we were, Scene 4 left me wondering. Did it take us over the border and OOTC (out of the City)? It's a "P-FLAG Meeting on Long Island"! Hence, I will raise the age-old question:  do Kings and Queens want to claim they are Long Islanders?  Conversely, do Long Islanders think the Island ends in far western Nassau, purposefully excluding Brooklyn and Queens from its realm? 
Philosophy and pondering aside, back to Scene 4 where we meet Michael at the Coming OUT Workshop. Fresh faced and full of enthusiasm and exuberance, he proudly tells his coming OUT story, which includes a Barbara Streisand concert (he shows us a precious keepsake, his framed concert ticket stubs)!  Streisand concert, unforgettable, right?  How about holding hands and kissing another guy for the first time in (gasp!) public. The instant appeal of this event, whether you are in or out of the closet, is that just about any GLBTQ person I know has been through the fear and panic of coming out/or not coming out: some busted down the door, some crept out, some are still in there (yoohoo! are you still in there?).  Which is why we love the Grove, because if not here, then where?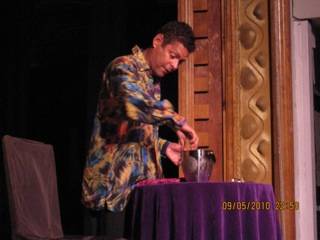 Scene 5 "A Dining Room in Park Slope"
Fifth was the controlled-yielding to explosive- reaction to long term partner's betrayal.
Back to the show.  So, where does Bertran take us next? Well, back into the City, in Scene 5, to "A Dining Room in Park Slope", Brooklyn.  In this dramatic scene, between upper middle class partners of 35 years, we look straight down the barrel at the explosive question of whether a carefully preserved long term monogamous relationship can be transformed into "monogamy plus" (extra relationship affairs).  As the scene opens, it is clear that the unseen partner has just announced his intention to have sex outside of their marriage. Quite calmly, Bertran, the unsuspecting partner, methodically fills his martini glass, downs the bracingly strong drink he has just carefully made, and begins to delineate much of what has just been proposed and the losses that will be wreaked on their relationship:  the dogs, the mortgages, the cars, the credit cards, the years of comfort and companionship, etc. Just when we think he is being entirely too composed, he explodes and furiously confronts the partner's betrayal by thought and word, if not yet by deed.   Bertran's character ruthlessly puts it all on the table, all the certain advantages of a long term relationship in exchange for adventure and expense (in terms of dollars and relationship ruin). He prophesizes a bleak outcome, foreseeing no splendor in the grass for strays.  Of course, we never hear the other side, except through Bertran's one-sided discourse, so, we will never really know what happened after that, and that my friends is left up to each of us to decide.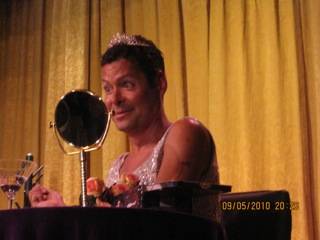 Scene 6 "A Bedroom on the Lower East Side"
What, what can pick us up and give us hope after all that tumult and uncertainty? Well, how about a wedding?? Scene 6 "A Bedroom on the Lower East Side" smoothes out the wrinkles and scars of love and is the "love found" scene that is warm, fuzzy and hopeful.  Bertran, appears as a bride, getting dressed for the wedding and transforms before our very eyes from bio-man to tran-woman, complete with silver gown and tiara, fabulous!
That love springs eternal is the hope of us all and it is to Pumo and Bertran's credit that the whirlwind that is "Love Scenes" is outstanding in its portrayal of love, at its best and hardest. This show was extraordinary entertainment and worth seeing.  Here's my advice:  go see it, first or second time, doesn't matter. Just as you'll always remember your first love and you'll likely never forget this production for its touching humanity, no matter what color crayon you choose for love.
Before coming to Cherry Grove, award winning "Love Scenes", produced by Gato Flaco Productions, has been on stages coast to coast and abroad.  More information on the producers, Playwright David Pumo, Director Donna Jean Fogel, and Actor Moe Bertran can be found at www.gatoflaco.com.