SONDHEIM FEVER HITS THE PINES IN AN EXPERTLY DELIVERED "MERRILY WE ROLL ALONG"
                                              Photos & text by Jeannie Lieberman
The Pines was not immune to Sondheim fever as theaters and music halls across the country celebrated his 80th birthday. In perhaps their most ambitious production to date the intrepid AP chose a Stephen Sondheim "loser", a hard show to like, this 1981 infamous Sondheim/George Furth (book)  16 performance only musical, but, miraculously, I venture to say the hard working cast,  under Glen Wilgus' expert direction, made it happen in perhaps a more endearing way than the original!
A program note from Director Glen Wilgus:
November 17, 1981, the day after the original "Merrily We Roll Along " opened on Broadway, Frank Rich wrote one of his most perceptive comments about the work of the show's composer and lyricist, "As we all should probably have learned by now, to be a Stephen Sondheim fan is to have one's heart broken at regular intervals." Rich refers to the heartbreak contained in Sondheim's most moving music and that some of his greatest work has often been contained in shows that commercially fail.
"Merrily We Roll Along" is the star of that category. And although it is a cautionary tale of heartbreak; how the missteps in life's long process of decision making take their toll on dreams and ideals, it's reverse plot devise leaves us at the most optimistic and hopeful phase of life; the potential of youth. A thoroughly optimistic conclusion, coaching us to hold that affirmative sensibility throughout our life…with a bit of Polonius thrown in for good measure, "This above all: to thine own self be true, and it must follow, as the night the day, thou canst not then be false to any man."
When we selected "Merrily We Roll Along" we knew that it wouldn't be easy, and to even attempt this sadistically complex and twisted score would be an enormous challenge; tuneful, yet so intricately woven of reoccurring themes, phrases and motifs that erupt to the forefront in one song, recede in another, couple with another from somewhere else only to re-emerge elsewhere as a whole – and all that in reverse. It's certainly spectacular to hear, but a real nightmare to learn – Sondheim at his most devilish. To that I can only say, WE HAD NO IDEA! You may think you're hearing the same "merrily we roll along, roll along" phrase over and over…but you're not. Each time it twists, it turns; it changes tempo and rhythm; style and mood. Could this be the first Cubist musical, refracted and viewed in retrograde?
Astonishingly our cast has persevered, and you're about to witness what a close-knit and extremely dedicated group of thirteen singer/actors can accomplish in four very short weeks. The "Merrily We Roll Along" challenge was taken because so many of our FIPAP family were truly passionate about the opportunity to "face this music." And that's one of the great joys of our annual Labor Day musical. Yes, we hope the six to seven hundred people who come to our show have a great evening, but the experience that it gives to its participants is indelible. And for the Fire Island Pines Arts Project, cast, crew and volunteers to say we brought this beloved show to life for three days was worth every moment and resource dedicated to its production. If our reach has indeed exceeded our grasp I trust that you'll applaud the audacity of the undertaking.
Glen Wilgus
Typically dark, the conceit of this otherwise trite show biz plot is about a trio of young aspiring friends - future songwriting team Franklin Shepard and Charley Kringas and writer Mary Flynn (Dan McDonald, Steven Alan Black and Nicole LaFountain) as age and success/failure, and intrusive love lives ruin their relationships - is to tell it backward (!) when they are at their least attractive. That is asking a lot of the audience, beginning with a high powered cynical back stabbing Hollywood party, circa 1976, at which the multiply married Frank, breaking not only the heart of his wife and their child, but Mary, who has loved him throughout and is now a caustic alcoholic, is accused of selling out to Hollywood behind Charlie's back. The only character you sort of like is Charlie because he is the constant (and perennial victim) about whom you know the least.
When the lights dim the plush Pines' Fradd Theatre at Whyte Hall is filled with Sondheim's edgy-est, quirky-est, irky-est overture (as delivered by a crackerjack band).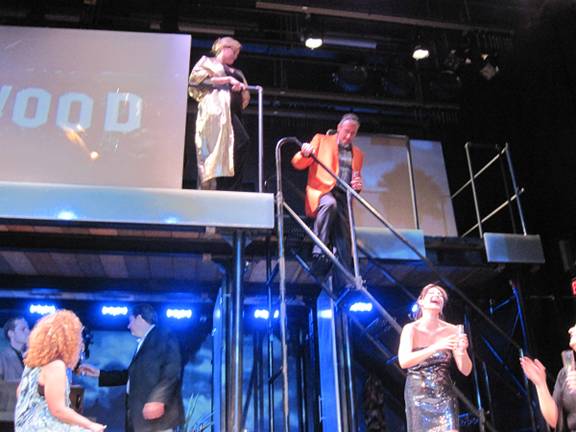 The scene opens at a Hollywood 1976 high powered cynical power party which shows off director and designer Glen Wilgus' versatile set. "These are the movers and shakers who give you the vapors" they sing
Mary tells them off "I'm fat, drunk and finished…but I'd rather be me any day" as they sing one of the show's anthems, "Old Friends,". Also seen here are fiery Broadway musical star Gussie Carnegie (Gaelan Gilliland), ingénue wannabe Meg (Amanda Ferguson); and Frank's ex- wife Beth (Mary Catherine McDonald)
NBC 1973: At a television interview (James Duus) Charlie erupts in a show stopping, typically Sondheim tongue twister "Franklin Shepard, Inc." as Frank "sells out" to Hollywood dissolving the partnership, putting the final knife into the relationship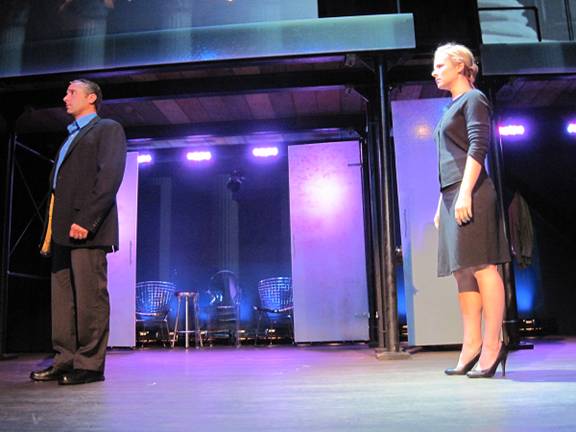 In one of the show's most heart rending moments Beth sings one of the show's commercial hits "Not a Day Goes By"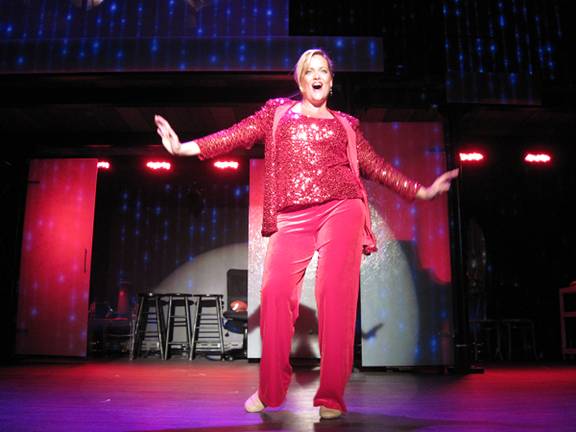 Gussie gets by in another show stopper "Good Thing Going" from their new hit musical  "Musical Husbands;" …
 
with a little help from her friend: Gaelen Gilliland & Willy Laury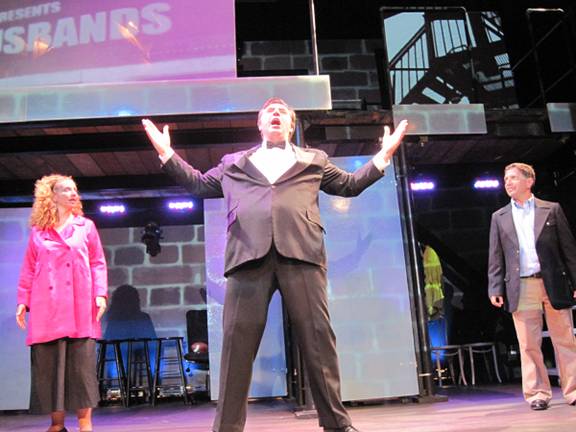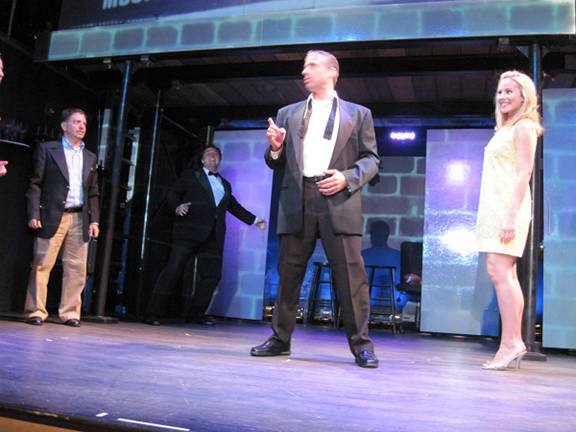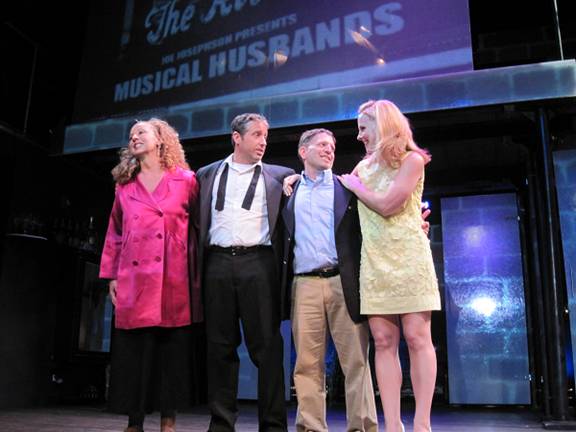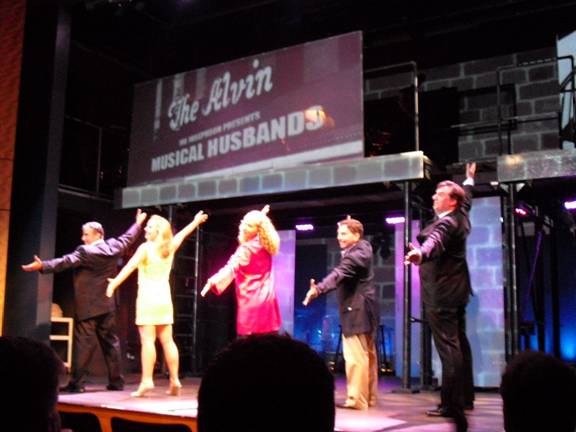 Dan McDonald, Mary Catherine MacDonald, Nicole LaFountain, Steven Alan Black and Scott Marshall
The friends rejoice in their success "The Sound of a Hit"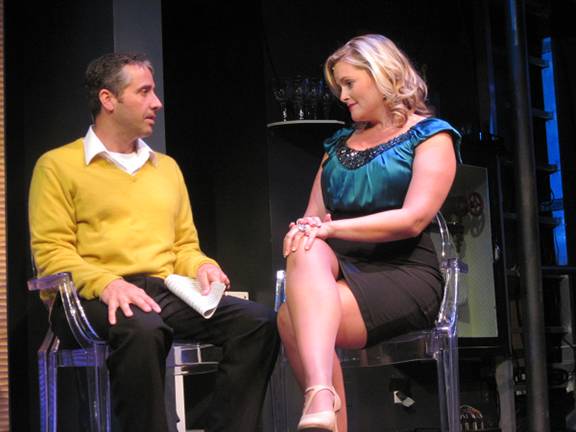 Gussie seduces Frank into a career which will eventually make her a star
 By introducing him to the right people
Their first collaboration – when things were best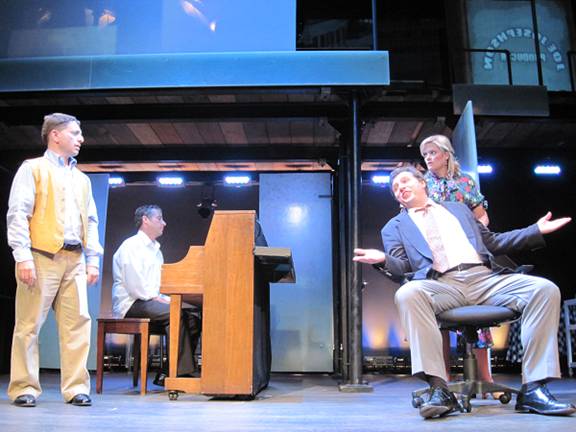 The unknown secretary Gussie and her lapdog/boss, later ex-husband Joe Josephson (Scott Marshall) sell the talented pair on combining for a musical career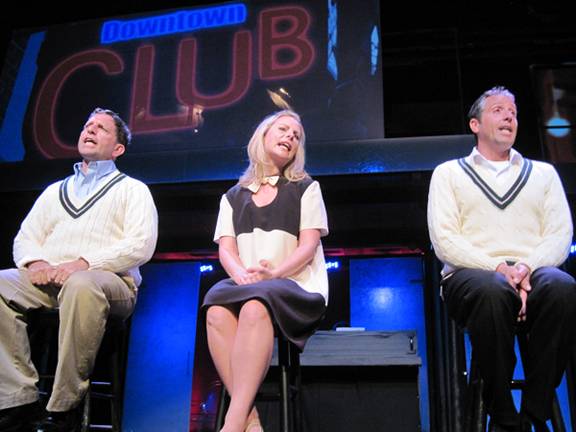 The young trio performing their original material a tribute to the Kennedys, "Bobby, Jackie & Jack,"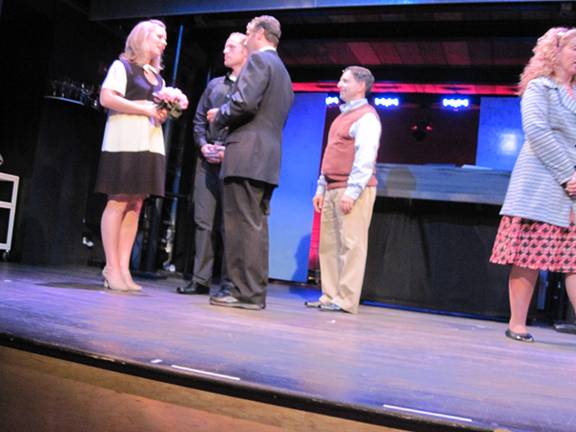 Frank marries the pregnant Beth
As Mary consoles herself with Chianti
In the beginning:
The trio joined by Frank's future wife (Mary Catherine McDonald)
Nicole LaFountain, Dan McDonald, Steven Alan Black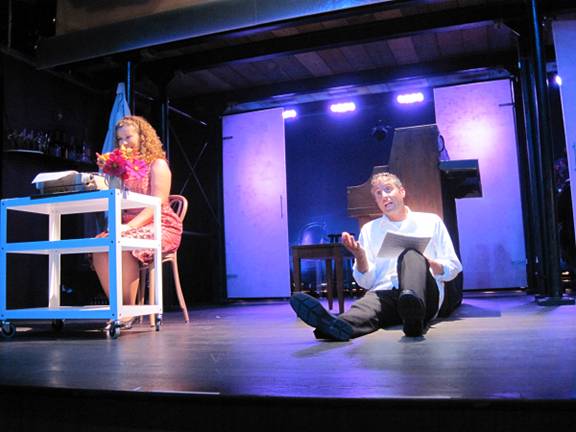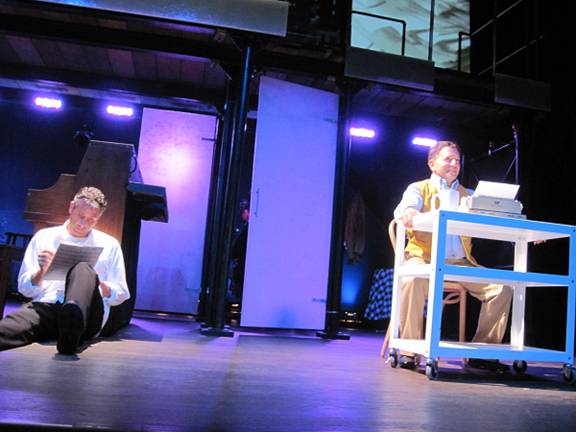 Watching sputnik from a rooftop the friends meet, 1957 – "Its Our Time"
THE BOWS: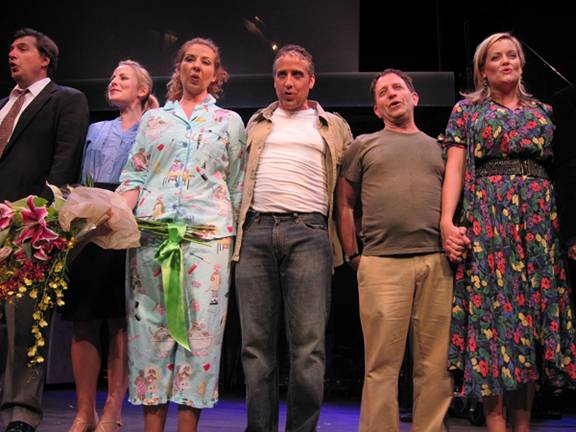 An earned rousing curtain call to a cast who surpassed the material and actually made their characters endearing (wow – hard work for a Sondheim opus)
Cast pays well deserved tribute to pianist and conductor C. Colby Sachs and his terrific little band
Bye, time for dinner and another grueling/exhilarating show
As delivered by this talented hardworking cast (and director Glen Wilgus) I venture to say this version would have enjoyed a longer run that the original!!!
                                                                                                        … Jeannie Lieberman
OUT TAKES:
 What would a Pines' show be without favorites Rita Lichtenstein
With 8 year old Jack Wolfman in his stage debut as Frank, Jr.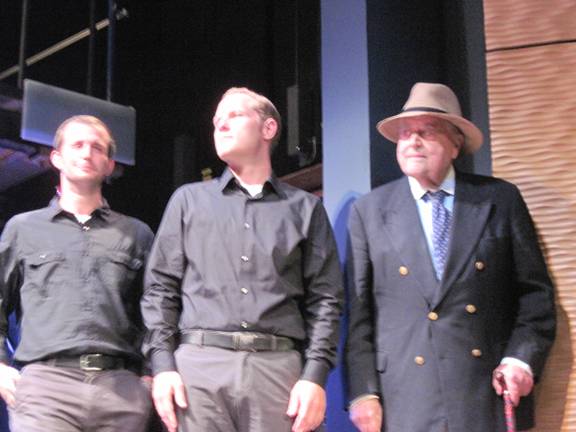 And the venerable beloved Jack - just one of the guys