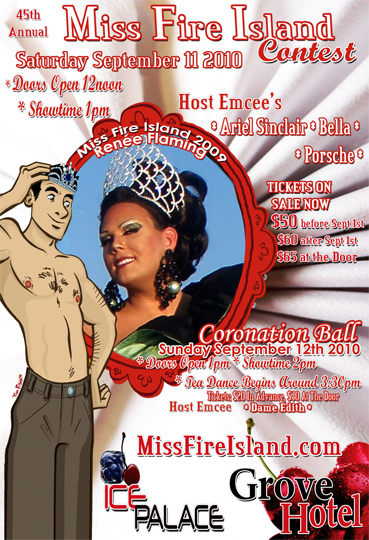 Congratulations to the winners of the 45th Annual Miss Fire Island Contest!
Miss Fire Island 2010 - Sable Scities
Entertainer of the Year 2010 - Dallas DuBois
Most Popular - Jason Cozmo
Judges Award - Aurora Stone
Sponsors Award - Habberstad BMW - Victoria Michaels
Sponsors Award - Cruzan Rum - Shi-Queeta-Li
Sponsors Award - Coors - Raven Glitters
Sponsors Award - Absolut - Epiphany
Miss Ice Palace - Tiffany Jae
Miss Cherry Grove - Martina Skyy
Ms. Fire Island - Ambrosia
Ms. Cherry Grove - Mary Oofaa
THE 46TH ANNUAL MISS FIRE ISLAND CONTEST
a fabulous phantasmagoria of feather, fringes and fishnets,
high hair, high heels and highballs
                                                                                             by Jeannie
This beauty pageant began in 1966 when a bartender, Johnny Savoy, re-wrote the Miss America song and the booth was the stage – Charity, still performing and sexy, was the second Miss Fire Island in1967. A runway was soon added as well as other categories, in the '80's honoring the older queens (Mrs. FI) and entertainer contestants.
This year's event, fabulous as always, was produced by Sal Piro and hosted by Bella, Ariel Sinclair, and Porsche. Brandon Cutrell sang the Star Spangled Banner and the aforementioned Miss Fire Island anthem. Credit also DJs Chuck McTague and Manny Ojeda, specially with all those lip synched entertainment numbers.
Though carefully organized into many segments: Miss Fire Island, cocktail break, Daywear, cocktail break, Evening wear, yes, Entertainers, more drinks, the combination of the heat, high hair, high heels and highballs blended the participants into a phantasmagoria of feather, fringes and fishnets, and, most of all, extreme beauty and creativity. I would be bluffing if I tried to identify all the entrants, many of whom either live in or frequently visit, plus some who travel far for this renowned event at the Grove which I believe to be the Drag Queen Capitol of the World. It is impossible for me to individually name them all. So I present them to you as fast as my camera could re-charge…and don't forget the crowd who added some entertainment of their own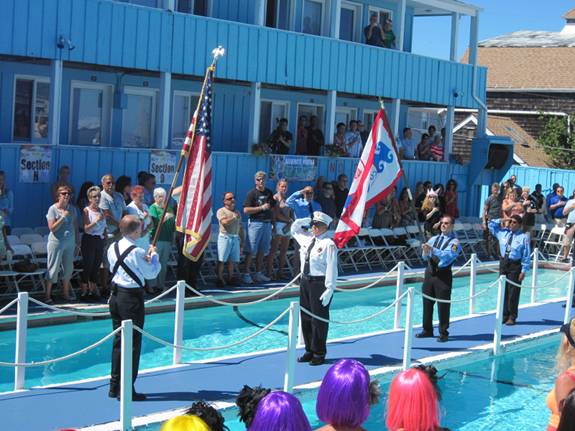 The Cherry Grove Honor Guard preceded the event in a stirring, emotional reminder of the 9th anniversary 9/11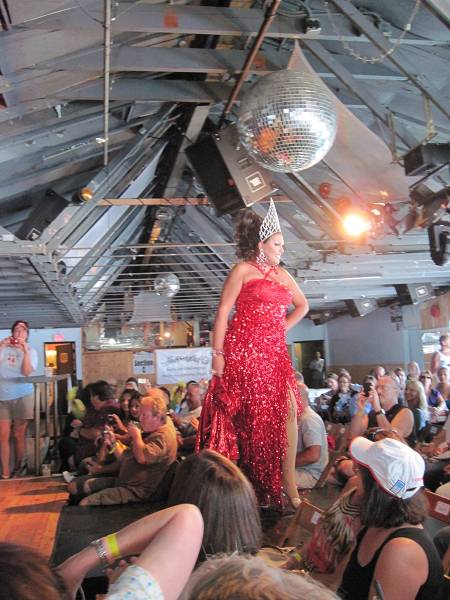 Last year's winner, the gorgeous Rene Flaming,  shows why she won!
MISS FIRE ISLAND DAYWEAR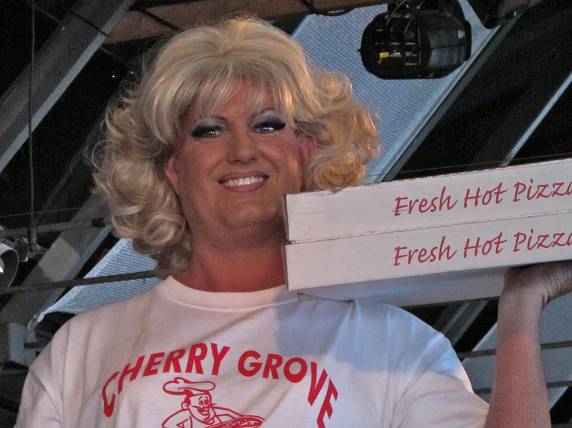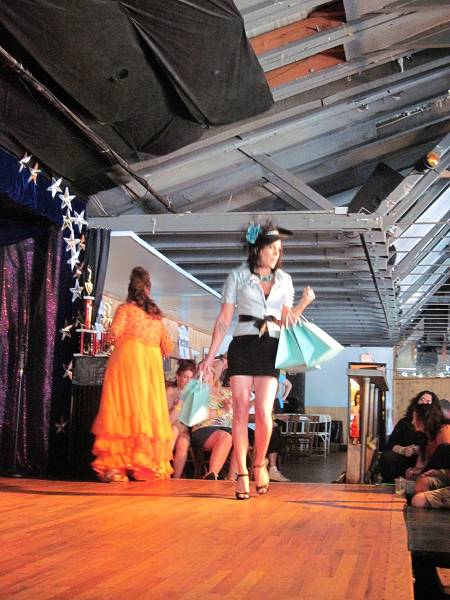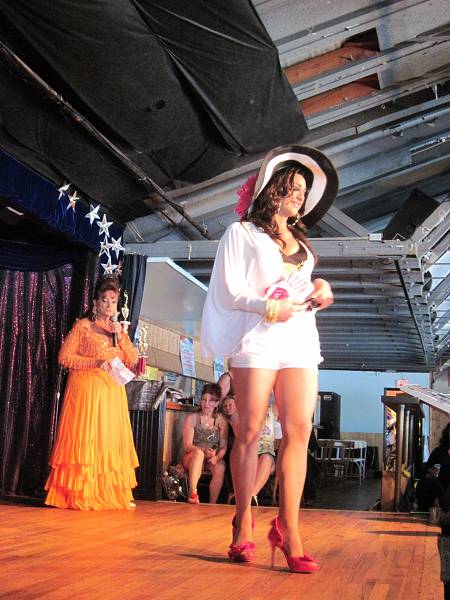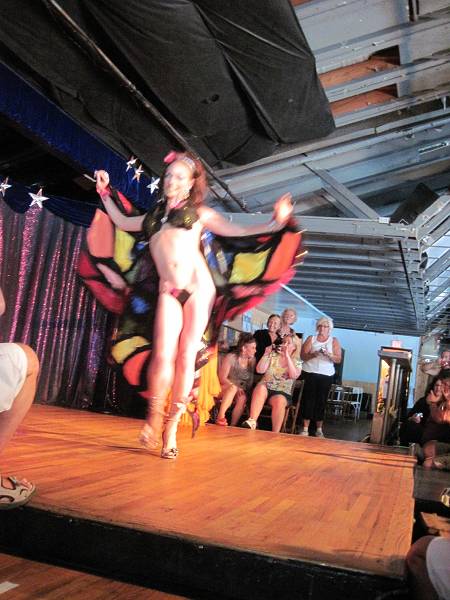 (er, if this is day wear what's left for evening?)
She got so close even the camera was trembling
Everybody ought to have a maid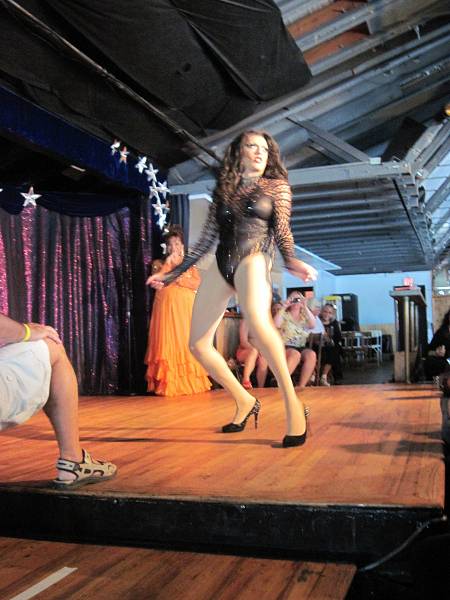 Day and…….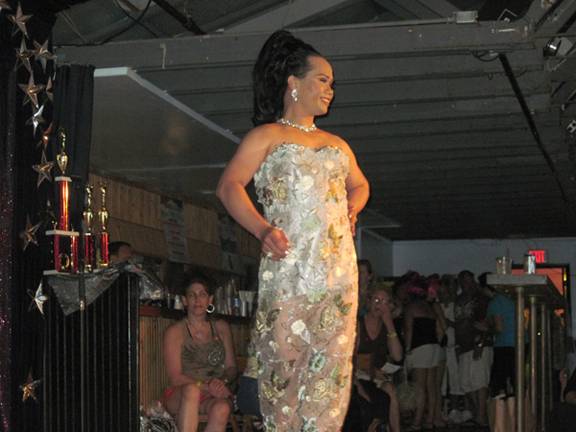 Night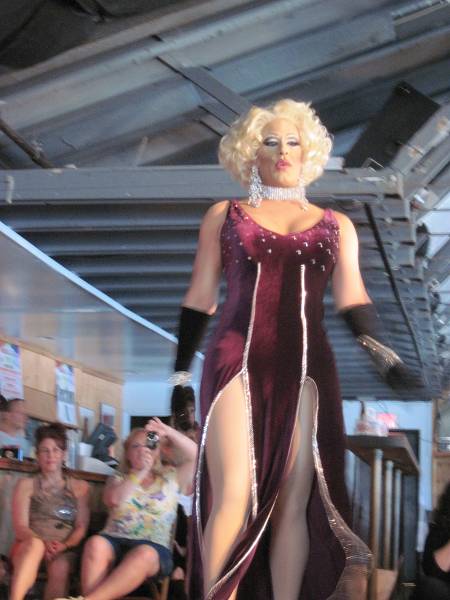 I'm Up -
I'm Down!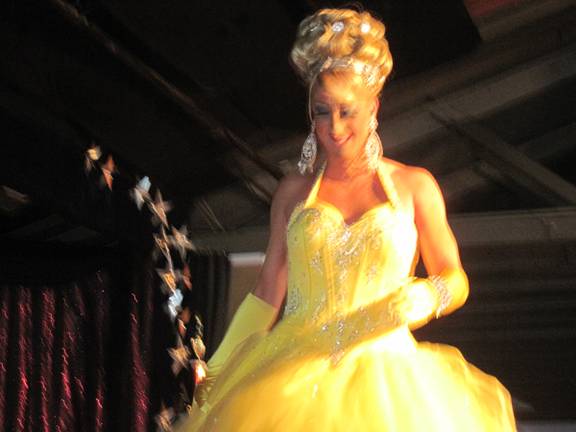 Linger over these………..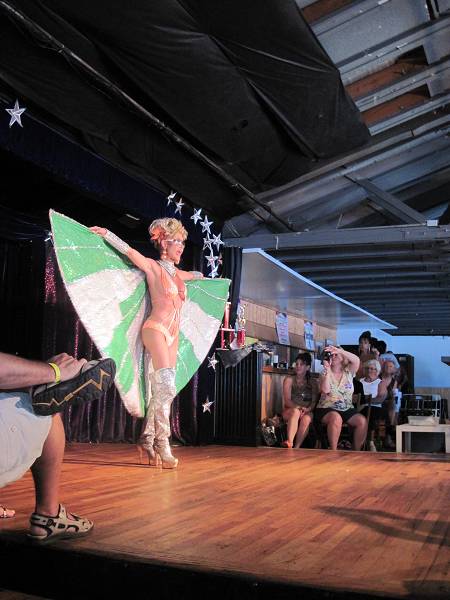 Now, wasn't that worth it
Dallas, how sweet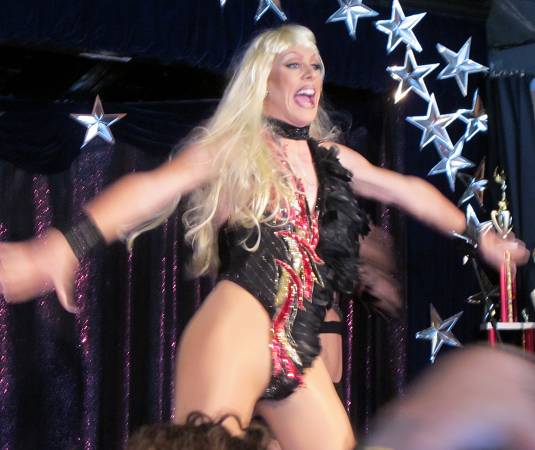 Uh oh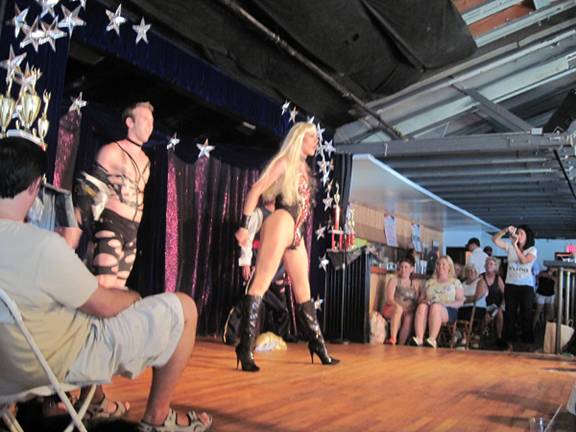 Dallas and  her "boys"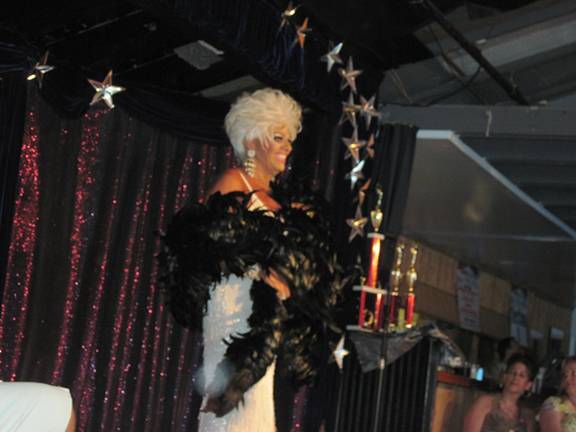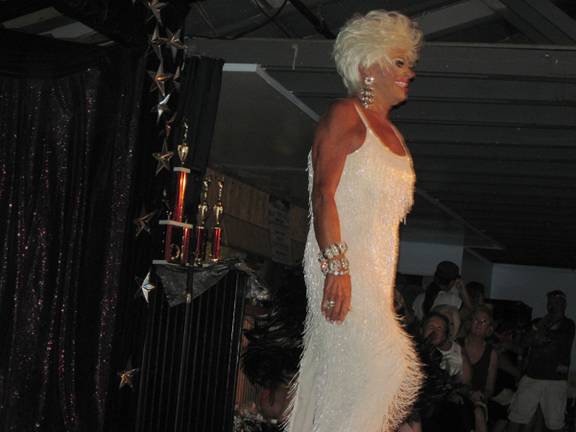 Time for a little elegance…thanks China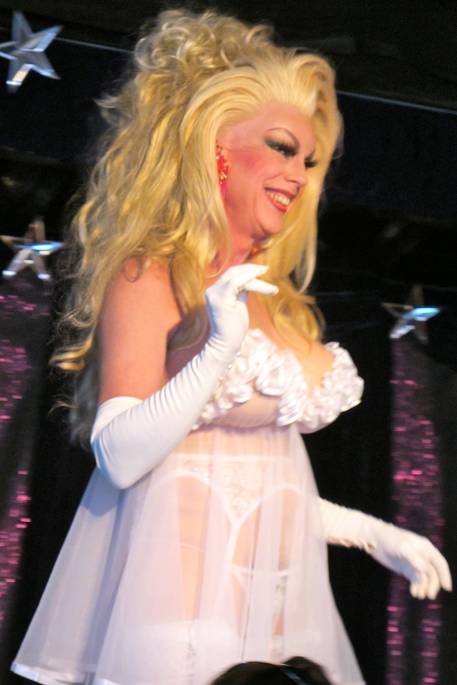 Viva Sexx – always ready to nurse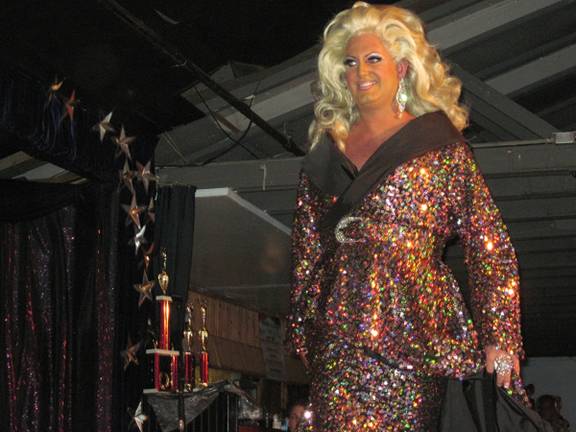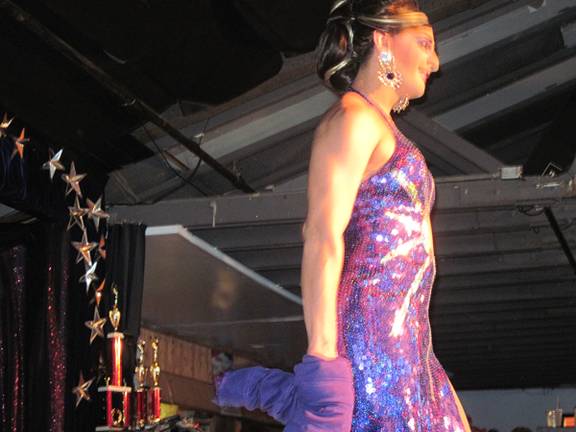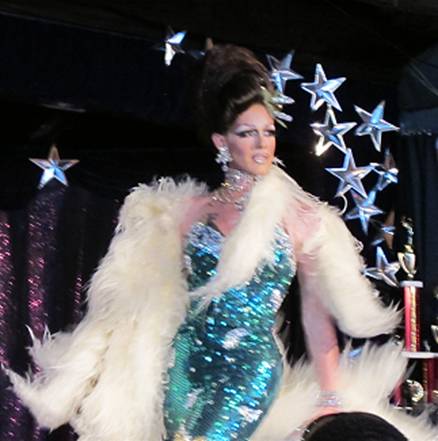 Should be a  title: Most Gorgeous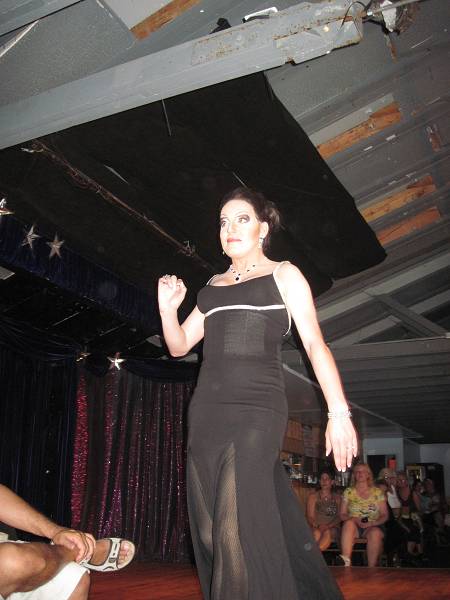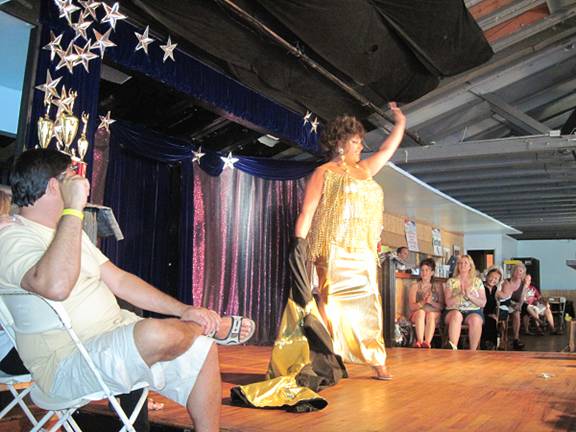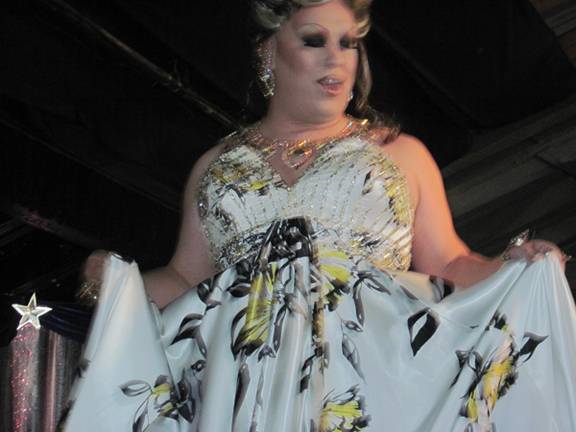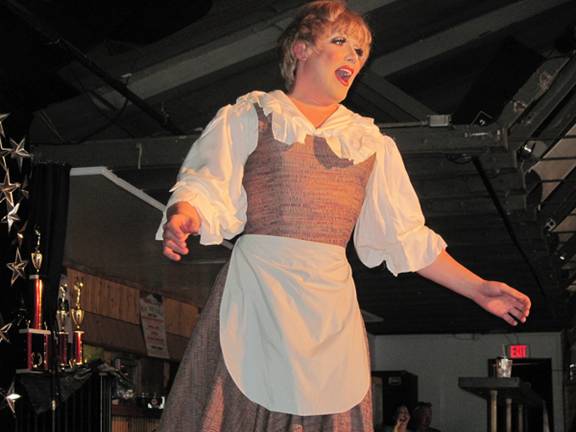 Why, Maria, you haven't changed a bit – well maybe just a bit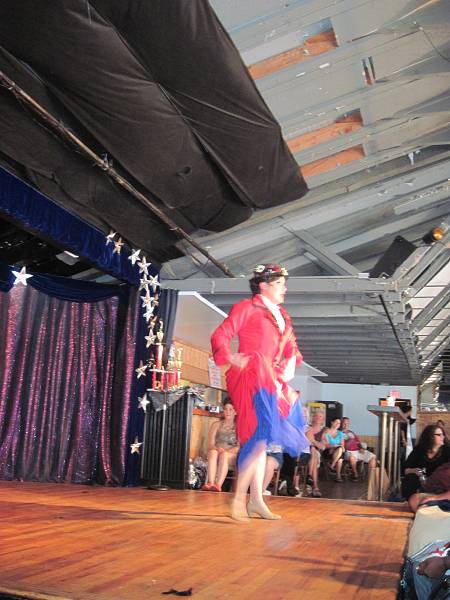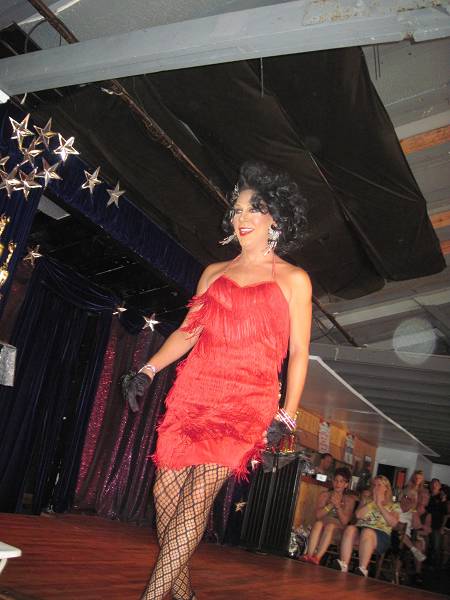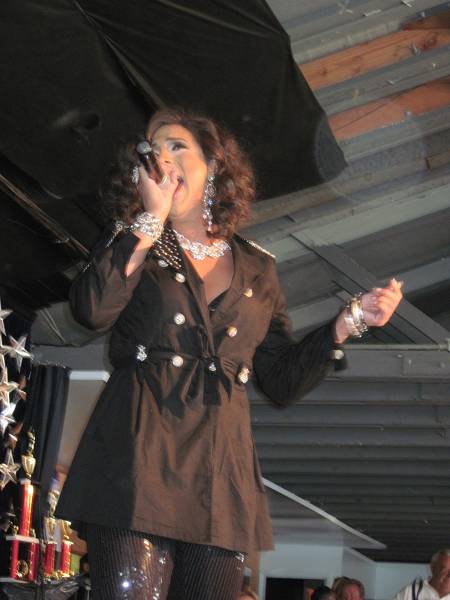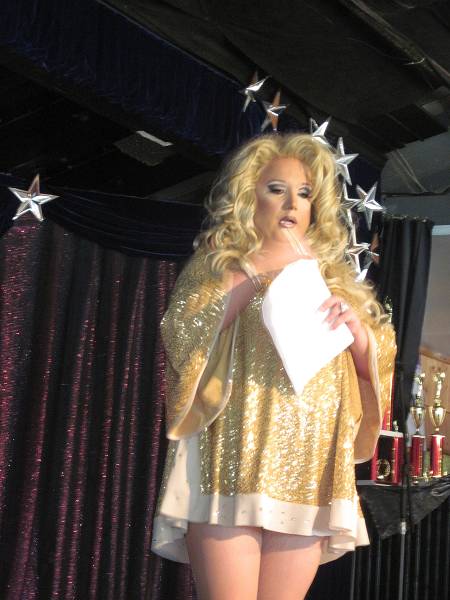 Ariel……….
Oh, That's Charity – Miss F I 1967 –
still Big Blond & Beautiful

MC icons Ariel, Bella & Porsche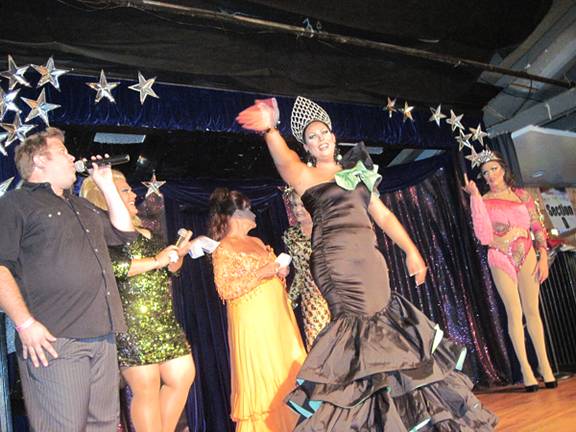 A Fond Farewell from the Queen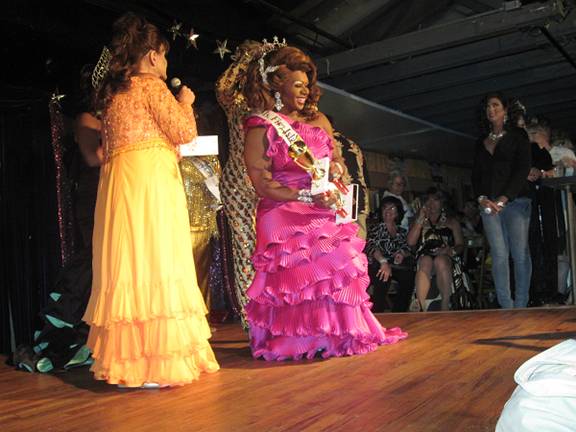 Ms. Fire Island Ambrosia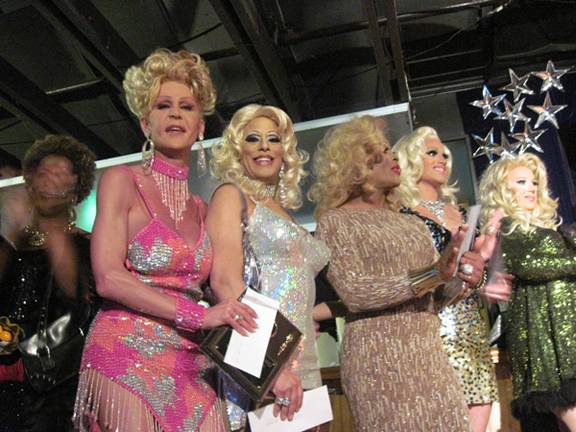 A bevy of Beautiful Blondes, winners also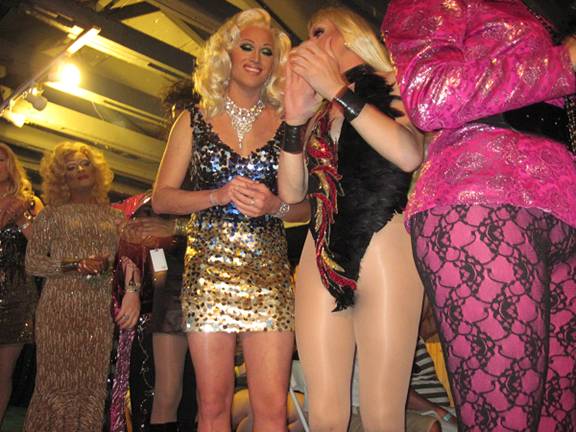 You could win it – no, you could win it,- no…….
oops, I DID Win it Entertainer of the Year Dallas Dubois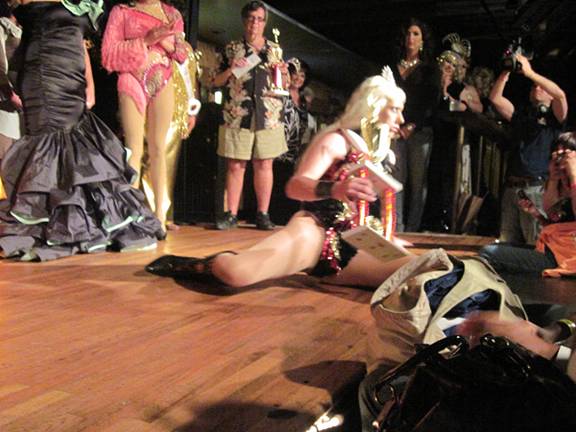 Does a split for joy (instead of jumping)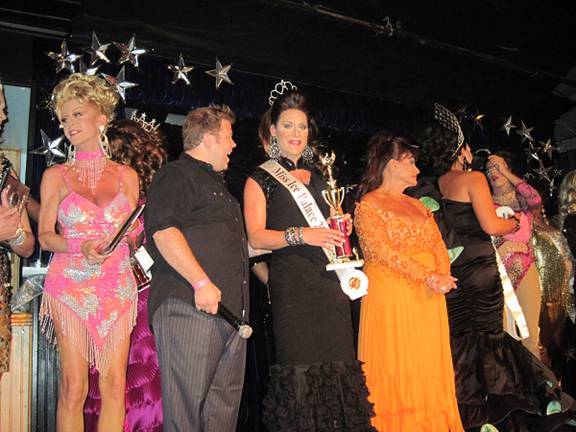 Miss Ice Palace, Tiffany Jae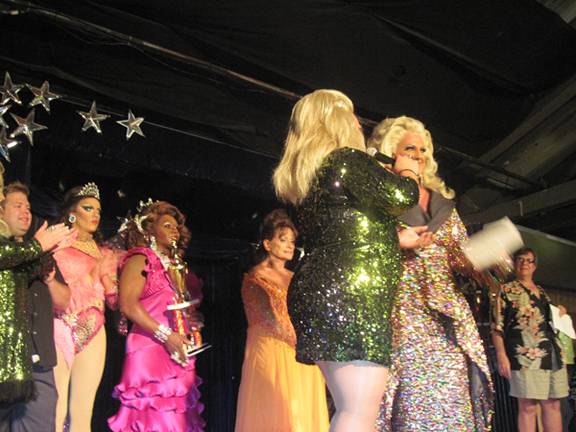 More winners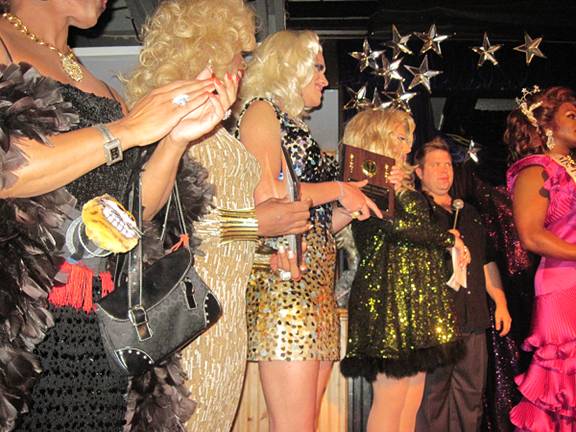 Lets pretend we are happy for them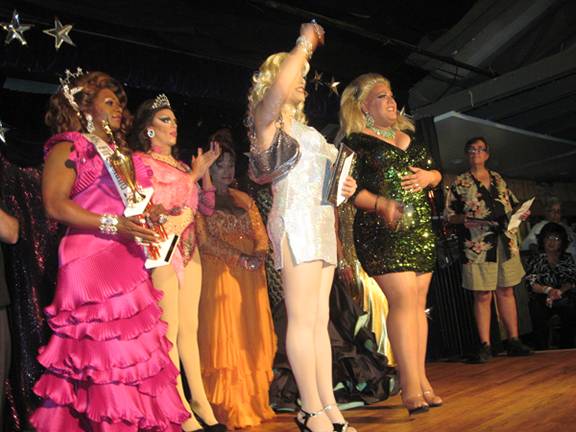 …and the winner is………….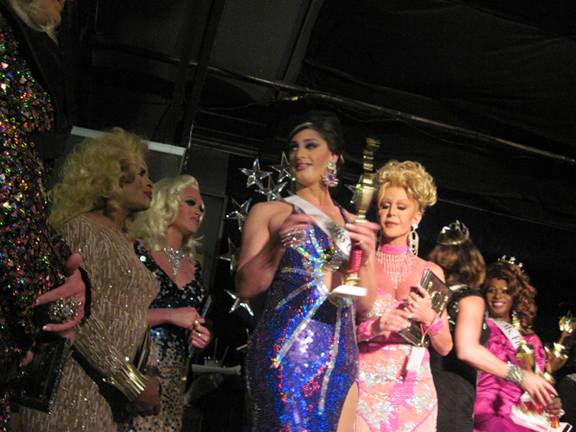 Its Me???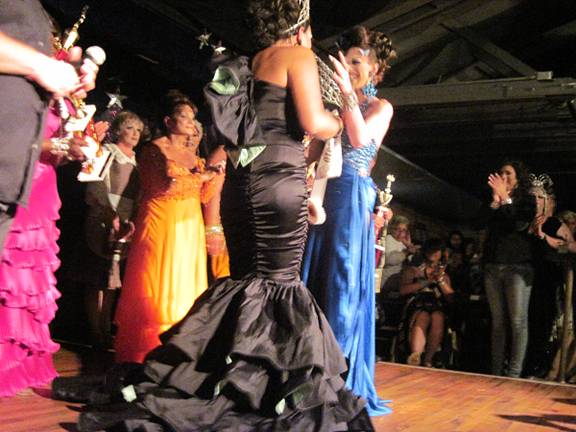 Yes indeed, here's your crown
Go Girl, take your victory walk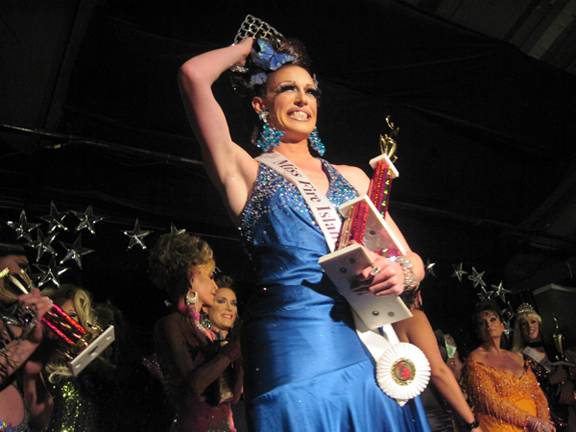 Miss Fire Island Sable Scities
GETTIN' UP CLOSE & PERSONAL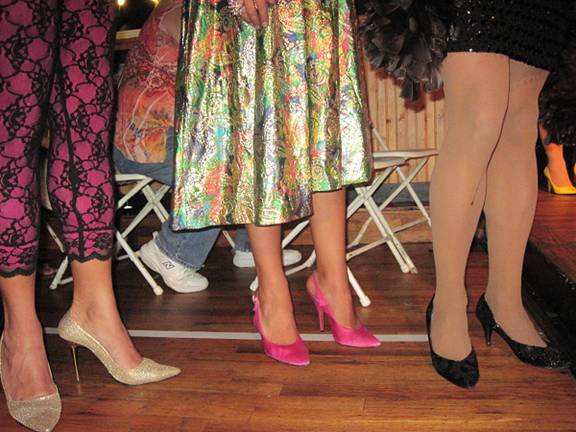 Some have it……..
…and some don't
When we grow up we wanna be just like you… er, girls…
The Girls….
…and the R G's (real girls)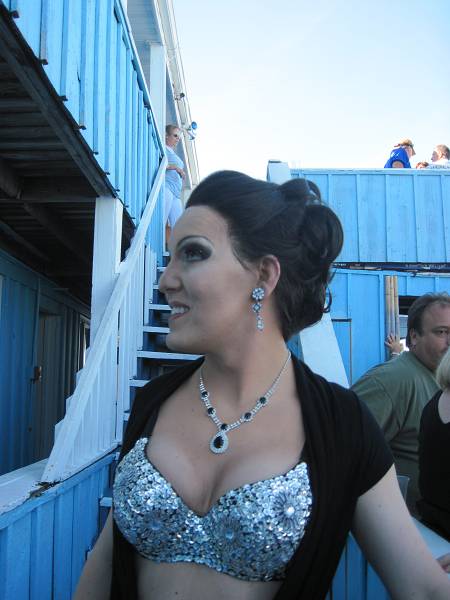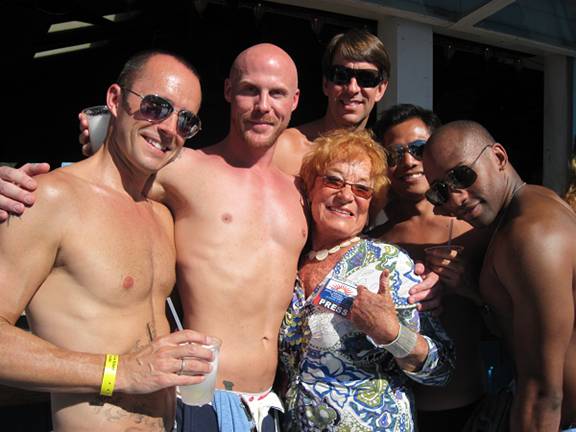 This is as close to Heaven as I can get…well, almost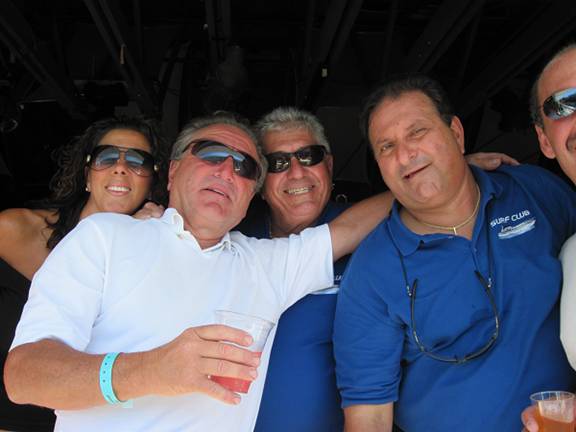 Boy's day out – Kismet Big Wigs in their debut visit to the Grove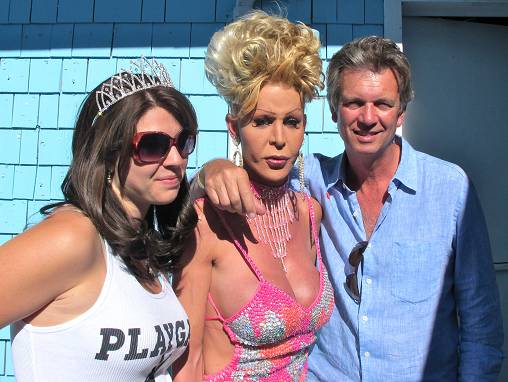 Their first visit also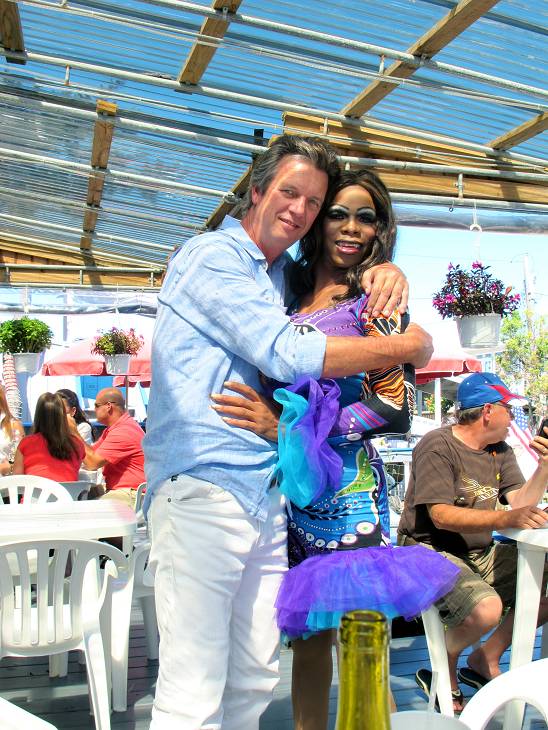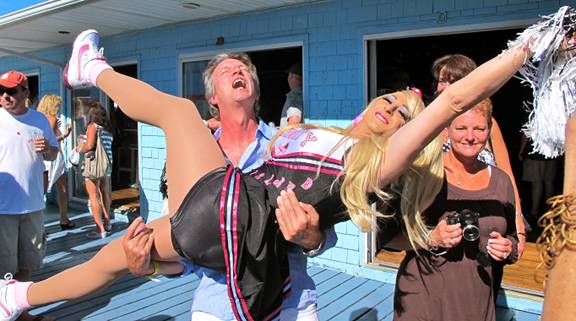 King of the Jungle
See, they're not really girls ……..
You're breaking my heart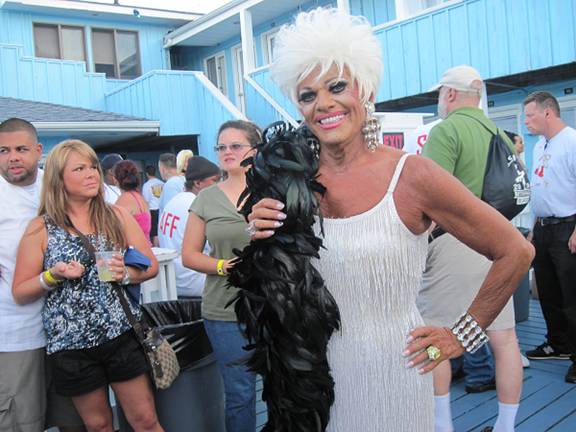 My Dear Friend, China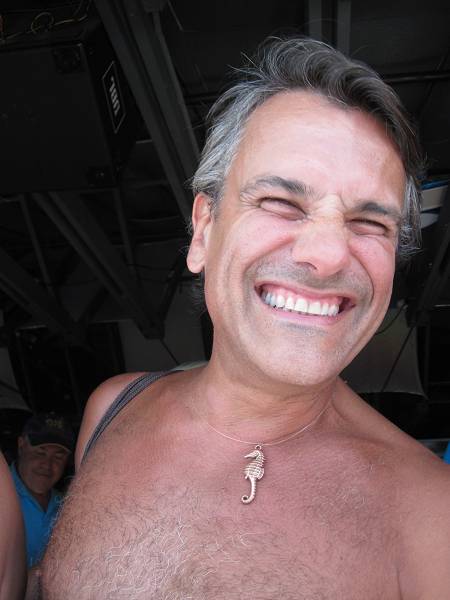 Cutie Pie, Hal Hayes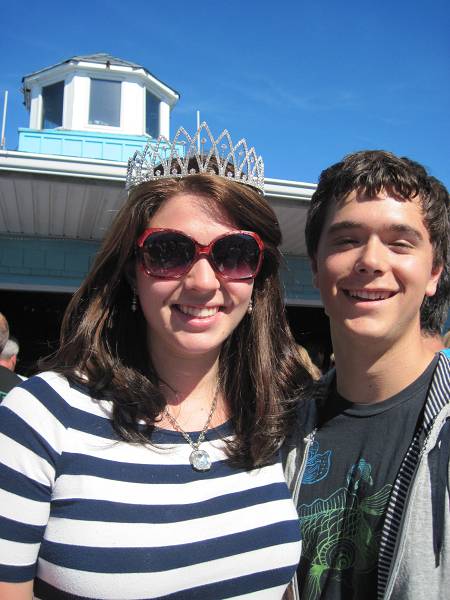 A future Queen?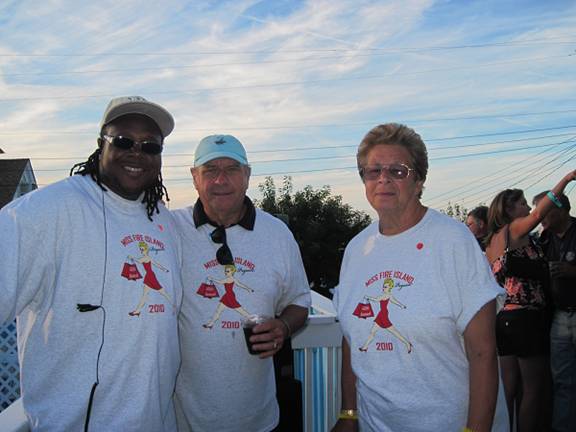 So long, See you next year!