PASTA NIGHT IN KISMET
Festive Firehouse transformed into Cuccina Italiano
An ugly storm precluded the traditional pre-pasta night party of "the boys" sipping and sampling Lou Romanzi's sauces, leaving just Dawn and Lauren alone doing floral arrangements. And the annual Entenmann's Run in Bayshore, October 2, prevented any from getting to the 9:30AM ferry the morning of the party.
Nevertheless the scheduledl Fire Department meeting was well attended and soon morphed into a group effort as members of the department performed the ritual emptying of trucks and setting up of tables.  Despite such a dire beginning the next day was picture perfect and spirits were high as "Lou's Party" sprang to life.
The Pasta was Barilla Penne, Lou R made a Pomodoro and a meat sauce.
The kitchen line was Warren, "the voice of experience" as Lou generously referred to him, Dominick cooking pasta, Lou did the sauce, Gary did the meat and Dawn took the orders.
FD members cleaned out the bays and set up the table, big help from Rudy G and Rusty and Charlie U Decorations were Krysha Lambie, Emmy Ryan a great help in with set up and salad bar, as well as Barbara and  Lauren, preparing the cheese and pepperoni. Patty R seemed to be everywhere and did a little bit of everything. J&J Mac set up bar, coffee and deserts. Modern Bakery in Islip donated the bread free of charge. The Chiros worked the door,  I found my "calling" working the dock handing out flyers provided by Patti to all sorts of attractive people
Approximately 110 dinners were served.
This event is truly a community event, not a fundraiser, and  a good time was had by all, especially Andy Whitney...he won $565.00!!

THE PREP
Instead of the "boy's night out" prepping and cooking, it was became "Ladies night" with Dawn & Lauren doing floral arrangements for over 30 tables. I contributed ivy from my garden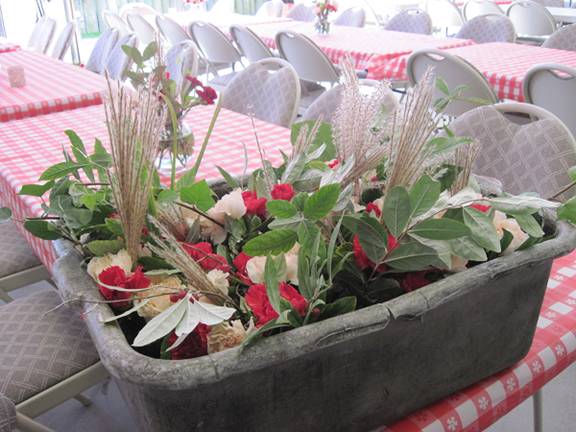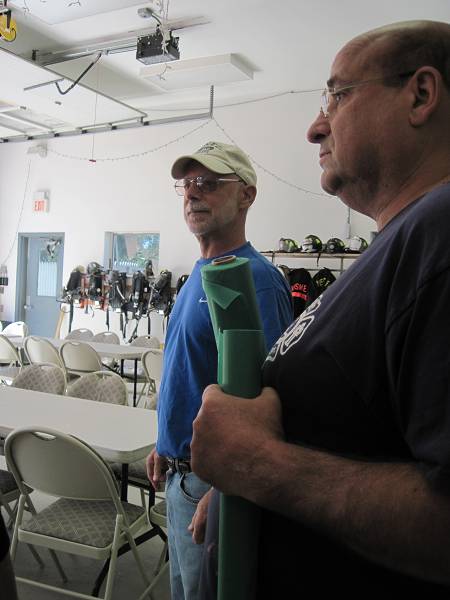 Rusty & Rudy surveying the table set up
Linda worked her magic transforming roles of checkered
plastic into table cloths and draped everything in sight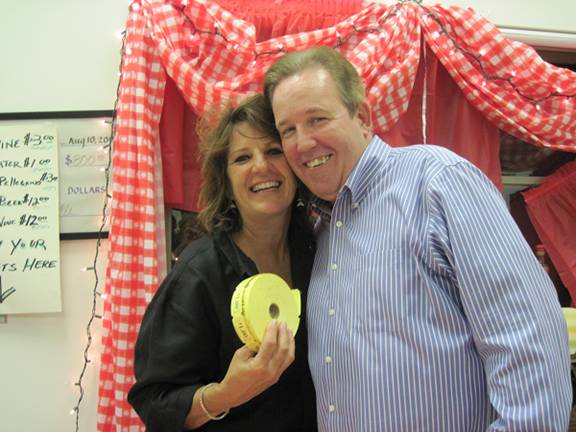 Linda will do anything to sell those drink tix – Steve's pushover –(lots of drapes)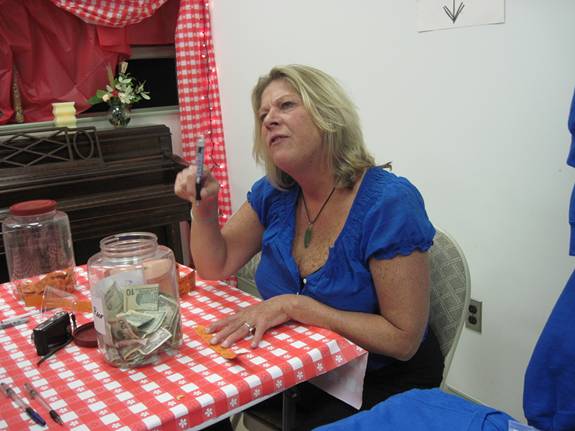 At 50/50 Lets see  - 5 tix @$5 plus discount would be……….(see the drapes?)
THE FOOD
Emmie & Patti cutting up as they are cutting up hors d'oeuvres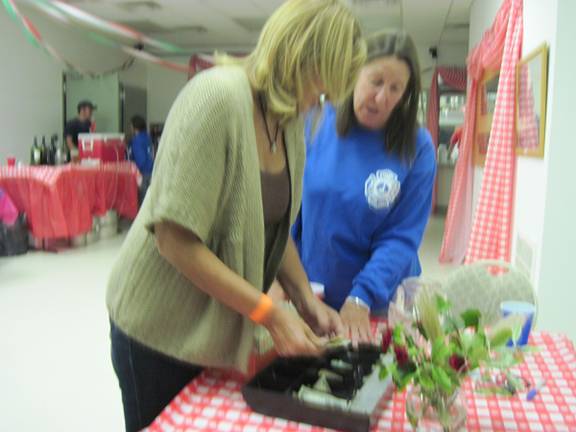 Lauren & Patti preparing more finger food (see the drapes?)
Master Chef Lou at work – is  that liquor for the sauce?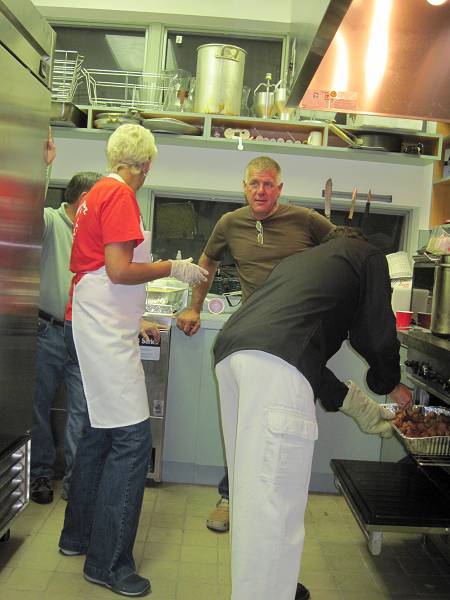 Now it's getting serious
SERVICE WITH A SMILE
May I serve you – (who could resist?)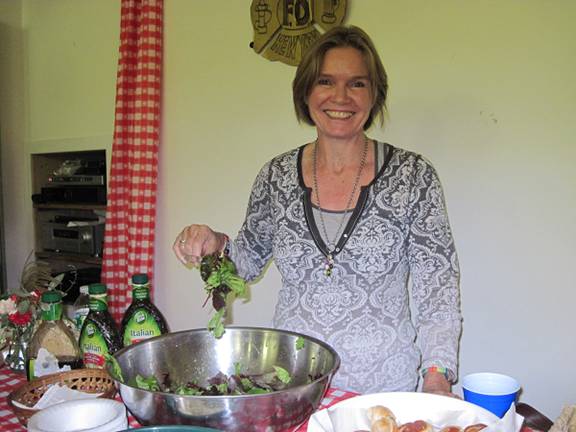 Salad??? (see the drapes?)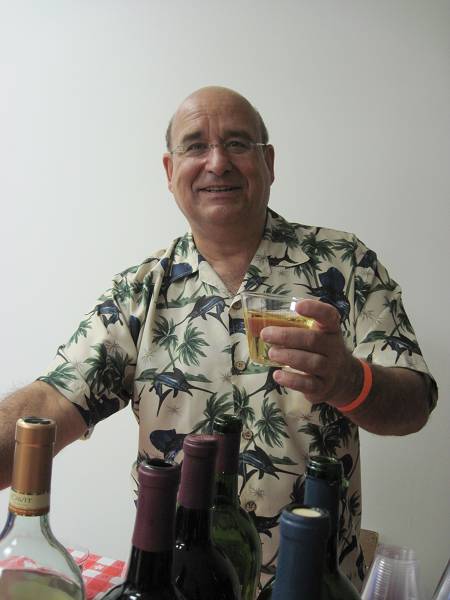 Drink???
Food???
AND THEY CAME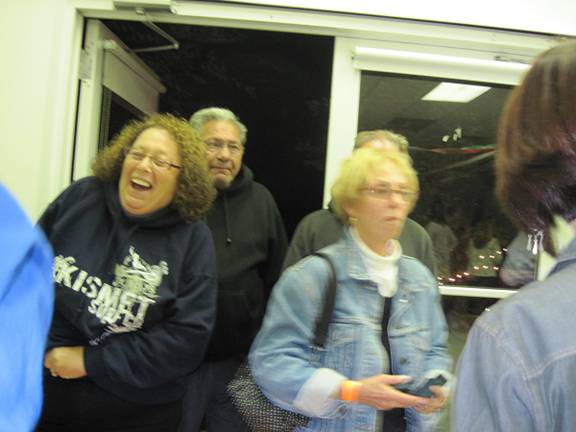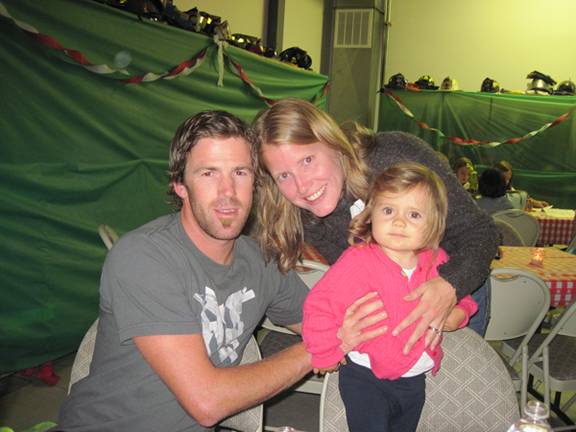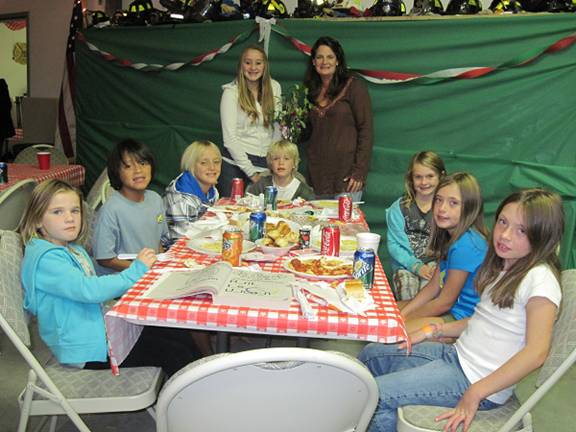 Kismet population explosion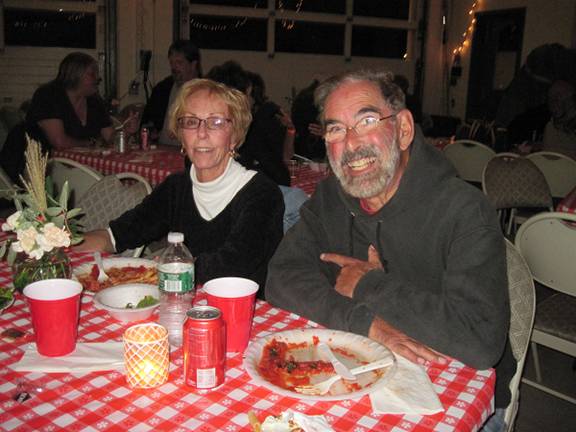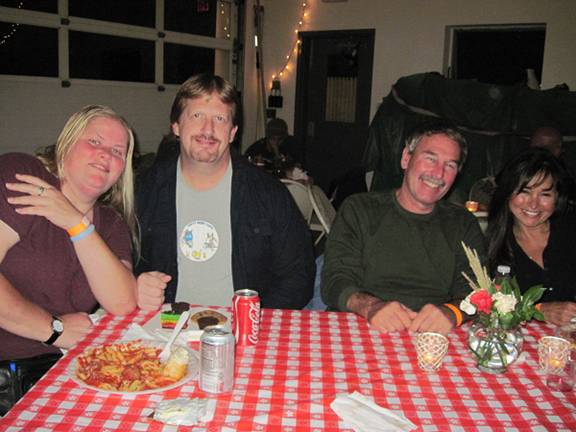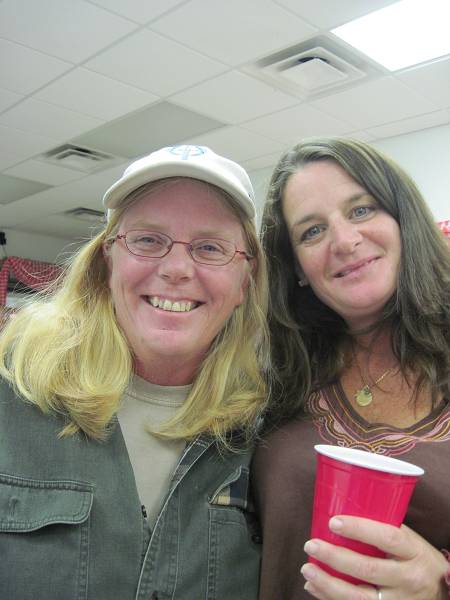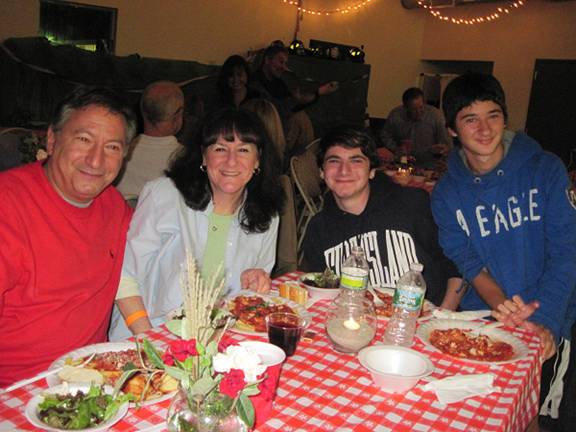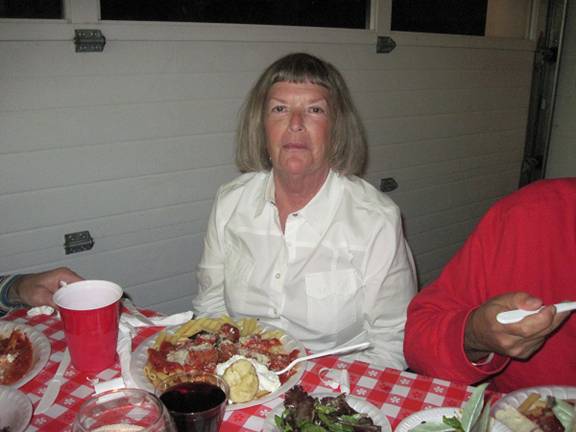 Nice to see you, Sharon – with Alice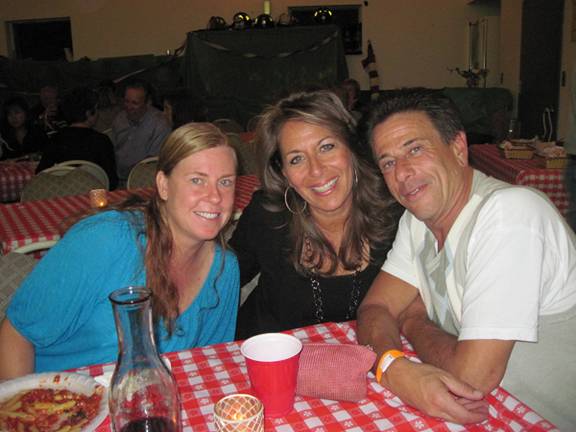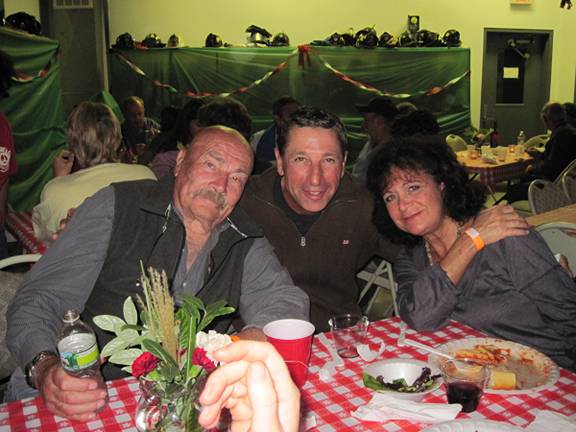 Still looking honeymoon-ish after all these years
 Counting the money before the 550/50 drawing – won by Andy W
(more drapes)
ALMOST OVER!!!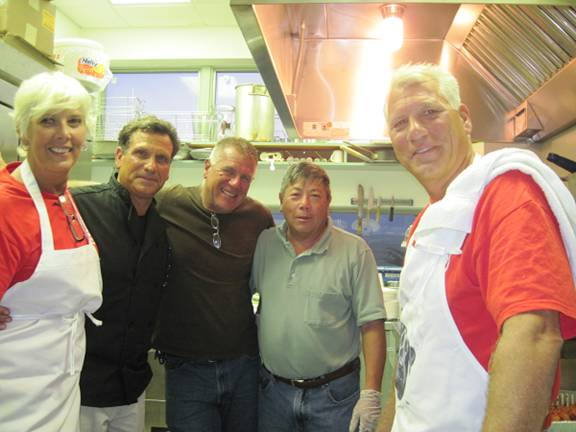 The Kitchen Line – job well done!!! Thank you!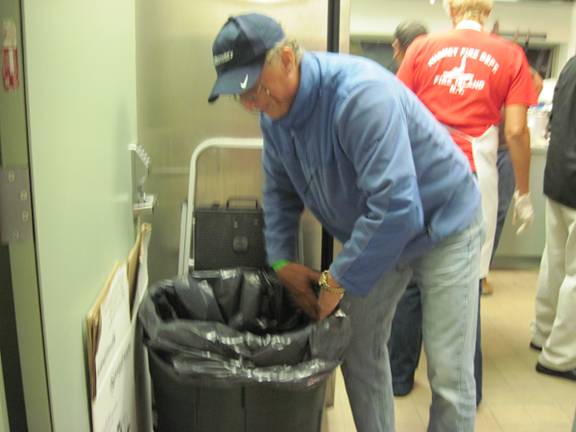 Each according to his ability? – Tom L doing garbage – somebody's got to!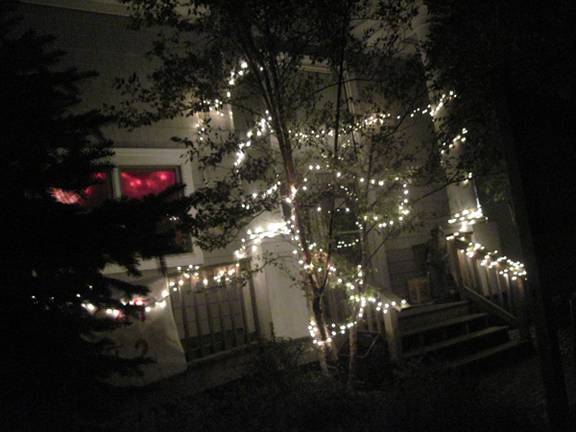 … and out into the night – hey, leave those lights for the Xmas party!