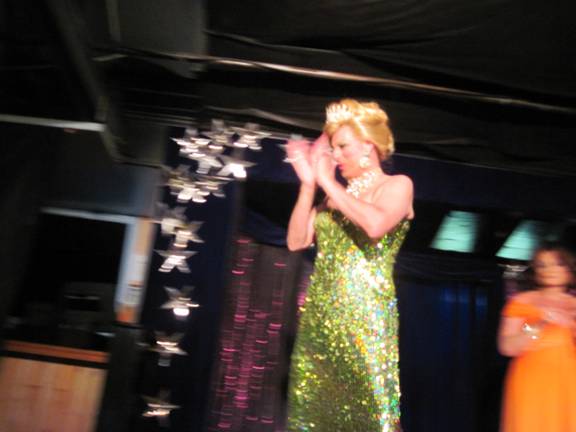 Our stunning new Homecoming Queen Uneeda Dune hasn't yet learned to walk slower than my camera's shutter! (but she's new)
 APPLAUSE FOR PAWS CAUSE at GROVE ANNUAL FUNDRAISER
Lee Frey, PAWS originator 1984 & Valerie Perez current organizer "we have rescued 75,000 animals since then"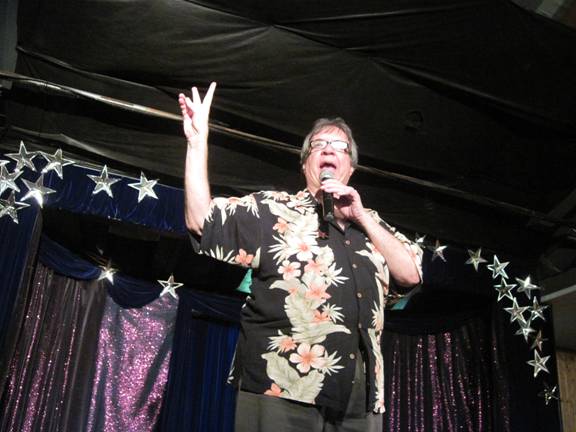 Big Daddy Sal – Grove Hotel Manager– usual welcome and program notes – tip your waiters Banana Boy & Cupcake and promised some post show "oldies" (which reminded me  the Freedners told me  backstage that all these  glam queens talk about is  which pain killers work best and also compare medical plans!)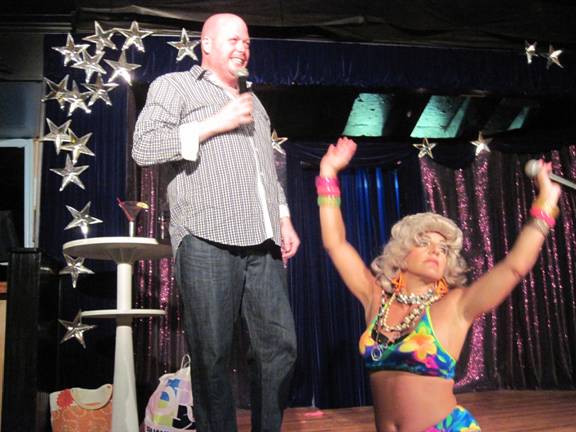 Spirited Pre Show performers Lavinia Draper (an RG) and Kenny H…
Spirited and talented
Bella opened with "I'm a Queen, I'm the Hottest Thing You've Ever Seen".  Well, yes you are!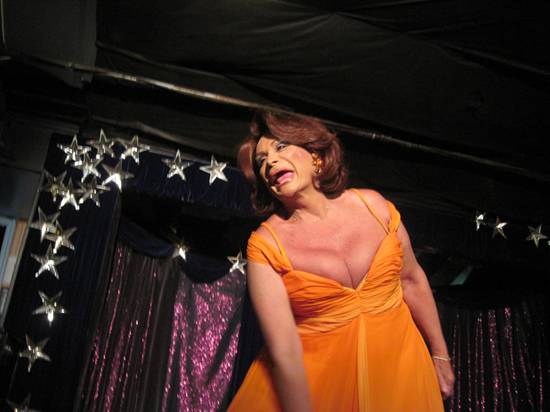 Until you get sassy with your potty mouth but "we love her"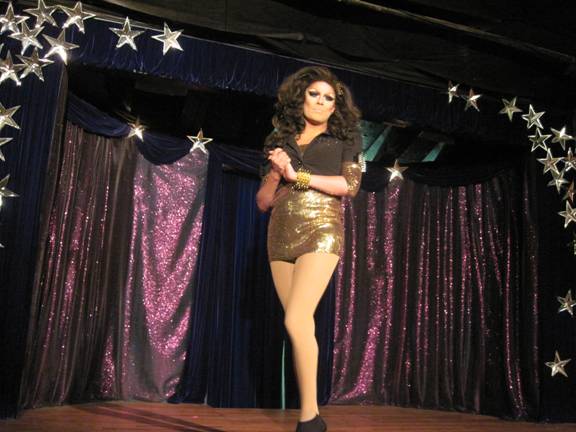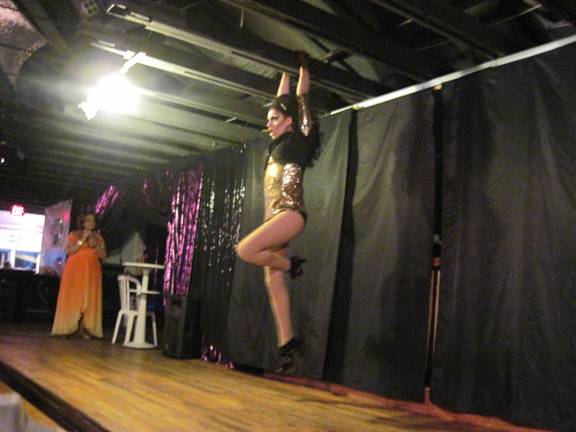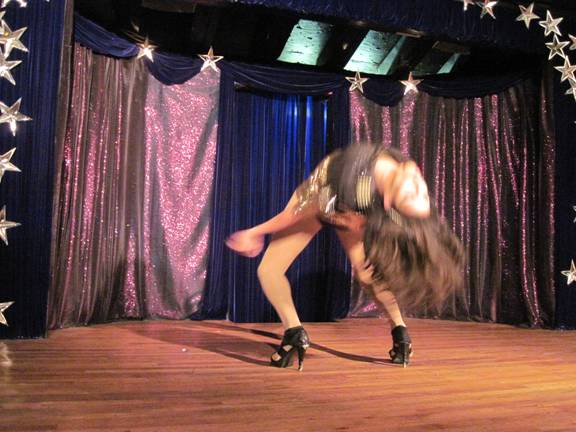 There's new breed of Queen – the manic frantic Logan Hardcore who, starting put demure, literally hangs from the ceiling- (watch Bella watching her)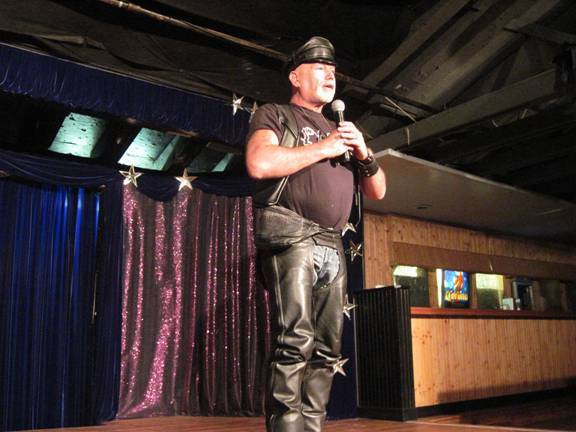 Bruce Michael "the best cat lover in town" returned us to earth with a heartfelt "Moon River"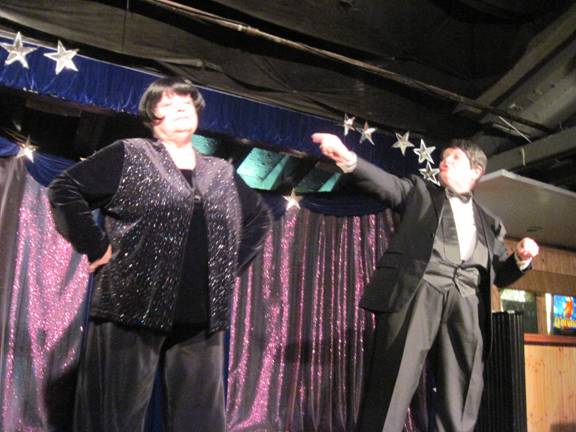 Bella revealed the Freedners, her tenants, "rehearse 3 x a day but have no energy for housework unless I put a spotlight on them...without it they help each other to the couch". They never "sounded" better – certainly never looked as good as they can now lip synch with the best of them in Louis Prima & Keely Smith's "Bei Mir Bist du Shcein" and "Night & Day"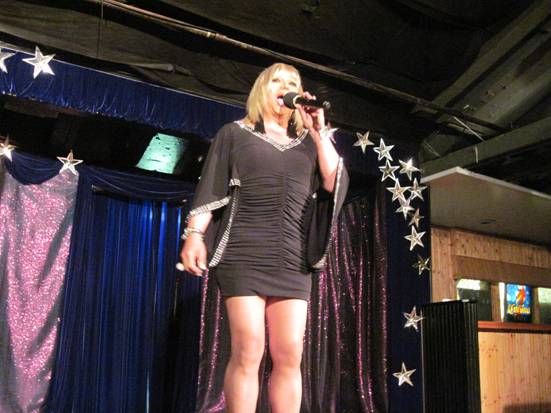 Demi Tasse, as chic and elegant as her name, even a mike glitch couldn't faze her -
Jumped right back in drawing cheers from the crowd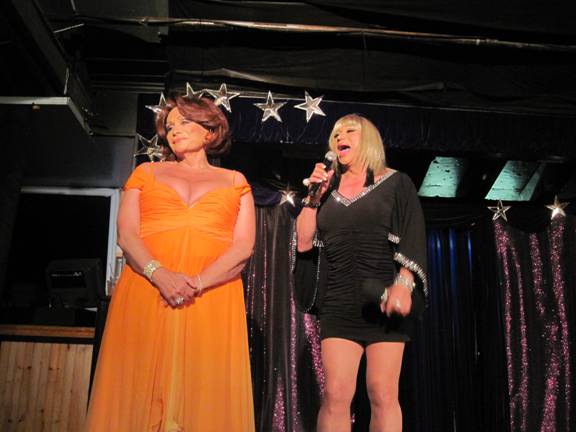 Then announced it was Bella's Birthday (how demure Bella looks!!! How did she manage to have the stars on the ceiling look like a halo on her head?)
Now Robin girl, you brought your own animal to the benefit – do we have to rescue him or is he "well trained"?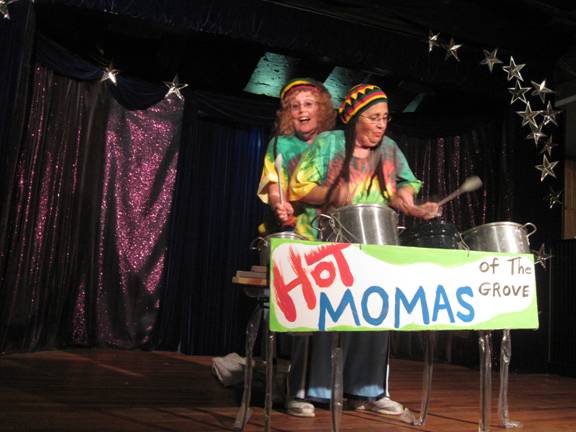 These "hot Mamas" make me smile even off stage – onstage they are hilarious as they "cook" with glee – er, girls – did you forget something? Like your panties?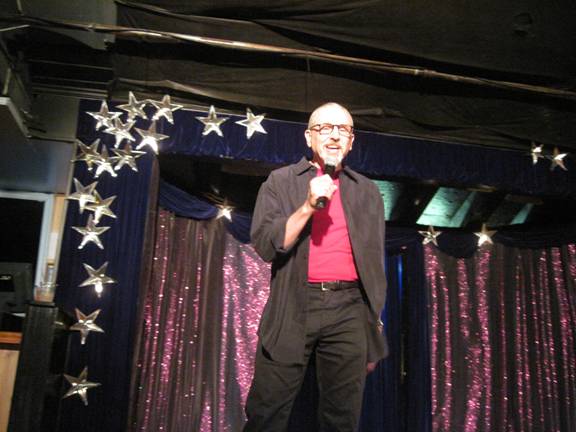 Jim Speak with his Southern drawl is ever the charmer demanding in song "Look In My Eyes" Always dashing.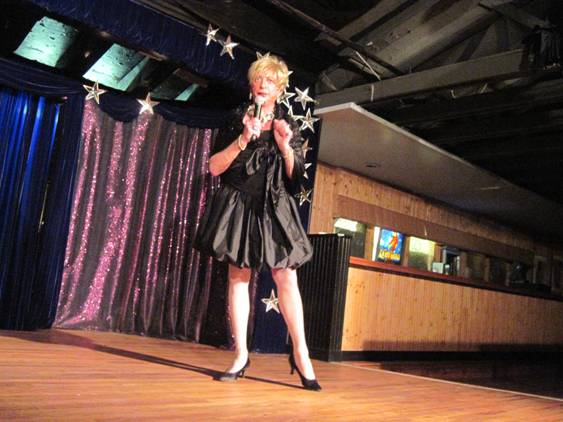 OK OK – brace yourself – here it comes: Warning the crowd "my orchestra missed the boat so I'll have to sing 'Acapulco'" she blew through the house as a force to be reckoned with. Rose Levine is not getting older she is getting louder (is that possible?) and better – stayed on key and remembered her lyrics! Never looked so good with new wig and flattering cocktail dress. A true stand out in a cast of lip synchers.
The ubiquitous Panzi & Phil took over with their usual style, panache and "odd" jokes
Logan came back for more athletics reminding us how "mature" we are getting Her "Ring Them Bells" would give Liza a run for it. I'm gonna ring a few myself!!
The twins proved their earlier performances were not an accident as they batted another home run with Porter's "I've Got You Under My Skin"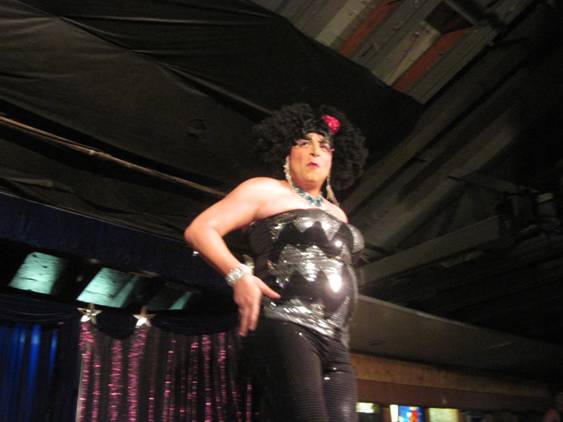 SO how do you take your Ann Phetermine – with a wig?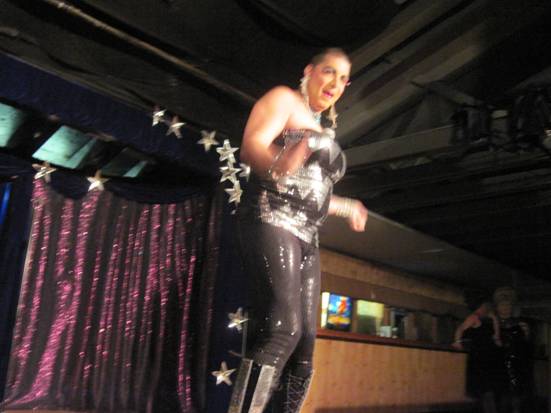 ..or without??? Rapped "That Thing" (no doubt to what he was referring) indominitable ands never subtle!
OMG! She's here – "they let her out of assisted living in Florida" singng "Whatever Lola Wants" and, in that outfit, one should never argue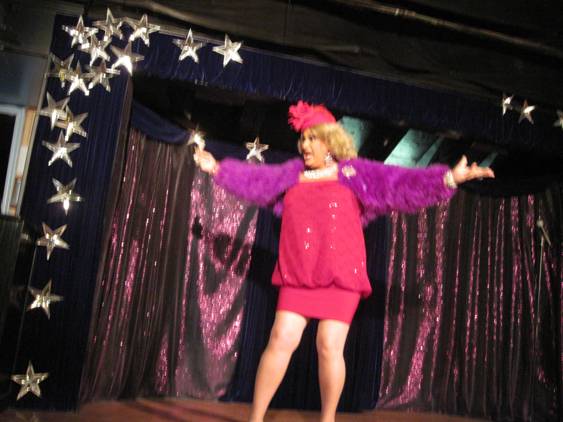 Howe do you like me, Boys???!!! Damn if she didn't have an endless line of admirers – all with singles though – what a gal!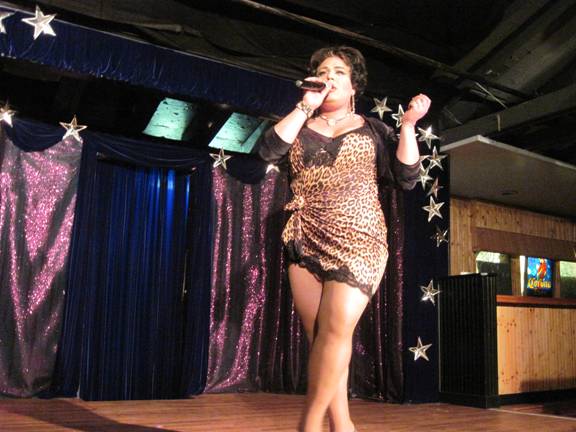 The beloved Porsche wrapped things up in her many styles – so impressive (I remember her debut at Sunsets performing in front of a sheet backdrop – she rose quickly and with reason)
They thanked DJ Chuck (Panzi gave him $20 to screw up Demi's number)
From Valerie: Hi...The final tally was $ 2921.00. It is made up of 165 attendees. A little bit down from last year. There was so much going on at the same time. The 50-50 was the biggest ever. It was $ 1020.00...It was won by Matthew George who gave it back to PAWS. The performers donated their tips to PAWS...All helped bring up the totals.
Editor's note:  I was too shy to mention that I have donated part of my property in Kismet to create a year round feeding station and shelter for our cats – this after one of our residents threw a feeding station into the bay – our organization is called KLAW and we do the very same as yours. See a related article in this issue.
Incidentally - my water taxi captain said "after all these years of taking you to the Grove I am surprised you haven't moved there"
Well, my heart has – even at $40 a trip
                                                                                          Jeannie