SHOW PEOPLE
2nd ANNUAL WALK OF FAME EVENING
REVELATIONS ONSTAGE…and some of my own
Hail to our Happy Queen DeBree
The elegant and eminent MC Sybil Bruncheon tried mightily to shape this amorphous divertissement into a coherent opus du theatre presiding over her constellation of stars. Though deceptively dressed as Glinda, the Good Witch, she sounded more like the evil Elphaba.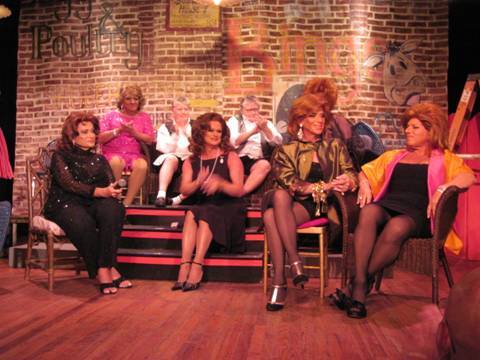 Front row: Bella, Philomena, the Shapiro Sisters and place of honor for cleverly made up clown Harold Seeley – man of the season! Top row: Sal Piro, Tony Bondi, the Freedner Twins, Ruth and Susan, and Panzi
After some mental gymnastics about combined ages and names spelled backwards, cast classification as "dyslexic, anorexic, cannibals and 11 onstage all overmedicated", Sybil later referring to them as "12 angry Men and 2 Lesbians being nice plus Seeley (the only one who never performed onstage until tonight)".  Each told when they arrived here and when they were first onstage; then were asked to reveal their most embarrassing and memorable moments, talk about themselves and others. A special Rose Levine segment put many on the spot since she is still living (and to be feared) so it did not pack the wallop intended.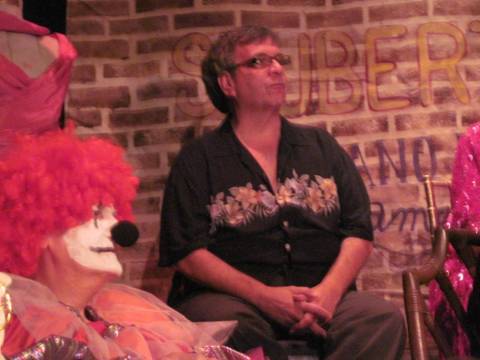 Answering who is the most influential person in his life, Sal revealed that Jean Skinner was his "comedy gold" and he began writing parts for her and, no matter what they were, she got the laughs.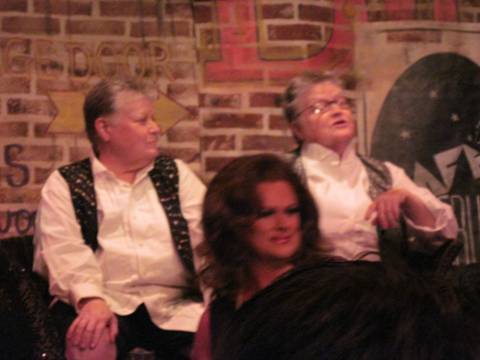 When asked what was most feared Ruth said she was afraid of mirrors and Susan is afraid of Ruth! (Sal is afraid of the whole cast).
 Sylvia Shapiro (Donald couldn't come tonight") said Mme Stephanie was the most influential. Although considered abrasive by many she "said it like it is" and Sylvia admired her for that.  Her sister Shirley said her most influential was Sylvia. "If it weren't for her I wouldn't be here".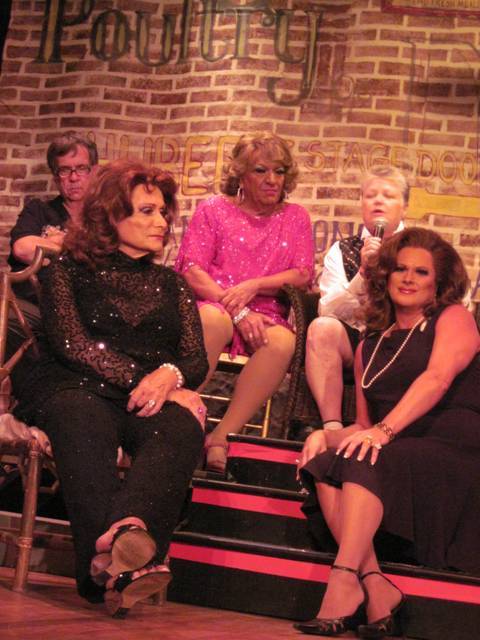 Everyone agreed that Tony Bondi doing Streisand on roller skates was the funniest moment ever!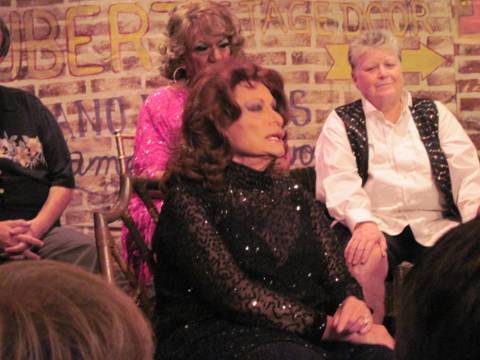 For Bella it was Terry Williams who was most influential in her Grove life.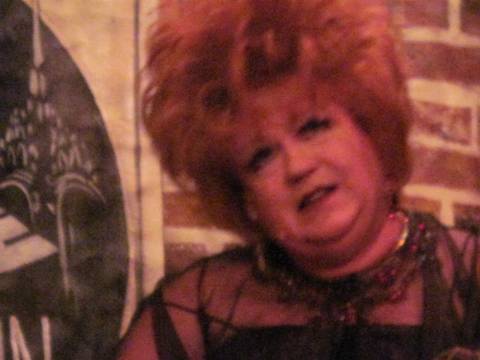 As we all know Bella & Panzi, MC's of the Homecoming Queen Contest, have many hilarious moments on stage cracking each other up. An anecdote involving a live mike and an unmistakable body function was a shared experience. Panzi also paid tribute to Dickie Addison
In the "Rose Levine" segment Bella recalled me rushing backstage all upset after Rose threw a drink me, to which she replied, noticing I was all in white, "it's a good thing it was white wine and not the red" (thank you, Bella)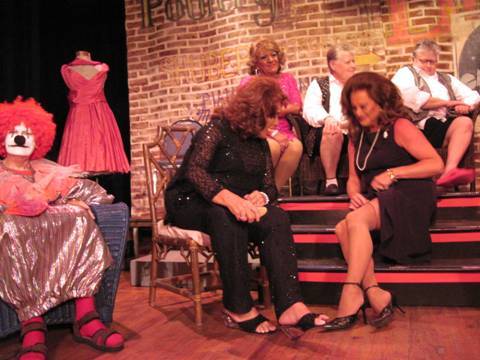 Oops. Girls! Pay attention!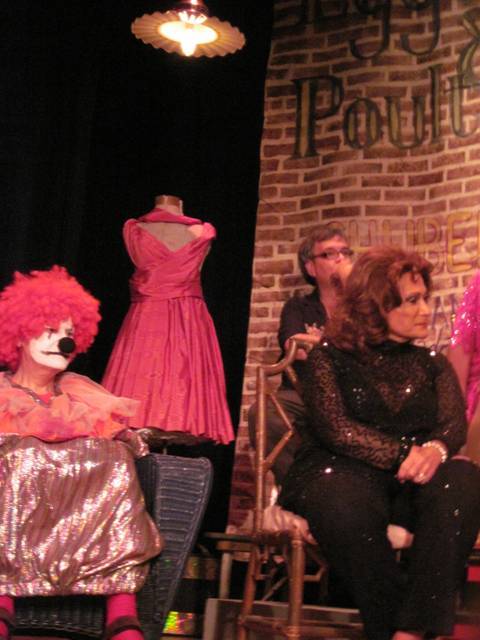 Set designer Harold Seeley (the only one who never performed onstage until tonight) revealed that, as a loner, if it weren't for the Grove shows he'd be sitting at home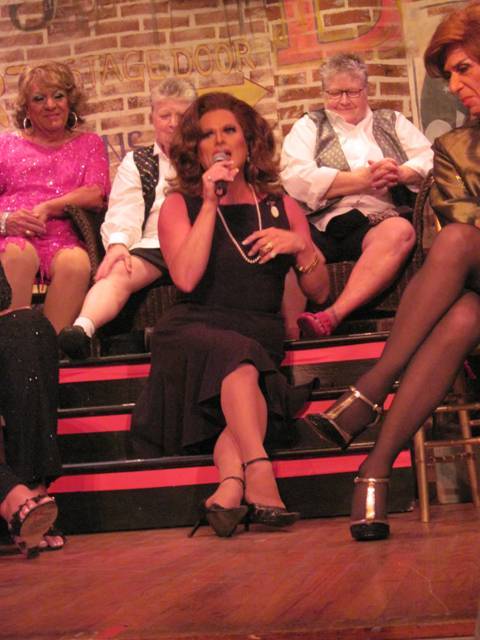 Philomena said Sal Piro was one of her most impressive people because, when she began to direct she realized the amount of pre rehearsal preparation and responsibility the director has. Her most embarrassing moment onstage was 60 seconds waiting for her music.
When Sybil opened the evening to comments from the audience I thought it might be interesting to share some Grove experiences from the other side of the footlights but la Bruncheon passed me by so here's what you would have heard.
Favorite Evening in the Grove  It is no secret Rose Levine has attacked me verbally, physically and in print but she has also inspired my happiest experience.
Early one evening as I was headed to the water taxi after covering an event an arm reached out and I heard the magic words "We are inviting you to dinner"
(I work for food). I was led to a walled enclave of units around a courtyard. There was a table of about 12 people, among them many piano players, Connie Frances and other queens out of drag, and I was the guest of honor at the "Victims of Rose Society". As we each told of her abuses the night became more and more hilarious! Thank you, Rose.  Best damn meal I ever had!
Panzi &The Perils of the Press:  It was my first time in the Grove and my first time "on assignment" for the Tide. The editor said "you are a professional theater critic – do not roll over for these guys". And Indeed I sat there first row dutifully following the plot line of  (prophetically) Sal Piro's "Who Killed Rose Levine" when suddenly a figure steps out of the play and up to the footlights and starts lobbing joke after joke into the audience.
Unheard of! Startled but diligent I tried writing them down and then realized the paper will never print that!
So I wrote a positive review and merely questioned the wisdom of breaking the fourth wall rule and talking directly to the audience in the midst of a "book musical".
Well, next show I am there in front row, Panzi again stops the show, steps out and says "Ladies and Gentlemen, something serious has happened here in the Grove and I am going to break the Panzi Rule of Silence" (I thought someone had died.) She continued "this is directed at our so called friendly local critics – and (sharp turn towards me) you know who you are!". Hoots from the crowd. "We don't need any critics! I've got 150 of them right here in this room". Now the crowd is applauding and foot stamping. Horrified, I sat there and quickly sorted out my options: I could get up and walk out. I could stand up and say "F- You" and walk out. OR I could just sit there unflinchingly and continue my job. What would Frank Rich do???  I tried to figure out how this would play with my editor.  So I sat there, red faced but composed, figuring my job was worth more than my ego.
It took five years before Panzi even acknowledged me despite schmeering each review with more praise than a thesaurus could imagine! Even now, on the few occasions she actually talks to me or at me from the stage, I get so nervous I get that deer in the headlight look and my brain freezes. And this is 15 years later!
 A Harold Seeley note. I was in my then new BFF Rose Levine's show and she hired director Mark York (on my recommendation). I was Electra in the Gimmick trio.  Harold took a look at the costume and shook his head "its not going to light up" and proceeded to fix it.  Mark came running over and adamantly said "Don't touch that! I am going to do it ". Well for dress rehearsal and up to actual curtain time it hadn't been done. York threw it together just before the number. Bottom line: it worked only once out of three shows we did. Harold looked so sad for me, and I so appreciated his mute compassion for a neophyte thrown to the Diva Den.
In one of the numbers I did dressed as Rose, I momentarily blanked onstage and sang, in a panic to fill in anything, "I forgot the lyrics".  The crowd went wild and applauded. I had no idea why!!! They thought it was part of the act!
………..and that's show biz!