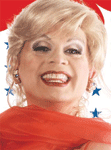 TIMEOUT Jerusalem, World Pride Edition, August 6, 2006
Interview by

Yaron

Freid

(Tel Aviv) with Jacqueline

Jonée

from Cherry Grove, Fire Island
--(translated from the Hebrew by

Nathanel

Lipshitz

, Jerusalem)
Jacqueline

Jacqueline
John Nieman is the New-York Drag Queen/Female Impersonator Jaqueline Jonée. He is not afraid of the war and thinks it's the perfect time to come to Jerusalem. His show, which will close the Pride Festival, is by no doubt the high-light of the event.
By Yaron Freid
If Jacqueline Jonée did not exist, someone would have to, really have to, invent her. And that someone is John (Jack) Nieman, one of the nicest, most hyperactive, most adorable gay people I have ever met (just by phone for the time being), he makes you want to be his friend forever. Before we explain who he/she is and what all the tumult is about, let me share with you the opening of the hallucinatory conversation we had - I did not change a word, I promise!
I: Hi. Can I speak to Jack please?
He: Who is it, Yaron? Oy, Yaron, Yaron, Yaron! (Just reminding you, we've never spoken before, total strangers! Y. F) Are you O.K. Yaron? My poor, poor, baby.
I: (a bit confused) Ah. I'm fine, thanks, why poor? Why shouldn't I be o.k.?
He: Because you're at war, maybe! Because they shoot missiles and God knows what at you! It is so sad, Yaron, it is awful, but I want you to know I am here with you, that is, there with you. No, here. Or there? Whatever, You understand what I'm saying, right? Jacqueline is with you, and she will come in any situation and any condition, even if she will be the only one on the airplane, you hear me? Even if 1000 soldiers will have to take her to her show in a tank. hmmm. That doesn't sound bad at all. Do you think you can arrange that? She will perform in front of soldiers and anyone who wants, in order to support everybody and mainly the idea of freedom and peace in the world, because enough is enough. Yaron, don't you think?
I: So you're not afraid at all?
He: Of course I am not. Jacqueline and I are not afraid of anything. Nothing can win us. And I say one more thing Yaron: If to come to Israel, than now. This is the best, most important, most correct, wisest time to come.
So meet them, John-Jack and his Jacqueline, because they're coming, and 1000 soldiers will not be able to stop them. And you so want them to come, you can't believe how much.
In a minute we will turn to the one who can tell you the most about himself and his alter-ego, but meanwhile, I can not resist the temptation to tell you that he insisted on spelling to me every second word and name, and every pips he mentioned he recommended to check on google. Rest a little bit, sweetie! O.k. that's said, I can continue. And now everything on Jack/Jacqueline, the Victor/Victoria of the piano world:
"I was born in Canada with a little piano in my mouth. I've been playing since I was in the womb. I was a little genius, who performed in recitals and won competitions and played on T.V with all the philharmonics existing, but suddenly I just said "stop, enough, I don't want it anymore, too much stress, too much competition, too many not-nice people, in short - not fun. So thank you very much, but continue without me. I liked the most seeing Liberace on T.V; do you know how to spell it? Check google. I was mad about his music and jackets and sparkling diamonds and I thought I want to be like him. Many years later I did drag on Halloween, just for fun, and somehow Jacqueline was born. I mean, she existed within me all the time, but somehow she just burst out from me, and since then she runs my life, not the other way around. Ask why Jacqueline Jonée? Come on, ask. Oh, good question. I have a German side in my family, which we all try to ignore as much as possible, and a French side, which we are very fond of. My grandmother's mother grew up in Paris and was the queen of all Divas. So when I became a Diva myself, friends immediately called me Jacqueline Jonée, because it has in it Jack, like I was called at home, and John, but with a French twist, like the hairdo, you know? Check google. In short, a true queen does not name herself, but gets her name from others, and that's exactly what happened with Queen Jacqueline Jonée the 1st.
I: What's her thing?
He: - "Oh, that's also a good question, Yaron, Your questions are really nice. Look, Jacqueline is a true lady, from head to toe. She is a classical pianist with diplomas, a woman of the world, cultural, with finesse, but also funny and juicy. You can't resist falling in love with her, I tell you, the toughest, most cynical, most not-built-for-a-relationship men tried not to fall in love with her but failed big time, fell like flies. She had a whole evening devoted to Liberace, whom, by the way, I met twice before his death, which was a great experience and a big honor. Do I forgive him for never coming out of the closet? Of course I forgive him. Jacqueline and I forgive anything, besides the Germans, maybe. In Jerusalem we will do some Liberace, but not too much, I think he was not so famous in Israel, was he? Poor boy, bless him. Jacqueline also sings in French, Spanish and Yiddish. She sits at the piano and plays Strauss, Cole Porter, Gershwin, Ellington, you name it, and in between she tells anecdotes and jokes and things like that. It's like Jacqueline's Kaddish for the great masters of music, her homage to those who are no longer with us, but left us with such a magical and eternal legacy. Look, it's a very delicate evening, with rich historical and cultural references. Jacqueline doesn't do musicals or Barbara Streisand and covers. She's not your typical drag queen. She's not a drag queen at all, by the way, she is not a caricature of a woman; she is just a woman. And if it's not o.k. for some audiences that's fine with me, I'm not everybody's cup of tee, that's clear, but I'm not trying to be someone I'm not. That's my cultural world, and I stay loyal to it. I am not an educator and not a social worker, who ever comes - welcome, that's my motto. I think Jacqueline gives a good time, a great party. It's pleasure for her, people laugh and cry, I hope. No one forgets her, that's for sure. Critics wrote about her that she is a celebration for the ears and the eyes, and that the piano keyboard was never so beautifully caressed as with her. "
I: Speaking of celebration for the eye, she changes a lot of dresses during the evening?
- "She had an evening when she changed into eight amazing outfits in 55 minutes. We'll see what we can do in Jerusalem and how much can she bring with her with all those terrible security checks, but I promise to try."
I: Do you also perform as John Nieman, or just as Jacqueline Jonée?
He: "The truth is I am much more comfortable hiding behind Jacqueline. It's very warm and comfy and safe and secure with her. But I am also a member of New-York City Gay Men's Chorus. Check google. We even performed at Carnagie Hall. As a Jew I am a part of a community, and as a gay man even more. And it's exciting every time to go back to a humble size, and that's a huge honor for me to be one of those 225 fabulous men."
I: 225 men on one stage?
He: "Yes, yes, and you would be surprised - we get along great. There are no nails out, at least not those that hurt."
I: How Jewish are you?
He: "Darling, I married Rick, my loved one for the last 20 years, in a kosher Jewish wedding at the King-David Hotel in Jerusalem in 2003, with Chuppa and Ketuba and Rabbi Cohen and Rabbi Kleinbaum and whoever you would like. Rick is also my manager and producer, and the treasurer of CBST, and we fast on Yom Kippur and all, so please, I am more Jewish than most of the Jews I know. Do you fast on Yom-Kippur? Exactly. My son, Dylan, came especially for the wedding. He studies medicine; I am going to have a son who is a doctor, the dream of any Jewish mother. And he is also getting married soon, in a full Jewish wedding. Oy, I have so much Nachas from him, it's unbelievable. Dylan's mother and I have a wonderful relationship, and Rick is completely his second father, and they go together to watch Baseball, Basketball and all those boring manly things."
The amazing life of Jack/Jacqueline is spread between an apartment on 72 St. in New-York City-- "the most wonderful place in the world"-- near the Park, and in a house in Cherry Grove, Fire Island, the paradise of gay people of the U.S.A and of the whole universe ("check google"). There, Jacqueline is some kind of an eternal presence. Jack and Jacqueline perform anywhere they are invited. "We never say no. We performed in Montreal with the NYC Gay Men's Chorus, in the Gay Games in Sydney with Team NY swimmer, you name it. When I receive love, I give back a double amount. Wherever I am welcome - I'm there."
Jacqueline's career may accelerate rapidly soon, as a result of a documentary that is being done on her by the Academy Award winning creators of the Caesars Family, the acclaimed Penguins saga, March of The Penquins. The creators of the movie, so it seems, just move from one exotic creature to the next. "They will follow me around all summer, and if they get the required certificates, they will be around me in Jerusalem. We'll see how it goes. Maybe in the end I will be the first drag pianist who will win the Oscar, who knows? Or maybe I'll just be the next great Penguin, that's also nice, isn't it?"