By JOSEPH C. LOEFFLER JR,
In 1955, our friends and neighbors on Fire bland organized against a plan to build a road from Robert Moses State ,Park through a half dozen or so corn­Inunities to Ocean Beach, which, when my family moved there, was accessible only by ferry. They won.
Then, to make sure no one else would get the same idea, they pushed to create the Fire Island National Seashore, and won again. The result is the Fire Island we know today—a 32-mile long barrier island where the pub­lic owns 80 percent of the upland and 100 percent of the beaches. But many of those beaches are in trouble because of erosion.
. The object in 1955 was to keep cars out of the summer communities; still one of the best things about Fire Island. Today, the fight is about pro­tecting the island itself. The Fire Island Association (FIA), a league of proper­ty owner groups in two Islip villages and 15 hamlets (seven of them in Brookhaven) Inside National Seashore boundaries, is helping to coordinate the effort
FIA estimates island self-help nour­ishment projects since 1997 have cost. Fire Islanders nearly $20 million in extra property taxes for a total of 2.6 million cubic yards of sand.
It shouldn't be the property owner's problem, but government isn't doing its job. Ever since the monster storms of 1992-1994, FIA has been urging the National Park Service, US Army Corps of Engineers, New York State DEC and DOS, Suffolk County and the towns of Islip anti Brookhaven to join forces to protect not only Fire Island but low-lying mainland areas as well.
In 1909-2000, FIA pleaded for Corps' Fire Island interim Project (FLIP) as a stopgap measure. The FLIP went all the way to the public hearing stage, only to be blocked by the NYS Depart­ment of State on the grounds that a more comprehensive Corps project, extending from Fire Island to Montauk Point (FLIP), would soon be in place.
To date, this has not occurred. Not only has FIMP not been built, but last summer, Corps officials told FIA it would be August of 2009 before plans are approved. Some delay is under­standable.
The FIMP promises to be the new national paradigm for coastal projects, combining effective shore protection with many environmental benefits, and dealing with a region rather than a locality. It has to be a mode/ of inter­governmental cooperation and use everything the Corps of Engineers has learned in 75 years of protecting coastal areas.
But 2009? That means it will be close to 50 years since the government did anything to preserve the Fire Island barrier, despite its immense value to the region as a recreational resource and as protector of thousands of main­land structures against floods. When government takes this long to act, citi­zens tend to act for themselves. And they are.
The only common sense, environ­mentally neutral way for government to cope with the effects or sea level rise in coastal areas is to make beach­es wider and higher. But, since 1964, only private citizens have put sand on Fire Island's beaches.
Starting with the projects of 1993­1994, Fire Islanders taxed themselves heavily to pay the cost of protecting Long island's South Shore. Govern­ment has yet to act—except to take care of its own property at Smith Point and Robert Moses State Park.
So Fire Island communities once again must shoulder the burden of sand . replenishment, something gov­ernment deals with just about every­where else. With the cooperation of Islip and Brookhaven, communities have hired coastal engineers and tapped into existing local erosion con­trol, taxing districts to pay for the wider and higher beaches that will also protect communities is low-lying areas of the mainland.
This is not a small thing. For some relatively modest summer cottages, taxes could be $2,000 a year higher for several years. Each community will decide for itself whether to participate in this effort, based upon its individual situation.
Erosion conditions vary, but some communities will look on this as an emergency situation that must be dealt with now. Others may see it as insur­ance against storms like last April's. Some will opt out, betting that the Corps project will finally be built before too much infrastructure is dam­aged.
Local efforts are in no way a substi­tute for the FIMP project. Individual community projects are small. They don't make the beach that much wider or that much higher, or bring in enough sand to provide more than a few years of protection. What they can do is "hold the line,* hopefully long enough for the FIMP to take over.
As an elected official, I know we are in an era of sea level rise and need to preserve open space in coastal areas for recreation and environmental pro­tection. I also know the FIMP is essen­tial to Long Island.
Until that project is in place, Fire Island communities will do what they can. And when they protect the barrier island, they protect towns and villages on the mainland as well. They should­n't have to do it alone. n
Editor's Note: Loeffler is mayor of the Village of Ocean Beach, and ex officio director of the Fire Island Association.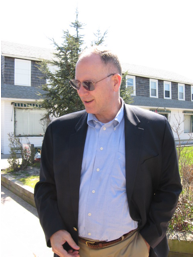 Secretary of the Interior, John Paul Woodley, Jr.


Ocean Beach Mayor Joseph C. Loeffler, Jr. addresses the group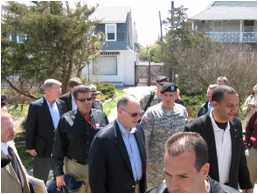 Officials including Joseph R. Vietri, Chief of Policy and Planning for the Corps of Engineers' North Atlantic Division and Secretary of the Interior, John Paul Woodley, Jr. tour the beach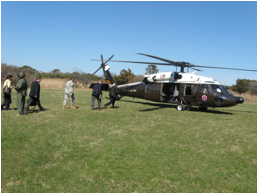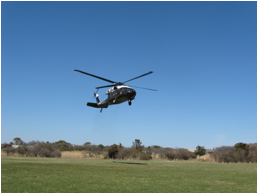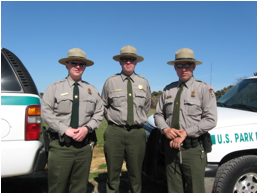 Statement of FIA:

Assistant Secretary of the Army Visits Fire Island

April 17, the first warm and sunny day of the 2008 season on Fire Island
brought a sizable entourage of agency officials at the Ocean Beach Community
House to discuss the Fire Island Inland to Montauk Point (FIMP) shore
protection project.

The Assistant Secretary of the Army, John Paul Woodley, Jr., the senior
government official present, was accompanied by his deputy, Douglas Lamont. A
helicopter fly-over of the project area was followed by a briefing on the
status of the project, a joint effort by the U.S. Army Corps of Engineers and
New York State. A Q&A session with the press and others present, and a tour
of the beach led by Ocean Beach Mayor Joseph C. Loeffler, Jr., was followed
by a 45-minute "agencies only" meeting where problem areas were discussed.
FIA president Jerry Stoddard attended all but the latter session at Mayor
Loeffler's request.

Involved with the meeting were Joseph R. Vietri, Chief of Policy and Planning
for the Corps of Engineers' North Atlantic Division, the Chief Engineer for
the New York District, Col. Aniello Tortora, his Acting Deputy, Joseph C.
Seebode, and several executives from the district,. The U.S. Department of
the Interior was represented by Michael T. Reynolds, Deputy Director of the
Eastern Region of the National Park Service. Peter Scully, Region 1
Administrator for the New York State Department of Environmental Conservation
represented the state.

Interested observers included representatives of Senators Schumer and
Clinton, (Gerry Petrella and Lauren Montes respectively) and Congressmen
Israel and Bishop (Erin Murphy and Lisa Marie Wieber).

The briefing, by Project Manager Clifford S. Jones and Project Planner
Stephen C. Couch, brought out that New York State and the Department of the
Interior are expected to identify plans that are "acceptable" to them, and
then agree on a final plan by the end of May. The agency review process is
expected to be completed by August 2009.

In September 2009 the public will be able to review and comment on plan
details, but it will probably be 2012 before FIMP project sand is actually
placed on the beach. This timetable makes the 2008 community beach fill
projects now being discussed for a dozen communities with Coastal Planning
and Engineering (Boca Raton) and Land Use Environmental Services (Riverhead)
that much more important.

Those attending the meeting agreed it was helpful in advancing the FIMP and
commended the Corps of Engineers for putting it together.
Gerry Stoddard