CHRISTMAS IN KISMET IS THE MERRIEST
The firehouse is decorated and warm, the bar is open and the food is free!
What more could anyone want! There is mixing and matching of couples you couldn't get away with anywhere else (but it all sorts itself out in the end)
Truly the friendliest of all Fire Island towns that camaraderie is tangible
What did you say???
Can't you see it my way???
Carolyn always makes me laugh
But EVERYBODY is laughing (must be those drinks)
Must be the drinks
What are you drinking???
Are we running low on liquor? NAH
Uh Oh – those bartenders were so hot my hand shook
Back to smiling
Cheese it – Santa's here:
\
What's taking so long?
Hurry up! I want my present.
…and to all a good night!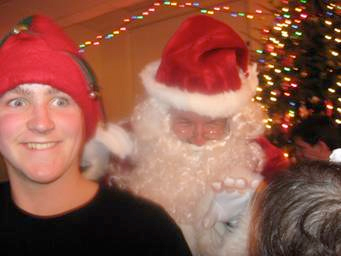 What is Santa doing behind him?
Newlyweds (not smiling)
Who knew then what they were discussing…