WATER TAXI COMPANY CAPITULATES
PRESENTS SCHEDULE UNDER PRESSURE
But read the fine print

June 17 After a farcical preamble suggesting FISUN published "misleading articles that fit their bias agendas" about the "notion of significant service cuts", the previously denied schedule was reluctantly revealed with the caveat that "changes in Fire Island demographics, ridership, Coast Guard regulations, operating expenses and the economy have altered the way water taxi service can be provided".
SPRING (till 6/26) and Fall (9/11 – 10/11) will continue as is:
NO SERVICE MIDWEEKS from 10PM Sundays till 4PM Friday (with no cars and no taxis we are quarantined to our home turf…someone get me a kayak!!! Yachtsmen will be even more sought after but, with hefty docking fees and fuel prices and no place to drop anchor elsewhere, fuhgeddaboudit! Clammers will suddenly seem very attractive but only with Zicam nosedrops)
On WEEKENDS from 4PM Friday till 10PM on Sunday we must be, like Cinderella, home by midnight, and STILL EVERY OTHER HOUR
SUMMER (6/27 to 9/8)
ALL WEEK ALL SUMMER: 10AM to 3PM, STILL EVERY OTHER HOUR (a quickie lunch and/or a sudden shopping spree in Ocean beach could take hours, restaurants and small shops island wide can dial chapter 11)
The only time we have FULL Service is Friday and Saturday 3PM – 2AM HOURLY (at last)
Call them! Comments welcome.

June 10 Publishers note: despite frequent phone calls, voicemails and emails, even one with proposed questions for an interview with management, the Fire Island Water Taxi Company has not responded.
Perhaps it is time to call Fire Island Ferries, their parent company
631 665 3600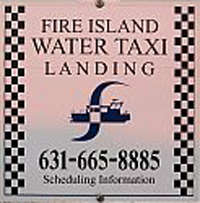 June 1, 09
To my fellow Fire Islanders

Many of us have been surprised/shocked by the sudden change in the new water taxi schedule to once every OTHER hour, a 50% cut limiting access to communities from the Pines and Grove to Kismet and Saltaire to once every two hours.
This severely reduces our access to other towns as well as access to our respective communities. Whether you use the water taxi regularly or not, this issue may affect you at some point, as friends and relatives from other towns will have difficulty accessing the west and east ends, whether it is the inconvenience of dinner reservations (a one hour dinner can take up to 6 hours of travel. This will directly affect local businesses) or rescuing families with bags, kids, groceries who have gotten on the wrong boat and need to take the water taxi to their destination. Imagine them stranded, for two HOURS, while their children grow restless and their groceries remain off refrigeration needlessly.
I personally have had to arrive 1/1/2 hours early to a show in the Grove and leave in the middle of it thus compromising my ability to do my job, review the show.
As we all know, ownership of the water taxi service is a monopoly. Gone are the days when we had choices (this would never have happened) so we are at the whim of management with no recourse Added water taxi service is in everyone's best interest so I would like help in correcting this unacceptable situation

At this time I would like to ask for your opinion and feed back on this;
What town do you live in/visit?
What inconvenience did you suffer?
How do you feel about this cut back?
Please send to HRMJeannie@aol.com
Jeannie Lieberman, publisher

---
Here are the responses I received in one day:
Taxi service has gotten worse and worse since it became one company several years ago. As someone who has commuted from kismet to OB, the grove to kismet, and also utilized the boats for pleasure between many other different spots, I know how erratic they've become.
Since 1995, I have seen them go from a fairly reliable, late-night, on-call taxi service to "mini-ferries" who operate on a schedule and end their night when it's no longer profitable.

Before 2002 (when the water taxis became one company) I used to commute from my bar job in Ocean Beach, to my summer share in Kismet. If I worked a night shift on say, a Tuesday, I could depend on a boat being available to take me to Kismet as late as 2 or even 3 AM on any given slow night. The water taxis literally were "floating" in the middle of the bay waiting for calls.

One year later, (2003) and since then, their weekday "last-calls" have gotten earlier and earlier to where even on a fairly busy Thursday night, you'll be stranded wherever you are if you're not on a boat by "12ish". Monday-Wednesdays you're lucky to make it back before most restaurants' kitchen's close.
As someone who has worked at many popular restaurants from the "Inn" to the Grove for the better part of 14 years, I know that the business world (especially the "cash" business world) is all about "peaks and valleys", taking the "good with the bad", and any other cliché you can think of. Sure, we'd all love to waltz into our places of business Memorial Day, close shop and relax 'till the end of June and reopen for the summer at12pm and mosey on out at ten until Labor Day then, take our money and run!!!

BUT most of the other businesses on Fire Island don't do this. We open in April. The doors are open for unprofitable weekdays in the spring, September, even late Fall!! Many of the shops and bars (especially where the owner doesn't own the property) are absolutely hemorrhaging money in overhead costs until July. Their owners and GMS are pulling their hair out, having sleepless nights until the summer starts. Even then most of them suddenly find God or learn voodoo, weather dances or anything they can to keep the rain away as this could be a disaster to their bottom line!!!

The reason they do this is in addition to making money when business IS BUSY, business owners realize they owe their communities a debt. A debt to be a service to their communities and not just hold day trippers upside-down, shake them for all they've got, and send them away during the sunny, warm months of July and August.

The Water Taxis don't get that they need to be not only this, but they already are a VITAL life line to Fire Island. They have an obligation to eat a little profit (not much mind you) and be a service to the people who make this place run. Water taxi patrons aren't just yahoos from Long Island or jackasses from the city, but the hard working Fire Island employees and life long residence that are supposed to be on the "same team" as them...

This is all to say nothing about the fact that livery services (taxis) are not supposed to have schedules at all, but be on call, on demand! I'm sure I've heard somewhere that it's technically illegal to run a schedule when you're a taxi service as opposed to a ferry, train, or bus.

I know one thing, if I ever win the mega millions, I'll start my own water taxi service and operate it AT A LOSS, charging just enough to cover expenses (maybe $4-6 a ride) and put those bastards out of business!!!
-Marc J.
---
It was a bad thing when Aqualung was bought out by its competitor...it was even worse when Fire Island Ferries bought up all the water taxis. Then Fire Island Ferries drastically reduced lateral service in another self-serving display of greed. Now they are curtailing water taxi service. I am sure that the founder of Fire Island Ferries is turning over in his grave due to the 'skroo you' attitude of Fire Island Ferries. Boo on Fire Island Ferries.
(name withheld on request)
---
Hi Jeannie - it's Alice from Kismet. Although I rarely use the water taxi I know what it is like waiting hours for them.
Owned by the ferry company I see no reason why they should better serve us with water taxis than they do (not) the ferry!!!
If I were to take the water taxi it would be to visit a friend in Cherry Grove. I really miss the lateral ferry.
---
I'm in the Grove with sisters in law in Ocean Bay Park. I will not be visiting with that kind of schedule
JOYCE
---
Jeannie
I have a well known restaurant on Ocean Beach. WhIle it is popular with the local residents it cannot survive on them alone. It has taken me years to cultivate a clientele from other communities, especially the Pines and Grove, as well as from Kismet and Saltaire and Fair Harbor. I have already noticed a cut back in business from them. Times are tough enough without the loss of water taxi service. I have helped their business all these years and this is how they repay me?
The other businesses in town, the shops, and bars are also affected. This sucks!
(name withheld on request)
---
I'm living in the Pines, but often go to Cherry Grove, Ocean Beach, and Kismet...this is awful news! I haven't yet taken a taxi, but this will surely be a headache for me many times this season. As you pointed out, this will probably reduce the times I travel out of my town, and will limit my spending at other Fire Island destinations!
Phil

---
What town do you live in/visit? I visit Cherry Gove for six weeks from mid July to the end of August
What inconvenience did you suffer? I visit my family in Saltaire and they come to me, and it would totally curtail our visits as she has three young children and won't want the hassle of waiting that long.
How do you feel about this cut back? Obviously not happy, but would a more frequent boat mean higher fares, or are they doing both: raising the prices and lowering services? Perhaps a reservation system might be instituted, with payment in advance, guaranteeing them the business. I would hope some solution/compromise can be reached.
Melnda Blau
---
What town do you live in/visit? Live in the Grove visit the Pines and Ocean Beach where I used to live
What inconvenience did you suffer? Last week I had a party which I do a half a dozen times a year and had a very hard time getting 16 guests from the Pines to the Grove. The service was spotty and the dispatcher said she couldn't take a reservation outside the 2 hour schedule because she didn't have enough boats. In a typical weekend I make the Grove - Pines trip once or twice. The service is spotty and the violence or fights on the dock last year were a disgrace. I attribute this to not enough boats, poor schedule and travelers who do not ever make a reservation.
How do you feel about this cut back? It is an insult and total disregard to the communities they service or their customers in general.
Thank you, Nadine Chin-Santos
---
I find that we are not going to other communities for lunch or dinner due
to the new schedule.
Linda
Cherry Grove
---
We visit Kismet regularly with our boat. We leave our boat docked in the marina and take the water taxis to points east. It's bad enough having to wait for a water taxi to Kismet as it seems everyone goes to other towns on the way home late at night. This is definitely going to be an inconvenience to all concerned.
Jim & Deb
---
Dear Jeannie
Water Taxi service at best is not too punctual.
I use it particularly on the t4th of July Invasion Celebration day.
As the photographer I spend most of the day with the Queens Party, return to the Grove change clothes and rush to get the next water taxi to the Pines for an Annual Party. Should be a very interesting wait if what you have alerted me to does not change.
Good Luck, hope you can quickly get the hourly service reinstated.
Lorraine

---
Hi
I live in Kismet. I feel it is unfair. How are we supposed to get to OB for dinner or Margarita Madness.
Danielle Bellemare
---

John (Grove) visit's regularly to the Pines for both social visits with friends, dinners out as well as shows. I'm usually between the 2 at least once a day weekends. Sometimes a couple times a day. To have to walk through the forest or beach is an inconvenience. I'd say I'm impacted 50-75% greater inconvenience.
John

---
Hi Jeannie,
We walked (yes, walked) to the Grove from Kismet. We had a nice lunch and then looked forward to a relaxing water taxi back to happy hour in Kismet. We were told that water taxis don't start picking up until 4pm! Needless to say, we didn't arrive back in Kismet until early evening. I'll never do that again!
Lorrie
---
Hi my name is Gregg and I own a home in Cherry Grove. Agreed, the water taxi is off to rough start this season. I regularly go with a large group of about 10 people from the Grove to the Pines and back on Saturday nights. I had to walk to the Pines on May 23 since there were no boats. I was able to catch a boat back on May 23. We had 16 people going from the Grove to the Pines this past Sat, May 30 and we called the Water Taxi several times to make arrangements for a large group – they wouldn't commit to any times. At the last minute we called and they sent a Water Taxi to the Grove at 6:05 but half our group didn't make it since we only had about 10 minutes notice. Overall, there needs to be a firm, posted schedule and in popular, adjacent communities at popular times there should be a taxi every 30 minutes – for example between the Grove and Pines a boat every half hour on Saturday from 6 to 10 pm. I'm sure this also applies to other neighboring communities.
The water taxis in the past have been unreliable to begin with but with the cuts in service they are impossible. As you said in your letter, standing at the dock in the Pines with your groceries spoiling is very frustrating. We don't use the service all that often but this is making it even more of hassle.
Tim McVey
84 Gerard Walk
Cherry Grove
---
A new water taxi company may be the answer, I have being looking for a business opportunity on FI, I will start to do some research...you know what they say about competition...
CM
Cherry Grove
---
Jeannie,
I have had a home in Cherry Grove for 30+ years. I have used the water taxi to go with friends to events in the Pines and then be back for other events at Cherry Grove the same evening in reasonable time. With house guests and family I have water taxied to Ocean Beach to their many restaurants over the years. I have even gone to Water Island of an evening for a cocktail party knowing that I could get home in time for dinner with the water taxi.
Over the last few seasons the service has gradually lessened and become more erratic. House guests going to T dance at the Pines find themselves having to walk back to the Grove and at times, as we all know, the weather can turn on one and you are caught in a thunder storm on the beach in the rain.
I believe that the ferry service is regulated and I always assumed that the taxis were too. I will forward your email on to others that might not be on your list.
Jack Dowling
---

I have sent it out to my tenants who "do" the Pines T every weekend and are furious about getting there and back. Last week they had to walk back which all of us have done at one time or another and that can be good but weekends people have social events they want to get to. I hope that the business owners will really make a noise and make a noise in Brookhaven. This is outrageous. Jack
---
Jeannie,
We live in Kismet. Use taxi to and from Ocean Beach and sometimes the Grove. My Daughter Joan had to wait over an hour and a half for a taxi.
I personally will not use the taxi any longer to travel to Ocean Beach to dine and shop. I will stay at home or dine at the two restaurants in Kismet.
The Fire Island Taxi is taking advantage of us. They have us as a captive audience between the ferry and parking, I visited Mackinaw Island in Michigan a few summers ago. There are multiple ferry's and parking lot owners. The parking was free, still today, for the first 5 days and $2.50 per night thereafter.
Thank you
Charlie Knuth
Bulkhead Condos.

---
This is really dreadful. I take the taxi back and forth to the Pines each weekend. As it is the service is not good but a 2 hour interval is just ridiculous. It will be impossible to have friends from the other communities to visit for dinner.
How do we break this monopoly and bring back competition??
John Callanan
---

WRITE THEM! Loss of Fire Island transportation services-IMPORTANT

Dear All,

It is not good policy to tie up the phone lines. Here are the emails/mail addresses of the water taxi, ferry and transport bx.
http://www.fireislandwatertaxi.com/
99 Maple Avenue
Bay Shore, NY 11706
info@fireislandwatertaxi.com
Fire Island Ferries
99 Maple Avenue, Bay Shore NY 11706
(631) 665-3600
info@fireislandferries.com
Suffolk County Transport
Transit 631.852.5200
335 Yaphank Avenue, Yaphank, NY 11980
Civil Service (631) 853-5500 Fax: (631) 853-4796
Bldg. 158, North County Complex, Hauppauge, NY 11788-0099
Congresswoman Ginnie Fields
ginnyfields@yahoo.com
Best,
Nicole
Publisher's note: the above responses came in a mere 12 hours after the email went out. Doubtless there will be many more but it is press cut off time for now. I thank those above for proving the point and I hope the Fire Island Water Taxi company "gets it" and not only resumes but improves service.
…stay tuned!!!