Kismet's Caroline Stern and George Hess arrested for Dancing in the Subway
"When you're waiting for the subway late at night, there's not much to do but dance and celebrate life," she said.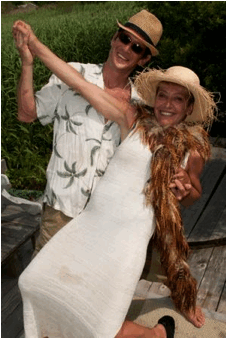 J.C. Rice
BOOGIE DOWNER: George Hess and Caroline Stern are suing after cops arrested them for dancing on an empty subway platform, they say.
Following is an account received yesterday by phone from Caroline:
(any inaccuracies due to my non-existent shorthand capabilities):
It was a year ago July 14th when George and Caroline were returning from an evening of Swing Dancing at Lincoln Center's annual outdoor series.
Entering the large and fairly deserted Columbus Circle platform at midnight they heard a steel drummer playing somewhere and commenced practicing the Charleston steps they had just learned when 2 cops showed up and told them to stop, that it was illegal to dance on the platform. They said it was not as musicians play all the time on the subway and that it was only illegal to dance in the subway car. They were also told they were impeding pedestrian traffic but pointed out that at the moment there were hardly more than three people there.
When they realized the couple was not cooperating and George was videotaping on his phone the officers summoned help and a barrage of officers converged on Geroge knocking him down, while Caroline called 311 for help claiming harassment. They were charged with resisting arrest.
George videotaped the proceedings on his phone as much as able and they were both handcuffed and taken to a local precinct where attempts to fingerprint them were hampered by some internal difficulty in the precinct. They were put in cells all night and due to the fingerprinting difficulty missed their 10AM court appearance. During the night they were denied water "we cannot give you water in the cell". although Caroline could see bottles of water readily available there. At 1PM they were taken to another precinct, still handcuffed.
Claiming high blood pressure problems Caroline was taken to Bellevue hospital where a friend there gave her water and food and a change of clothing (she was wearing something flimsy for the dance event) while Gorge was sent to a men's Delaney street cell. Caroline was taken to the West 92nd street precinct and put in solitary from 5PM – 11:30PM. She was then taken to Center Street where a public defender had yet to appear.
Eventually they were released after 23 hours in jail and out on probation for good behavior for 6 months.
Now, a year later, they are initiating a lawsuit against the city. Among the charges Caroline will sue for damage to her hands (she is a dentist) and plans to give her share of the settlement to an African country, Guinea, to help stop female abuse.
Here are excerpts from The New York Post article July 8, 2012
Couple handcuffed, jailed for dancing on subway platform: lawsuit
Last Updated: 10:10 AM, July 8, 2012
Posted: 1:13 AM, July 8, 2012
First smoking, then soda — now there's no dancing in New York City.
"I'm a dentist, and I'm 55, and I got arrested for dancing," Stern told The Post. "It was absolutely ridiculous that this happened."
"We were doing the Charleston," Stern said. That's when two police officers approached and pulled a "Footloose."
"They said, 'What are you doing?' and we said, 'We're dancing,' " she recalled. "And they said, 'You can't do that on the platform.' "
The cops asked for ID, but when Stern could only produce a credit card, the officers ordered the couple to go with them — even though the credit card had the dentist's picture and signature.
"We brought out the camera, and that's when they called backup," she said. "That's when eight ninja cops came from out of nowhere."
Hess was allegedly tackled to the platform floor, and cuffs were slapped on both of them. The initial charge, according to Stern, was disorderly conduct for "impeding the flow of traffic."
"There was nobody on the platform. There were, like, three people," she said.
The charges, including resisting arrest, were later dropped. The couple has filed a Manhattan federal court suit against the city for unspecified damages.
The city Law Department is reviewing the court papers, a spokeswoman said.
kboniello@nypost.com
Click here for the video:
http://www.abc26.com/videogallery/70995296/News/Couple-arrested-for-dancing-on-subway-platform