Kismet's Popular Pancake Breakfast is BACK!!!
Photos and text by Jeannie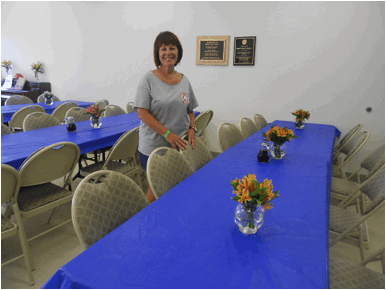 Joan McK Event Organizer Extraordinaire: Bring It On!!!
Once again the hard work and reliability of the Pancake Crew amazed me.
It starts with the promo - I made the flyer and Bob & Geri Phillips took care of making up copies to be distributed around town by my block captains, Linda B, the McK's, Patti R, Rita G, Fran S and Krysia. Good advertising led to a huge turn out of 300+/-.
Set up on Sat afternoon took on its own life as the regulars went about the jobs they know best and the newer folk stepped right up to help. A new procedure was instituted in an effort to keep the kitchen cooler on Sunday - the bacon was pre-cooked on Sat under the able supervision of Joe Carlton. Special mention to Lauren D, Rose L and Sharon S who stayed with me until every last detail was in place and we were ready to go for Sunday.
Sunday AM Cody showed up at 7:00 as promised (even tho' he'd been celebrating his 33rd birthday the night before) to pull the fire trucks out of the bay so we could turn it into a dining room (that can't be done on Sat because the trucks can't stay out over night.) He, along with Chief Dominic, Kevin Butler, Joe McK and early arrival Lauren D set up the tables and chairs. In the meantime the 100 cup coffee urns were perking and Tommy F, as always, started the kitchen going - cooking meats and making the first batch of pancake batter. He worked hard until 9:00 when he had to go to his real job at The Inn (who supplied us with ice and an extra box of pancake mix when we got caught short.)
The kitchen was full of chefs on pancakes and meats: Tommy, Joe C, Gary Leone, Kevin Butler, Rose Liotta, Sharon Sitone, Drs Linda and Janet. The regular food servers were on duty again this year: Fran Stobnitsky and Linda Barkan. Roz Sackoff once again doled out the fruit with care and made sure the maple syrup pitchers were always full. (The pure Vermont maple syrup was donated by Sugarmans - the owner is a friend of Kevin & Ginny Butler) Right by her side, Joanne Agoglia monitored OJ, milk and ice water while sprinkling powdered suger on folks' pancakes and fruit (a classy touch). Ginny filled in wherever needed. At the door were Rita Goldman and Lauren taking money and giving out wrist bands while Patti Romanzi ran the "Deck of Cards" 50/50 - a fun new idea she came up with. It was won by Geneva Kelly from Dunewood ($260 on each end). Greeting our guests and explaining the "lay of the land" were Michelle Schlecter and Phyllis Bakalar. An added touch was all of the "staff" wearing this year's KFD t-shirts given as a thank you gift by Chief Dominic and the dept.
Breakdown came at 11:00 with volunteers Neal Mandel, Steve Stefano, Eddie Schwartz and countless others. Cody came back to put the trucks back in the bays and it was firehouse again.
We want to thank Jeannie for tirelessly publicizing and covering the event from planning to completion.
All of the bills are not in yet but I estimate that we profited $1700+/- thanks to a lot of hard work and the much appreciated support of the community. I think everybody enjoyed the event. The proceeds go into the Auxiliary coffers and at the end of the season we vote on how to best spend it on things that will benefit Kismet.
Joan
The Set Up
The chairs should go here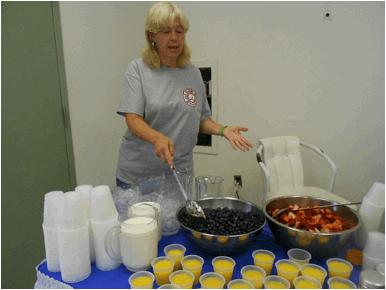 Who will buy my strawberries?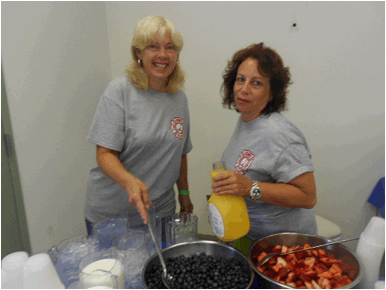 C'mon, Big Guy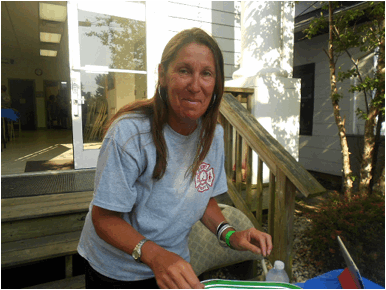 Oops – caught me in the till….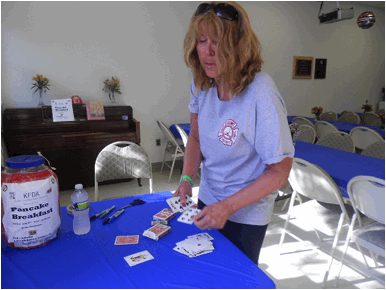 No, not a card game – it's 50/50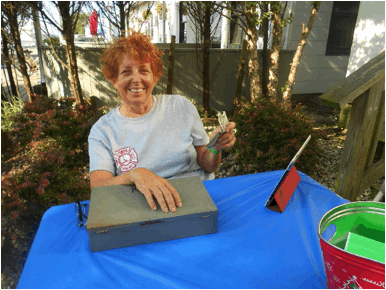 The Money Maid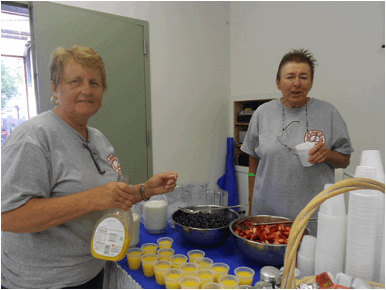 Juice? fruit? Whatever???
Kitchen Chorus Line – they're having too much fun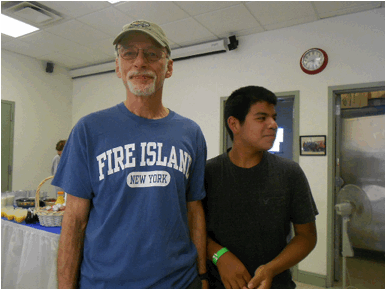 The very first customers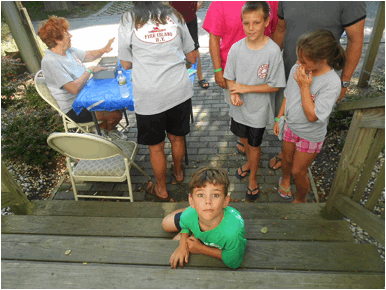 Can't wait to get in
He always does that!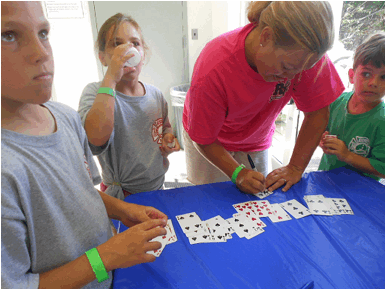 OK first stop – the 50/50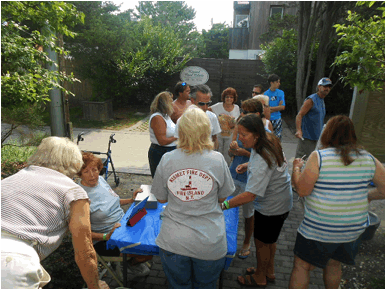 The Xanadus en masse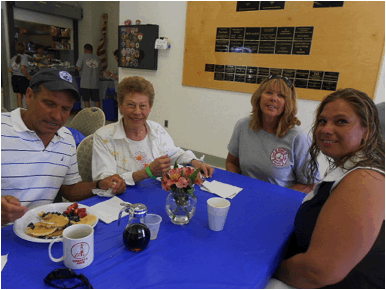 The Romanzies – a family who eats together stays together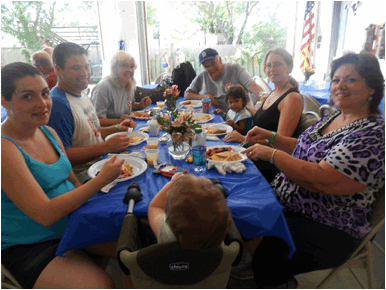 The prolific Butler clan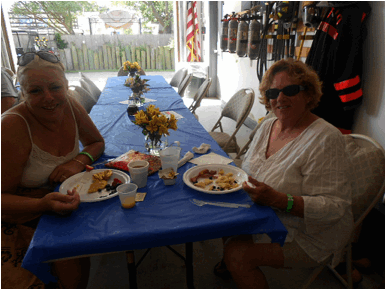 All the way from Fair Harbor, honorary Kismetics Olga B and Marge T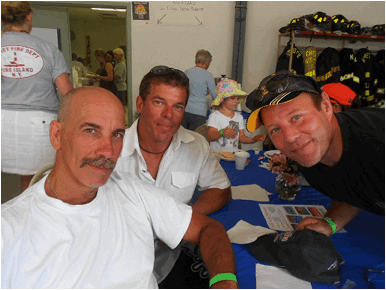 Look, a gaggle of guys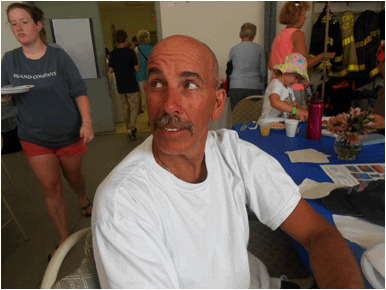 Who are you calling a "gaggle"?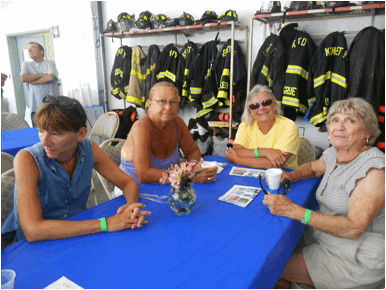 Les Girls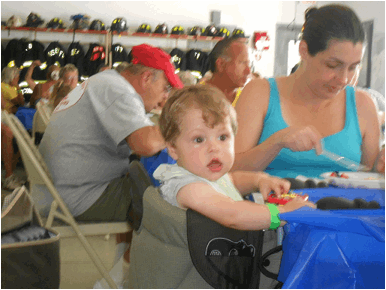 I'll have what they're having……..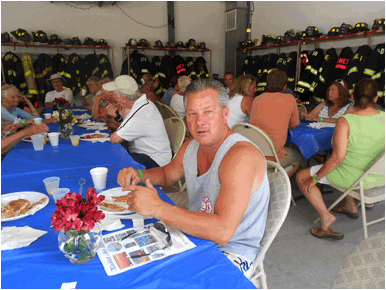 Don't bother me when I'm eating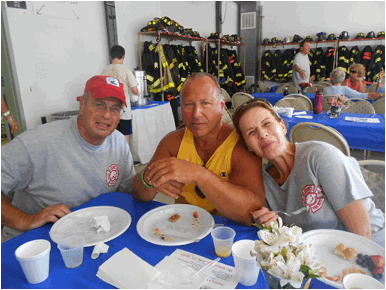 Old friends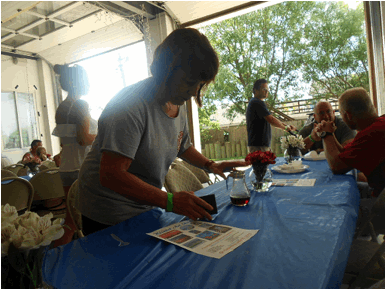 Details, details, details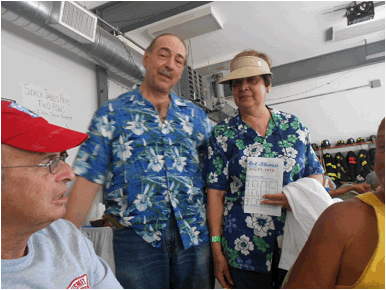 Marge & Mike - welcome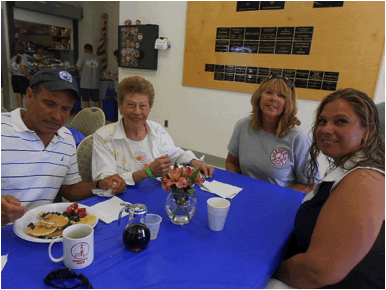 The Romanzies – a family who eats together stays together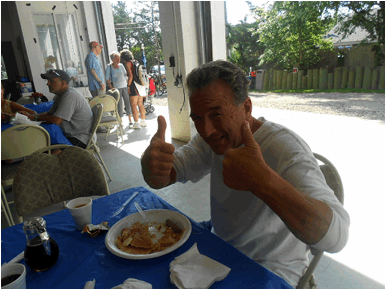 Restaurateur Dennis of the Out gives it thumbs up!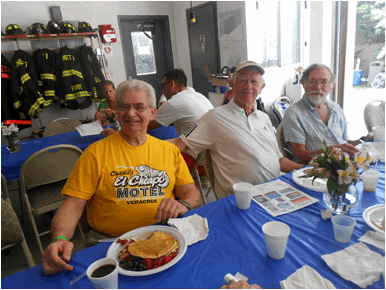 Our elder statesmen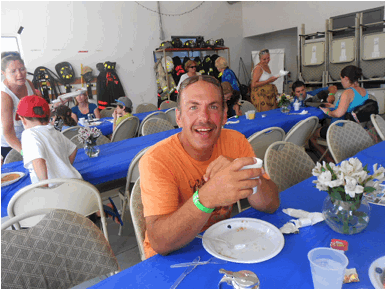 Not so elder (this guy always makes me smile)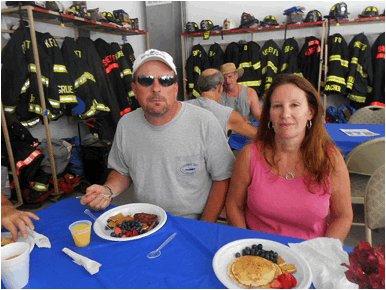 Pancakes serious business for Jimmy & Joanie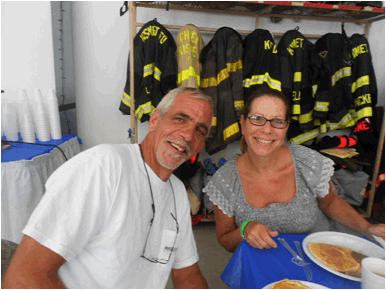 But not for them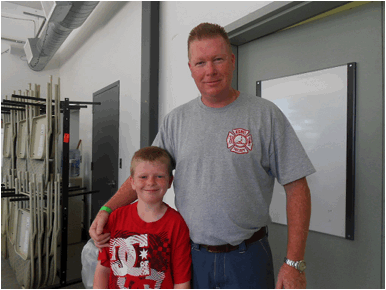 Carbon copies – Kismet's youngest entrepreneur, 8
Mother and child
Yeah, I love this
SO do I!
SO do we……
Sorry Dad, I just can't eat anymore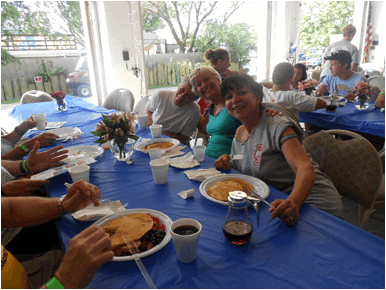 Sugar high – must be that real maple syrup
I was waiting two years for this meal – Heaven!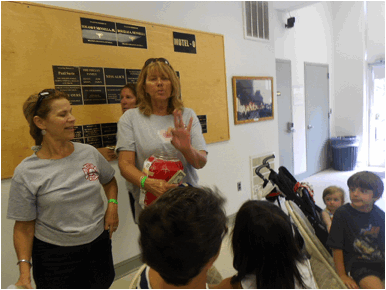 Now which one of you will pick the 50/50?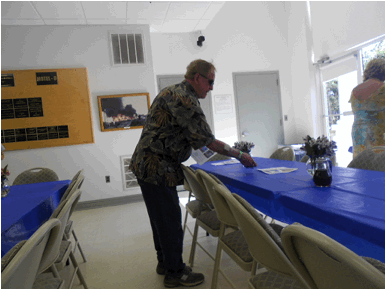 There's Poindexter publicizing his Kismet Art House Krawl July 21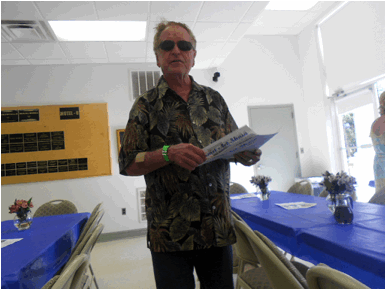 Are you coming???
AT Last! The crew gets to eat
The Last Act! Clean-up – thank you Eddie