16th Annual Doctor's Fund Benefit
INSIDE CHERRY GROVE
ILLUSIONS and DELUSIONS
….OF, BY and FOR GROVITES
By Jeannie
Photos by Jeannie with a very appreciated generous assist from Bruce Michael Gelbert
Pay Attention: This is the last time you will see Charity, Shirley Shapiro, Luisa Verde, Donna Piranha and Sylvia as themselves (which is already a contradiction) promising
"Anything Goes"
Message from the Director Donald Labohn
Truth is stranger (and more entertaining) than fiction. What is stranger than the Grove?
There was no fear of insulting anyone – they took things about each other that they were famous for (I e everyone knows that Charity like to booze when she's performing – she is a bar girl by her own admission) - there was no intent to hurt anyone – its was rather an homage
We made $7070. Up there
When asked since everyone was rehearsing since May – why not run two weekends – Donald said two full houses is better than some not sold out – and besides it too much time to ask
Costumes as usual were provided by the performers themselves – easier this year because they were borrowing from each other – (one pf Panzi's housemates took way her wigs without her knowing however the flower garden is all new costumes. All Donald did was have Evan order the crinolines only and instruct the girls to wear them above the bust like little Shirley temples, assign them a flower and each did the rest at their own expense
"The drag queens will find use for the elements but the girls will never wear them again"
This year's cast was the best ever and was larger by 2, Kenny Woodhouse and Charlie Krause.
How come the Rose number was not in synch with the others' "because rose cannot do a character, will never imitate someone else – and she wanted to sing live – so we got Ethel Merman– and she did come to the Grove a long time ago.
When asked how he will top this "I am not thinking about next year but there's a whole winter of material out there – who knows?".
Upstairs pre-show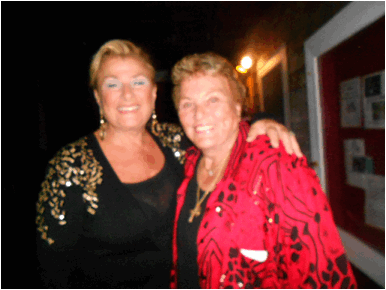 Lois & Meryl show's first producers! (looking relaxed in retirement)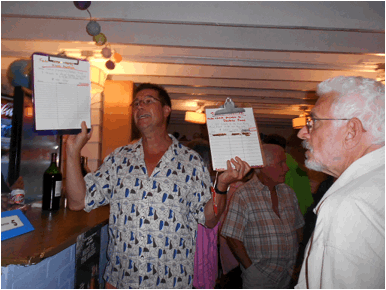 Former Queen Beach de Bris auctioning off VIP tix to Pines' Party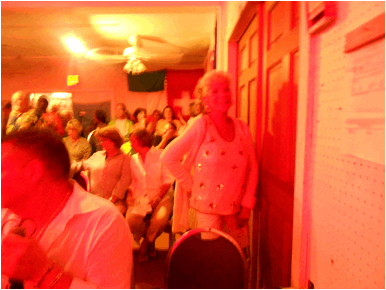 Joyce struck her pose (sorry for the lighting)
Downstairs they get ready…
How demure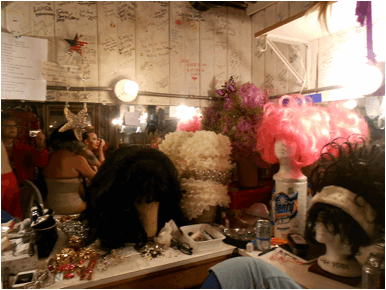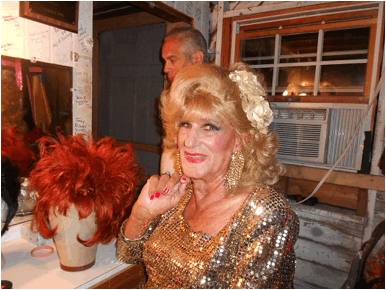 Also demure???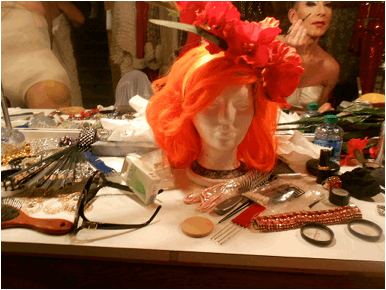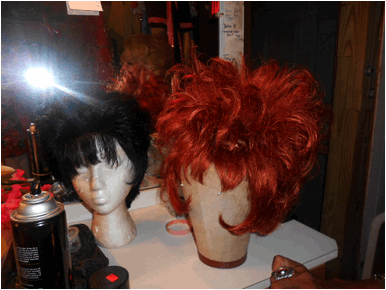 Would love those wigs!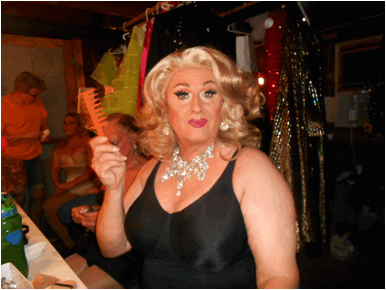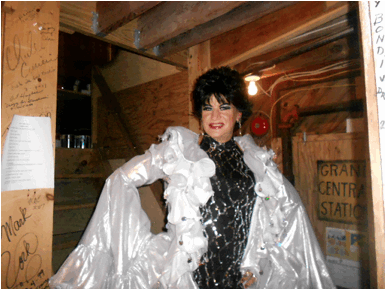 That APPLAUSE sign is never needed in a Grove show
THE SHOW
Where else can one skewer their own with apparent impunity.
Director Donald LaBohn hit upon a sure fire approach to success: banking on the theory that imitation is the sincerest form of flattery he skillfully mixed and matched Grove icons to characterize each other – borrowing their clothes and wigs and studying and copying their mannerisms.
The result proved irresistible for what makes the audience more comfortable than being in on the joke. (The risk of having outsiders there was negligible as the house was quickly sold out for both 8 and 10PM shows, though the Tide sent a young reviewer who "didn't get it") and they shrieked and stomped their appreciation from the minute the curtain rose
Credits
The word on the street as I approached for the late show was "Best Show ever"
To add to the excitement former queen Beach DeBris auctioned off VIP tickets to the big Pines' Beach Party later that night
INSIDE CHERRY GROVE
ILLUSIONS and DELUSIONS
OF, BY and FOR the GROVITES
Setting the tone Donald appeared in a black sequined sheath and meticulously piled brunette hair and said "I am Philomena, my friends call me "Philomena"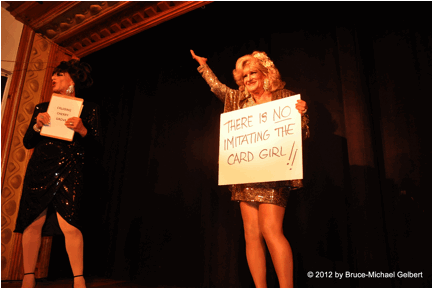 Cobra refused to be imitated
Keeping in the style "Philomena", clutching the clipboard Phil uses in Oceanaires as narrator, she cracked one of her jokes: "The Belvedere wouldn't let me in wearing a dress because women are excluded so I went back in my normal clothes and they said I was a lesbian"
To illustrate what goes on in the Doctor's house to which the benefit is dedicated "Dr." Roger Cortez examined the "patient" Demi-Tasse declaring the praised all of her parts, yes, all, saying she was "as sweet as diabetes" but "He Never Said He Loved Me"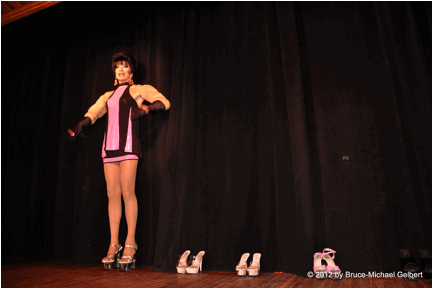 Donna Piranha (Angela Merci in a stunning replication, complete with bulging muscles
and tattoos which she flexed throughout the number) known for her "sky high heels""
sang to the shoes…"In These Shoes" (where do they get these songs???)
In a romantic mode to "I think of no other one ever since I began thinking of you" this "underwear Party", Ken Woodhouse, Eddie Galante, Gary Green (who 's career has come a along way since he first stepped out in front of the curtain in addition to his set and costume designs), Jack Ruolo and Chuck Krouse, a quintet of male beauties in tighty whiteys, pranced through a demure routine featuring tableaux which they then perfumed in the dark with light rods– very effective!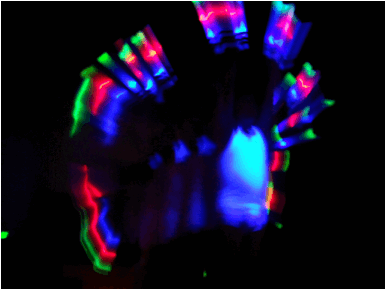 Donald's next intro proved a double hitter:" One of the most unselfish and giving people in the Grove in make-up and hair is Urban Sprawl. She takes such delight in making the average person beautiful"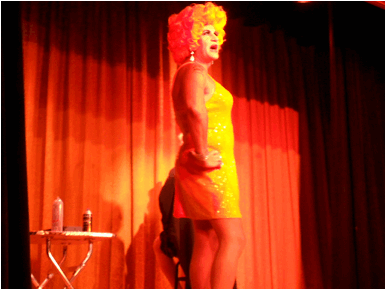 Donna as Urban captured her leggy look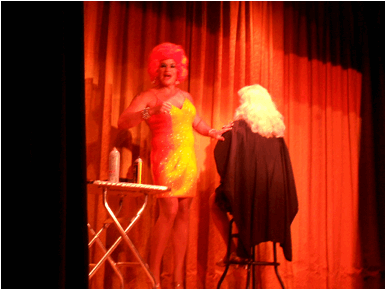 "Urban" proceeded to lay n the makeup with a huge house painters brush and a trowel –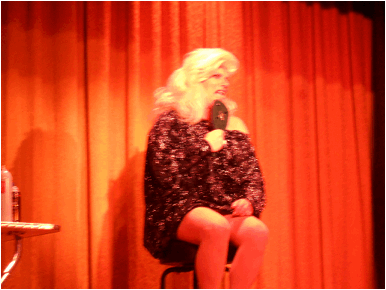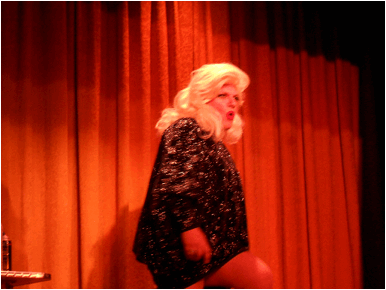 The victim err, beneficiary was Charity (Shirley Shapiro) who sang "I am absolutely Gorgeous"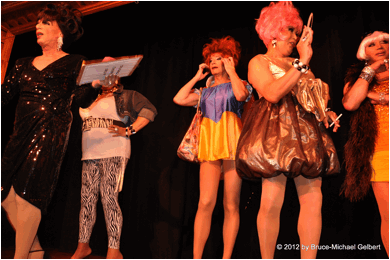 The Invasion arrived a source if unbridled merriment with Philomena declaring "I hear the clumping local contestants" opening on a group of gum chewing tastelessly attired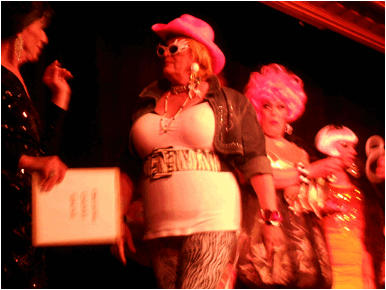 Led by Charity singing"It's a most unusual day" prompting Donald to concede "at least she had a nice vice"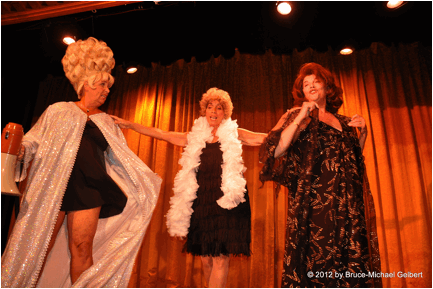 Bobbie, Doreen & Joanne as Panzi Rose and Bella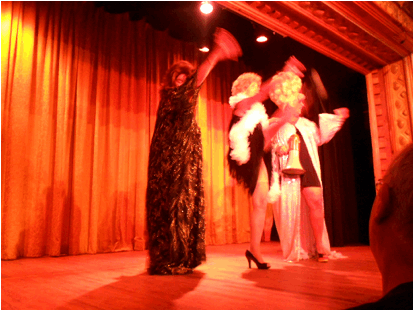 Doreen throws in a Rose kick – Brava!
Phil continued: "the two words over used here are 'awesome' and diva'" opening on a trio Bella (Joanne) Panzi (Bobbi) and Rose (Doreen) which had the house not been reconstructed with great new support would have blown the house down (truer words have never been written added "Philomena)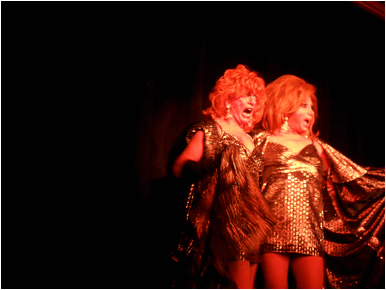 Next "Phil' introduced "My favorite sister act… I get such a craving for matzah ball soup…" and the Shapiros came out (Rose and Demi Tasse) in signature red wigs.singing
The Barry sisters' "Hava Negila". Interesting note, Rose who speaks Yiddish gave a poor second in lip-synching to the Italian Demi. (Donald also remarked later that Demi also out shone Rose in her native dance, the hora)
There was a tantalizing obscure remark delivered "One day you're in, one day you're out" directed at ???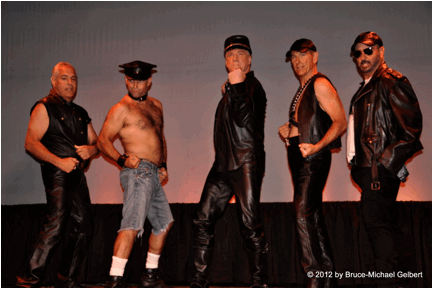 The tighty whitey boys retuned in a tribute to the Fire Island Leather Boys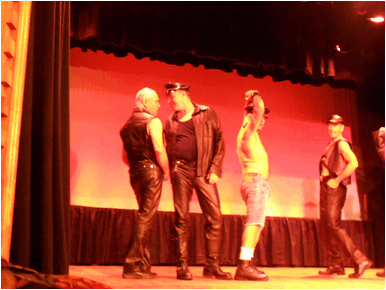 and their hairy bodies strutting and posturing to "Macho Macho Man"
Philomena quipped she was auctioning off "autographed pictures of me for future Grove charities
Throughout the fun filled evening audience members picked up on "Philomena's persona shouting out "beautiful" which never failed to prompt Donald to do a Phil pose.
Next came the most beautiful extravaganza numbers for which Labohn productions are known: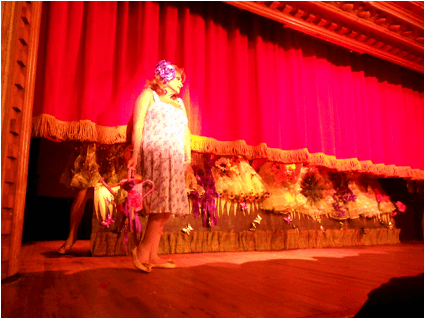 The Garden grove Club, chief gardener Bella watering "a bunch of Panzis'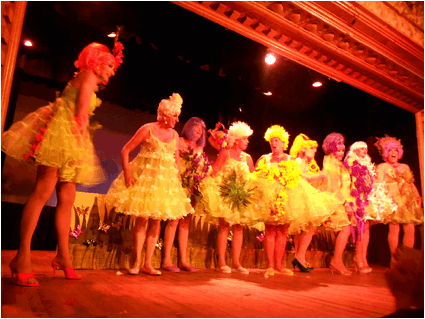 In this case words cannot describe the ingenuity and creativity and sheer beauty of the "flowers"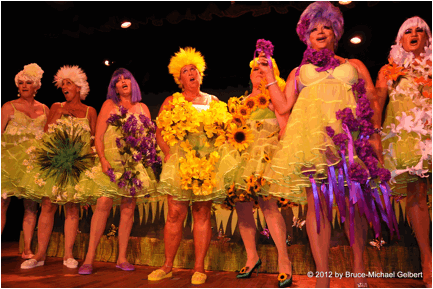 Donald later revealed that each had to buy a crinoline which they were instructed to design a flower – what creativity!!!
It is pulse quickening moments like these when the stage is bursting with bodies and colors that are the signature of Labohn's shows which are not duplicated anywhere else on the island – or most f the mainland for that matter!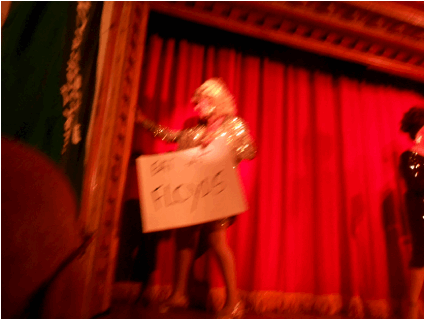 "Go to the dock with that sign" (Floyd's)
"You can't get a Man with a Gun"
In a brief interruption of the flow of present day icons "Phil" reminded us of a vague time when visiting celebrities included a visit from Ethel Merman, the Queen of Broadway "back in the day" who brought her own guest pianist (!) John Putnam who tried valiantly to keep up with Rose in an extensive medley of Merman hits that usually surface in Rose's own shows – including the requisite forgetting of lyrics which by now in the Grove results in a helpful audience sing a long bracketed by the also staple one legged high kick. They say the last thing to go are the legs, but in Rose's case it's the lungs.
But I digress….
The show continued with a tongue in cheek trio bar scene in which Gary was romancing Urban while Luisa burned singing "I'll Have What She's Having" with a vengeance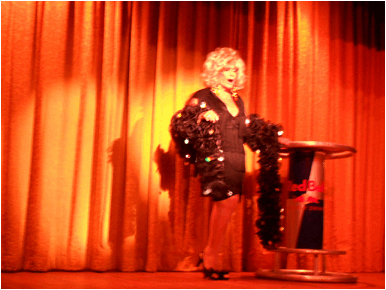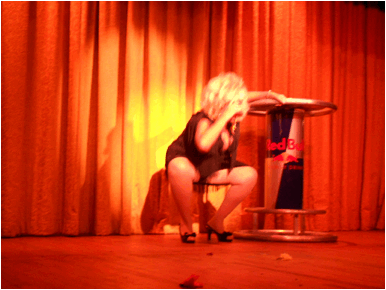 The show then segued to "A Salon Girl" with Charity, (Bella) the Grove's 2nd Miss Fire island "years and yeas ago". In a incredible truthful replication by Bella in a blonde wig and fringed dress in Dining with Divas "unphotoshopped version of Charity downing drinks as her signature number Big Blonde and Beautiful"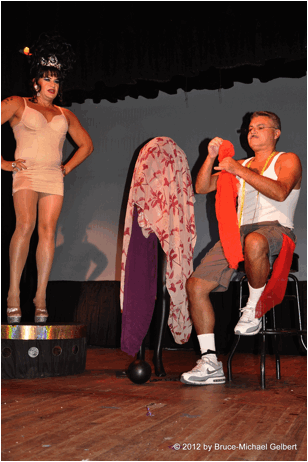 Trading n the term "Diva' which does apply to Louisa (Donna) who is larger than life in the operatic rendition from Donizetti's La Traviata of the relationship with partner Gary,(Roger) wearing a ball and chain as she has temperamental outburst to his frantic attempts to design a costume of which she approves – a very clever concept which worked beautifully
Charity, on of the first, asks "What makes a good drag queen"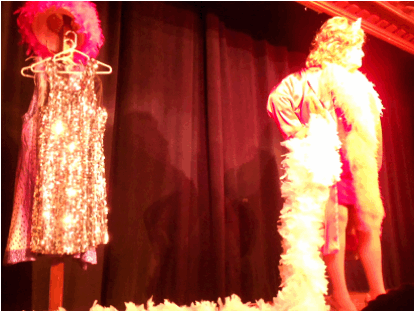 Which led into 'It was God who made you a drag queen" (where do they get these songs???)
The Grand Finale
Gary transports us to a Christmas party, "Be A Santa", and the cast appear as themselves at last in a dizzying array of varying outfits of red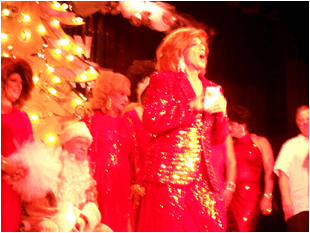 Donald outdid himself in a red sequined evening suit

Always appreciative and generous his list if credits prefaced with the mysterious "no matter what you've been told I'm still here", adding a thank you to the cast who showed no mercy in their impersonating their fellow Grovites, included:
Light & Sound: Matt Baney, Alyson Brackman, Michael Roanellu;Stage Manager Arthur Cohen; Crew Jane Haber, Peg Ryan; Sets Gary Greene, Luis Valentin; Hair & Makeup Richard Cooley;
Ticket Sales: Jane Haber, Joanne Tavis; Video Alison Amrin, Artwork: Rock Brody and of course producers Toni Casta, June Haber, Hussein Tahan. and the return of the Hoffa's who ran the house with an iron fist
And a note from Joanne Tavis, President of the Doctor's Fund that the money raised for the Elmer A. Lindsay Memorial Center is used to provide for the location for medical service so necessary to the community which costs more than they can raise yearly
Credits Director Donald Labohn's 16th annual Doctor's Fund Benefit, assisting the Elmer A. Lindsay Memorial Center in providing Cherry Grove with doctors and their office and living quarters
Nobody laughed harder than I myself during the rehearsals. Bella borrowed a few things as well as my music. That's one of my signature songs she did. I could hear the laughter, as she performed it, downstairs. No one was offended, everybody had the best sense of humor about all the aping of each other. Of course anyone outside of the cast who was done, I wouldn't know. Pansy was away, so didn't get to see it. I think she would have howled. I was told Philomena was giggling all through it.
I await your take on the whole night soon my dear.
Hugz, Charity