Into the Woods
Photos and text by Jeannie Lieberman
The latest rage on stage and screen had its first of this season's revivals at the Pines!
The audiences at White Hall who were fortunate enough to see the Pines Arts Projects semi professional end of season production of Into the Woods (though it always seems totally professional thanks to the expert efforts of the local cast and director) are privileged to have a leg up (pun?) on the just opened mega musical movie and the upcoming off Broadway production now previewing for a January 22 opening, a ten-actor/one-piano production which might seem closer to the intimate production seen at the Pines.
They will know the score (a major feat for a Sondheim opus) and have a clear(er) take on the convoluted story.
All is not well Stephen Sondheim's cynical, iconoclastic rendition of what happens after "Happily Ever After" in those happy little nursery rhymes we learn as children. Sondheim joyfully and typically turns everything dark.
Indeed one wonders what guides the project's choice of musicals, from chirpy Guys & Dolls, to dark Falsettos, to cheery Hello, Dolly to the very dark Into the Woods. Whatever the challenge the Pines players and their import professionals seem never fazed by the task at hand.
Did the current theater season have any effect on president of the arts project, and one of its leading actors, Steven Allen Black's decision to choose it?
A question not asked in the post performance interview I had with him: Labor Day weekend
Q A far cry from hello dolly or guys & dolls, is this a trend?
A: No trend. We have lists of shows we would like to present. In this case, with the movie coming out in December and the Roundabout production scheduled for next year, this was the perfect time to mount it.
Q: what criteria do you use in making the choice?
A The show has a gorgeous score and a great book. We like to choose different type of projects. You can't do DOLLY every year.
Q How did the cast manage all those lyrics and difficult score?
A We rehearsed the music for 2 weeks straight before we put the show up on its feet. You need that time to really learn Sondheim's intricate score
Q: It is difficult to imagine that the golden voiced, buff Prince (Cinderella's) is not actor's equity???
A: Ryan Bell (Cinderella's Prince) is not Equity. He was operatically trained. Q: What is keeping LaFontaine from following a show biz career?
A: You would have to ask her.
Q was the stage deeper for Dolly?
A Dolly had a half moon bump out plus the runway. Woods used the stage as originally designed (26' x 20'). We were able to get the 17 cast members and the 11-piece orchestra all onstage with the set. It was a clever collaboration on everyone's part.
Every property we look at has to be able to fit on our stage and have roles available for Islanders to play.
Q: The Lichtensteins missed the production - first time in how many years?
A: Jack didn't miss the production -- he was our pre-show announcer and performed the duty live at the Saturday performance.
Q: Do you do any theater in winter?
A: I mainly do TV work during the winter, but I am always looking for my next theatre project. I am a very specific type, so parts are few and far between right now (at least until I become that "old man").
Q You certainly have progressed from juvenile, soooo convincing and sincere as the Baker
A: Many thanks!!
Into the Woods is a modern twist on the beloved Brothers Grimm fairy tales in a musical format that follows the classic tales of Cinderella, Little Red Riding Hood, Jack and the Beanstalk, and Rapunzel-all tied together by an original story involving a baker and his wife, their wish to begin a family and their interaction with the witch who has put a curse on them.

The brilliant ensemble, under the expertise of Music Director Lance Cruce and Director Jason Blitman, vividly created characters, now showing their "other" side; continually meet up with each other in new combinations on their journey through the woods.
Jack who wishes that his cow Milky-White would give more milk, Cinderella who wishes to go to the ball, and Little Red Riding Hood who wishes to visit her grandmother. An added linking fable created by Lapine features the childless Baker and his Wife, cursed by the neighboring Wicked Witch (whose "daughter" Rapunzel is kept in an aerie in the highest tree). In order to obtain their wish, they must acquire the cow as white as milk, the cape as red as blood, the hair as yellow as corn, and the slipper as pure as gold before the chime of midnight in three days' time, which draws all of the other stories together. By the end of Act One, as we all know from the fairy tales, all will have accomplished their wishes – or think they have.

In the second act, the outcome is that no one has lived happily ever after and all are now wishing for yet other things. When the Wife of the Giant that Jack has killed arrives to demand that they give up the killer of her husband, her appearance necessitates another round of quests into the wood. After a series of dark events, the survivors state the message of Sondheim and Lapine's piece: Warn children as to the consequences of their actions and never let them forget the past.
Black president of the Arts Project has grown from juvenile to leading character actor. He infuses this role with the utmost if sincerity and human frailty making it even more affecting than I remember in other productions.
Not seen below: Beth Leavel, provided the voice of the fearsome giant and Mike Hartstein, as Cinderella's wise father.
Additional songs not mentioned below: an ominous("(It's the) Last Midnight"), a finger pointing quintet "Your Fault", from the witch at the end "This is the world I meant./Couldn't you listen?", plus "Maybe They're Magic" (the beans), "It Takes Two", Mrs. Baker's "Moments in the Woods", and Cinderella's dad's" No More".
A glimpse of the show: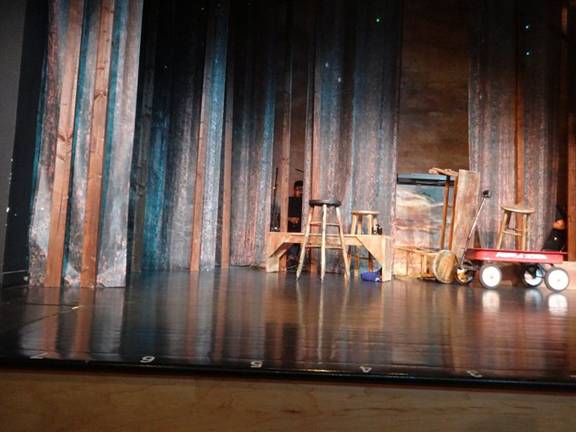 The sets are simple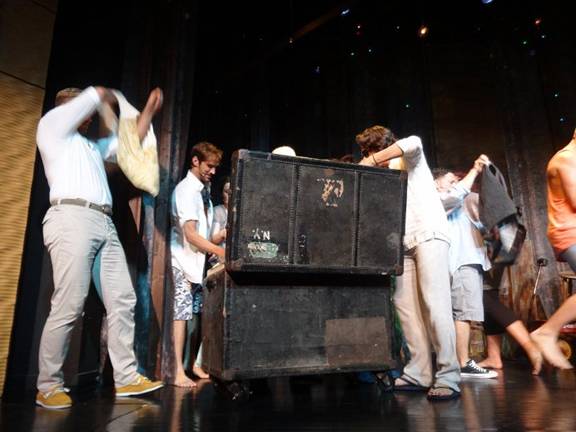 the costumes, by costume designer Siena Zoë Allen, assisted by costume coordinator Rita Horvath are in the trunk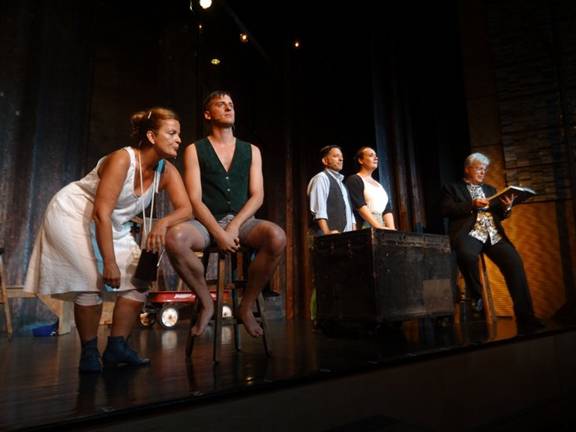 the cast: , Mary T. Farrell as the cow (also of Cinderella's Mother, Red Ridinghood's knowing Granny,) David Ballard superb as the soon motherless, soft-headed Jack, Mr. & Mrs. Baker, Steven Alan Black and Cynthia Murray-Davis poignant as the long suffering Baker's wife.
They will later deliver the show's anthem "No One Is Alone"
and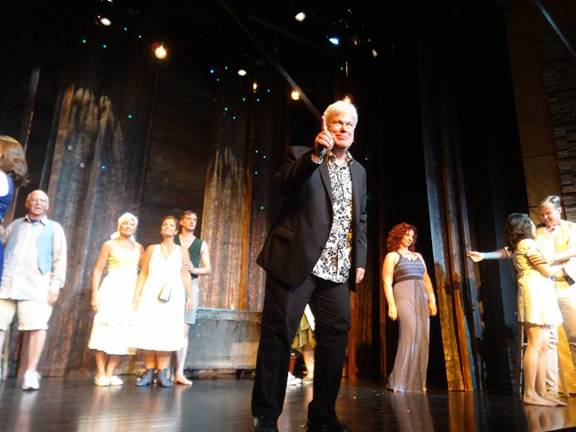 Narrator John Cassese tries to keep things in order
Jack, the cow and his mother, Lise Zinn, effective in a pivotal role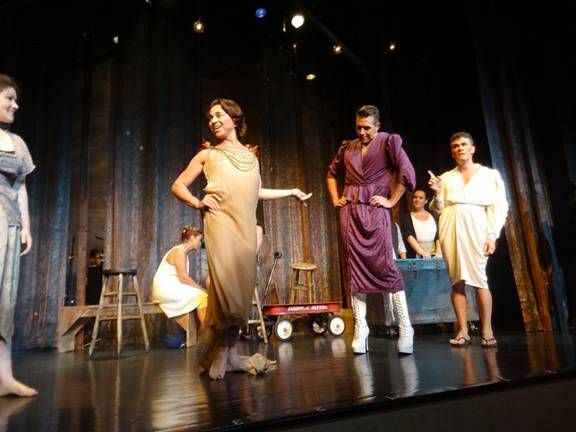 Cinderella's hilarious Step Mom and 2 sisters, as Luis Villabon, Jeff Meyer, and Paul Martin Kovic, in the Pies' signature cross gender moments.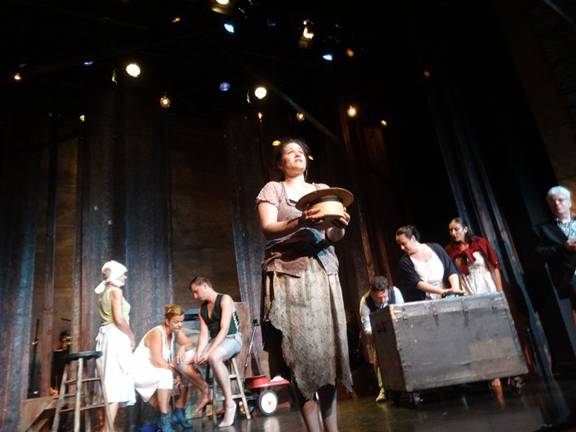 Heather Koren wistfully sings as Cinderella who just wants to go the Festival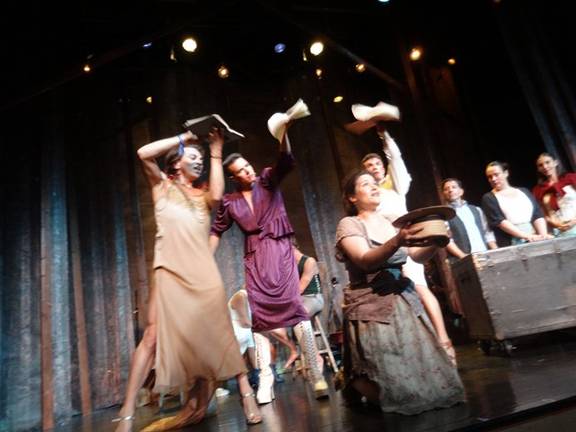 in the show's most innovative moment Cinderella talks to her "birds"
The Witch, Nicole LaFountaine, tongue-twisting Witch's rap ("Greens, greens and nothing but greens") a stand out in the complicated double role of the ugly witch who morphed into the glamorous ultimately delivering and the show's message and most famous song, "Children Will Listen"
Ryan Bell as the lascivious Wolf who teaches willing pupil Red Riding Hood
(audacious Anna Ty Bergman) a few things
The Witch begs "Stay with Me" to the silent Rapunzel, in a beautifully danced performance reminiscent of Susan in FInian's Rainbow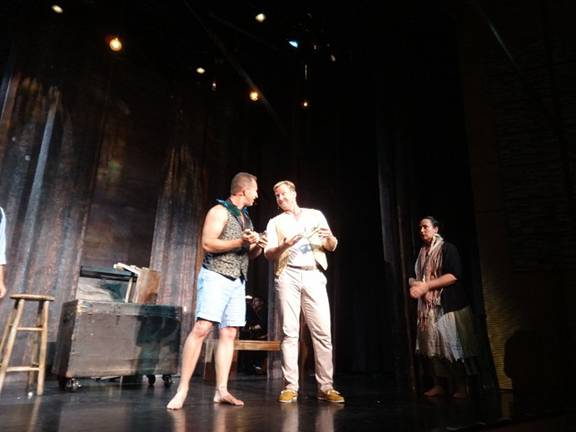 Eric Gunhus was Ryan Bell's brother, Rapunzel's swain, making for a well-matched pair of handsome, polished-voiced Prince Charmings' sing "Agony," with Bell quick to seduce Murray-Davis' Baker's Wife, when they're temporarily separated from their spouses, and both lusting after the unattainable Sleeping Beauty
Well deserved curtain calls
Production credits:
Director Jason Blitman, Music Director Lance Cruce
Sets Joey Mendoza, assisted by Jessie Bonaventure; lights, Timothy Born projection designer Alex deNevers; sound, Tommy Rosati.
Musicians: violinists Maeve O'Hara, Jules Lai; cellist Maria Hadge; bassist Brandon Kraayenbrink; flute and piccolo player Josh Johnson; clarinetist Eileen Wilson; bassoonist Colin Mannes; trumpeter Rebecca Steinberg; horn player Chuck Wilson; and percussionist Mary Rodriguez
The Film:
Here is an image from Disney's film version of Stephen Sondheim and James Lapine's Into the Woods. The film features a cast of Hollywood and Broadway favorites such as Meryl Streep, Johnny Depp, Billy Magnussen, and James Corden.
Stephen Sondheim and James Lapine's fairy tale-inspired musical Into the Woods adds another milestone to its landmark year. Along with its eagerly awaited Roundabout Theatre Company revival and its star-studded film adaptation coming to theaters this December, the video recording of the original Broadway production will now become available on Blu-ray, also in December.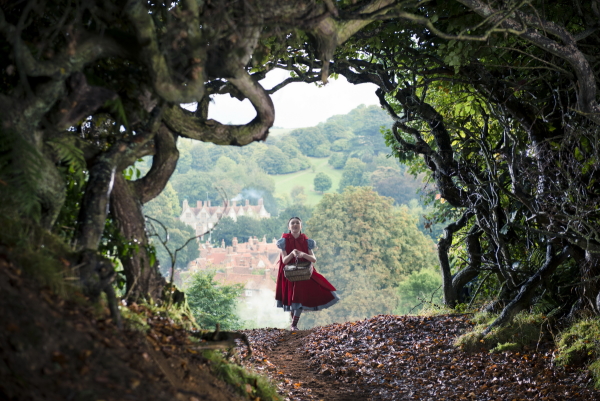 Lilla Crawford, formerly of Broadway's Annie, will star as Little Red Riding Hood (you see what magic a movie can create)      (© Peter Mountain)
The original on Broadway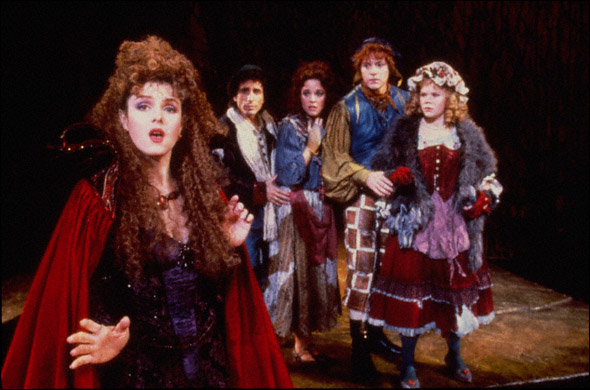 Bernadette Peters and the original Broadway cast of Into the Woods, November 5, 1987
The musical was nominated for 10 Tony Awards, winning three for Best Book (James Lapine), Best Score (Stephen Sondheim), and Best Actress (Gleason).
Into The Woods Off-Broadway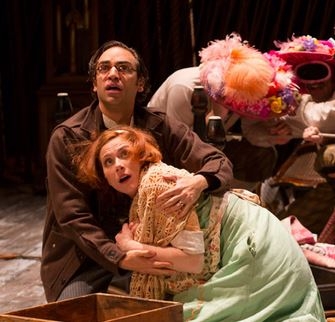 Ben Steinfeld and Jessie Austrian as the Baker and the Baker's Wife in Fiasco Theatre's production of Into the Woods at the McCarter Theater.
(© T. Charles Erickson)
For tickets to the Roundabout Theatre Company revival of Into the Woods, click here.
And…if you are traveling…….
STEPHEN SONDHEIM & JAMES LAPINE'S
INTO THE WOODS
Produced, Adapted, Directed, Designed, Marketed
Toured & Performed in Mandarin Chinese
400 Performances in
Beijing
Shanghai, Guangzhou, Shenzhen, Tainjin, Chongqing, Chengdu,
Hangzhou, Dongguan, Changsha, Wuhan, Xian, Jinan, Zhengzhou

Editor's note:
It really gets into your head.
I was babbling all the way home as I wondered how to write it:
Into the words
I have to go
without all those words
there' d be no show!
Sondheim Forever!!!