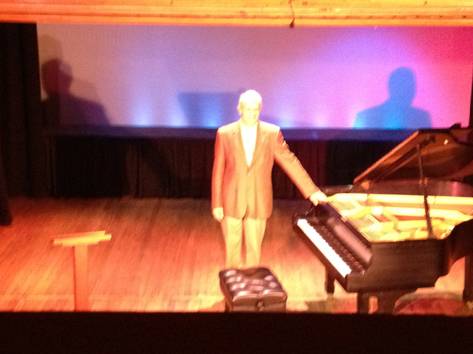 The Arts Project Cherry Grove presents: Jean-Pierre Lemarié, pianist
"A Classical Journey in Europe"
 (continuing the "Around the World" theme)
                    Photos and text by Ruth Kossof
The welcome ocean breeze that wafted through the Grove on Saturday evening was pleasantly augmented by the music that swept from the bay, provided by the musical virtuosity of Jean-Pierre Lemarié who is an accomplished pianist, born in Paris, but now lives in NYC. His repertoire ranges from Baroque to contemporary composers.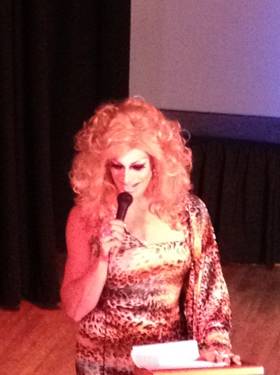 Our host for the evening was Sabel Scities, in for Epiphany, who was unable to appear. Trooper that this stunning diva is, pressed into duty on short notice, she proved a delightful counterpoint to the varied range of the musical entertainment. She was beautifully dressed (in different gowns throughout the evening); informative about each piece; and thoroughly funny and entertaining.
This classical piano recital's program was thoughtfully chosen which covered, not only different European countries, but a nice variety of styles and tempos. The composers were from Austria (Mozart), England (Purcell), Poland (Chopin), Spain (Albeniz), France (Debussy and Louvier) and Germany (Beethoven). Jean-Pierre has a lovely keyboard touch especially in the softer, melodic moments.
Jean-Pierre's first encore was a "Hungarian Melody" by the Austrian composer, Franz Schubert. The next encore was a nice surprise. Cherry Grove local one-man-show & bon vivant, Ken Woodhouse, sang with great control in French, the poignant Edith Piaf song "non, je ne regret rien" (I regret nothing) accompanied by Jean-Pierre.
All in attendance were left transported and happy thanks to the generous talents & charm of all involved. Merci! Jean-Pierre, Sabel Scities & Ken Woodhouse.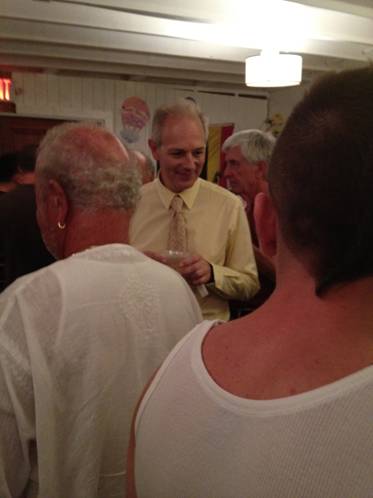 Jean-Pierre Lemarié greeting his admirers
August 11, 2012 - 8:30 pm
Cherry Grove Community House
Ruth Kossoff
PM Cottage, Cherry Grove