ANNUAL PAWS BENEFIT AT THE ICE PALACE, CHERRY GROVE June 2, 2012
                                         Photos and text by Jeannie
Always a fun evening I cant think of a better way to raise money – and for such a noble and necessary cause: the care and feeding, protection and health of our feral animals…and abandoned pets (yes, shocking)
Thus year featured a combined effort of PAWS, Pines Animal Welfare Society, organized by the Grove's Valerie Perez and Lee Frey in the Pines, with Long Island's Almost Home Animal Rescue & Adoption, Inc.
With the veterans Sal Piro and with DJ Chuck McTague at the helm the evening proceeded as smoothly as these shows go – with minimal rehearsal and reliance on the "pro" performers to deliver. ..and they did!
The Palace was literally going to the dogs: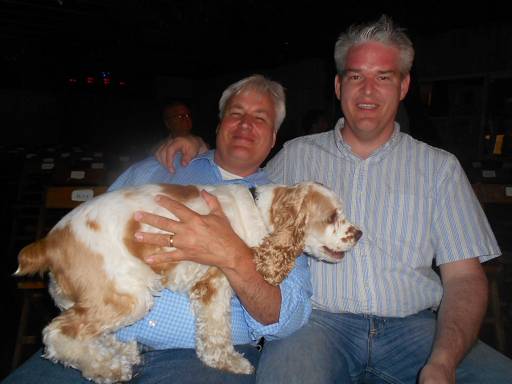 Curtis & Jack with Scarlet O'Hara who clearly does not want to share the shot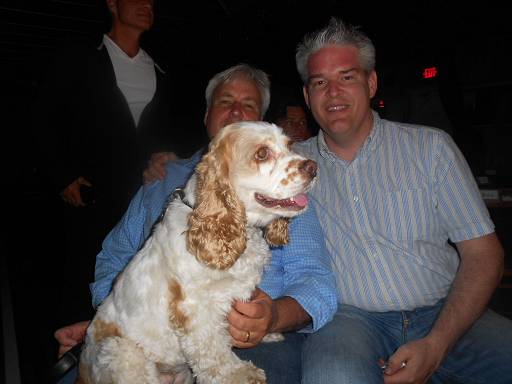 That's better! Scarlet O'Hara wants her own moment in the spotlight! She was adopted from a foster dog group last year, a subsidiary of PAWS, "For Pete's Sake" rescue.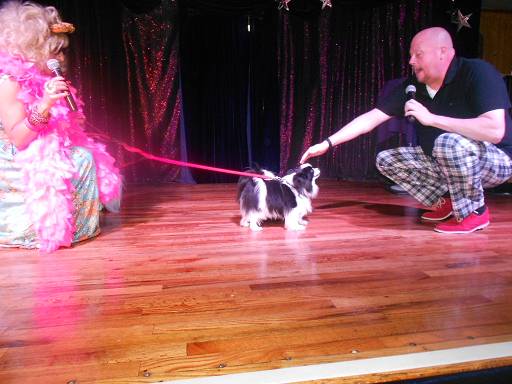 And this pup had show openers Lavinia Draper & Kenny Holcomb genuflecting,
Their opening number, appropriately "Lady is a Tramp".
They delivered their medley to "Love" with mixed results, Draper even throwing in some vigorous tap dancing in her quest -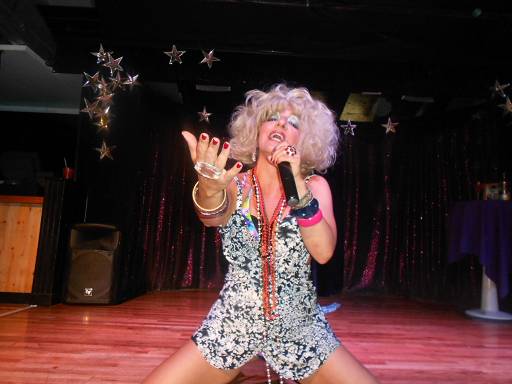 Not so good for Lavinia who's gotta "Find Somebody to Love."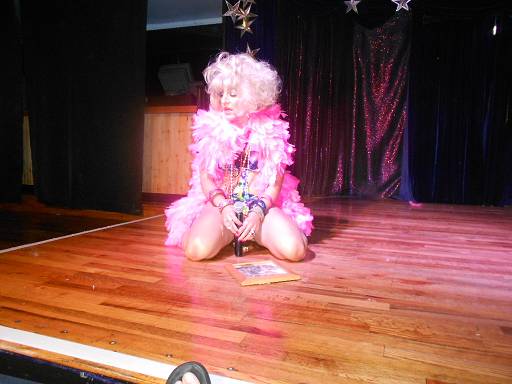 Doesn't look so successful…
 
Then it's Bella Time!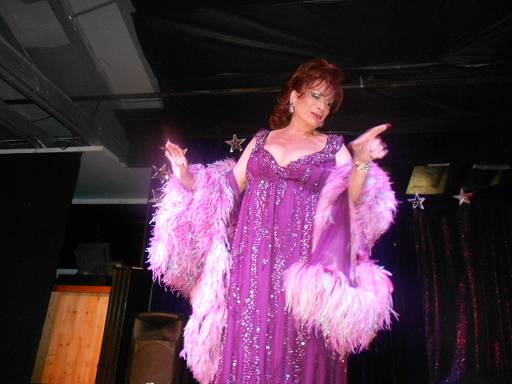 As the ever glam MC opened with a typically subtle song "Push The Button" which garnered an ecstatic response form the women in the house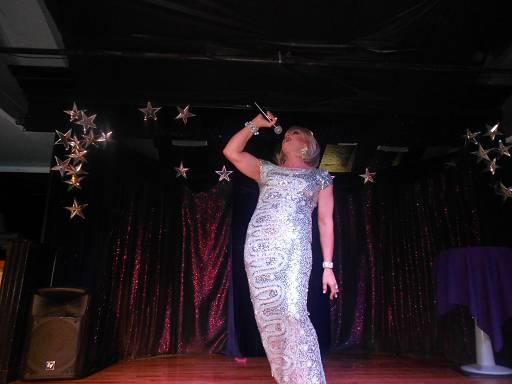 Our New Homecoming Queen Robin Kradles delivered "I'm Gonna Live until I Die," in her own voice and glistening gown
The always posh Demi Tasse outdid herself in a ruffled extravaganza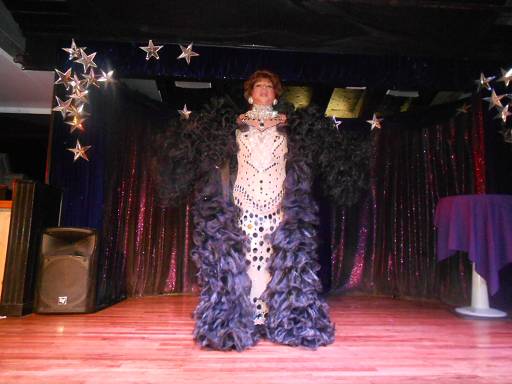 Teasing her audience with just a glimpse of the gorgeous creation underneath as she "sang" "Diamonds Are Forever."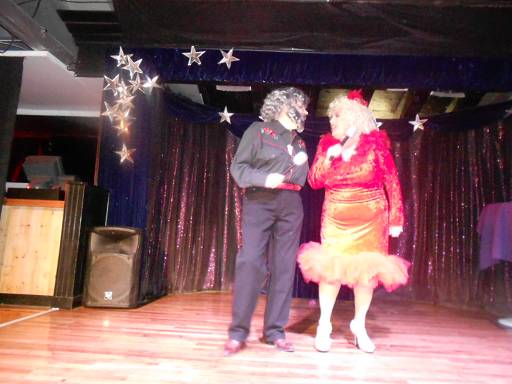 "Coming all the way from California" In a surprise gender bender Linda Dickerman and Barbara Hirsch swapped sides as
Kenny Rogers and Dolly Parton, in with "Islands in the Stream," prompting Bella to remark she never saw the usually macho Linda in heels.
 A short lived endeavor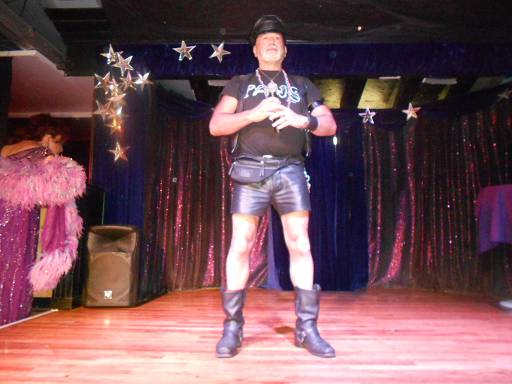 Fellow writer Bruce Michael Gelbert, sure voiced (and sure footed), delivered a solid "Moon River". He was thrilled when "all my friends sang along with me".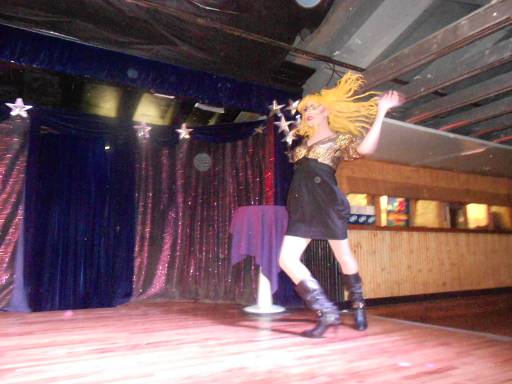 In remarkable contrast the manic Logan Hardcore did cartwheels,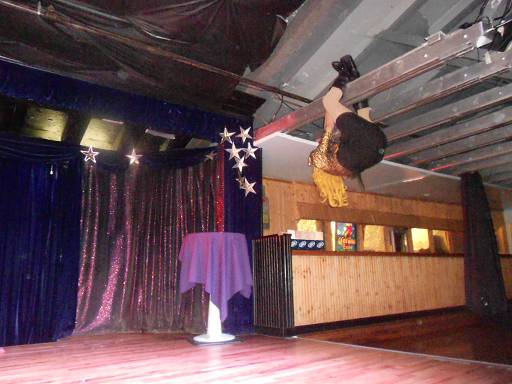 Hung from the rafters and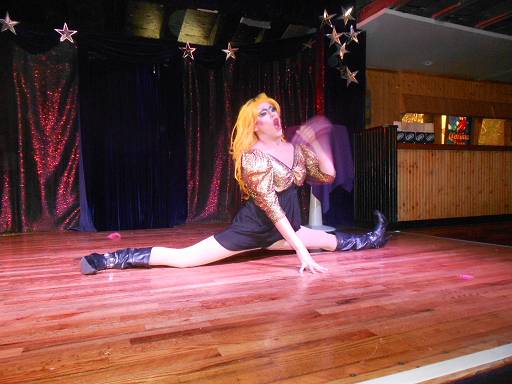 Did a split as she "sang" "Don't Leave Me This Way," "Ring My Bell," "Hot Stuff," and "Funky Town.". Wow!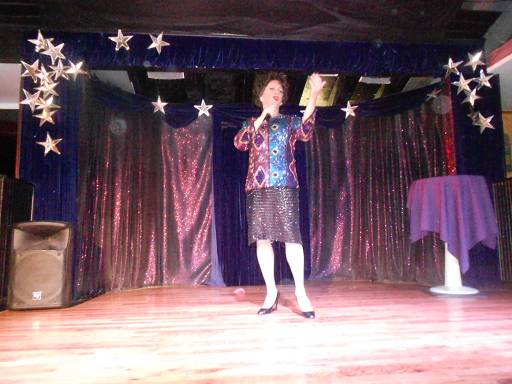 In a welcome move back to elegance the famous Tommy Femia ,resurrected the beloved Judy Garland with "Rockabye Your Baby," "Over the Rainbow," and "Chicago.".
On Broadway End of the Rainbow's Tracey Bennett should share the Tony she is bound to win with Tommy.
Intermission Follies: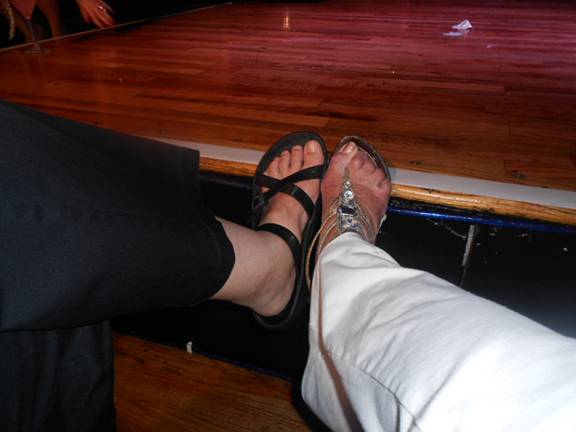 A typical Grove pairing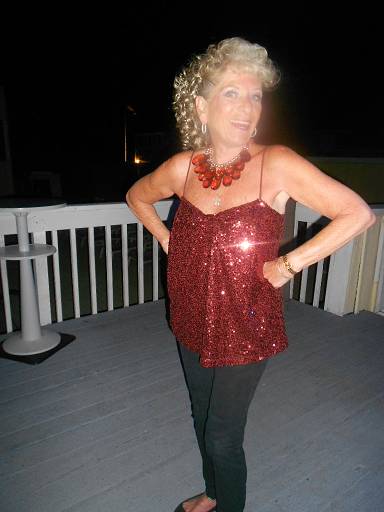 And Joyce changed her pose
Act II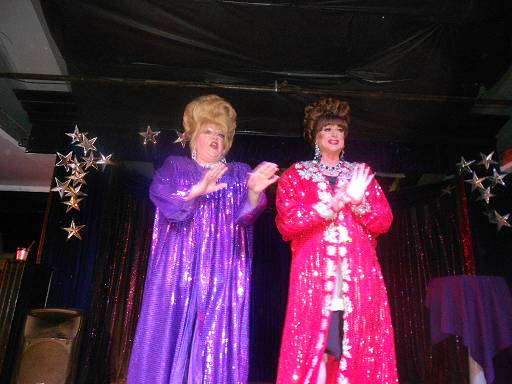 Panzi and Philomena opened with a crack about Romney "Always a Bride, Never a Bridesmaid" as they glitzed through Coffee in a Cardboard Cup,"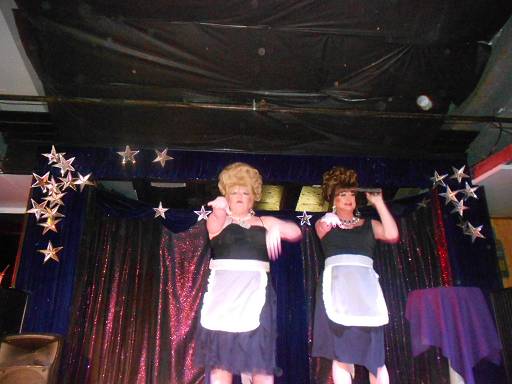 morphing into singing/dancing waitresses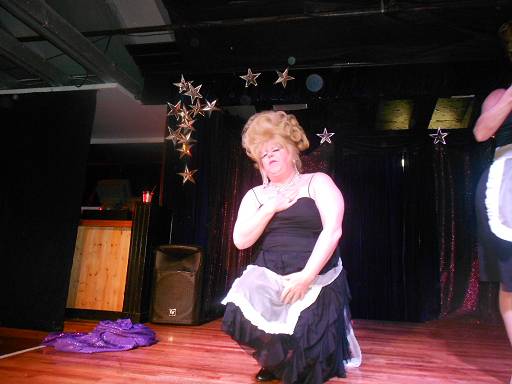 But watch Panzi –or her apron -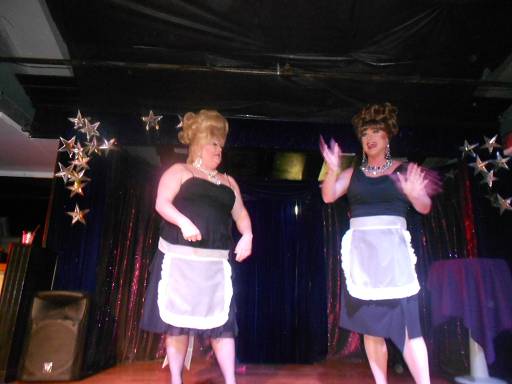 In new a career move she demonstrated that she can strip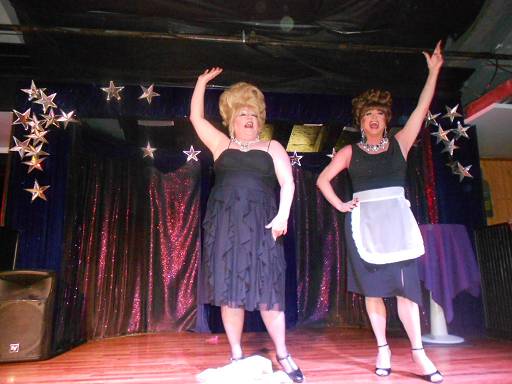 All gone – on the floor - and no hands!!!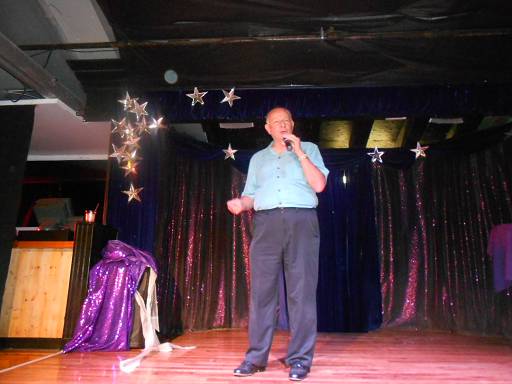 Mario Scalpa delivered a Sinatra medley. Look for him in a piano bar.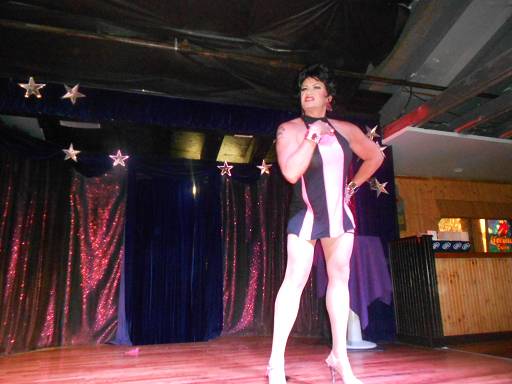 Donna Piranha tackled a difficult "I love the Cinema Italiano." From Nine punctuated with some choreographic emphasis. You go, girl.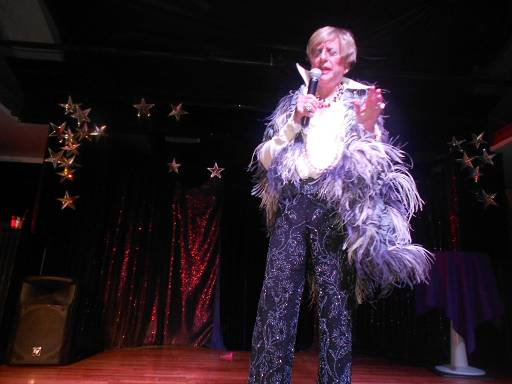 Rose Levine got through "I'm still Here" without benefit of accompaniment
which deprived the evening of its usual drama – Panzi & Philomena remarked they "knew everything about the song except when it would end"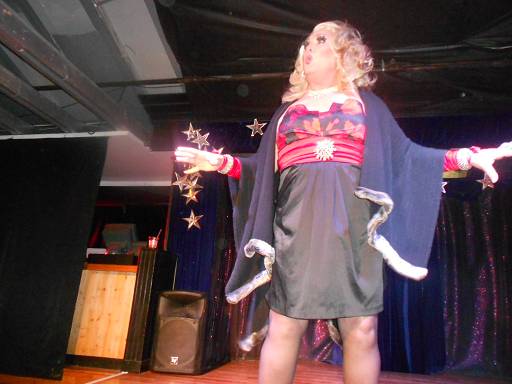 Charity, Miss Fire Island 1968, took a break from "working" the bar "where I grew up", belted and bumped her way through "Hard-Hearted Hannah."
Panzi and Philomena tried to out do each other in bad jokes, then offered a prize for the most recent knee replacement in the audience, 
Then it was up to Porsche to bring it all home with a barrage of her best songs:
You Ain't Nothing but a Hound Dog," (keeping in theme), "Everybody Loves a Lover" and her signature Janis Joplin "Summertime," and more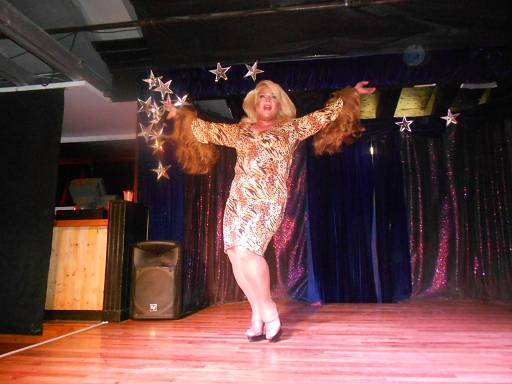 (excuse me, but aren't those hairpieces as cuffs?)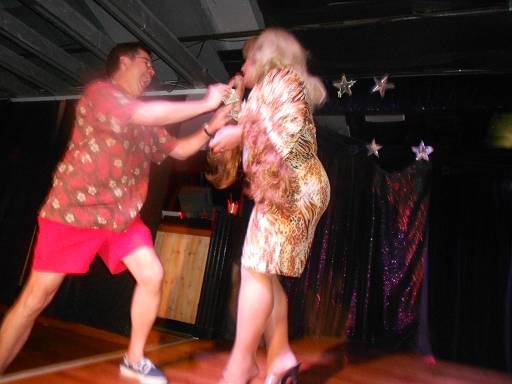 Various members of the audience rushed the stage to stuff or throw money at her – all donated to the cause for PAWS 
A delicious dessert extravaganza was the audience's reward!
A note from Valerie:
Although we didn't have as many people in the audience as previous years. The PAWS/ALMOST HOME Benefit raised $ 4322.00... $ 3010.00 was the result of our 50-50 cash drawing. The winner Anita Auricchio donated half of her $1500 winning's back. We are hopeful that this new partnership between PAWS/ALMOST HOME will keep PAWS alive...