KISMET AGLOW WITH PREMATURE PYROGENICS AND
MISPLACED PATRIOTISM
…and music wars
….sports
….seen & scenes
By Jeannie
Picture a mob of 80–100 people mostly thirty-something's from 2 established Kismet group houses (these were not day trippers, they were shareholders), circling KFDCheif Dom and wife Kellie and nearby homeowner Jeff Heller, protesting and chanting "USA, USA.." while Dom and Jeff were trying to maintain calm and explain the dangers of fireworks to a town of wood houses and dry dune grass .i.e. if the wind which can swirl and change direction was blowing inland it presented a clear danger of burning those houses. (People in Point of Woods are still are haunted by the sounds of a teenage girl screaming in a burning house which happened so fast she couldn't be rescued.) That's what happened the evening of July 3td, first two other groups, at the foot of Pine, then Oak, where people were running away in fear of being so close, then to the display at East Lighthouse – right up against the dunes. There were three "explosions" as one terrified homeowner at E Lighthouse said and described the sight and sound, with burning smell and some flames as well as huge display over her house turning the sky orange and then the mob scene. To further aggravate the situation a woman from Sea Bay called her a "party killer". She was still visibly shaken the next day. Barbara Heller was shining a powerful flashlight on them to see if she could ID them and scare them off. "Turn off that light lady" they screamed at her, "Party pooper" were the other heckling calls. Dom said they actually thought the community should thank them for "putting on a show" when Dom & Jeff stopped the proceedings. They were followed to their houses where the police eventually caught three of them interviewed them and took one's license for ID. When they finally dispersed a huge bag of unused fireworks were left in an Ikea bag: 25 shot mortars, 900 shot bandellaros, numerous other devices – all from China – non regulated, all illegal, Jeff Heller said he "let them know w stupid they were". Previously Dom and his wife Kellie interrupted some teenagers at Pine and Burma throwing lit firecrackers into the bushes.
At 10pm Monday the isolated fireworks continued around town. Dom's house was dark .Suddenly the lights were on and the fire truck drove off – chasing kids all night, fighting teenagers between E & W Lighthouse shotgunning beers. Dom said they were more belligerent than the others the night before declaring the fire department has no authority over them." The kids seem to know that they can get away with stuff on the beach that they can't in town. ''You have no authority over us - you can't do anything". Once again it was up to Jeff and Dom to chase and identify them – there were about 30 teenagers. The police caught 2 girls and a boy. Dom remarked that there should be a fire truck at each beach entrance during this holiday
Jeff and I can only echo Barbara Heller's comment: "Dom's response was impressive… we should all stand up and take our community back!"
Following is an official message:
Fireworks are an extreme fire hazard, not to mention illegal in New York State . Just reading the warning label should be enough to prevent people from lighting them. The winds on the beach can change in an instant; a firework aimed for the water can suddenly be blown overland and possibly explode over or on a house. These illegal fireworks are made in china with no government regulation. They can be defective and have short fuses. The past weekend numerous people lit illegal fireworks in town, some were lit off roof decks while others were lit on the beach. Even though the July 4th holiday is over people may still choose to set off illegal fireworks. Please warn friends, family, neighbors, renters and day trippers not to bring or set off fireworks. Kismet Fire Department has a zero tolerance for fireworks.
Chief Dominic Bertucci
It's a PUZZLEMENT: Out's Paul who installed those port O sans in the midspace between the Inn & Out during what turned out to be a less than mobbed Rich Mahogany concert – with police in multiples - I hear there were few incidents all night – mostly vomiting and passing out -has taken lots of hits from the community for putting them there. He contends that he is doing the neighborhood a favor otherwise they would be using nearby property to relieve themselves. Paul said when they were behind his oroperty no one used them. Members of the community did not think that port o sans should be the first image of Kismet as they get off the ferry. What to do? Perhaos put one of the tents around them with the palm trees? Paint them gold? Please send your suggestions to HRMJeannie@aol.com
CITINGS;
Was that FDCheif Dominic masquerading as Capt Morgan with mustache & Goatee (and a few extra pounds?) no! It's his look-alike renter Frank Ribando from Pineview
Congrats to the beautiful Bryanna Romanzi on her High school graduation. Bryanna is one of the first Kismet kids I actually spoke to - we bonded over the deer – a breakthrough of sorts –now she won a scholarship to Nova NorthEastern. Till then you can catch her working at the Out.
On a sadder note I announce the passing of Joey Cannava, a "Kismet baby" whom I first met at the age if 3 when, instead of the men I had hoped for at my body painting booth at the Kismet Carnival, he looked up at me with absolute faith that I could make him a pirate. Irresistible! RIP, Joey, you are missed.
THE PARTY LINE: John Blesso's CHANCE had its annual Pig Roast to honor the troops in irag, Afghanistan, Yemen, Libya, Egypt, Saudi Arabia…got carried away.: I don't now how that works. Eating a pig to honor our troops is odd, but who knows how charities work these days….
69 members from my house, BVT, 7Seas, The Fitness House, CozyA, and various other stragglers came to my house to eat a pig brined in salt and maple syrup and cayenne pepper and then roasted for six hours, and together we raised more than $1000 for Iraq and Afghanistan Veterans of America, a service organization that advocates on behalf of veterans returning from those two wars.
It was High Society at Rudy's catered affair July 4th. No matter how I tried he would not change it to Sunday and the Grove Invasion refused to alert 350 drag queens to sail a day earlier so I missed it. However having watched Rudy & Patti debate each music selection I know what attention to detail there was. Drinks flowed, food like shrimp grilled in Patron tequila, 2 kinds of steak, pasta, salads. I hear it was terrific.…
Seabay Annual Pot Luck proved very lucky indeed to the gourmands served by the gourmets
Of the many functions over the Summer, including the Burgerfest, the Guacamole-off, the BLT, the block parties, etc... This is a sweet reminder of why we are drawn to FI and Kismet. The community and people who inhabit it makes this event and town what it is. The identity of Kismet is firmly planted in it's people and Those who cook for this event, make it worth coming, serving and enjoying the beach with neighbors.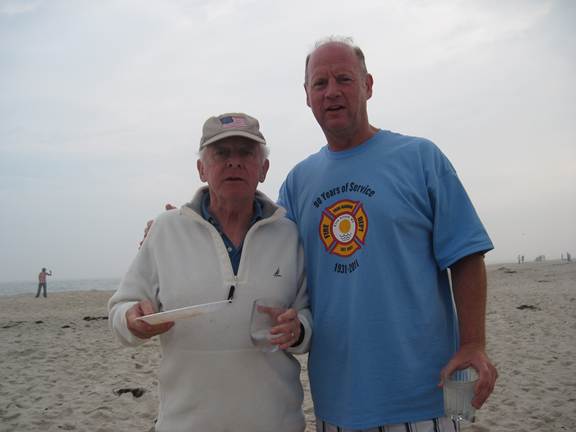 <![if !supportLists]> – of special note was the presence of our new neighbor in Snooze Harbor , Mike O'H, who was proudly wearing his 83 year old FHFD T-shirt – and flexing the muscles that go with it. When introduced to our local celeb Jim Ryan, formerly of Fox news, said how impressed his mother would be – doncha just love that!!! Tony M was remarking that nobody in the Saltaire Yacht club has one.
MUSIC WARS Rich Mahagiany at the Out 6-10, Kravens at the Inn 11 - ? If This Be War Fight On!!– The Rich Mahogany filled the Out to over flowing with young unidentifiable types mostly whom C Kent and his trusty sidekicks Los Tres Caballeros Hunkel (who worked the crowd with slightly less success) and DRP, their 'Point man" interviewed according to their bra sizes for his column. The return of the Kravens & Boatel's Ken to the Inn was a good balance e till very late - send the kiddies home and let's get real!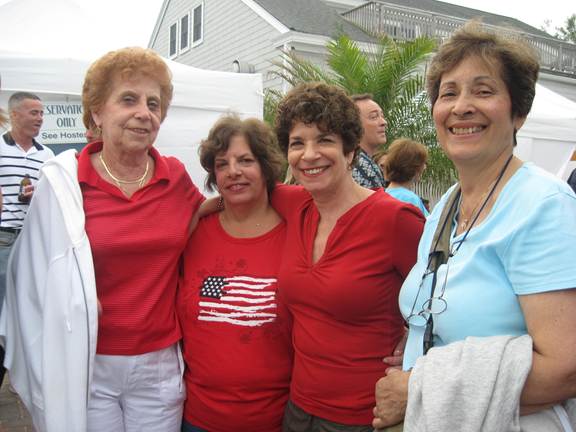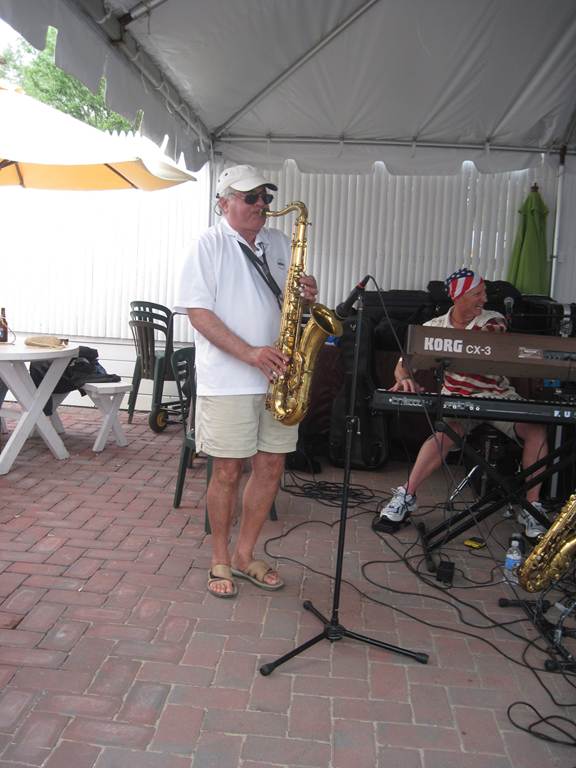 Ken with Rich Mahogany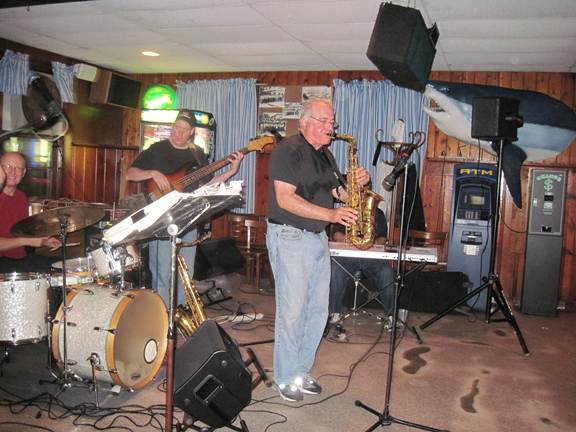 Ken with the Kravens
I like them but…….

I like them better!
SPORTS:
Sychronized Swimmers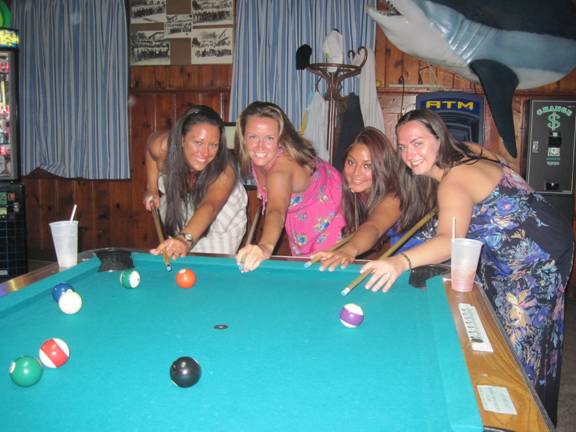 From one pool to another
Zumba – arriving one minute late the endorphins were already fueling 10 hip swiveling shoulder shimmying lovelies as I raced into the firehouse recalling my days in the Catskills and jumped right in for …3 whole minutes till my body reminded me who I am – it was marvelous –Dawn lips and hips were attached with a smile – thank you to Rita for organizing – scheduling challenge will be met- a bargain at $12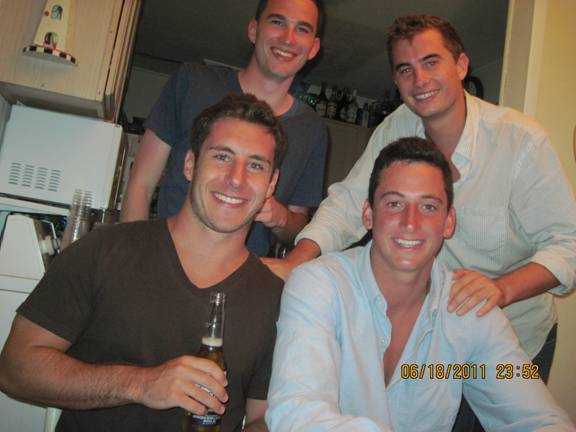 Intramural drinking….
Basketball – the newbies
Basketball – not newbies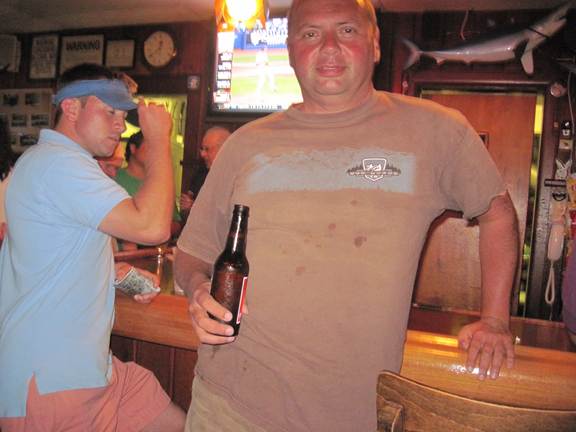 Basket Ball – Tom Tom -one of our former court heroes was irreverently dismissed by Ron Scott, boxing Commissioner from FH, who told him to get in shape stop drinking lose weight or he'll have a stroke. Serves him right for playing with Salteens.
Tom Tom with his coach Anthony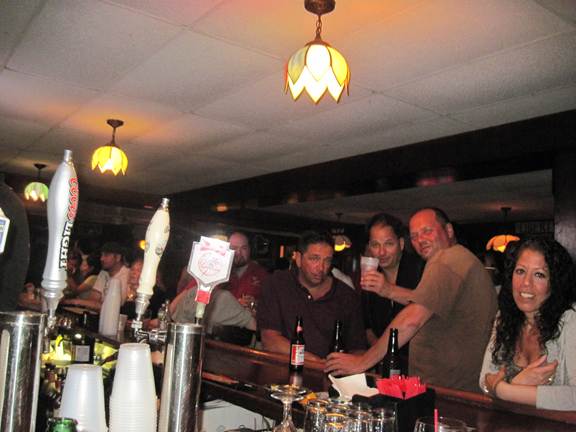 The team
Relating this to Sunset's Hunkel as they discussed their drinking plan for the day: "not until after dark unless... the Out from 5 – 10, then the Inn till dawn – " and then Tom imitated the "Kunkel Shuffle" his signature "dance steps" the heck with basketball – so Hunkel is forming a court reunion of old-timers: Antman, who is probably still faster than Lou (who never passes the ball) D'Amato who cant run, Tom Tom & Bro Ted in the same shape, Monz, Eugene (recently visiting with the kids at 'Ool house which demoted him to mid week, ditto for Back Al) Rules: no jumping no defense or end court press, no one in your face with DRP on hand as EMT date TBA
Coming Events; Kismet Art Show to Sat July 16, rain date July 17. Full size maps with all places involved will be available at the market.
Zumba class Gold N Girls Sun July 17, 12 noon at Firehouse $12.00
Sat July 9 STREETFIGHTERS "world's best Rolling Stones tribute band" at OUT 6PM - 10
Bake Sale Sat 9-1PM donations at Firehouse Fri evening
Choice comments on Canine Cacophony next issue
4 Bells down – one to go!
Kismet Kulture: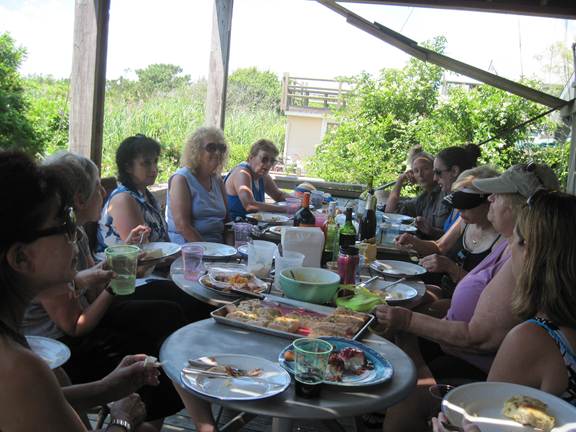 The Book Club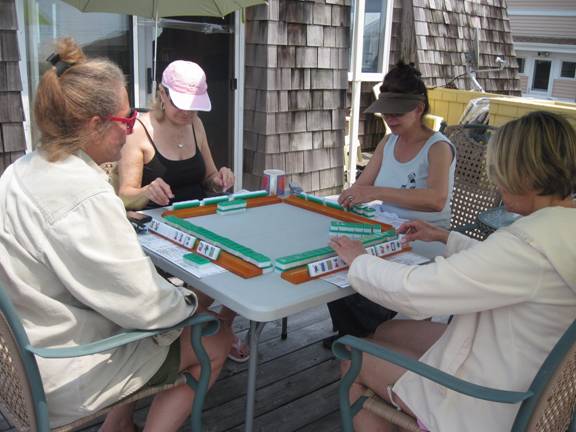 The Mysterious Mahjong-ers
ENDQUOTE: leaving on the 1:15 on a perfectly sunny Sunday, not Fathers day not anyone's day Hunkel: "I have to go home - I have to do my gardening"
and that's Kismet!!!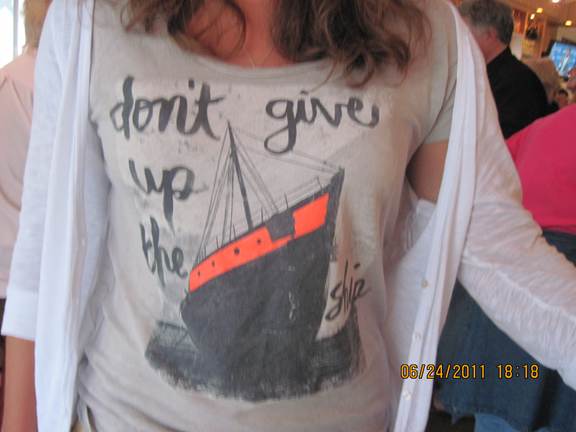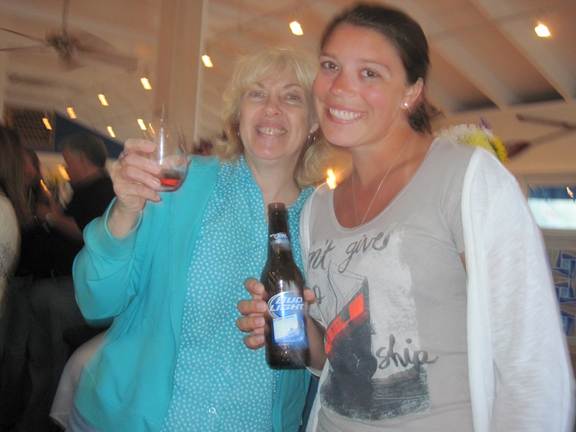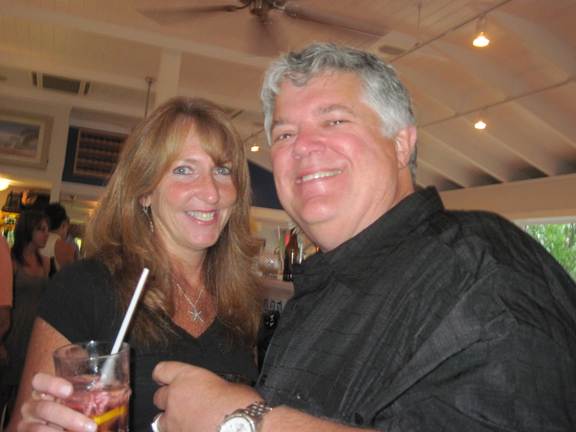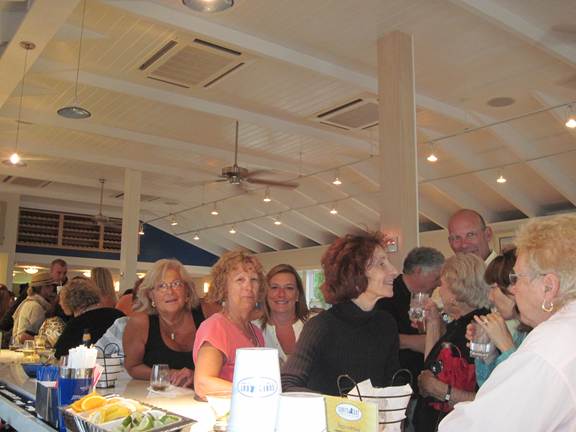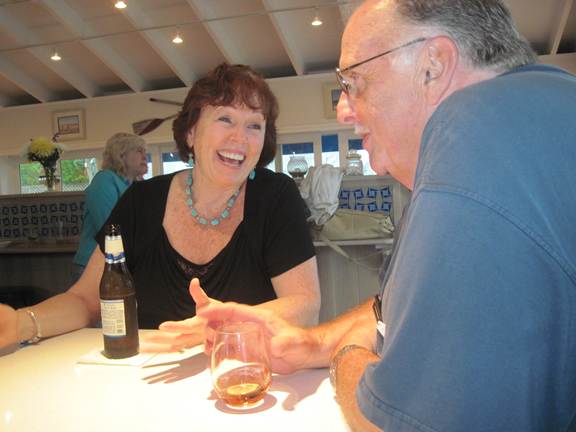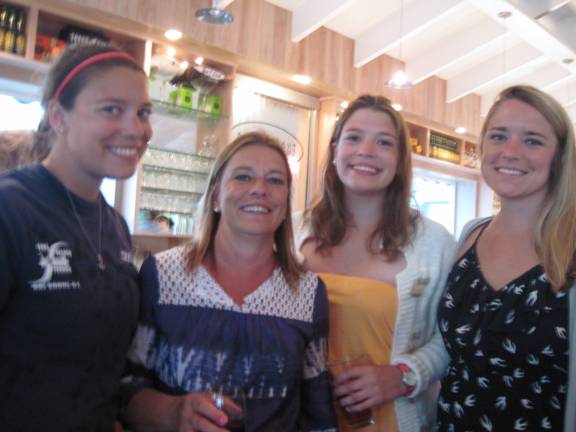 Full House!
BEACH SEEN
now say "good-bye"
And that's Kismet!!!