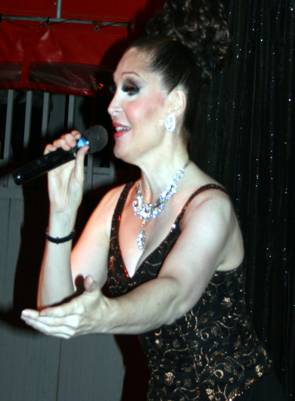 Bianca Leigh sings at Cherry's in Dining With the Divas Series
By Denise Dell Harbin 
First, let me make it clear that Bianca is my favorite girl…lady…drag queen…trannie…singer in Cherry Grove. She is timeless, elegant and can do no wrong. She presents herself with total honesty and allows us into her world…for the good and the bad. The beautiful and the tragic.
Last Monday night, I had the pleasure, along with her many other fans, to sit in the cabaret setting Cherry's sets up on Monday nights on the dance floor for Dining With The Divas. We enjoyed an excellent 3 course meal in this intimate space, cooked by chef extraordinaire Angela Badolato. What could have been better?
Bianca appeared from behind the glittery red curtain in a very elegant floor length black skirt with a dark brown and gold sleeveless top. Perfect. Hair up…as usual. And lots of diamonds…or were they rhinestones?...on her elegant Audrey Hepburn-like neck. She did not overdo on the breasts…elegant. She called it her "Mother of the Bride look". They would be jealous!
She started us off with Broadway Baby. And indeed she is a Broadway Baby! Sitting in…where did she grow up…New Jersey? Wearing her cub scout uniform and drooling over the divas on TV. Someday, she swore…she'd be on Broadway! Oh, and maybe that he would be a she!
 And now, she has her show on Broadway (Busted..she wrote the story…but lived it first! See it in Cherry Grove at The Arts Project on 8 PM Friday July 6 and at 7:30 Saturday July 7. This show is not to be missed!)
Next, she gave us Do You Wanna Dance…slow…languid…and as she says…"here comes the dance break"! Funny and gorgeous. Wow. When she was complimented from the audience for her exquisite outfit, she said "oh, this old thing! $20 at the thrift store!."
The music started for I… and she began to sway. Next we heard I and then The Minute You Walked In The Room. Oh, we love the trash talk from this demure lady! As she segued into Don't Get Around Much Anymore, she told us that Duke Ellington was her favorite composer and that she had the pleasure of working with his granddaughter Mercedes in her quixotic career. Wow again!
Bianca noted to a younger member of the audience that "in my day, we learned to speak like Joan Crawford!". Oh yes, we did. But this was not going to be a bumpy night! Bianca started Fever and quit half way through. Oh, you all know how that goes!" and the audience chuckled.
Then she went into a Marilyn mode…she sang My Heart Belongs to Daddy and all the dykes perked up, and then went on to Diamonds are a Girls' Best Friend and they all settled down.
She was joined by Spicky Hilton, who was on tap for the Divas Part 2 show at 9:30 PM. Spicky sang an Adele number very well, and complained about wearing the required floor length gown. Spicky noted that It Ain't Easy! And that she had found Jesus! Well, the dress was a bit too long so that made moving hard!
Bianca returned and it was clear she was so aware of everyone in the audience that she even greeted a little moth that was flitting through the stage. She has that ability to include everyone.
She sang All The Things You Are, Are Mine and then La Vie En Rose, ending with "that was French" and we all laughed.
Then she broke into her Cher imitation…she had practiced it when she was a Cub Scout! She sang When You Meet a Boy as Cher, and then sang A Tiskit A Taskit with some great ad libs. "That bitch stole my little basket! " and the audience roared at the double entendres…
Finally, as our dinner wound down, over a hot molten chocolate cake, Bianca sang Our Time is Almost Over and she sang Set 'Em Up Joe right to bartender Mike Salanari…a real cutie!
Finally, the night was over and Bianca sang Oh My Man…I Love Him So…Barbra's victim song! But here we knew Bianca was no victim…she knew the score and was sitting on a secret or two!
Bianca will be back for another Dining With The Divas on July 9. Seating is at 7:45 with dinner at 8 PM…so don't be late! Divas Part 2 will feature Charity that same night…entertaining us as only she can! A Grove icon! Reservations required 631 - 597 – 7859.