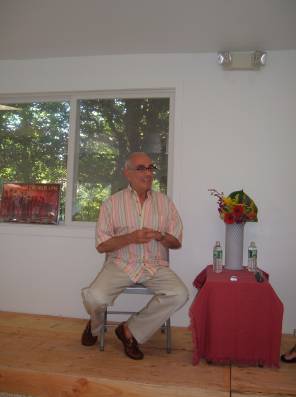 A CHAT WITH BOB AVIAN, ONE OF BROADWAY'S MOST RESPECTED AND TALENTED DIRECTOR/CHOREOGRAPHER/PRODUCERS IN THE PINES

His career has spanned more than forty years on the Broadway and London stages, from his performing in the original WEST SIDE STORY; to his involvement in the so-called "golden period" of the 60s musicals with shows like HELLO DOLLY and FUNNY GIRL; to the seminal Sondheim shows of the 70s like COMPANY and FOLLIES; to the groundbreaking Michael Bennett musicals A CHORUS LINE and DREAMGIRLS; to the highly successful British invasion of the late 80s and 90s with MISS SAIGON and SUNSET BOULEVARD; and finally with his return to Broadway as the director of the current hit revival of A CHORUS LINE which Bob originally co-choreographed with Michael Bennett.
The creative forces with whom he has worked are a who's who of the Broadway musical. They include Steve Sondheim, Kander and Ebb, Cy Coleman, Andrew Lloyd Webber, Claude-Michel Schoenberg, Neil Simon, Hal Prince, Tommy Tune and Cameron Mackintosh. And performers such as Mary Martin, Betty Grable, Barbara Streisand, Katherine Hepburn, Elaine Stritch, Jennifer Holliday, Diana Rigg, Eartha Kitt, Patti Lupone, Glenn Close, Julie Andrews and Carol Burnett, just to name a few.
As his interviewer/business partner/life partner, Peter Pileski, Assistant Director of A CHORUS LINE, offered "if, say, you've ever wondered what a certain diva is really like, or what Patti Lupone really thinks of Andrew Lloyd Webber, now is the time to ask".
BOB AVIAN AT THE PINES
Tony La Rocco was worried. It was a crystal clear day, last Saturday afternoon of the long July 4th holiday week – who would want to come indoors and attend the show he was producing: A Chat With Theater Superstar Bob Avian.?
As he set up the 70+ chairs, placed the flowers sent by Wilner and conferred with Steven Alan Black about the first FIPAP Theater Production of the season you could see the anxiety on his face. Bob and Peter were also his house guests.
Here's how it went:
Bob Avian began cutting school in New York City to see movie musicals like Oklahoma and South Pacific which he liked so much he was disappointed in live productions until he saw a revue called Almanac which hooked him and he began taking music lessons, but in his house "boys don't dance" so he did it behind closed doors. He came out from those doors at 17 when at Boston U they needed guys for their productions. They said he had a "natural gift" which he enhanced with 3 dance classes a week for 4 years.
In NYC his first show was West Side Story. He was a Shark ("it was the black hair – it was nice just having hair") and he was terrified until someone in his group, waiting to go onstage, whispered "OK Girls, lets get'em" and after that "it was OK".
He met the 17 year old Michael Bennett when he was 22 and went off to Europe with him thus starting a 30 year friendship with him as well as eventually becoming artistic partners.
When in the West Coast tour of Carnival he met his idol, Gower Champion and then landed roles in four consecutive flop shows "My flop years", but met Jack Cole, the innovative jazz choreographer.
He was a "swing" (understudy) in Funny Girl which meant he had to learn 16 parts, including the four versions Streisand, then 22, devised in order to keep up with the grueling schedule and her TV appearances, etc. "She missed 1 day the first year, and 1 day the second year". Of Streisand he said "She was shy, she probably knew she was an icon, celebrities came to the show and people waited backstage for her, but she was dedicated ...and not in rehab".
Avian then entered the Golden Age of musicals touring in the '60's with Hello, Dolly. Russia cancelled out of the tour so they were sent to Viet Nam and Korea. "It was really tough. No one wanted to go but Mary Martin talked us into it and we were always just ahead of the bombs. Security hated us, we were 75 people, and they were taking care of hippies...but it was good for the book".
He became stage manager for I Do, I Do and Mary Martin taught him a lot about the business.
He also worked with Betty Grable in the Vegas production of Hello, Dolly who was very self deprecating about her career. "I only have a career because GI's loved my photo".
In Henry, Sweet Henry he worked with Don Ameche who "was not a pleasant man,...homophobic" and then began collaborating with his friend, Bennett.
In 1968 , Promises, Promises, he worked with Bennett, Neal Simon, Burt Bachrach and talked about the "Turkey, Lurkey" dance number they put in to save the show in Boston.
In '69 there was a joke going around about Kathryn Hepburn's first and only musical, Coco, they requested Audrey and got Kate, who said "I can't sing, I can't dance, I don't know what gives me the G-damned right to do this show" ("we don't either"). With a usually drunk director she self directed and "played Chanel so butch.... the Lerner/Previn score was meaningless but Hepburn filled the house for six months, After she left Danielle Darieux took over and it closed in 3 weeks. Hepburn sold out on the road. I call it my Big Smash Flop".
1970 brought him to Sondheim's Company. It was so abstract, differently structured, it was "creativity at its peak". Stritch blew "Ladies Who Lunch" big time at the first preview during which she started tugging at her face and mouth ruining her makeup. Sondheim asked what she was doing. "Trying to pull out the words" she replied.
'71 was Sondheim's Follies which, despite a cast of Hollywood veterans "about older people tortured by angst was deemed too dreary in Boston." But Harold Prince kept it running. "Now, thirty years later, we are more cynical, more accepting".
Avian assistant directed Twigs starring Sada Thompson with Bennett. "We only sold 2 tickets for opening night so we passed out opening night tickets on the street. The show ran an entire season".
'75 marked the beginning of A Chorus Line, the first musical developed in workshops with . Joseph Papp. "We gave the cast a piece of the show if they worked with us. It was the first show about dancers. Bennett always wanted to do that. They socialized with them and got a 12 hour tape from which they molded a script. They thought it was too inside to be a hit but "people started crying and each tear is worth a lot of money. It resonated universally with rejection, the reality of it just came out and it won the most Tonys ever".
They worked together on Dreamgirls in '81. 20 year old Jennifer Holiday was in terrible shape, insecure, distrustng, uncooperative, lost her voice out of town. "She was brilliant in the show but it took an army to get her onstage".
Bennett's last masterpiece Scandal about women's sexual revolution had five ballets but it was the wrong time. AIDS had just become recognized. And it was when Bennett first became ill with AIDS and went through the hell of experimental drug programs. He eventually died in Tucson where he desperately went for medical help.
Avian got his first solo choreographer's job in London version of Follies in '87 where he met produ=cer Cameron MacIntosh. The he worked there on Miss Saigon.in '89. It was "a different experience, working in London with different material on an anti-American show". n there was the problem when they brought it over here of not casting real Asians and especially with Jonathan Pryce, who couldn't dance. They begged for a real Cadillac, a $40 thousand dollar prop for him to dance around. He asked if he could "f-ck it" and there created the hit "The American Dream" number.
Next came Andrew Lloyd Weber's Sunset Boulevard in London where the critics dumped on Patti Lupone. Glenn Close played it in LA as an assault on women and changed the mold of the character with the show continuing on as a star powered vehicle.
Avian won the coveted Olivier Award in London for Martin Guerre in '96 though it was a critical flop. Went on to off Broadway's production of Sondheim's Putting It Together with Julie Andrews who left it for Victor/Victoria and Carol Burnett joined the show and changed it greatly. He returned to London to do Witches Of Eastwick, a onor musical and swore off musicals, retiring to Fort Lauderdale until John Broglio convinced him to do the revival of A Chorus Line. "It was a wonderful experience though none can compete with the original cast. It recouped 150% the only musical to pay off". Though it cost him the Tony for Best Revival of Musical Avian defended his choice not to change much from the original, saying "It was Bennett's show".
He concluded with " I am lucky to have had such a long run and I'm still shaking my ass for a living".
Oh, and Rocco need not have worried; they raised $650 for the Arts project at the auction of tickets & signed poster of Chorus Line…and the 70 seats were filled with an appreciative and responsive theater savvy audience. Just didn't get the dirt we hoped for as he was being taped…. Drat!