TV WRITER JONATHAN AMES, ANYTHING BUT "BORED TO DEATH" IN KISMET                                            
                                        by Jeannie Lieberman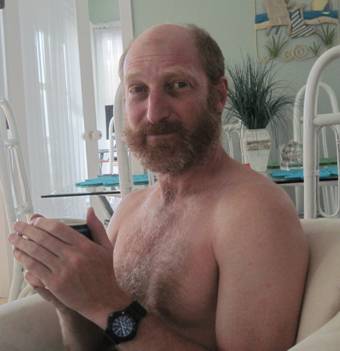 "As depressive and dull as I might appear in person the show is comedic with pathos" murmured the soft spoken, self effacing author (in sharp contrast to his wildly enthusiastic fans). But his light eyes (framed by red hair) radiated a quiet effervescence when discussing Fire Island, his newly found dream vacation spot.
Ames discovered Fire Island 10 years ago with friends on a few days visit to Point of Woods, and thought the island "amazing" (he's from Brooklyn. I can identify). Last summer, while walking through Kismet he saw Rusty's real estate sign and rented Last Oak. He returned to Kismet for a second season, first on Seabay, renting Joanne & Carmine's Terra Nova, and then, because he didn't want to leave, he made a lateral move to the corner of West Lighthouse and the beach. "I love it very much. As soon as you get here you never want to leave". Obviously spellbound, Ames claims that the pain of leaving is necessary to experience the joy of return in that moment when you step off the ferry onto the dock.  He has always rented beachfront and finds the spectrum of color exciting. "You don't get violet in NYC"
Ames' literary past has little relation to his currently successful TV series "Bored to Death". He previously wrote 4 novels, 4 collections of essays "of the literary genre", one an homage to P.G. Woodhouse; another, "The Extra Man" (an updated "Magic Mountain") while occasionally performing monologues a la Spaulding Gray at night "which kept my foot in both worlds; the solitary writer/ people person performer", and an occasional column in Playboy which the magazine used "to insert some substance between the photos".
Asked about the transition from his past writing to the current popular TV series and how it came about he said:
"My novels were most likely categorized as 'literary fiction'...I haven't really transitioned, in my mind, to pop culture, though I do reach a wider audience. The show's dialogue and references are somewhat literary.

The show came about after I wrote a short story of the same title. A producer at HBO, on my suggestion, read the story and encouraged me to re-imagine the story as a TV show, which I did, I then proposed ('pitched') the concept to HBO and they went for it.

The main character is a fictionalized version of me - he's younger, likeable, and not bald. I did have and continue to have a love for detective novels, as well as crime novels."
Before the TV series became a part of his life he lived 'like a graduate student" into his 40's (he is now 47). He resisted high tech and didn't use a computer until 1994. Before that it was a typewriter and white out strips.  "I still don't love it". He puts his ideas down on a small pad and types them in. Ames doesn't trust email and the rest of the new technology and sees it as a loss of privacy. "If you download a book into a Kindle they even have a record of what you read".
He maintains his old lifestyle in Brooklyn, not quite trusting this first taste of success. "I'm saving what I can". Last summer he was finally able to afford a vacation. "Fire island is my greatest extravagance".  
"Bored to Death" is starting its third season Oct.10th.  Inspired by detective stories, a well meaning but struggling writer decides to lead a sort of double life by pretending to be a private detective.