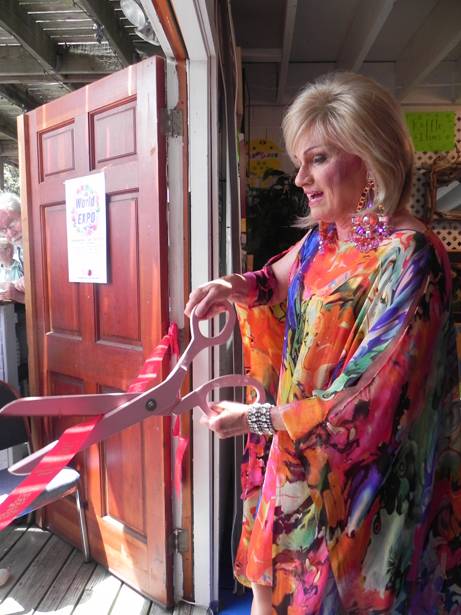 Homecoming Queen Robin Kradles cuts the opening ribbon at the 64th Annual APCG Art Show                                   photos by Denise Dell Harbin
Arts Project Cherry Grove hosts 64th Annual Art Show at Grove Community House
                                   By Denise Dell Harbin
The weekend of July 21 and 22 was the Arts Project's annual Art Show, which really has been going on since the building arrived by boat in Cherry Grove 64 years ago. Yes, it was really a horse barn in the Sayville area and was floated over, as were so many of the original houses, and pulled up the shore just west of the center of town.
This year the show featured 19 different artists. The longest displaying artist in the show is Cathy Eckdahl (see her work at eckdahl.com) who has been showing her work in this art show for 26 years. We have gotten to see her art change and evolve, and many locals are collectors of the artist.
Queen's Choice ribbon winner Cathy Eckdahl with the Queen herself in front of her highly-collected art.
Cathy remembers that in the early days of the Art Show, the artists took up just half of the theater, while Harold Seeley, Arts Project Board member and sometimes curator, took the other half to show his work. The Art Show eventually expanded to the stage, where Lorraine Michels now shows her photography, and to the Pavilion, where past Arts Project President Michael Coffindaffer showed his works in driftwood. Michael now has a studio in Patchogue, so look for more wonderful work from him as he combs the beaches and sends it over to the studio to be transformed into beachy looking mirrors, frames and lamps.
Other retuning artists included Dennis McConkey, who does beach paintings and lovely handmade pottery in great beach themed colors. Larry Crawford came up from Texas, with his great drawings of such things as a well made up eye. I got to sit with Larry later at breakfast at Floyd's and he talked about his art and how he loves to come to Cherry Grove. He showed me a magnificent necklace "with a coin of Alexander the Great…an original!" that he had found in an antique store. The artist eye carried into everything! Gilbert Baker then joined us and we talked more of the art show.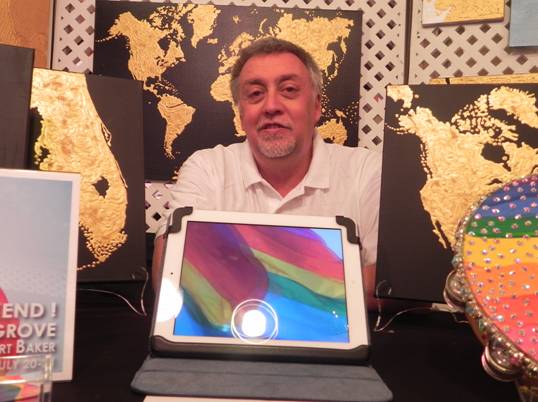 Gilbert Baker, designer of the gay flag, exhibits his new Map series at The APCG Art Show
There were a couple things the artists did not like…"there was a display of things that should be in a shop…not done by the person displaying them…yet wearing an artist tag. It does not seem right to do that…it is a different show for antiques or collectibles." They also wondered about the lottery for spaces, as it seems certain artists always get the best spaces. Just lucky? They didn't seem to think so.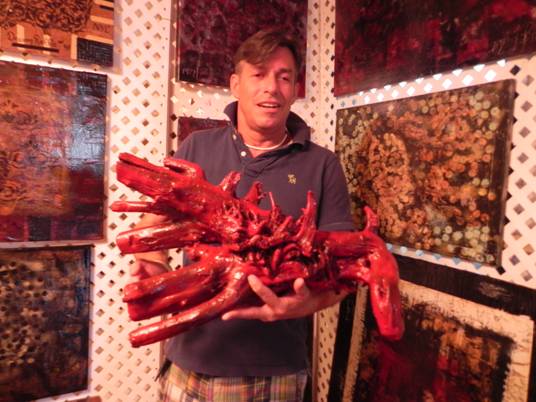 Artist Michael Fitzgerald show off his driftwood Lobster art against a backdrop of his paintings
Returning artists included Michael Fitzgerald and Cercé with her erotic photo of women.
More retuning artists included Joan vanNess, who showed photos of her trip to Africa, and John Mansueto, who exhibited very realistic, detailed paintings.
Michael and his partner Frank Borsas were the chairmen of this year's Art Show. Michael told me they had about the same number of artists as last year. This included three new artists: Gilbert Baker, designer of the gay flag, who had rainbow materials as well as his new series of maps; Joe Roselli with his magnificent photographs; and Anya Kroencke, who has a gallery in NYC, is a well-known fashion illustrator and is the wife of the couple building the big new house on Lewis and Aeon. Anya donated all proceeds from sales to the Arts Project. Bravo Anya!
There was also a donation by Mandi QK and his partner Joe of the artwork of John Falocco collected by the late Lee Huot. Everyone in Cherry Grove loved Lee…he was always present to help the performers with hair and makeup at the shows, and this was a kind donation in his memory by his friends. Artist Mr. Falocco originally designed swimwear and much of that is featured on very buff men in the artwork.
As always, the first two hours of the show are exclusive to the Arts Project Members, and since it is all one of a kind art, the members get the best choices! One of my favorite artists is Michael Abdis, partner of performer extraordinaire Philomena. Michael makes beautiful stained glass hangings which integrate shells from the beach into the design. Last year, I was quite disappointed that they had all been sold, so I was sure to stake my claim early in the show!
Each artist also donates a piece or more to the very popular raffle. The Arts Project sells lots of raffle tickets for pure profit and then draws the winning numbers about an hour before the show ends. (So if you had your heart set on something, you still have a little time to go buy more art?) This reporter won a vintage Eckdahl painting…valued at about $300…for the price of $50 in raffle tickets. Many others won great art, and then a little trading went on, so everyone left very happy! The Arts Project made over $1,100 from the raffle…which goes to much needed funds to keep the shows and buildings going. Bravo to the Raffles ticket buyers and especially to Anita Auricchio, who knows how to sell a raffle ticket!
As is custom, the reigning Homecoming Queen cut the ribbon to allow patrons to enter the Art Show. This year it was Queen Robin Kradles wielding the big pink scissors. She then awards the Queen's choice ribbon to Cathy Eckdahl, meaning she confers her ribbon on the piece she thinks is the best in show. In the absence of Arts Project President Martha Pitkin, past Queen and VP Troy Files awarded the President' Choice ribbon to Jeff Greenberg.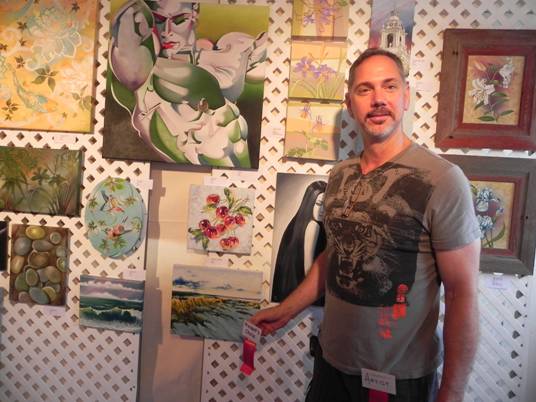 President's Choice ribbon winner Douglas Topper with his paintings.
The membership and artists had first been treated to a champagne reception, with bartenders Joan vanNess and Bud Henrikson. It takes many volunteer to make the Art Show happen, and thanks goes out to all of them for sharing these visually wonderful moments with us.
Be sure to come next year…you will be amazed at the talent in the Grove!
Denise Dell Harbin is publisher of TheVioletLetter.com.