18th Annual Henry Gates Memorial Clam Shucking Fundraiser for the West Islip Breast Cancer Coalition
                                           Photos and text by Bradlee
The 18th annual Henry Gates Memorial Clam Shucking Fundraiser for the West Islip Breast Cancer Coalition (WIBCC) again went off smoothly and profitably under the auspices of an army of Kismet volunteers.  Under the direction of Margaret Campise of WIBCC and Jane Mooney of FI Ferries,
Rose Liotta and Deb Sommeso, many busy bees worked tirelessly Monday night wrapping gift prize baskets, and setting up.
Starting early evening the night before the well seasoned group: the Xanadus en masse, Jane Mooney, Rose, Debbie, Dawn Leone, Cindy & Steve, Kelly & the Boatel kids, Margaret and her entourage, was most efficient, stopping only for Out supplied Pizza 'n salad and beverages, the seemingly endless gifts and prizes were quickly wrapped and placed for storage inside the Out. Well done! Finished in record time – well before midnight.
Cindy was particularly proud of the wagon
They were out again by 8 a.m.  Summer Wind's Cindy put together a Wagon of Cheer for raffle she amassed from donations spurred by emails.
Again, more volunteers sold raffle tickets (Rose Lem, at 90, never misses this event), flipped burgers (Tim Mooney) and handled all the other important details. There were hundreds upon hundreds of raffle and auction prizes, all donated by local businesses.  There were freebee t-shirts from WBAB, pink bracelets from a hopeful political candidate and pink-rimmed sunglasses from somewhere.  Brian Kelley professionally provided the ongoing music as DJ Rocket Fuel with an announcer from WBAB. 
With some money still outstanding (credit card charges), total raised was $67,000, $7000 more than last year.
The Corn Shucking Contest
In the preliminaries, children shucked ears of corn under the supervision and tutelage of Buddy and Chief Dom.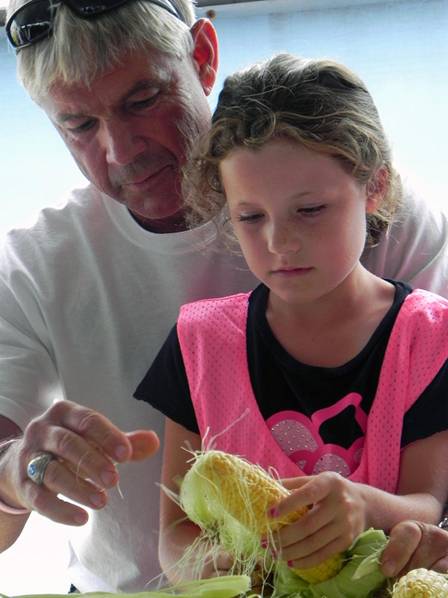 Buddy, back in role of teacher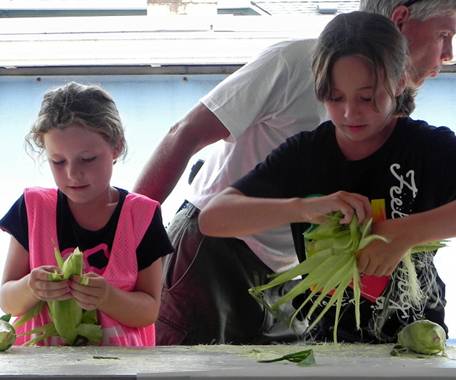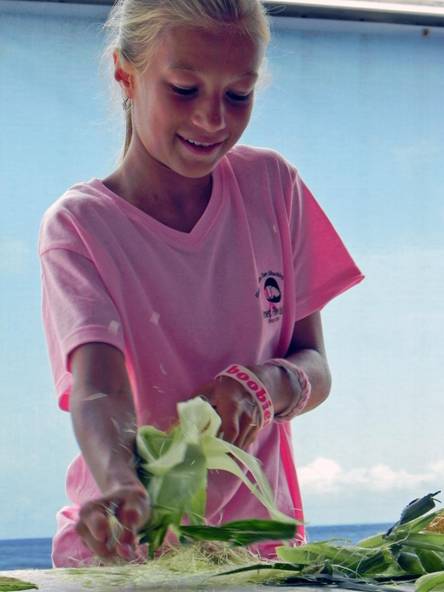 Meghan husking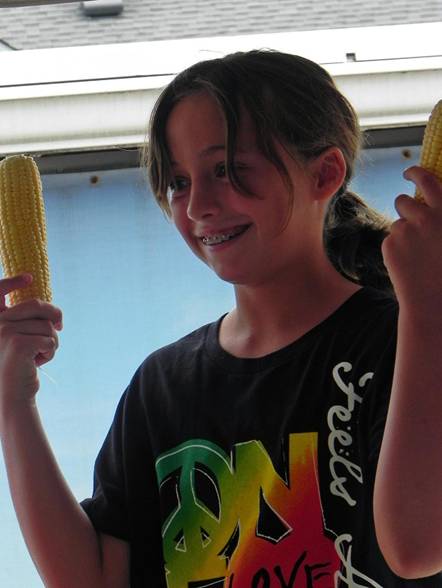 A winner!
The Clam Shucking Contest
Going through hundreds of donated clams, Shucker John Grab easily beat out previous winners Nick LoMonaco, John Accettella and Gary Lescinski as well as his own sister, Sissy.  He took the title over Roger Holewinski by only 4 seconds at 3:35. 
The large crowd danced happily while awaiting the announcements of the winners.  The 50/50 winner (the event tent and its denizens were very loud) donated some part back to WIBCC.   Denise Minestoka of W. Oakdale won a weekend in Kismet.  In the box pools, Jim and Regina F the two 42" TVs, Rachel Sunshine the RV vacation, Steve Stefano the other vacation package, Vic Liotta and Amber Butler the Budweiser bikes.  There were grand prizes of $1500, 1,000 and 500 (winner Damian Germain).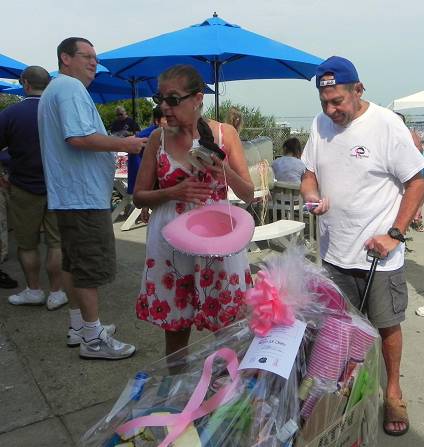 Delivering the Wagon of Cheer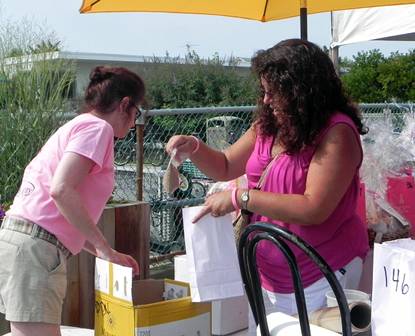 Kelly setting up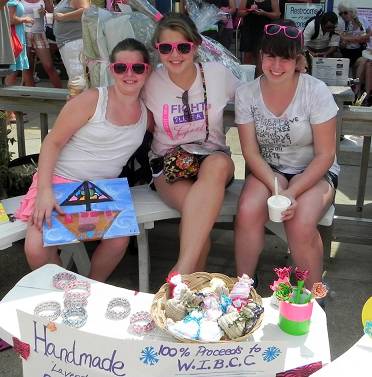 Creative creations by Courtney, Klarissa and Ashleigh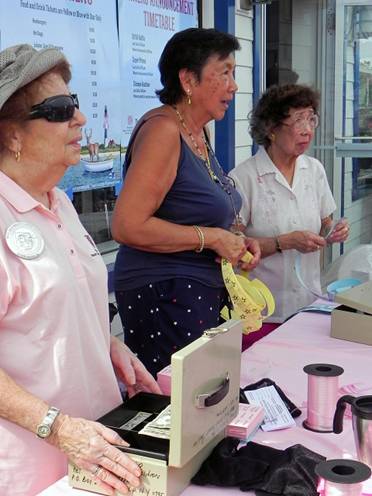 Rose Lem ® never missed this event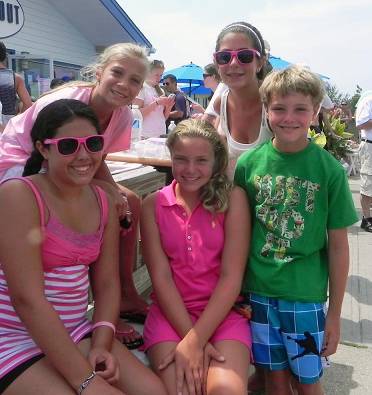 Dynasty gang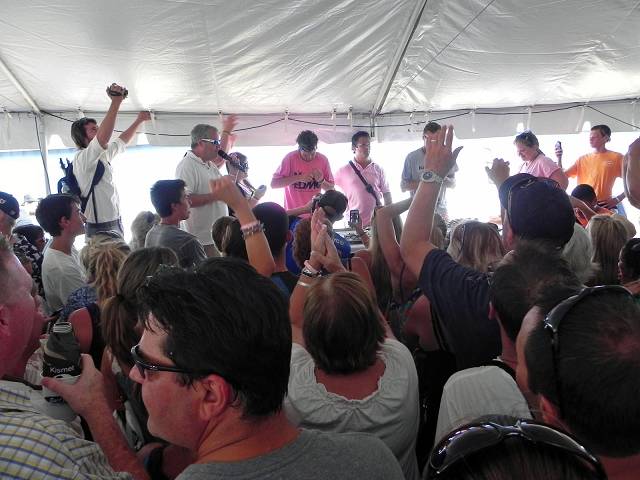 The crowd cheers the clam shucker contestants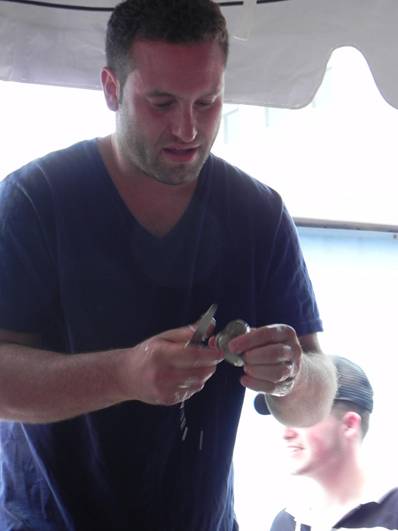 This is how it's done!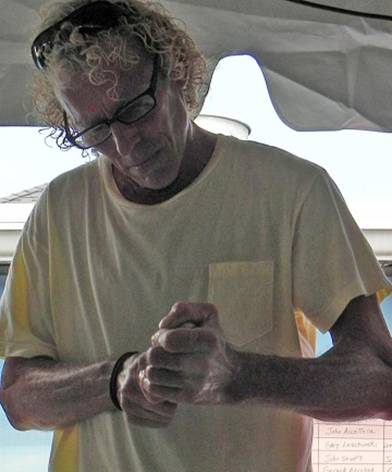 John Grab shucking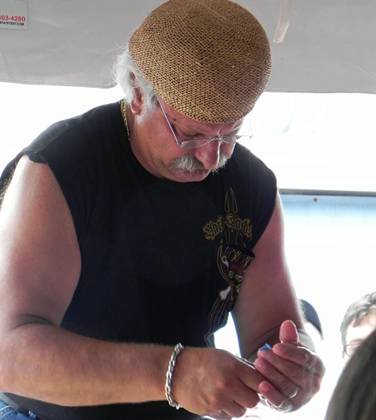 Nick LaMonico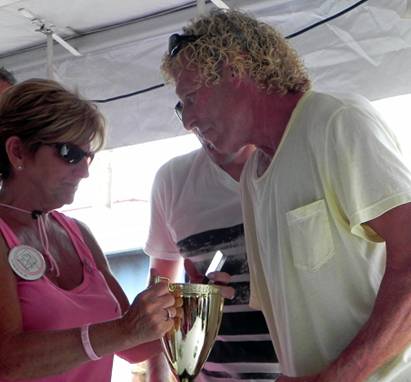 WIBBC's Margaret Campise presents the trophy 
Winner John Grab and Dom Bertucci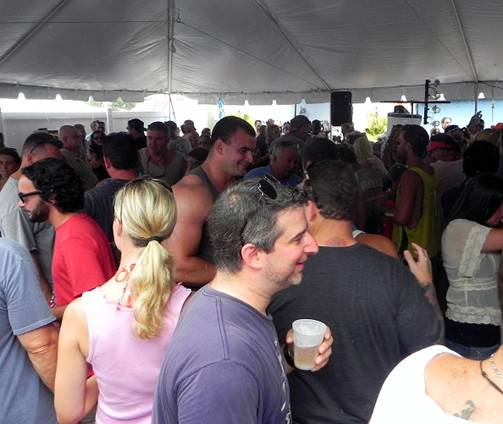 The Kan Jam contest
Kismet residents keep finding more ways to raise funds for the important work of the West Islip Breast Cancer Coalition.   15-year Brett Whooley of Oakdale and Kismet's All 4 You, organized two incredible fund-raising efforts. The Kan Jam contest was born last year after Brett met Margaret Campise.   With little advance notice, the beach was flooded with youthful entrants.  This year's organizing began in May and attracted more than 65 participants between the ages of 8 and 25.  Kan Jam is a beach game in which a team of two attempts to sail a Frisbee through a narrow slit on a "kan" about 20 feet away.  While one partner throws, the other tries to guide the Frisbee into the slot.  Partners were organized in brackets with semi and semi-finals.  The three final winning teams were to receive prizes donated by the Kismet Inn, Surf's Out and the Pizza Shack.  Sports Authority donated a number of Kans for the contest which raised $325.  After Brett's aunt died of breast cancer in May, Brett also organized a second fund-raiser.  He sent out letters to friends and acquaintances asking for a $25 donation for a chance for a weekend stay at his Kismet House.  This effort raised over $8,500.  Brett's brother, TJ, who has been working for the Kismet FD helping with shirt sales every weekend, will donate his stipend to the cause. Several other groups of children pitched in.  For the 8th year, cousins Sarah, Lianna, Lindsay and Samantha, staying in Dynasty, sold jewelry and hand-made items for WIBCC and the Avon Walk for Breast Cancer charity.  Ashleigh, Karissa and Courtney (under the name Creative Creations by AskKarCourt" sold jewelry while Danielle, Merissa, Shaelyn and Jordan sold feathery hair extensions.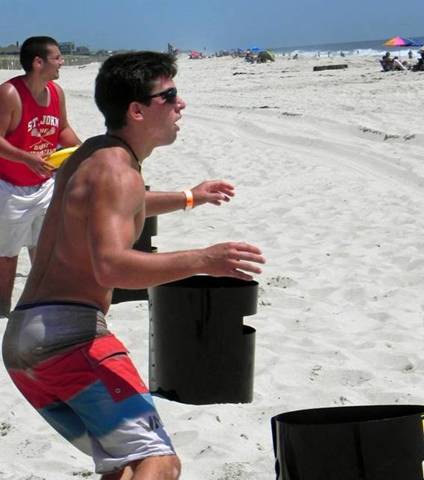 Waiting for that Frisbee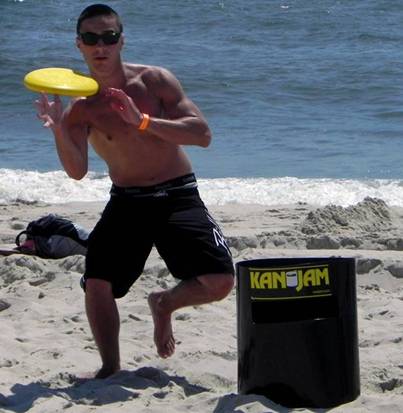 This is how we play the game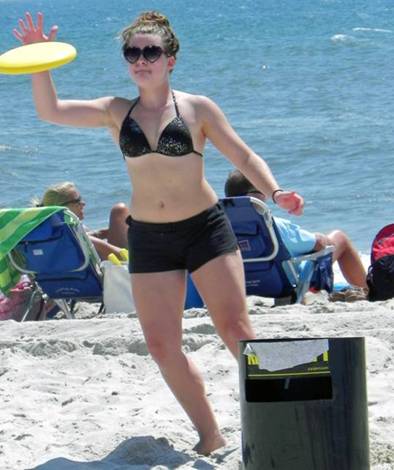 Seems easy enough to me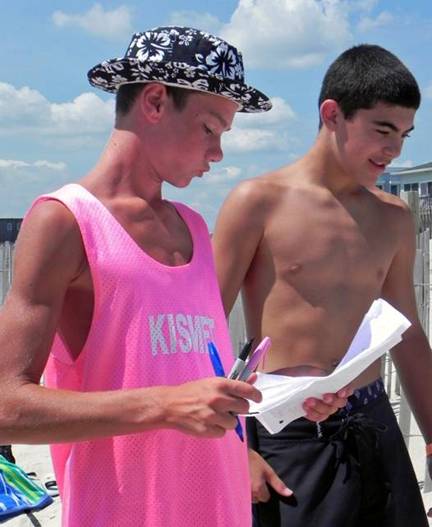 Organizer Brett Whooley checks bracket lists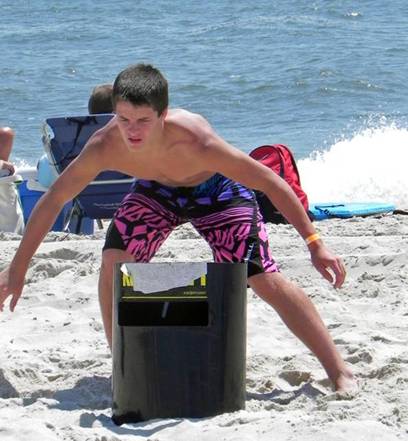 Got it covered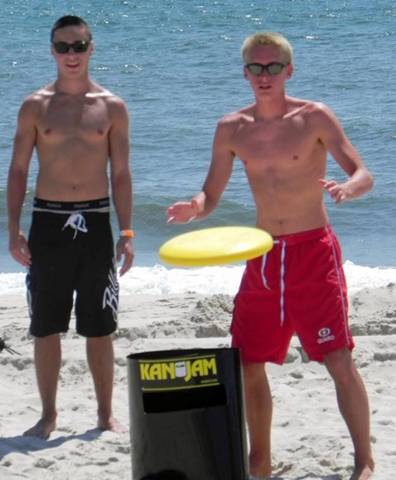 Right at ya
Tennis Clinics
Maxine from Dunewood, along with Warren Lem again organized tennis clinics. Volunteer professionals from the U.S. Tennis Association, under the direction of Long Island Eastern U.S. President, Daniel Burgess, and including Ed Wolforth, Ashley Horishny, Bill Mecca, Marius Jaskowski and Warren instructed both kids and adults.  The kids played with miniature portable nets, now mandated under an international USTA rule change for youngster under 10.   It did seem to make it easier for them, allowing the Pros to closely coach Fiona, Evan, Brooke, Kevin, Caitrin and the Cole cousins, Emmet and Caelinn.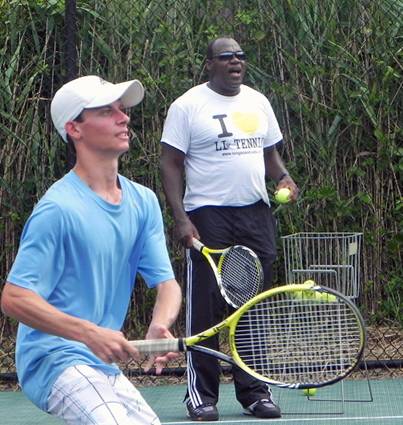 USAPT President Daniel Burgess giving pointers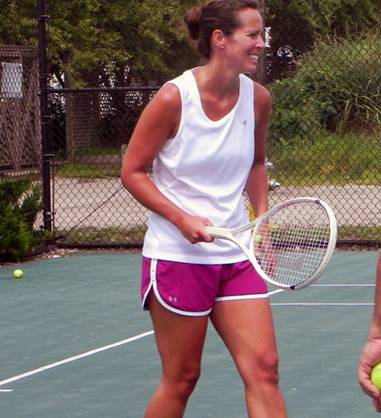 Taly Crowin tennis clinic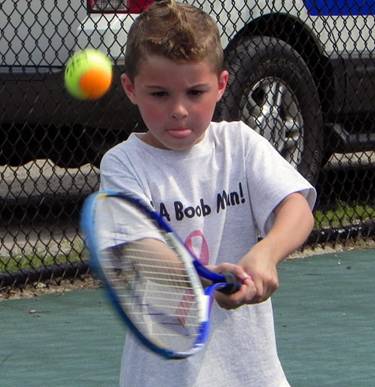 I've got it!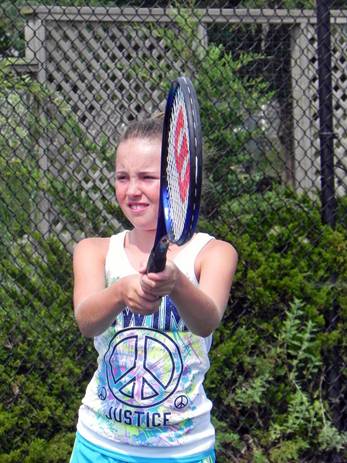 Fiona has her eyes on the ball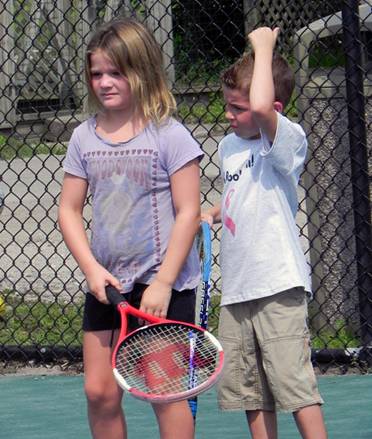 Brooke looking pensive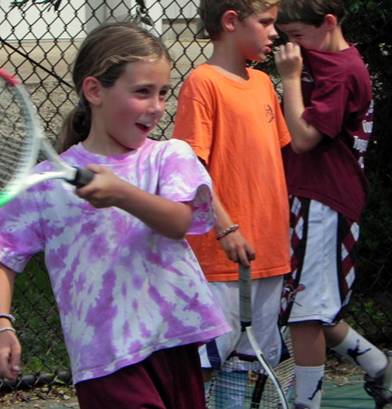 Caitlin's got it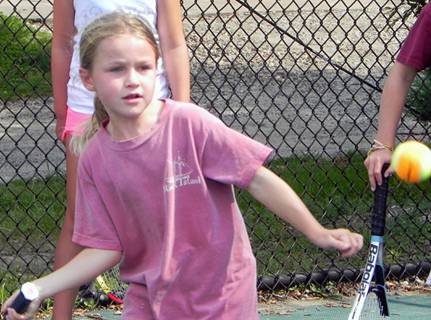 Cousin Caelin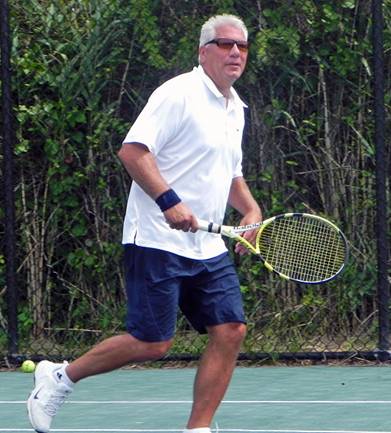 Even grown-ups like Gary could learn
          All in all, it was a wonderful day for all the participants and a wonderfully successful day for WIBCC.
.