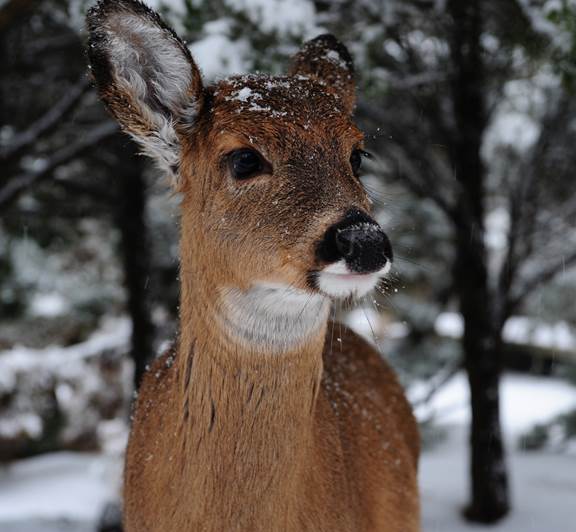 Photo by CherryGroveGuys.com
NPS & FINS Deer Management (Murder) Plan and Environmental Impact Statement (EIS)
by Jeannie
After soliciting our opinions and taking over 3 months so far to "analyze" a mere 1600 comments from the public, a conclusion will be reached in January. Among the most grievous elements is the punishment by death of any deer exhibiting a lack of fear of humans – with whom they have cohabitated all their lives - why don't they just shoot us for befriending them – we are the guilty ones in this absurd plan.
From: michael_bilecki@nps.gov
To: hrmjeannie@aol.com
Sent: 12/12/2014 4:37:42 P.M. Eastern Standard Time
Subj: Deer Management Plan Status
Ms. Lieberman
Here is the current status of the National Park Service's (NPS), Fire island National Seashore, Draft Deer Management Plan and Environmental Impact Statement (EIS):
The Plan and EIS went out for public review and comment on July 31, 2014 and the review period ended on Oct. 10, 2014. We received over 1600 comments during the public review period. At this time the NPS is analyzing all the comments to ensure we have considered all reasonable actions in the plan/EIS. We hope to have the comment analysis report completed before the end of January. At this time the NPS will decide if there is a need to make any revisions. If revisions are warranted they will be documented in the Record of Decision, which will go out as a Federal Register Notice and the Final Plan will be revised and posted. The ideal situation is to have an approved plan before the summer of 2015.
You have also asked if I would briefly summarize the NPS Preferred Alternative. Here is a summary for that alternative.
The following actions would also be common to all action alternatives:
-human-deer interaction management
-education/interpretation
-deer behavior monitoring
-incident reporting and response
-vegetation monitoring
-deer population monitoring
-enhanced public education and outreach effort
-fencing of the Sunken Forest
-securing the boundary fence at the William Floyd Estate
-tri-annual enhanced vegetation monitoring
-annual enhanced deer population monitoring
-minimum requirements analysis (for actions in the Fire Island Wilderness)
-coordination with the New York State Department of Environmental Conservation
Aternative D - The NPS Preferred Alternative includes the following, in addition to the actions described above:
Deer browsing management actions would include exclosure fencing in the Sunken Forest (approximately 44 acres of maritime holly forest), fencing of an area encompassing the historic core at the William Floyd Estate (approximately 80 acres), and small-scale fencing to protect special status species. The deer population would be reduced to an appropriate deer density to achieve the plan objectives (estimated at 20 deer per square mile across Fire Island and 20 deer per square mile at the William Floyd Estate) through a combination of sharpshooting, capture and euthanasia of individual deer (where appropriate), and public hunting (within the Fire Island Wilderness only). Once reduced, the deer population could be maintained through fertility control. Fertility control would be implemented using a chemical reproductive control agent (when an acceptable agent becomes available). Until an acceptable and effective reproductive control agent becomes available, the deer population would be maintained using the same methods used for direct lethal reduction as described above. Deer observed approaching humans within the Fire Island communities would be captured and euthanized to reduce the risk of negative human-deer interactions and prevent other deer from learning this behavior through observation. Alternative D has been identified as the NPS preferred alternative.
If you have any questions please contact me, at the number listed below or Ms. Lindsay Ries at 631-687-4768.
Michael S. Bilecki
Chief, Natural Resources Management
Fire Island National Seashore
Off. 631-687-4760
Cell 516-805-3362
Fax (631) 289-4898
email: michael_bilecki@nps.gov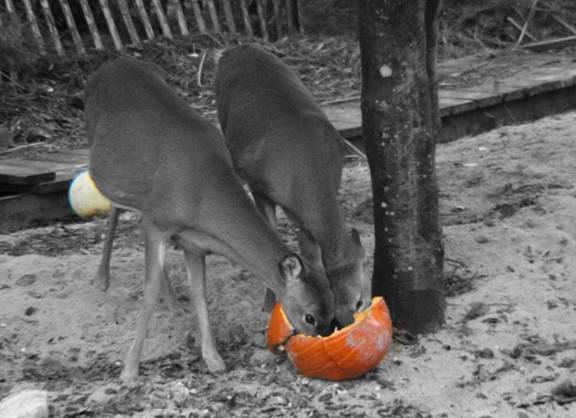 http://www.lulu.com/shop/tanya-fuchs/a-fire-island-story/calendar/product-21949507.html
Note: these deer will be killed merely for eating food from humans
They are penalized for our friendship
 The doe on left appears pregnant
 By the government discontinuing the successful 2 year fertility programs the deer population has grown, hence the problem – now they must pay with their lives.
BTW providing sport for hunters in the procedure
This was the flyer widely circulated soliciting responses