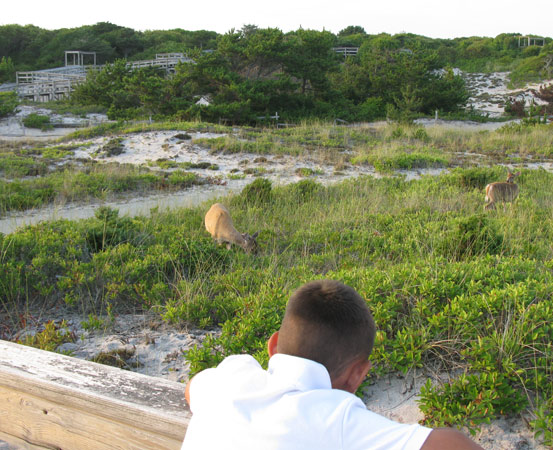 When Fire Island National Seashore was established more than forty years ago, the sighting of a deer was rare. Today, deer are commonly seen in many parts of the park and in the Fire Island communities. While the chance to see wildlife is still valued by many people on Fire Island, there are concerns related to the abundance and distribution of deer within the boundaries of the Seashore.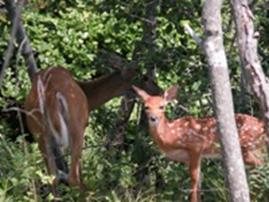 A doe and her fawn in the maritime forest at Watch Hill.
White-tailed deer are the most widely-distributed large mammal in North America. While native to Atlantic barrier islands, they were apparently not numerous on Fire Island when the park was established in 1964. However, their numbers have increased dramatically since that time, along with issues relating to an overabundance of deer: their impact on native and cultivated vegetation and forest regeneration, and their association with the spread of disease.
Deer can be found across Fire Island: from the densely populated Fire Island communities on the western end of the island, to the undeveloped Otis Pike Fire Island High Dune Wilderness on the eastern end. Deer also live and forage at the William Floyd Estate, on Long Island.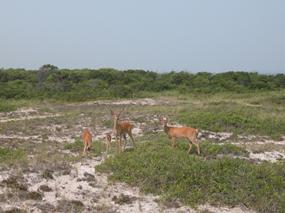 Deer behind the dunes in the Fire Island Wilderness.
There are currently approximately 300-500 deer on Fire Island.
Deer density, or the number of deer per square mile, varies widely between locations on Fire Island. (This number is also frequently provided per square kilometer, or km2, in many studies.)
The number of deer, however, is not as important as the impacts related to their abundance and distribution.
So, where are all the deer? White-tailed deer are crepuscular. That means that they are typically active at dawn and dusk, but may be out of sight during the middle of the day.
Bucks in field at William Floyd Estate, late November.
PHOTO BY DIANE ABELL
Bucks use their antlers to spar with other males during the rut.
Basic Deer Biology
White-tailed deer mate in November/December.
Male deer, or "bucks." can be identified during the mating season by their antlers, which they grow and shed annually. Antlers consist of bone, cartilage and blood vessels, and are covered by a living tissue called "velvet." The growth and shape of antlers depends largely on nutrition and genetics.
Through autumn and much of winter, antlers remain intact for mating displays and territorial defense.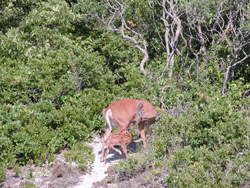 Doe and her fawn in late June on Fire Island.
The female deer, or does, give birth to 1 to 3 young in mid to late spring.
White-tail deer live from 6-10 years in the wild, but may live as long as 18 years on Fire Island. Unchecked, deer may double their population numbers every 1˝ years.
Their weight can range from 110 to 300 pounds. Deer are herbivores, eating about 4-6 pounds of a variety of plant parts each day. As they browse, deer can affect the abundance and composition of plant species in their habitat.
Deer have no natural predators on Fire Island.
Sunken Forest understory vegetation, the low-growing wildflowers and seedlings that live under the canopy of the trees, in 1967 (left) and in 2002 (center). Herbivore exclosures (right) allow researchers to monitor seedling establishment in Fire Island's rare maritime holly forests. Impacts of deer threaten the regeneration of ancient American holly trees in the Sunken Forest.
Deer and Vegetation Research on Fire Island
Fire Island National Seashore has been involved in a number of vegetation and deer monitoring programs over the past 40+ years. During surveys of plants in the Sunken Forest in the late 1960s, no deer were reported. From studies conducted in preparation of the Seashore's draft Master Plan and 1978 general management plan (GMP), signs of deer browse were evident in the Sunken Forest, and 46 deer were observed in an island-wide aerial census conducted in 1971. By the early 1980s, deer abundance and their impacts on vegetation were beginning to be noticeable across the island. By the mid-1990s, deer had become very abundant within the Fire Island communities.
How many deer are there on Fire Island? In 1974, Fire Island's deer herd was estimated at 50 individuals, by 1989 it was close to 500; and in 2003 it was estimated to be between 500 and 700. From population density studies over the past few years, it is estimated that 300 to 500 deer now live on Fire Island. (A deer fertility study was conducted on Fire Island from 1993-2009.)
During this same period, from the 1960s to present, studies at the Sunken Forest have revealed a reduction in the number of plants and small trees in the understory. Other areas within the park also exhibit impacts to vegetation.
Learn More about Deer Research on Fire Island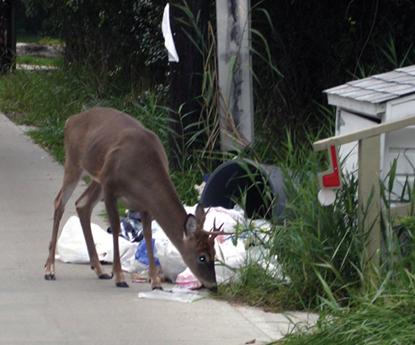 Deer scavenging through unsecured garbage bin in a Fire Island community. Debris can attract rodents and other wildlife.
Deer can be found foraging in gardens or rummaging through trash in most Fire Island communities.
Coexisting with Wildlife
There are almost 4,500 homes in the 17 communities within the boundaries of Fire Island National Seashore. Where there are residences, there are often garden plants. Deer tend to prefer succulent plants and often forage around homes in Fire Island communities. The human environment seems an unlikely place for wild animals, but gardens and garbage are an abundant food source and raised houses and boardwalks provide shelter.
Learn more about how People and Deer can Coexist on Fire Island.
Deer Management Plan
Fire Island scientists have conducted research and a variety of other studies related to deer for many years. However, the park does not have a deer management plan. In 2011, the National Park Service has begun the process of preparing a White-tailed Deer and Vegetation Management Plan and Environmental Impact Statement (EIS)for Fire Island National Seashore. Your participation is vital to this process.
Please visit the National Park Service Planning, Environment and Public Comment (PEPC) website for further information.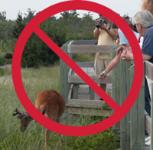 Feeding deer is not only unhealthy for the deer and potentially unsafe for you, it is also illegal to feed wildlife in a National Park Service area.

Please help keep our Fire Island wildlife wild—Don't Feed Deer.
---
White-tailed deer are beautiful creatures and it is exciting to view them at close distances. On Fire Island, white-tailed deer are accustomed to humans and tend not to flee. For this reason, people can get very close to white-tailed deer and, oftentimes, try to touch or hand feed them. It is understandable that a close encounter with a wild animal in a natural setting is exciting. However, it is best to maintain a safe distance from white-tailed deer in order to promote a natural environment for the animals themselves and to protect yourself from harm.