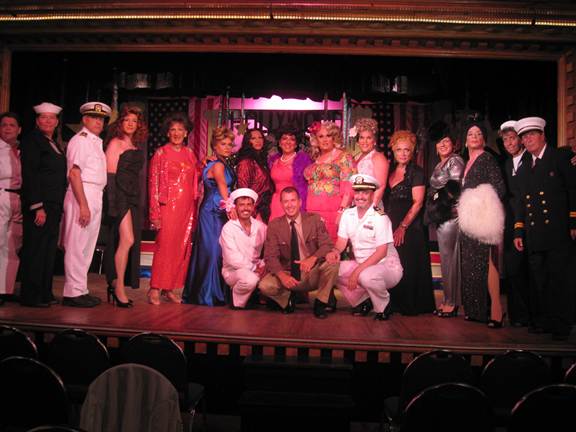 HUBBA, HUBBA, HUBBA The 1940's Revue
There are some shows you really should see more than once to catch every little detail and nuance – and that is what Director Donald Labohn now his 15th year as creator of the Doctor's Fund Benefit (why don't we just cal it – Donald's show?)) is all about –
I remember the first one at Cherry's. There was no seat for me so I sat on the floor between peoples knees, drinks spilled on me, ashes flicked – but even then I knew I was seeing something special(specially when I heard my favorite Barry Sisters – er, the Shapiro Sisters "singing" to me Romania Romania! And years later the one remaining Barry sister even came to a performance – everyone was ferklempt!)
Donald's discipline as a director is legendary – I once wrote his shows were choreographed to an eyelash and, when I tried to catch Charity's eye after her number for a Thumbs Up! It still holds – her eyes were on the rest of the cast as were everyone else's, so professional schooled as they were.
Tight as a drum, the show flies so fast that that big number you think is intermission you discover in dismay it is in fact the finale –
Always leave'em wanting more!!! Put me down for next year!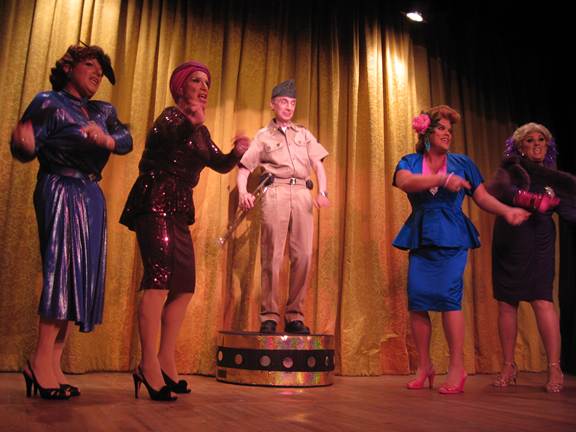 Right out of the gate is a whopper with four forties beauties in Boogie Woogie Bugle Boy
And guess whose it is! Arthur! I have watched the unassuming behind the scenes go-to guy Arthur tip toe into the spotlight- this time he took it in obvious relish as the bugle boy of the Andrews Sisters fame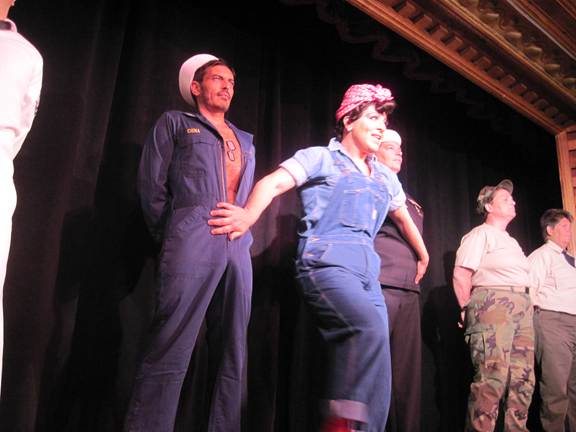 Margo is mischievous incarnate in her Rosie The Riveter persona pleading "Bring On Those Wonderful Men!" scarce during the war years what a group this is: Eddie, Dan, Jack, Rob, Joanne, Bobbi, Sallyann
The heart throb of the forties was Frank Sinatra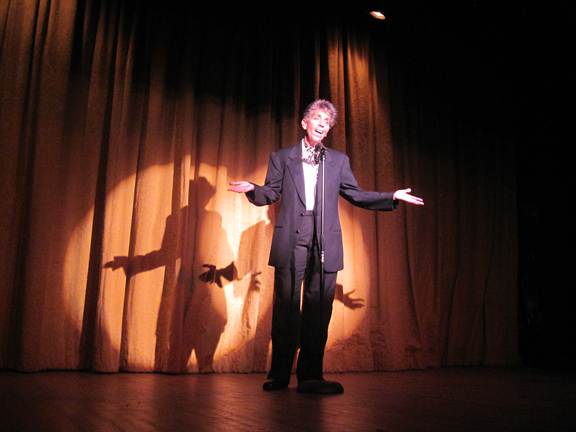 and here he is, a skinny thing before he became "Ole Blue Eyes" and Doreen has that gaunt look, high cheekbones crooning "All or Nothing At All'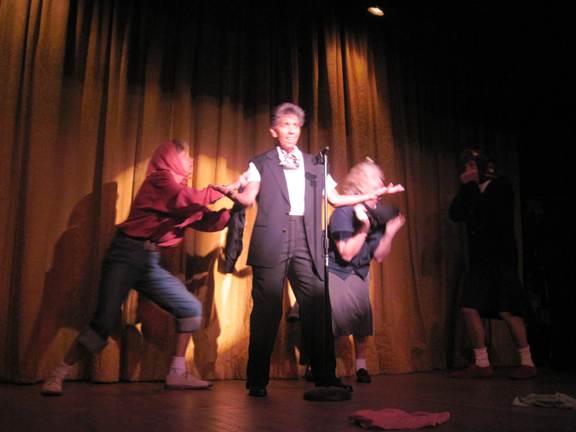 as crazed fans Urban, Jane & Peg
Leave him with Nothing At All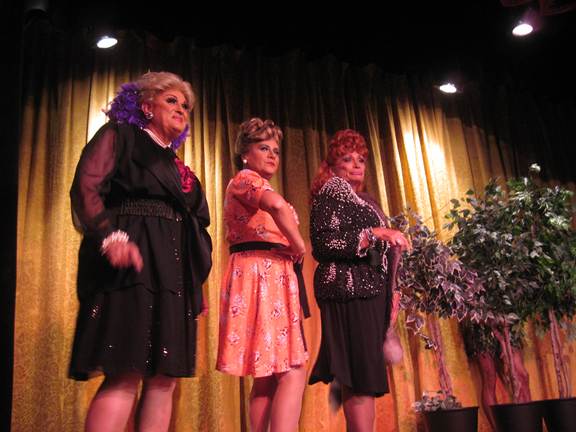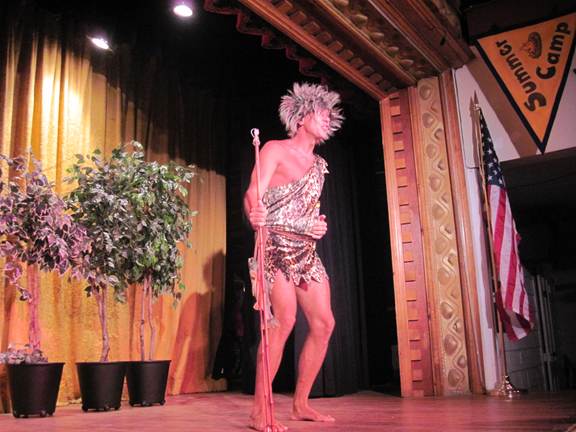 Who wouldn't leave Civilization if they could spend life in a jungle with Dapper Dan Daly, who, beside wowing us with his brain up till now, also wowed us with his body – a long overdue treat even lip synching (now everybody doing it) in " I Don't Wanna leave the Jungle Oh No No No – just ask Charity, Bella & Lola!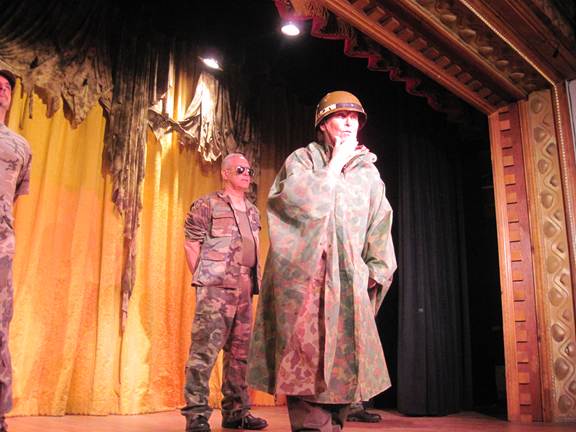 Bobbi claims The Army Has Made A Man Out Of Me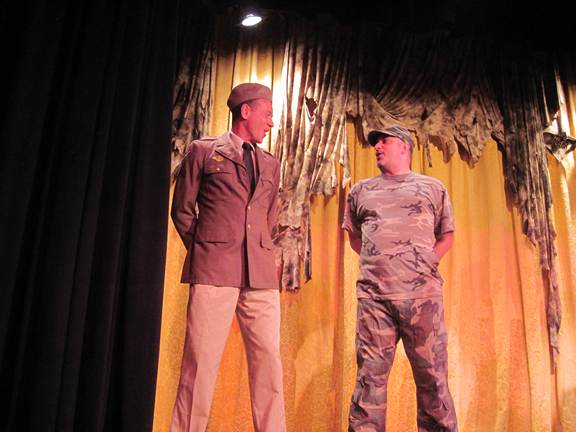 And Dan (wasn't he just naked?) and Eddie seem to agree
Next was "This Man's In The Navy" with Demi, Joanne & Doreen but proof that the show flies it was pver before I could change batteries! So Sorry.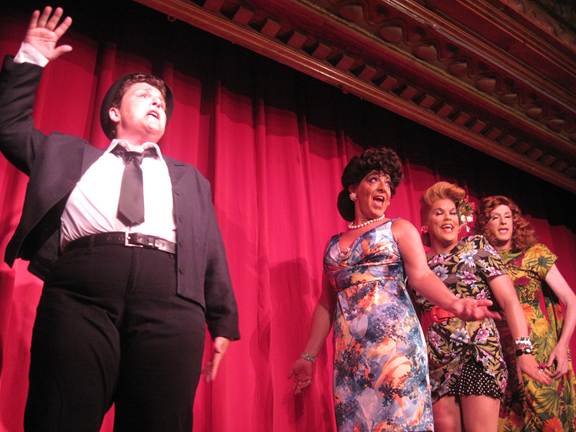 Newest cast member SallyAnn says " South America (can) Take It Away" as keeping up with hot tamales Margo, Urban & Coco is killing his sacroiliac.
Keeping it South of the Border Sylvia & Shirley put their own spin in their signature interpretations – this year "Channa from Havana" who are having troubles since "my chala" came back from Havana who is now "caballero…I remember him when his name was Don Shapiro"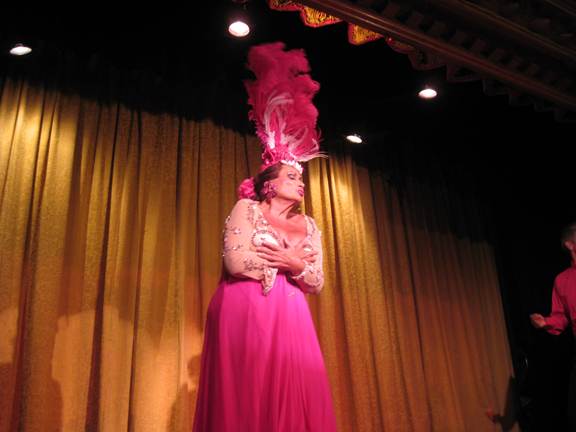 Beloved icon Carmen Miranda was brought to life by beloved icon Bella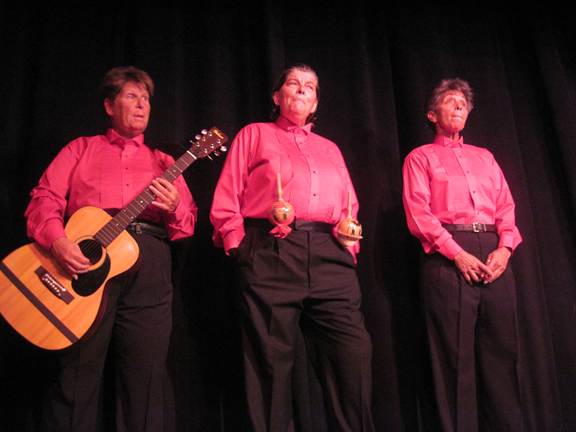 who enticed caballeros Joanne, Bobbi, Doreen & Jack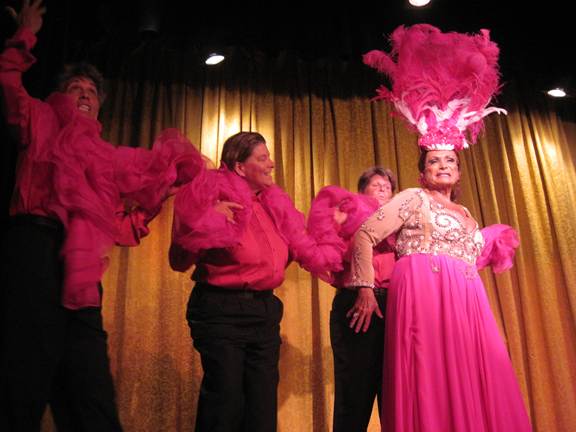 to grab a ruffle and shake it up with her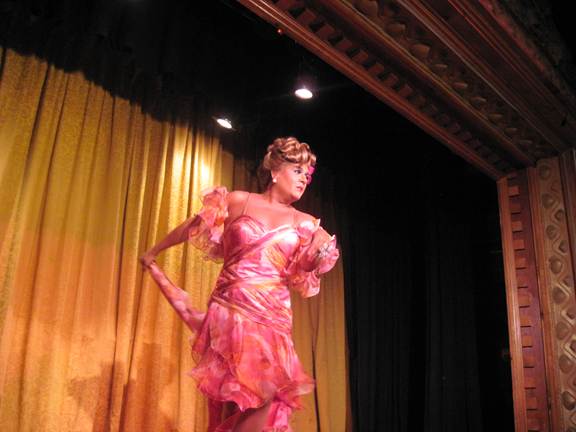 But if Bella only had three…, Spitfire Lola had a whole conga line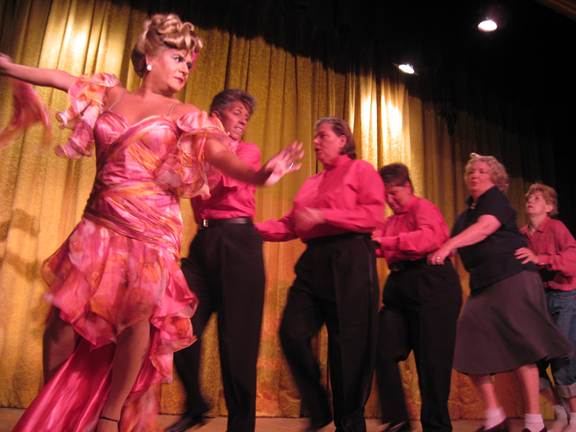 this Latin Lola has never been so beguiling as she embodied the spirit of Carmen Miranda and other flirtatious sirens so adored by north Americans just discovering Latin America the in the 40s (think Coat)
Ever growing to incite the director and stage hands from the wings to join in! Clever fun!
FLASHBACK TO THE 40's Tonight….we will toast to the hosts of The Hollywood Canteen To those who all chose to take time away from the big screen Your entry is complimentary when in your uniform
"It was a very memorable time in history…so many people consumed with the worries that come with a war, and at the same time Hollywood was Booming…and music was evolving in a whole new direction…and for all that happened in the 1940's…it paved the way for our future….Now let's FLASHBACK BACK BACK!
(SUNG TO BOOGIE WOOGIE BEAT)
BACK to the forties. the good old days When big band and boogie woogie music were played
Remember the leaders of the band Like Benny Goodman, Tommy Dorsey, Glenn Miller AND…Rosemary Clooney was a croonin'…. Sinatra had'em swoonin'
And jitterbuggers jived until they could not stand
Remember Perry Como and Artie Shaw, Ella Fitzgerald and Dinah Shore "Hi De Ho" Cab Calloway, Dizzy Gillespie, Count Basie, Billie Holiday
And how could G.I. enlisters resist The Andrew Sisters
The music of the "40's" took your breath away: "Zip A Dee Doo Dah", "Sentimental Journey" "You'll Never Know""Chatanooga Choo Choo", "Take The A Train", "Stardust", "La Vie En Rose" "All The Things You Are"…"Swingin' on A Star"
The Boogie Woogie Bugle Boy & Buttons
Flashback to an era when the "Silver Screen" Graced us with the glamorous movie Queen
Cinema greats like Hedy Lamarr Rita Hayworth, Alice Faye and Lana Turner were stars.Ingrid Bergman was a beauty…and Judy was a cutie
But Betty Grable! (Wow!) Betty Hutton(POW!) And Betty Davis(POW!) were some of the greatest stars by far!
Back when Warner, RKO, and MGM featured most of Hollywood 's leading men.
Some of the greatest stars we've had Like Humphrey Bogart, Spencer Tracy, and Alan Ladd
On Screen Bob Hope would sing…just like his Buddy Bing
While Tyrone Power Cary Grant and Van Johnson would drive the ladies mad!
Citizen Kane, Maltese Falcon, Mildred Pierce…Mrs. Miniver, Yankee Doodle Dandy, Gilda, Gaslight, Casablanca , Now Voyager
There was "The Bishop's Wife" "It's a Wonderful Life", "Rebecca" and "The Postman Always Rings Twice"
So, when you flashback to the 40's, think about The music and the movies that, without a doubt Will always be in your memory Just like the people that made them part of history
So now if World War 2…makes you feel real blue Just make a 'V", A giant "V"
Because a 1940's "V" means "V" for VICTORY! ©2011 DAN DALY
Thank you Dan –its all in there!!
And now the big build-up towards the f finale (it was at this pint when all reserve and conscious thought gave way to pure audio visual please for me)
The Beautiful Girls Line Up - each impeccably attired, ultra glam
Then the Pin Ups: Rita (Urban)
Hedy (Demi)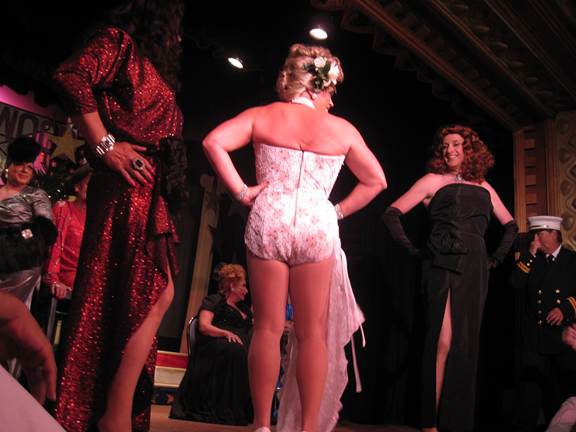 And the world's most famous pin-up Betty ( Coco )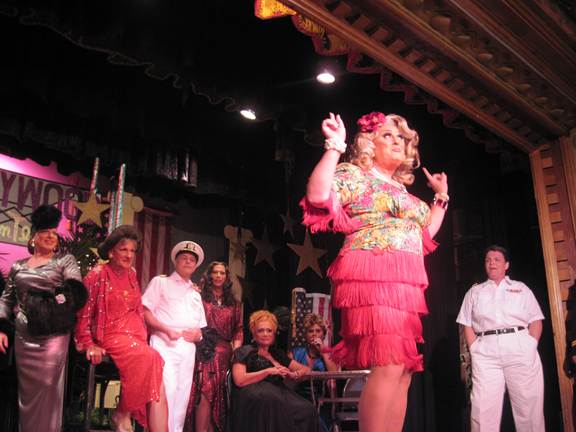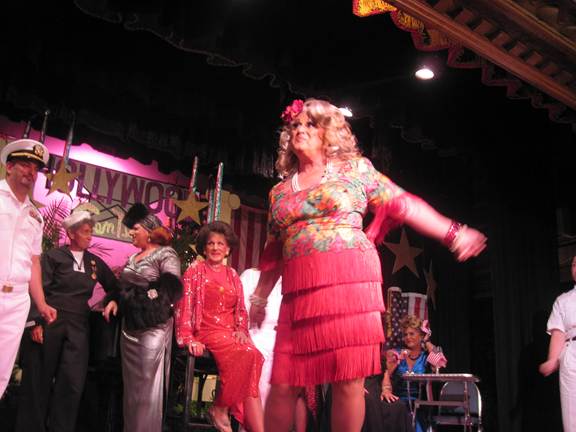 And THEN Blitzkrieg Baby Charity has been known to heat up a stage but she absolutely ignited this one as she worked those fringes (a showgals best friend) and high kicked to the back row and showed stamina that would have flattened a younger gal!! You go Girl!
It was one show stopper after another as Coco, who combines cute and vampy in a mischievous and sassy numberand worked "Nothin' Like A Dame" from the ground up - showing us exactly what a dame should be
Just when you thought the excitement level couldn't go higher Bobbi & Doreen jitterbugged to Opus One with such verve that the house clapped and cheered them along – I wish I had a video to insert here – words are not enough!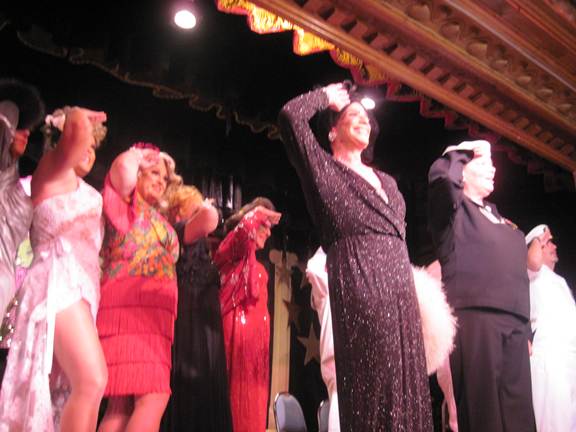 Then Donald DID IT – brought us to a patriotic swell that made our chests burst in an ever building arrangement of " America I Love You", both plaintiff & patriotic it brought the house down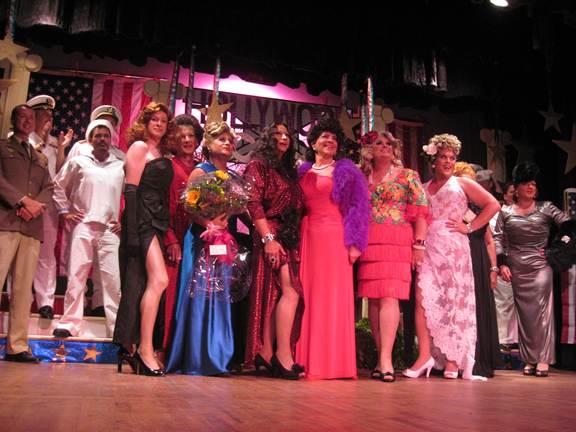 The Speech – 15 years ago Roland suggested the show come to the Community House and he made it happen.
I would like to thank my future spouse after 30 years of living in sin.
To the audience:
"You have taken this demented cast to your hearts which tells me you're a little demented too"
OUTTAKES
Cobra, who never looked prettier said "I remind myself of my mother"