Hard to say whether visiting Hollywood stars are returning to their more lucrative careers, or the critics are just in massacre mode but here are the casualties: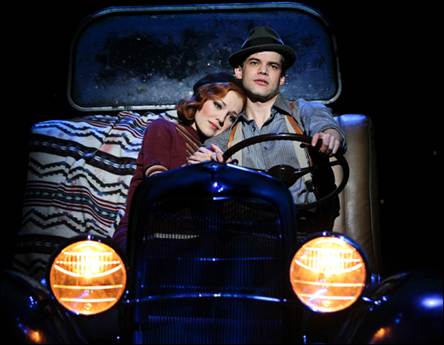 Laura Osnes and Jeremy Jordan Photo by Nathan Johnson
Bonnie & Clyde Maybe its because the excitement of the movie, with the iconic Warren Beatty and Faye Dunaway, whose wardrobe inspired a hugely popular fashion trend,  remains so vivid for most of us that the current Broadway musical somehow pales. Sort of like Mitt Romney, it looks good, it sounds good and there is no reason not to like it… but it just doesn't ignite.
Closes 12/30
Gerald Schoenfeld Theater, 236 West 45th Street.  Tickets:  $66-$136.50.  Tue-Sat 8 pm, Sun 7:30 pm.  Mat, Sun 2 pm.  212-239-6200.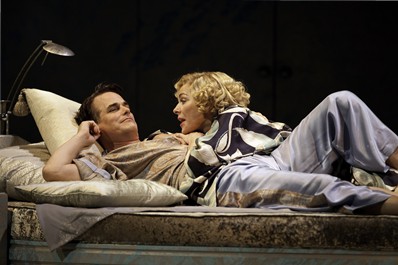 Paul Gross and Kim Cattrall in a scene from Private Lives
(Photo credit: Cylla von Tiedemann)
Private Lives Maybe its because we have seen this cherished classic with so many stellar stars one wonders how it can entrance us once more but this version is a frothy mix of whipped cream and spice as delivered in the capable, gorgeous bodies of Kim Cattrall, still playing the Samantha vamp, but to even greater advantage Seated in the third row I can marvel that her skin – flawless, her body lithe so fitting for that era, her paramour, as gorgeous as she, Canada's Paul Gross unknown to us but not for long. Noel Coward's version of sex without profanity or nudity – impossible? And that song…… See this one before it closes 12/31
Music Box Theatre, 239 W. 45th Street, 212-239-6200
Gone but not for long: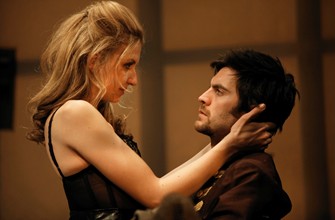 Nina Arianda and Wes Bentley in a scene from Venus in Fur
(Photo credit:  Joan Marcus)
Maybe its because the very versatile David Ives latest play Venus in Fur, which provided  Nina Arianda  an incredible break out role, burned so bright in their small off Broadway theater in the round (you could almost touch her) that I thought some of that energy would dissipate in a large Broadway house. But never fear, Arianda and new partner Hugh Dancy entice with their blink of eye role reversals and the production still generates enough fire to crackle. After a short break they will resume performances at the Lyceum Theater on Feb. 7, 2012, for a limited engagement through June 17 The move is a smart one, escaping the post holiday dip in attendance and still eligible for the Tony's in June.
Steve Kazee photo by Joan Marcus
Once, the Irish pop stage musical inspired by the hit independent film, sold out on opening night at New York Theatre Workshop, will move to Broadway's Bernard B. Jacobs Theatre following its current Off-Broadway. First preview Feb. 28, 2012, and an opening night of March 18. Broadway tickets go on sale 12:01 AM Dec. 7 via telecharge.com.
Closing Jan 15 NYTW on East Fourth Street
Also closing soon:
Hugh Jackman, Broadway's now and forever heartthrob, catch him if you can!
Closes January 1.
Broadhurst Theater 235 W 44
An Evening With Patti Lupone & Mandy Patinkin
Closes January 13
Brooks Atkinson Theater 243 W 47
Billie Elliot possibly the best musical of the century (no, not Book of Mormon)
Closes January 8
Imperial Theater 240 W 45
Follies  So sorry to see this one go, the bes,t most affecting version of the Sondheim homage to Zeigfeld I've seen. Superb performances by Jan Maxwell, Danny N Burstein and the handsome Ron Raines
Closes January 22
Marquis Theater, 46th & Broadway
 How To Succeed…  will break the hearts of the fervent fans of Daniel Radcliffe when it closes
Closes January 1
Hirschfield Theater 8th Ave & 45 Street
The Mountaintop despite its fervent tribute last minutes if the play to the late Dr. Martin Luther King, Jr. will return stars Samuel L. Jackson and Angela Bassett to Hollywood. Their visit was appreciated.
Closes January 22
Bernie Jacobs Theater 242 W 45 
But never fear, Porgy & Bess, The Road To Mecca, Wit, Lysistrata Jones, On A Clear Day (prognosis iffy – go now) Stick Fly among the new productions here to fill the void 
And don' forget The Alvin Ailey American Dance Theater the ideal holiday celebration
City Center 155 West 55 Street
Closes Jan 1
Holiday Giving Item for Theater Lovers
Playbill has solved that problem of whether or not to keep your playbills. Here is the solution: the book has the original playbills plus anecdotes and production pictures guaranteed to jog the memory and bring joy and delight anew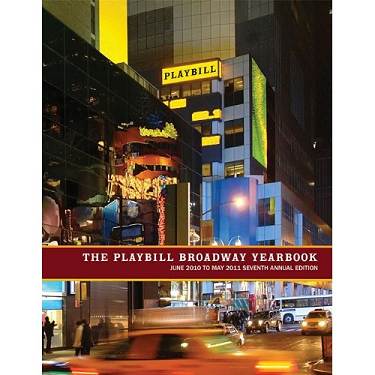 \
Seventh Annual Edition: The Playbill Broadway Yearbook: June 2010 to May 2011 Robert Viagas (Editor)
How to Order
By Telephone1-800-637-2852 FOR CREDIT CARD ORDERS ONLY
(MasterCard, VISA, American Express, Discover) YOU can call in your order Monday-Friday, 9:00 a.m.- 9 p.m. and Saturday and Sunday, 9 a.m.- 5 p.m. CST. Please have the quantity of each item and the eight-digit item number ready, along with your credit card account number, expiration date and security code (the 3- or 4-digit number usually found on the back of the card in the signature strip).
To find rates for available shipping options, please select your country. United States customers, please also select your state or territory
.

 
Happy & EntertainMENT FILLED HOlidays everyone!