The Fair Harbor Pine Walk Fair 2011
by Minda Chipurnoi Finkelstein
The 39th Annual Fair Harbor Pine Walk Fair was held on Saturday July 2, 2011.
Situated in the 'downtown' area, there is something for everyone.
HELPING HANDS
Water
This year there was a table representing GETWELL kakamega! Kakamega is an area in Kenya . This organization raises money to build wells for clean water.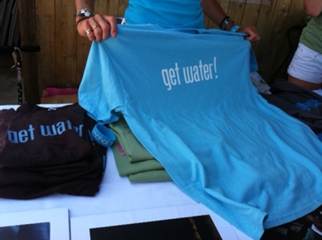 For more information go to http://www.orphansheroes.org/Orphans_Heroes/Orphans_Heroes.html
Feral Cats
Barbara Wilson & Andy & Vicki Kornblatt are volunteers helping to control the feral cat population in Fair Harbor . They held their annual raffle to raise money to help them in their efforts. If you see wild cats or kittens around your property and want to help control the Fair Harbor cat population call 583-7767.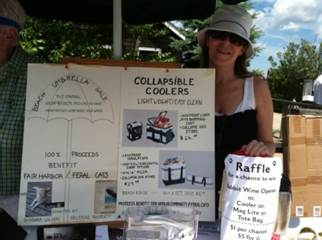 If you or someone you know want to adopt a cat call 583-7767.
Abuse of Women & Children
Over the past 20 years the Sunshine Kids Foundation has been dealing with the understanding of the complex problems of women and child abuse.
To learn about their organization or donate please go to http://www.womenandchildrenscharity.org/
FHFD
The silent auction which is held in front of the Fair Harbor firehouse, offers prizes from many local businesses as well as restaurants and shops in Manhattan .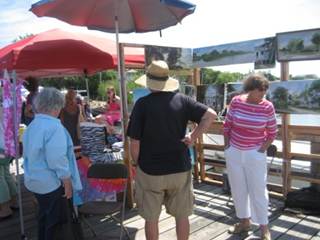 Proceeds from the silent auction provide funds for both normal and emergency purposes for the Fair Harbor Fire Department.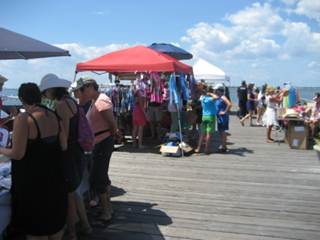 VENDORS
There were many tables selling their wares.
Seablossom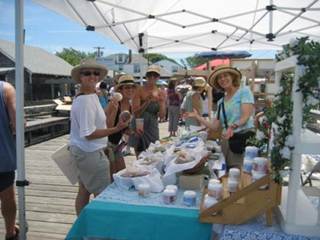 Pat Robbins, Soapmaker, is a longtime resident of Fair Harbor who sells her handcrafted fine soaps and spa products. Visit www.Seablossom.com for more information.
Lezly Garrett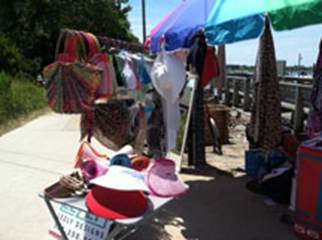 A former Fair Harbor resident, Lezly Garrett travels from Florida each year to participate in the Pine Walk Fair to sell her cover-ups, beach wraps and bikinis. You can reach her at lezlygarrett@gmail.com.
Zachary Behrmann
To see more beautiful Fire Island photographs on canvas go to www.zbehrmann.com.
FOOD & DRINK
Food & refreshments were provided by Fair Harbor 's 'Le Dock".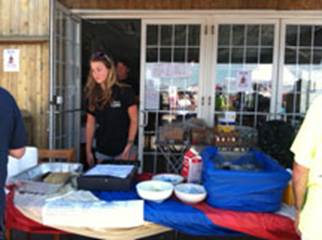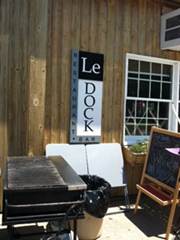 A sampling of other vendors (in no particular order) are represented below:
Olive Street Studio, makers of children's clothing & quilts, Mary Blair Iron designs, Susan Pillay Children's wearable art Claudio Gill Designs, Clear metals, Inc, Duchess Arts & Antiques, Bookmarks & customized cross stitch by Hedy Campbell, Lush Life Gardening by Ellen Reznick, Kenny Goodman Fire Island silver jewelry.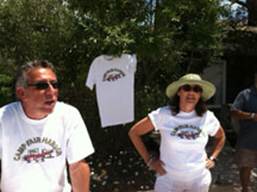 Resurrected - Camp Fair Harbor T-Shirts!