News from Fire Island National Seashore:
West Nile Virus; Hurricanes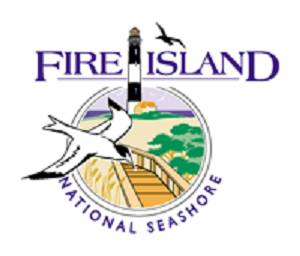 Happy Birthday, FINS
While the National Park Service celebrated its 96th birthday on August 25,
2012, Fire Island National Seashore will celebrate the 48th anniversary of
its addition to the National Park System on September 11, 1964!

West Nile Virus Update
Despite the detection of West Nile virus (WNV) in record numbers of
mosquitoes on Long Island during the summer of 2012, Fire Island National
Seashore seems to have had a normal season. By Labor Day, park biologist
Jordan Raphael had reported only one positive sample of mosquitoes from the
18 traps that he and his staff monitor every week from June 1 through
September 30 on Fire Island and at the William Floyd Estate in Mastic
Beach. "The National Park Service collected this positive sample (a pool of
17 mosquitoes) from a light trap in the lower acreage at the William Floyd
Estate on July 17, 2012," said Raphael, adding that this was early for
WNV-infected mosquitoes to be found in the Seashore. Park biologists send
the samples to the New York State Department of Health, Arthropod-Borne
Disease Program, in Albany for testing. Results are obtained about two
weeks later.

"Due to the location of the Seashore's mosquito trap and its proximity to
sensitive natural resources (salt marsh) and the low numbers of mosquitoes
in the sample pool," stated superintendent Chris Soller, "Fire Island
National Seashore's mosquito management team decided that a pesticide
application within the boundaries of the William Floyd Estate was not
necessary at that time." However, additional traps were utilized in the
area to increase sampling sensitivity.

http://www.nps.gov/fiis/parknews/west-nile-virus-at-william-floyd-estate-july-17-2012.htm

No infected mosquitoes have yet been detected on Fire Island in 2012, but
residents, visitors and staff are advised to avoid being outside when
mosquitoes are most active (1 hour before sunset through midnight). Wear
protective clothing (shoes, socks, long pants, long-sleeved shirt and a hat
) and use an effective insect repellent, such as one containing at least
30% DEET. Non-DEET repellents (e.g. herbal-based sprays) are also
effective. (Use much less repellent for children; DEET should only be used
with extreme caution on children under age 3.) If you're sitting on a
porch, use a fan to keep mosquitoes at bay. People most at risk of becoming
ill from West Nile virus are those over 50 years of age or whose immune
system is impaired. Such people are advised to stay away from areas with
mosquitoes.

The freshwater Culex species of mosquitoes in the pool that tested positive
for WNV is not thought to generate a major human health concern, although
this species does potentially bite people. "The volume of mosquitoes in our
traps peaked in mid-August this year," said biologist Raphael, "and the
number of mosquitoes always drops off as the weather cools."

The National Park Service works closely with the Centers for Disease
Control (CDC), U. S. Geological Survey (USGS), the New York State
Department of Health (DOH), NYS Department of Environmental Conservation (
DEC), Suffolk County Vector Control (SCVC), and local Fire Island and Long
Island municipalities to determine the best course of action to protect
residents, visitors and employees of the Seashore. When threats to human
health (such as the presence of West Nile virus) occur, actions to protect
the public may include control methods such as applying larvicide or
spraying.

Almost every year since 2000, at least one positive sample of WNV-infected
mosquitoes has been found on Fire Island.

For Long Island, Suffolk County Health Services reported that a total of
199 mosquito samples and 37 dead birds had tested positive for the virus by
August 31, 2012. Two human cases of WNV had also been reported in Suffolk
County by that time.
(See the SCHS press release at
http://www.suffolkcountyny.gov/Departments/HealthServices/tabid/132/ctl/ details/itemid/592/mid/907/ september-4-2012-weather-permitting-the-suffolk-county-department-of-public-wor.aspx)

We always recommend that you take measures to avoid contact with mosquitoes
(and ticks) on Fire Island. You can learn more at the following web pages:
www.nps.gov/fiis/planyourvisit/avoid-mosquitoes.htm
www.nps.gov/fiis/planyourvisit/avoid-ticks.htm
www.nps.gov/fiis/parkmgmt/mosquito-management.htm


FINS mosquito trapping season begins the first week of June and terminates by the middle of October. Twelve mosquito traps were initially maintained at five or more different study sites in the park. Since 2008, eighteen (18) traps have been maintained throughout the park at seven different sites.
Study sites chosen to monitor mosquito populations are usually the Fire Island Lighthouse Tract (near the community of Kismet), Saltaire (maintained by the Village of Saltaire), Sailors Haven/Sunken Forest, the Carrington Tract (beside the community of Fire Island Pines), Watch Hill, the Otis Pike Fire Island High Dune Wilderness, and the William Floyd Estate. Additional traps are also placed when a positive sample is collected.


The monitoring program uses two types of traps to collect mosquitoes: CDC gravid traps, intended to collect egg-bearing Culex species, and CDC light traps, intended to collect host-seeking adult female mosquitoes of all species.


Light Trap
A carbon dioxide (CO2)-baited CDC light trap is placed at each
monitoring site.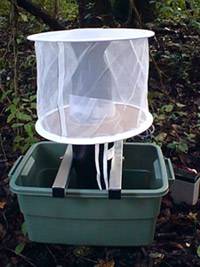 Gravid trap
Gravid traps are designed to attract and collect egg-bearing
mosquitoes found near water with a high organic content (polluted
water). Female Culex mosquitoes which have already fed are more likely
to be infected with a virus, and are thus better specimens to test for
West Nile virus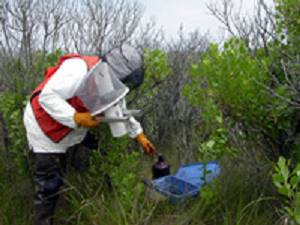 Mosquito tech setting trap
 A park biologist (mosquito technician), dressed head to toe in
protective clothing, collects mosquitoes from a gravid trap on Fire
Island.



Mosquito managing collage
Fire Island National Seashore's mosquito surveillance and
management program helps minimize the risk of mosquito-borne illnesses
without the use of unnecessary applications of pesticides, closure of
portions of the park, or other management interventions.

Atlantic Hurricane Season is June 1 through November 1
While Fire Island was recovering from the glancing blows of Hurricane Irene
just before Labor Day 2011, this summer has seemed quite mellow. But
emergency responders and park staff remain on alert through the end of
October. Remember that wind and waves from distance storms (like Hurricane
Leslie and Hurricane Michael which formed in the Atlantic in early
September 2012) can generate high surf and rip currents on Fire Island's
shoreline. Always use caution in or around the water, and respect the power
of the surf.

You can follow the National Hurricane Center's Tropical Storm Prediction
Center at www.nhc.noaa.gov (May through November). The National Weather
Service provides a helpful surf zone forecast. FINS provides links to these
sites and more at www.nps.gov/fiis/planyourvisit/weather.htm

Paula S. Valentine
Public Affairs
Fire Island National Seashore
120 Laurel Street, Patchogue NY 11772
631-687-4759, 631-774-0520 (cell)
paula_valentine@nps.gov
www.nps.gov/fiis