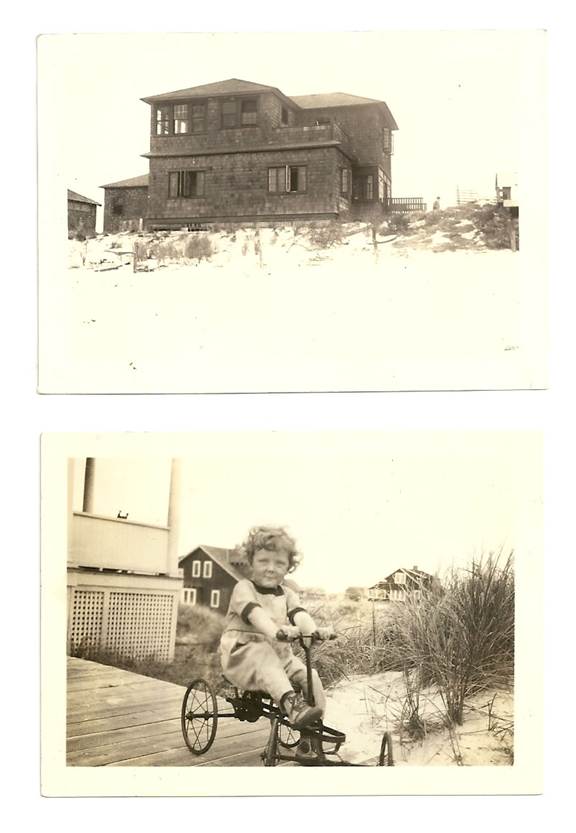 Fire Island Then: 1930's
By Tom McMorrow
Fire Island, that seashore paradise offering not only a booming surf and soft white sand beaches but on the other side a bay justly named The Great South Bay for fishermen, swimmers and boating enthusiasts, is a place the 21st Century Now Generation would find uninhabitable when l grew up there, in the summers of my teenage years, in the 1930's.
Of course there were no computers with their e-mail or cell phones with their Twitter and Facebook, but your isolation was more absolute than that: There were no telephones.
Installing them would have required a huge investment by the phone company, running lines under the bay and up the length of the island, but there was clearly not that much demand, especially from people like my father, a writer who treasured the resultant solitude "without that damn thing jangling."
The only communication with the outside world was via the telegraph, and the Western Union office in Ocean Beach gave me my first job, delivering telegrams on my bicycle to the residents of Ocean Beach and Seaview.
How we came to Ocean Beach: In the mid-1920's my father, a lawyer turned fiction writer and already a regular contributor to that era's No. 1 magazine, The Saturday Evening Post, decided to buy a summer home in the posh community of Point O'Woods. But as he was engaged in this search, a good friend, Abel Reggio, was doing the same, and was told that he would not qualify as a member of their association or whatever they called it to be able to discriminate because he was, I believe, an Armenian. When my father heard that they lost what would have been a prominent resident as he said "If you don't want my friend you won't want me," and he went to the growing young community of Ocean Beach and bought a big house on the dunes at the head of Bungalow Walk.
Point O'Woods-1930's stories you wouldn't believe. I know that's a cliché, but clichés are founded on truth. I had taken the perhaps a mile long hike up the beach to their bathing area. As I sat down to watch the swimmers in the surf I was approached by a lifeguard, and I'll swear he told me I should put on a top or kindly leave – I was dressed, of course, only in swim trunks. This was the end of the era when men wore shoulder strap tops. (my father did). And lest I shock the ladies of PO'W with the sight of a teenager's bare chest I departed lordly P-O'W.
Then there was the great PO'W fire. We were sitting at lunch one beautiful day when we noticed a column of black smoke rising from the direction of Point etc. We immediately got up and headed for it – and so did Ocean Beach 's volunteer fire department on its special fire truck designed to fit the sidewalks. Trouble was, our fire house was sensibly located mid-island between ocean and bay, and when they rushed, clanging, through the rest of Ocean Beach and Seaview to the PO'W border, there was that big steel link fence to keep the lower forms of life out, and our truck had to drive all the way up to the ocean's edge before it got to the end of it, losing many precious minutes.
It was a sunny but windy day, and the wind was blowing the fire from the roof of a blazing house to the next. It was a frightening sight, three huge houses (called "cottages" – Ha! massive shingled structures, all three stories high, probably to accommodate servants' quarters, nothing like them in any other Fire Island community) three of them in a row afire when we got there.
Grand Point O'Woods had nothing like our modernized and equipped fire department, and I fear that at least one or maybe more of those houses wound up a total loss.
Too bad nobody thought of that eventuality when they decided to put in that fence.
Our New Arrivals
I believe it was 1938 when we noticed the first gay people in Ocean Beach , and I have a sad episode to relate that I am convinced contributed to their subsequently going elsewhere. Many of them were prominent in the fashion industry and we chuckled over what a woman had said in awestruck New Yorkese: "Dey're awl big designers!"
We had the big house with five bedrooms and a servants' room recently built as an extension, a sea porch and a sunbathing porch upstairs and a shower house, a highly desirable property for a summer renter. As the Depression deepened and money grew tighter my father had rented the house out for July the year before but this year he didn't want to rent. A property on that scale commanded the top monthly price of $1,500, so when one of the new arrivals knocked on the door and asked whether the house was for rent my father said to get rid of him, "The price is twenty-five hundred dollars."
Said the gentleman: "I'll take it." Talk about an offer you can't refuse, in those Depression days when the median national income was probably $5,000.
Coda to the story: When we came back on August 1 we found a massive new dining table in the dining room, bought by the affluent tenant and left because he probably had no place for it in his home. The kind of a tenant you'd like to have.
Then there was the episode that I think had far-reaching reverberations. There appeared on the beach and in the bars a remarkably slender effeminate young fellow. This poor soul played up to a tough-looking muscular male in a bar.
I knew that guy. His older brother was a good friend of mine. He was not.
The gay boy suggested they go up to the beach together, and the tough guy said, "Sure." They went up to the beach and there the poor fragile soul was beaten bloody.
Such ugly news travels fast, especially among people discriminated against, and the next season there came the beginning of a real estate bonanza for the tiny village of Cherry Grove, gay people renting and buying houses, aware of the word that Ocean Beach was a place of potentially violent homophobia.
As for the big house on the dunes, its fate was inevitable when the Army Corps of Engineers came out there after a hurricane had swept away the Glasner house, similarly on the dunes at the head of Evergreen Walk, and decided to build a wall against the ocean.
To those engaged in that sort of endeavor one can only say Lots of Luck. (Remember the poor souls who with Japanese efficiency built a sea wall to the height of the biggest tsunami ever? And how Nature simply said, "OK, here's a bigger one?") They constructed a huge concrete barrier from the dunes next to our house out to the beach, laid diagonally to turn aside the flow of stormy ocean water, which always swept sideways when it came to the shore.
Came a monster storm in the spring of 1961, hitting the beach under a full moon and at high tide, and when the raging ocean came to that barrier, it kept coming until it went around it, creating an instant raging river that dug a great hole in the soft sand, and our house as well as the big Pastorfield house next door fell into it.
When I was a child I had a nice soft little brown boy doll. When I got the terrible news I rushed out to see if anything could be salvaged. I walked across the dunes in the direction that river of ocean water had run and there in the sand looking up at me was that doll, all that was left of a summer home in which three generations of McMorrows had lived for 40 years. And so goodbye to halcyon days.
About the author:
Sports
Sportswriter, Washington Daily News, 1941-'42, Sports editor, Paramount News, 1948-'51, sports editor and short sujects director for Movietone News 1952-'63 - Fictional sports stories in The Saturday Evening Post and other magazines - Produced and wrote sports films for The Baseball Hall of Fame and The New York Racing Association
Theater
Actor, Litchfield Summer Theater 1946 (return guest appearance 1950) also early television - Producer and actor in 1947, The Orange County Playhouse, leading actor Walter Matthau
Newspaperman
New York Post, rewriteman, 1962, NY Daily News, 1963-'87, reporter, editor, Sunday feature writer, theater critic, president of The Drama Desk
Author
"Having Fun with Words of Wit and Wisdom," a humorous look at our language with 3,401 quotations, being used in English classes at Greenwich Country Day School and Choate Rosemary Hall, the prep school alma mater of Adlai Stevenson, John F. Kennedy and McMorrow, reviews by scholars, educators and journalists unanimously enthusiastic, on sale on Amazon and can be ordered at Barnes & Noble
(editor's note: this book is a treasure and I highly recommend it)