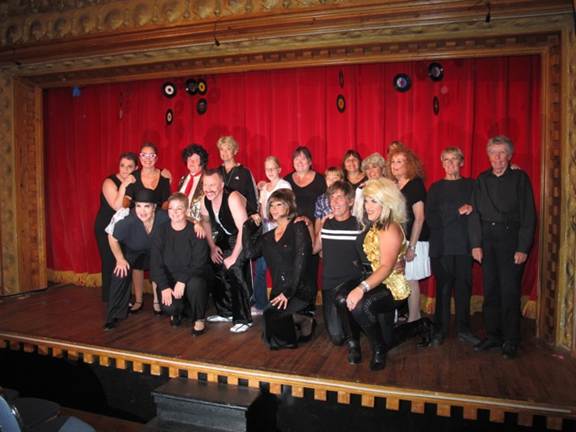 GLAY: TRIP THROUGH THE PAST IS A BLAST
                                         Photos by Lorraine (thank you)
The Webster definitions for "glee": Jubilant delight; joy
 and "gay": Showing or characterized by cheerfulness and lighthearted excitement; merry. Bright or lively
And the APCG production, directed by Laura Spadafino, choreographed by Edrie Ferdun and costumed by the performers themselves, with Matt in the booth, and Arthur backstage, brought those definitions to life.
.
Timing couldn't have been more perfect! If ever there was a moment to go back to a happier time for pure enjoyment with the comfort of familiarity it was after Hurricane Irene here on Fire Island. Yes, we essentially escaped the bullet but not the trauma associated with it – due to the endless media hype we suffered the anguish if not the reality.
INCREDIBLE ACCESSORIES KEY TO PRODUCTION  Each performers had not only to learn their songs and choreographic touches, but remember a staggering variety of mini costume changes .Through a variety of accessories: Harlequin glasses to "shades", leather  jackets, fringy vests, white boots, heels, sandals, neck scarves, head scarves, bandannas, head bands, hoop earrings, dangling earrings,  beads, jeans, red lipstick, pink lipstick– and wigs from beehives to flips, leather belts, chain belts, all left to the performers themselves – the basic black dresses time traveled through the decades till replaced by jeans, bell bottoms….did I leave anything out?
As long as it took to recognize the singers under layers of expert makeup – it took slightly longer for me to realize that what I thought was lip synching was actually live vocalizing to a pre recorded musical back drop – each singer sounded so good and so authentic it was hard to believe – especially Sally Ann who had the most difficult "The Word Game" song
Later, when I asked Wendy how it felt to be in makeup heels and a dress she said "not that bad, just uncomfortable"  
Some of the songs (over 20?  I lost count – couldn't stop to write them all down else I would miss the next)
 Big Girls Don't Cry, Up On The Roof, My Boyfriend's Back, In His Kiss, California Girls, Reach Out (I'll Be There), Jimmy Mack, One Fine Day, Pretty Woman, Love the One You're With, Stayin' Alive, I'm a Believer, Listen to the Music, Mamma Mia, Boogie Woogie Oogie, AIn't No Valley Lower….
Just writing the titles makes you wanna sing them -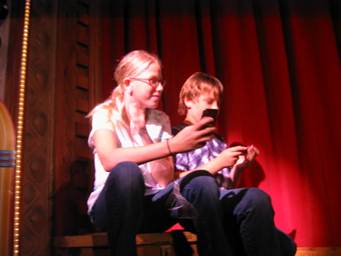 "What are records?" (Zach & Alexandra Kelly-Spadafino)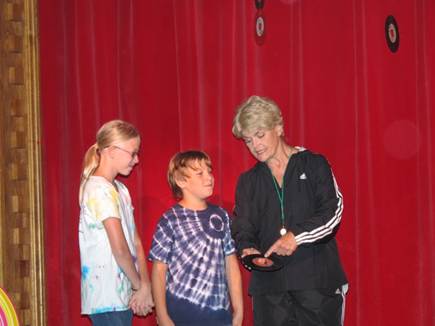 Here's one
Martha (in her best Glee Sue jogging suit) takes Zach & Alice on a trip though the 60's and '70's
(and what a treat for the audience to go down memory lane with them)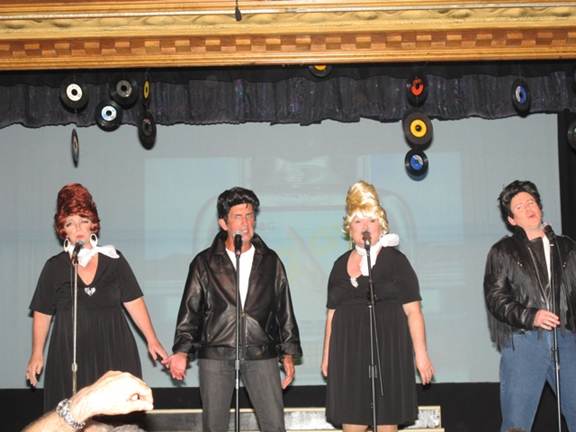 The Lezbaritones? Sherri, Dale Lally, Lana, James Lyons
Susan Freedner: "Diana"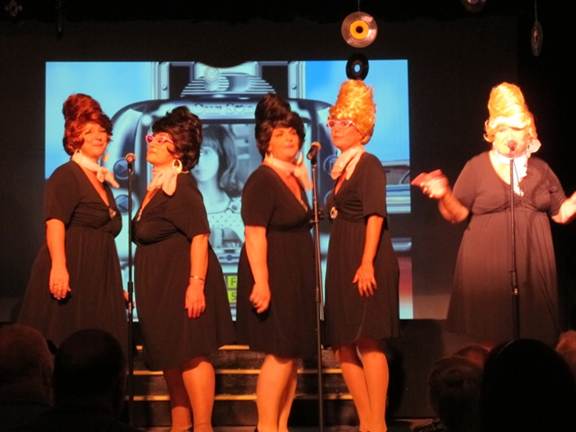 The Cherry Ho's?: Sherri Rase, Wendy  Lewis, Sally Ann Piacentino, Lee Sharmat,  Lana Kelly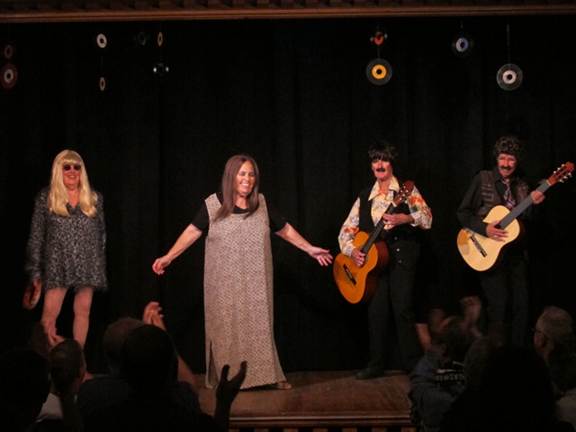 Mamas & the Poppas: Barbara Hirsch, Linda Dickerman, Pat Wagnis, Lynn Belensky "Words of Love"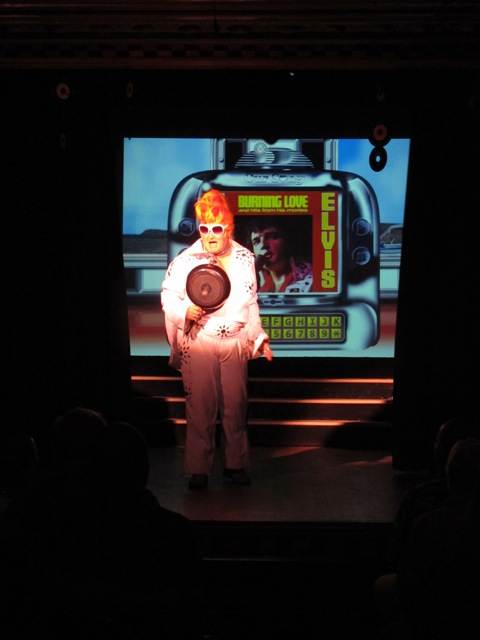 Denise Harbin: Elvis
Coco Love – Diana Ross   (lip synching the talking part brought the house down)
Also representing the Queens:  Bella and Demi Tasse
The Shirelles: "Momma Told Me There'd Be Days Like This"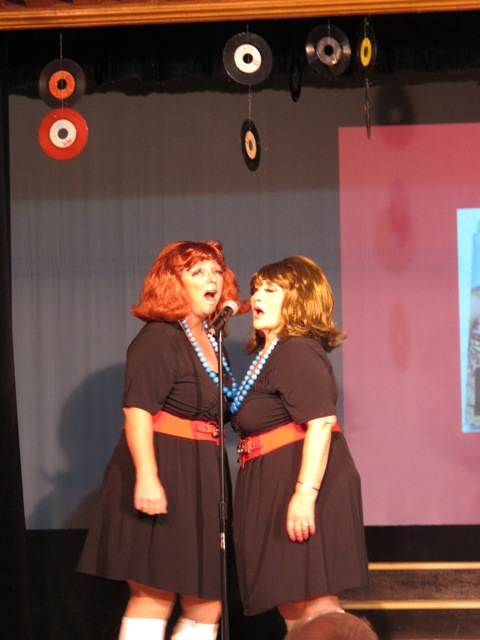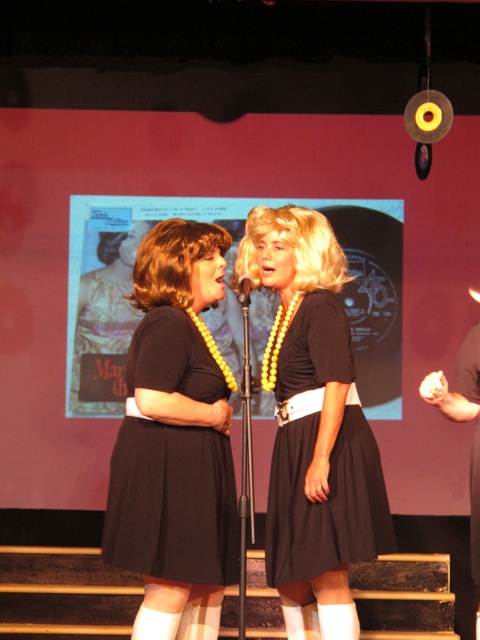 Lana Kelly: "Please Mr. Postman"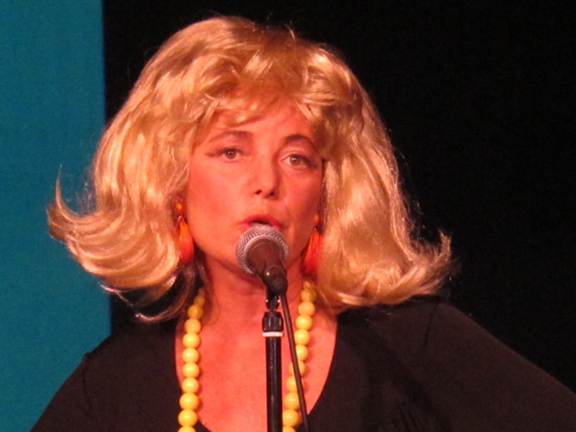 Lee Sharmat: "Mama Said"
MIX 'N MATCH SOLOS, DUETS
Frankly took me so long to recognize these beauties in hair, make-up dresses, heels that I couldn't credit their songs. I was severely derided when I thought they were lip-synching – they were NOT! Each had to learn the words to all their songs, the backgrounds were authentically reproduced electronically …but NOT them!
It was a compliment!!!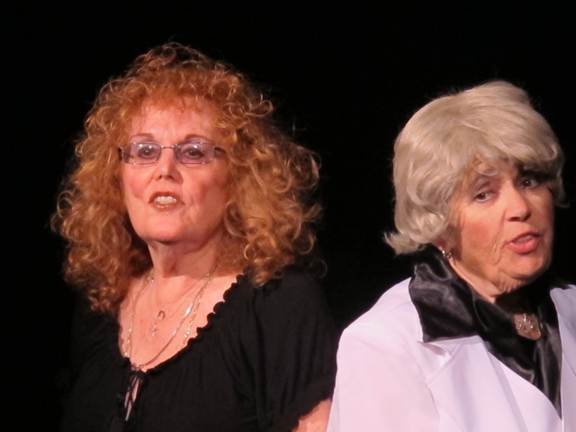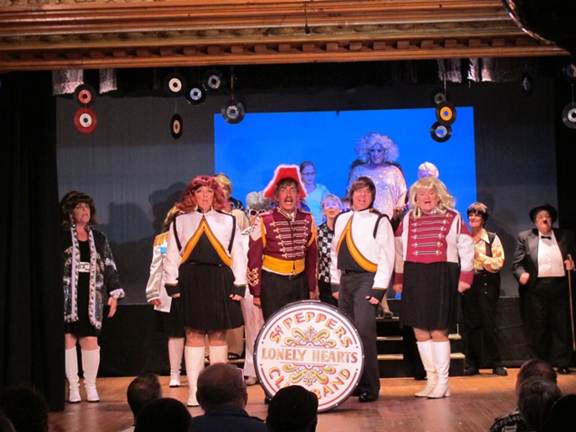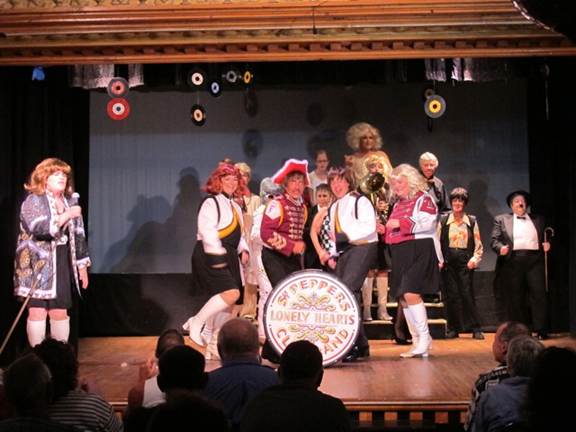 Beatles Tribute: "I'm Telling You Now","She's Not There", Hey, Jude"
Remember Arthur Murray Dance Lessons?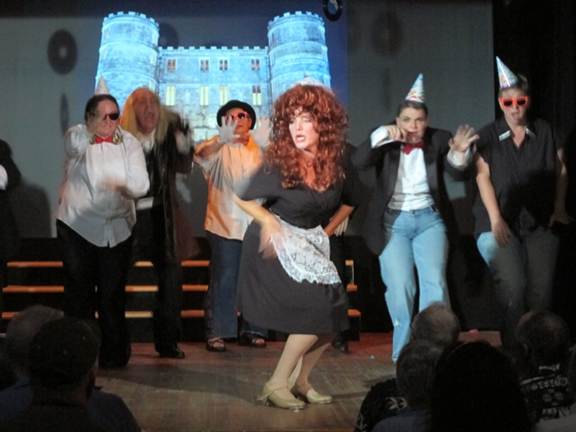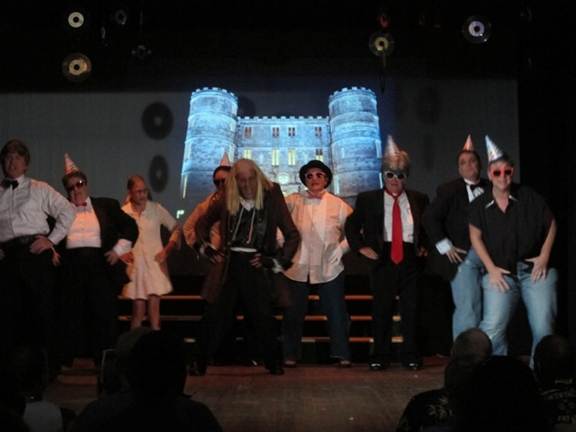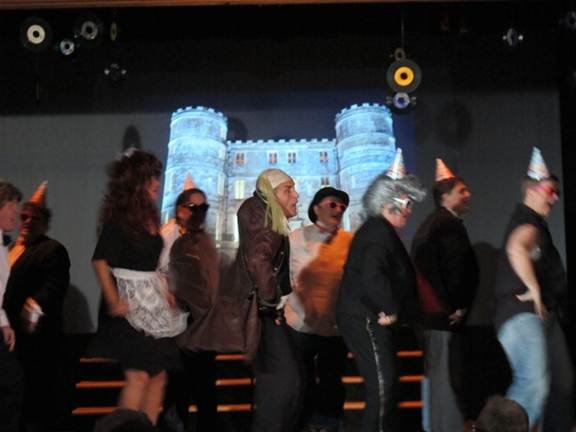 Rocky Horror Show: "The Time Warp"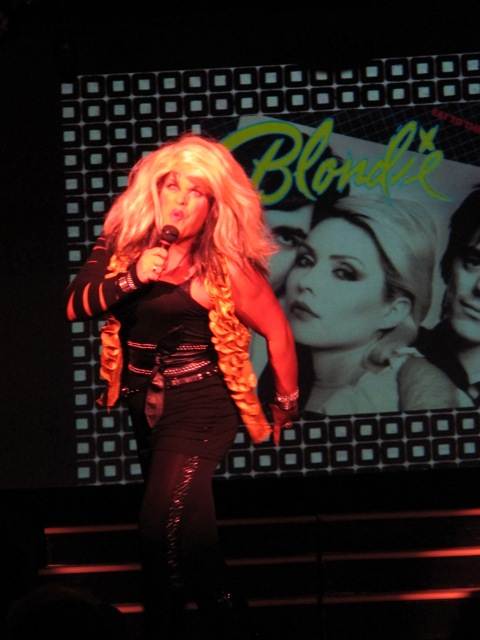 Coco Love does Blondie
: Lee, Sally Ann, Wendy, Lana, Sherri
Ah! The 60's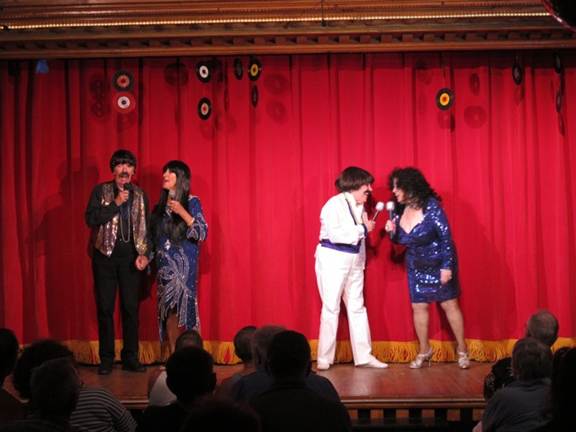 Dueling Sonny's & Cher's
 Big Production numbers and curtain calls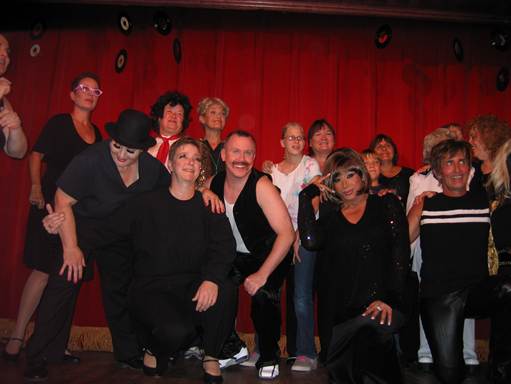 Well deserved Curtain Call – incredible show
Do you get it now, kids???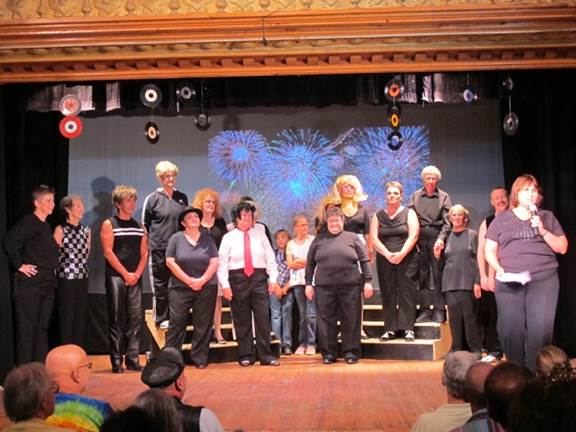 Director Laura Spadafino who did a yeoman's job with all that material – gives the requisite thank you speech
But it is us who should be thanking her!!
BACKSTAGE                photos by Jeannie
Don't disturb me – this is serious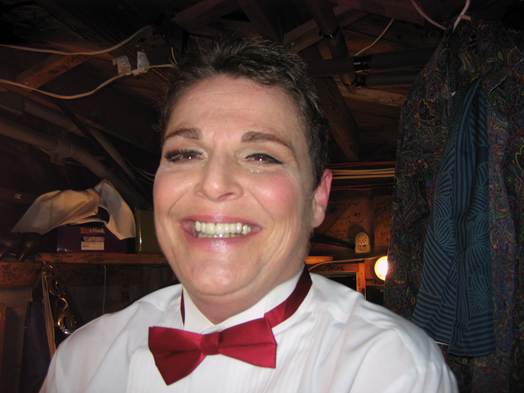 Sally Ann really looks good in make-up
"I'm wearing more make-up here than I do in an entire year!"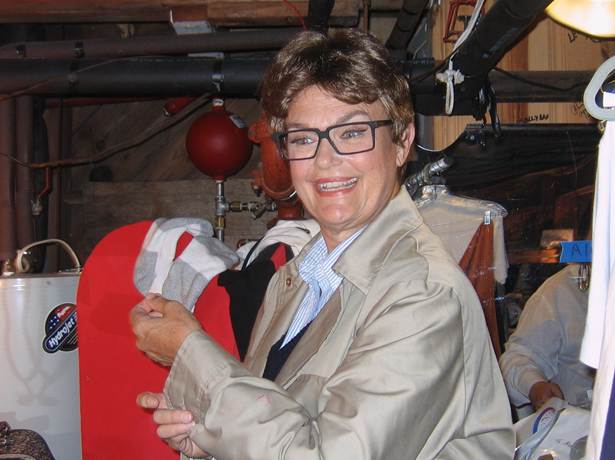 Martha's intellectual side – she just LOVES to dress up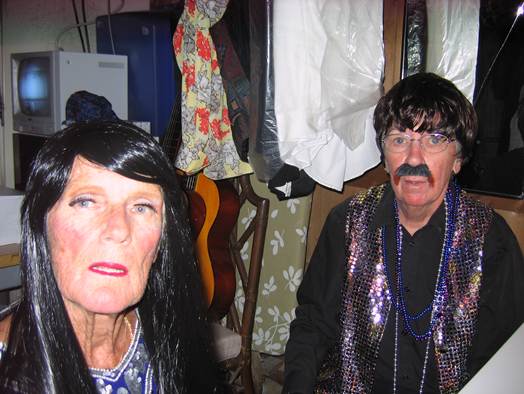 Saving our smiles for onstage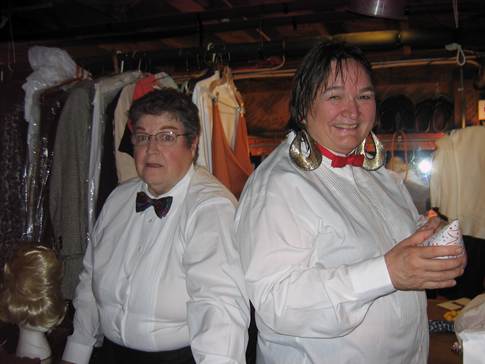 The agony and ecstasy of the dressing room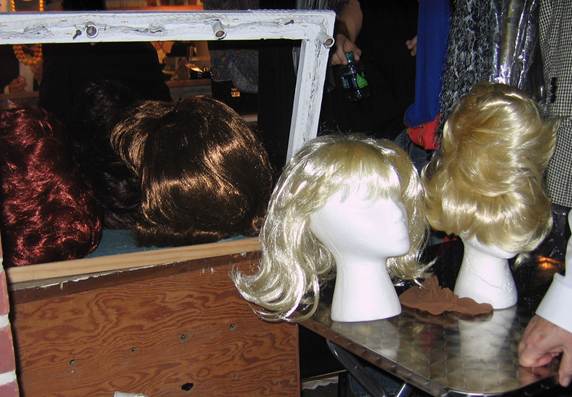 Wigs – for every decade and number – thanks Richard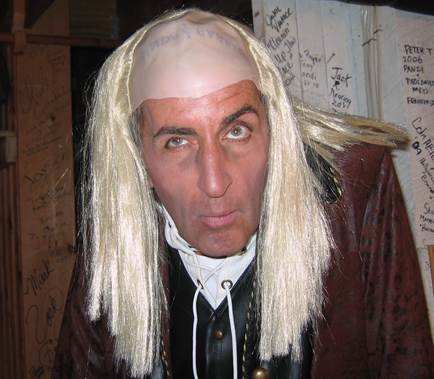 Scary – Dale is so malleable
Richard at work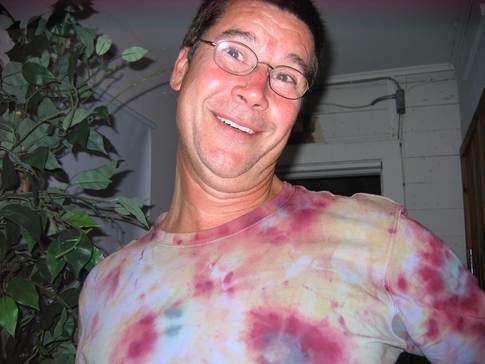 The former Queen asks: Do you like my frock?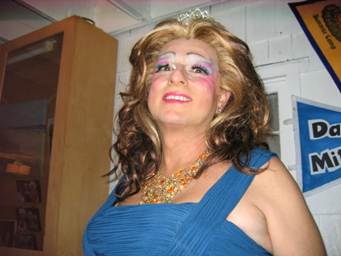 The new Queen - Yes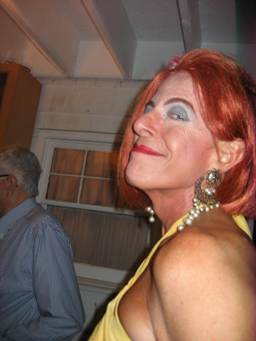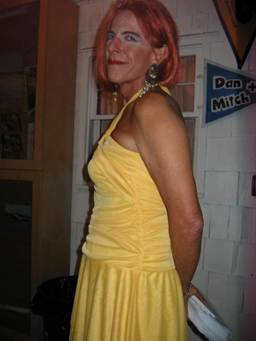 You Gotta Have a Hoffa: Deceptively sweet – ( not!)