GRACIE COMES OF AGE IN THE GROVE
              Photos by Mallory Wood & Jeannie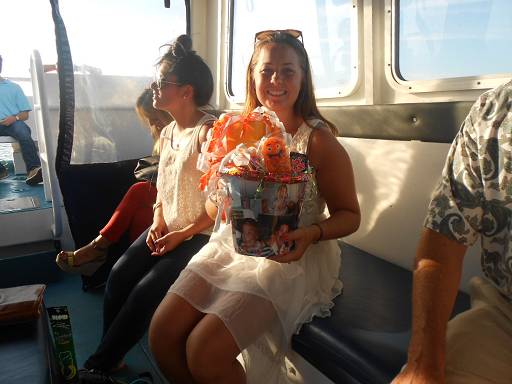 There's the birthday girl ,pretty as a picture holding a special bucket that not only held 2 bottles of champagne (one of which was quickly consumed by the Nexxies) but carefully chosen pictures inside and out, top to bottom, of friends and family – it was a point of honor to be on it and I made the cut!
 I first noticed Gracie when she sang the National Anthem a few years ago a capella in front of a huge crowd in Kismet's July 4th celebration. I thought that was really spunky (that song has taken down many veteran performers). She then surfaced for me when her younger sister the model-esque, mysterious Mallory, conducted a political election poll in the Obama/McCain race.
Thus was born the Kronikle (a name I suggested) and my association with my "boss" Gracie.  It was a marvel and there are so many in Kismet who miss it this year now that Gracie & Casey, whom I used to call "the ditzy duo", are otherwise occupied..
When Gracie asked me where she should celebrate her 21st Birthday I thought it was time she went to the Grove. Sure enough the day and the event came.
On route by special water taxi to Cherry Grove Sam pointed out some of his buildings to Rusty. Later I showed them the Belvedere hotel, a gorgeous white antiquity styled structure exclusively male.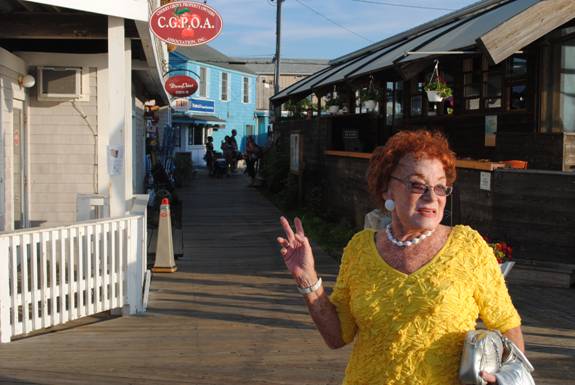 We proceeded toward the Ocean.
Veteran Grove visitor, I was the "tour guide" but met my first embarrassing snafu when I insisted they all walk through the Ice Palace, a short cut to the restaurant, and they were denied entrance on the grounds they had to be "carded" – Needless to say that was a first for me - never ever think of them as kids – always as individuals.
On to the Birthday Dinner at the Sand Castle, the Grove's "only restaurant on the beach" –
When we reached the restaurant a huge drag Queen Gusty Wind, (who was Tania Harding in the Invasion – see related article) greeted me by my full name and gave me an air kiss on both cheeks! (Queens in make-up never kiss and only sip fluids through a straw to preserve their lipstick) This impressed the group!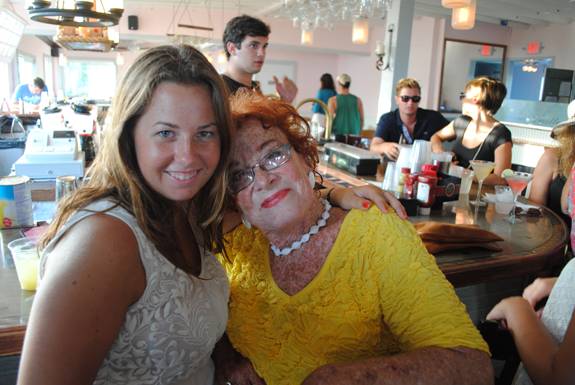 Gusty asked my relationship to the Birthday girl – without pause I answered "my best friend".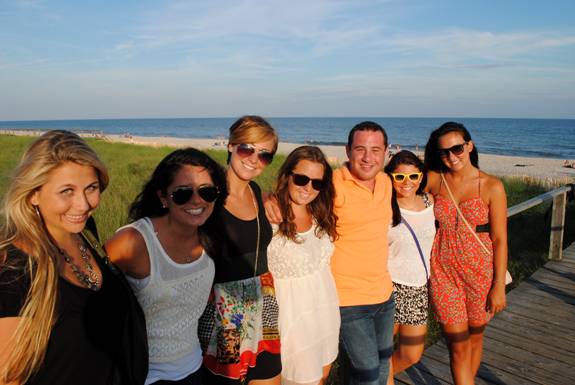 The celebrants: Dana Kopenheffer, Sarah Baker, Mary Horton, Grace, Rob Gentile, Taryn Phelan and Casey Licari…
Missing are some (boys) ran to the edge to look at the beach and sure enough, there were a few nudies (male)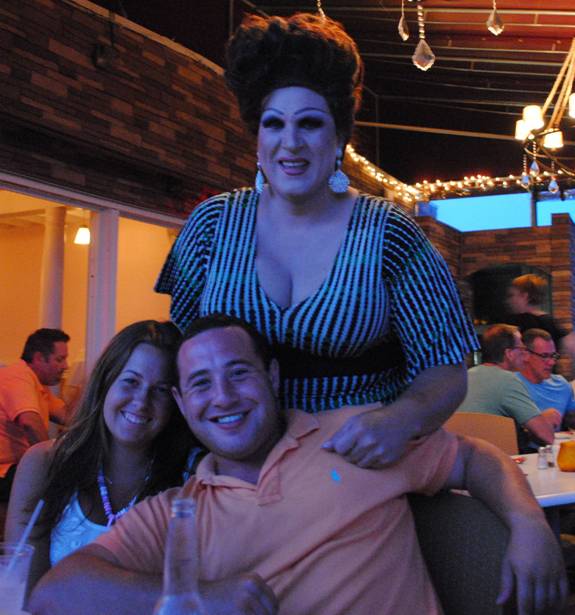 Drag Queen/MaitresseD' is Gusty Wind
She just asked Gracie if Rob was her boyfriend – putting her on the spot – she said "yes" Rob said "that's the first I heard about it" When she discovered Casey was celebrating her first job it turned out that "Gusty" works there and she promised to mentor her – Win! Win!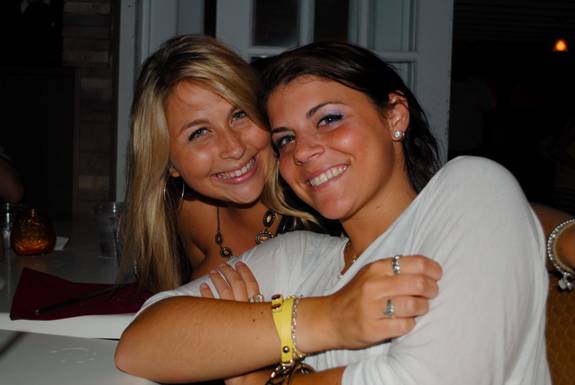 Awwwwwwwwww.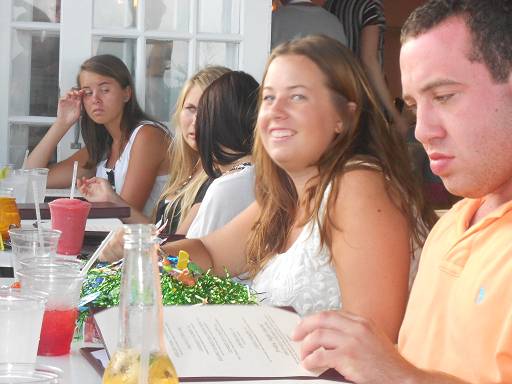 I know that look (what is she thinking???)
What are glaringly missing from these pictures by Mallory are the grown-ups: Sam & Amy Wood, Rusty & Judy Phelan. That is so like kids – it's all about them!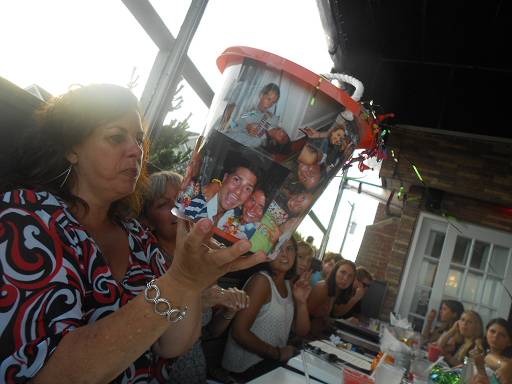 Rusty & Amy surveying the endlessly amusing bucket.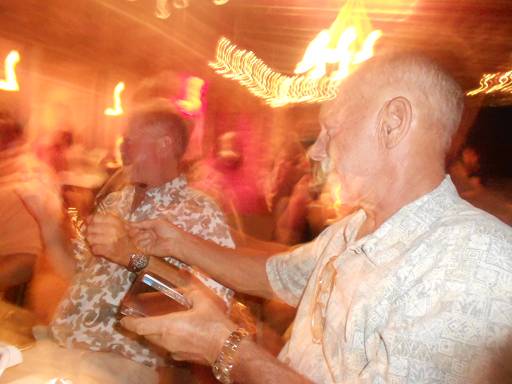 This picture is fuzzy due to the speed of financial negotiations buzzed when the check came.
Amy concluded "Sam and I were happy to celebrate Grace's 21st with her close friends!"