Homecoming Queens 2011 YaNeeda Dunes,
2012 Robin Kradles, & 2010 Beach DeBree
Arts Project Struts Most Elegant Stuff in End-of-Season Jet Setters' Ball
                By Bruce-Michael Gelbert, Fire Island Q News.com
The Arts Project of Cherry Grove's (APCG) annual end-of-season gala was billed as the Jet Setters' Ball; took place at the Ice Palace on September 29; and inspired the Board of Directors, membership, and guests to heights of elegance, exoticism, and/or imagination.  Silver Spoon Catering's Frank and Paula fed the assembled a scrumptious dinner, which was followed by a dessert bar featuring confections by Philomena.  The concept of the Jet Set—"an international social group of wealthy individuals who frequent fashionable resorts," according to Webster's Dictionary—dates from 1951 and much of the mood and dinner music spun by DJ RDK (Richard Kennedy) had an appropriately '50s flavor, with contemporary favorites reserved for dancing after the meal.
Departing APCG President Martha Pitkin welcomed us and congratulated us all "on our good fortune to have found Cherry Grove."  "We love Cherry Grove and we love the Arts Project!" she continued, and introduced incoming President Thom "Panzi" Hansen.  After considerable kibitzing, they announced that next season would begin with first-ever In-Town Party in Fort Lauderdale on February 24, 2013, as well as the customary one in Manhattan, on March 10.
Martha presented APCG Community Service Awards, adorned with the masks of comedy and tragedy, to Homecoming Queen 2011 YaNeeda Dunes, to former Board Member Mel Rock, to Sharon Weinberg and, finally, to Francine Sardone, guiding light of the APCG Casino.  Matt Baney then honored Martha with the Board's Award.
Homecoming Queen 2012 Robin Kradles, garbed first as a flight attendant, before morphing into the Monarch, crown and all, that we know and love, kicked off a short show by the 'Mile High Performers' by singing "Come Fly with Me."  Bella's song, with dance, was a bilingual "Questo Amore"/"It's Amore," and fierce Folies Bergère girl Demi-Tasse's was "C'est Magnifique."  Philomena modeled a pink dress from "Bridesmaids," donated by Australian actress Rebel Wilson for auction by APCG, to assist in saving the Cherry Grove Community House, which was sold to Margo for $400, whereupon Toni Cesta made a spontaneous, winning bid of $300 for Panzi's glittery cape.  Gefil Tefish, who played Miss Japan in Panzi and Philomena's beauty pageant-inspired 2003 APCG show "There She Is," entered in her kimono, which she soon doffed for a 'little Dutch girl' look, to deliver "Dance 10, Looks 3."
The climax of the evening was a costume contest, judged by Michael Peskoff, Michael Abdis, Ellen Biggers, Bill Ottignon, and Dr. Anna Tirado, with prizes going to the "Not-So-Ugly Americans," a tourist duo, for Most Professional Traveler; "James Bond, Polo Playboy, and Crazy Investor," Michael Vincent and company, for Top Fashionista; a sextet, complete with airplane, called "Bunny Air," comprising Coco and Lola, in Playboy Bunny ears and costumes, with Frank Borsas, James Chapski, Jane Haber, and Toni, for Most Fabulous Jet Setter; the "Cherry Krishnas," a large contingent in saffron robes, with tambourines and flowers, organized by Sue Panzer and including New York Emperor-Elect Wendy Lewis and APCG Board Member Kathy Morroni, for Most Lively; and Bob Younger, as a hunter, winning the 'What Were You Thinking?' Award.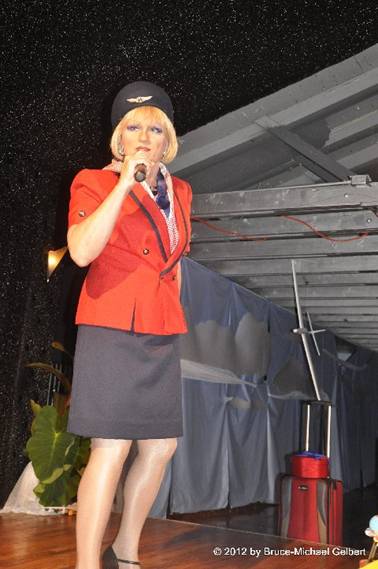 Robin Kradles sings "Come Fly with Me":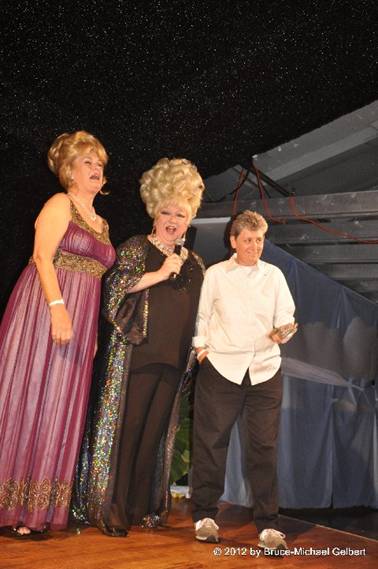 Martha Pitkin & Panzi & APCG Community Service Award winner
 Francine Sardone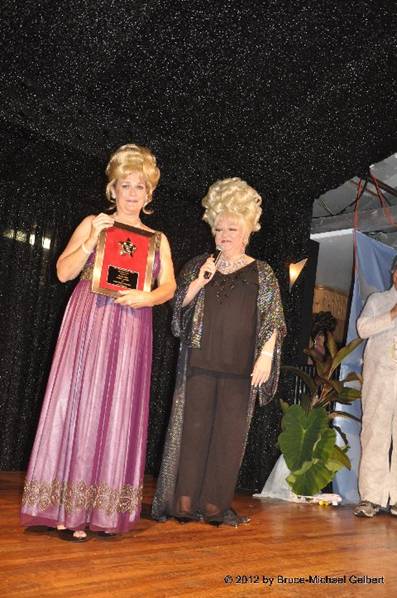 Martha, with Board of Directors' Award, & Panzi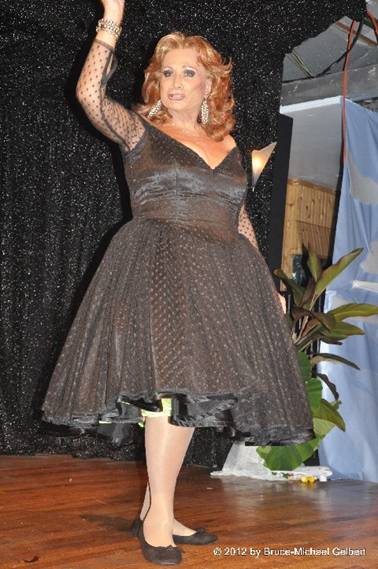 Bella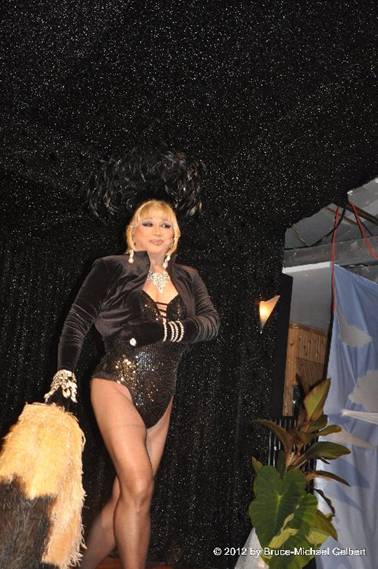 Demi-Tasse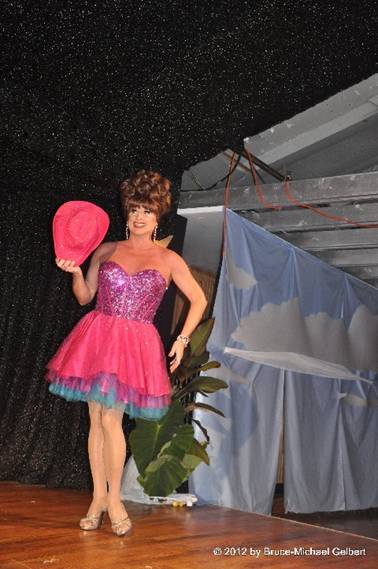 Philomena models Rebel Wilson's "Bridesmaids" dress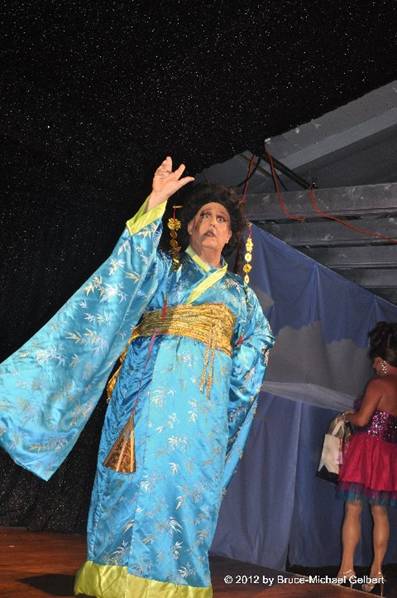 Gefil Tefish
the original Jets setter
Cherry Grove Airline stewardesses
flight attendants & friends
Bunny Air makes an entrance (left to right) Frank, Lola, Jane, Coco, James & Toni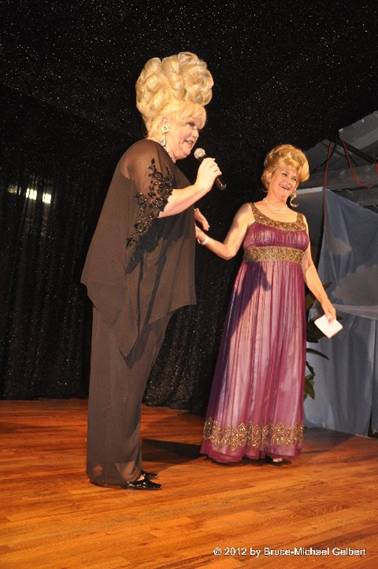 Incoming APCG President Thom "Panzi" Hansen &
departing APCG President Martha Pitkin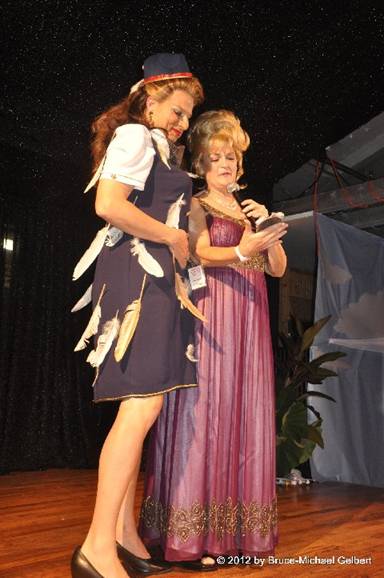 YaNeeda Dunes gets APCG Community Service Award from Martha Pitkin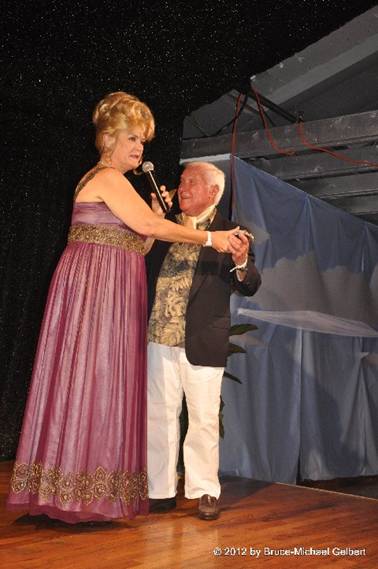 Mel Rock gets APCG Community Service Award from Martha Pitkin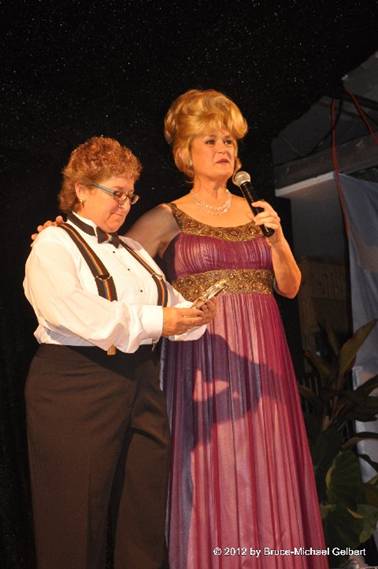 Sharon Weinberg gets APCG Community Service Award
 from Martha Pitkin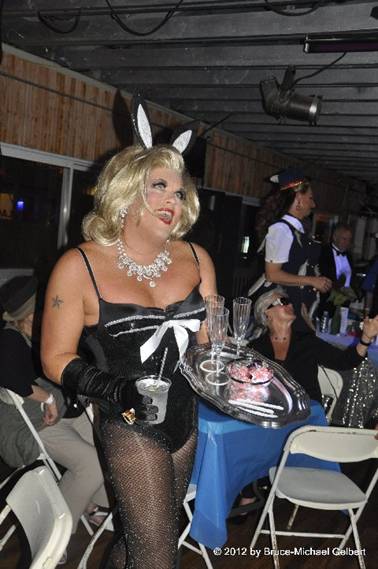 Bunny Air's Coco Love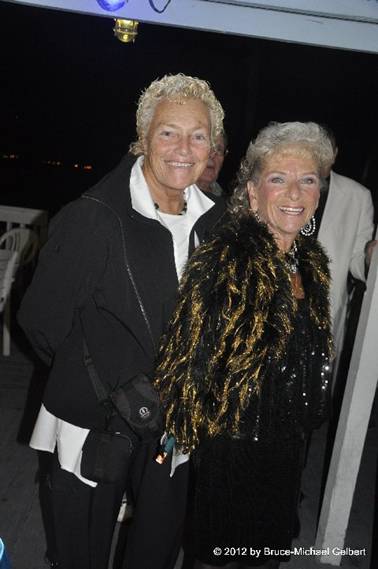 photographer Lorraine Michels with Joyce Rodgers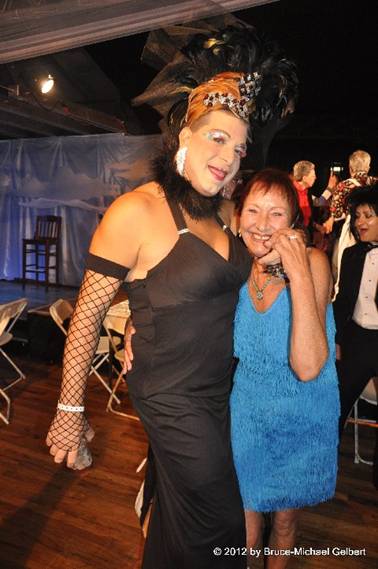 Ann Phetamine & Hazel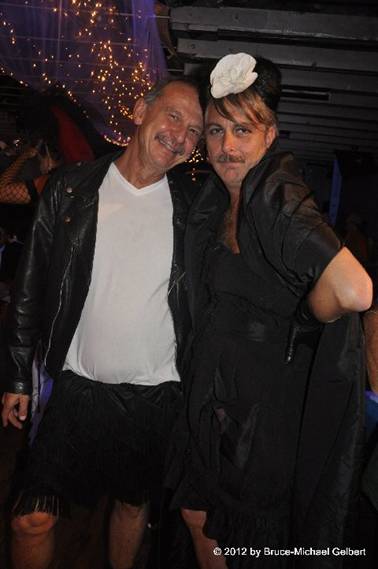 Ken & Marc
Ellen Biggers & Martha Pitkin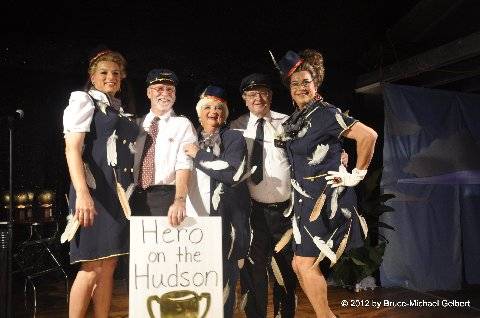 Captain Scully, Hero of the Hudson, & his crew: YaNeeda, Bud,
Eileen & Chris, & Beach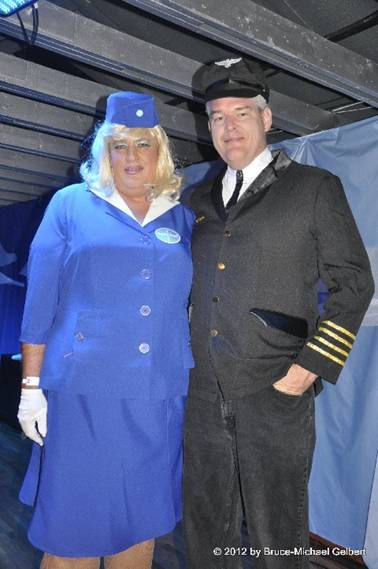 Curtis & Jack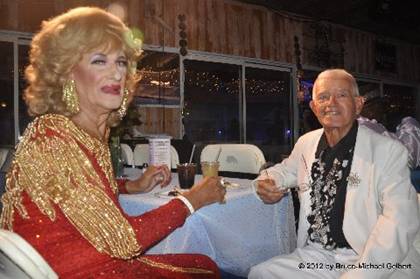 Cobra & Victor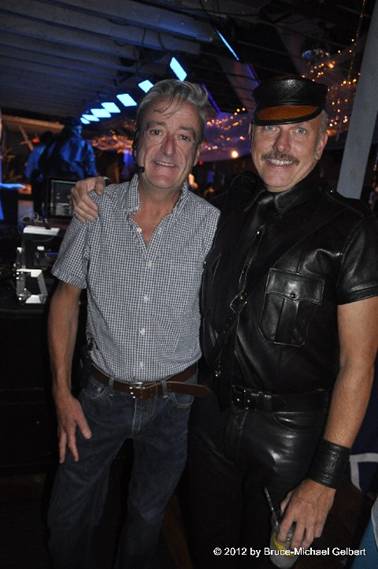 DJ RDK (Richard Kennedy) & Mr. Fire Island Leather 2012 Mark Nayden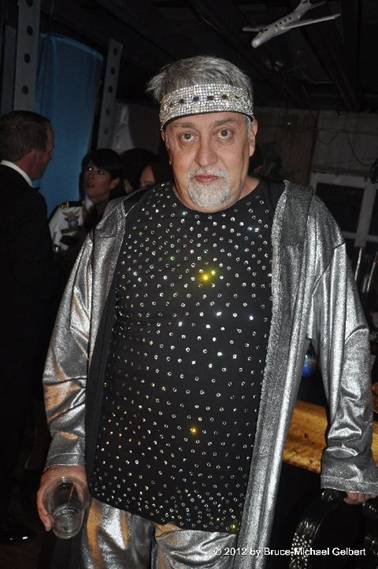 Baron Bulgari AKA Gilbert Baker, creator of the Rainbow Flag
Demi-Tasse & Bella:
the Cherry Krishnas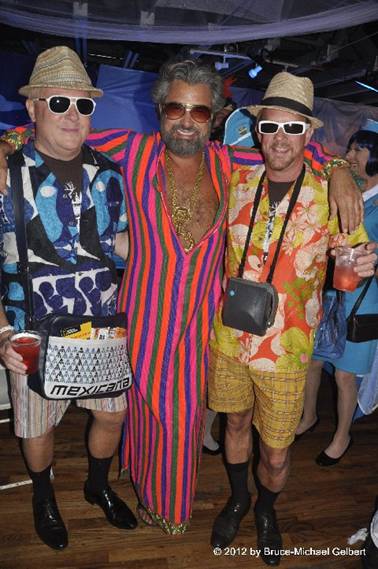 the Not-So-Ugly Americans, flanking Steven Love, the glamorous Jesus

Roger AKA Seppuku: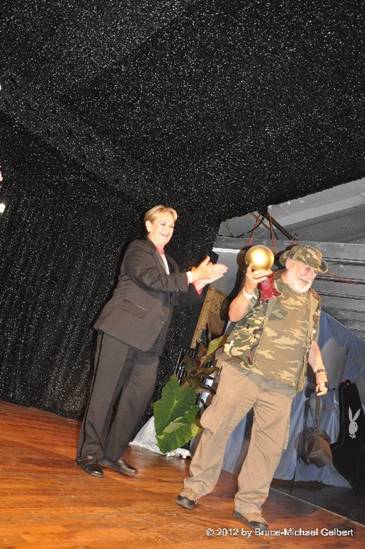 Martha Pitkin gives What Were You Thinking? Award to Bob Younger

Bunny Air's Coco, Frank, Lola & James with Most Fabulous Jet Setter prize

Cherry Krishnas with Most Lively prize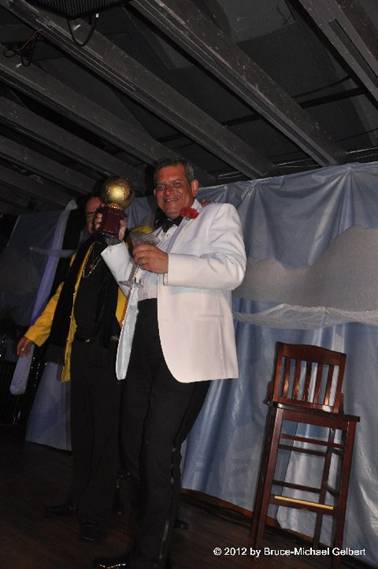 Michael Vincent, as James Bond, with Top Fashionista prize
Michael Vincent, as James Bond, with Top Fashionista prize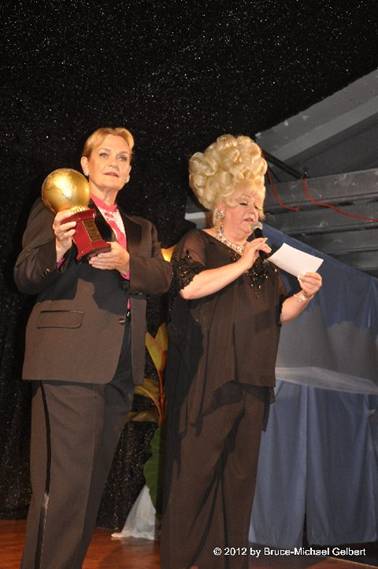 Martha, holding costume contest prize, with Panzi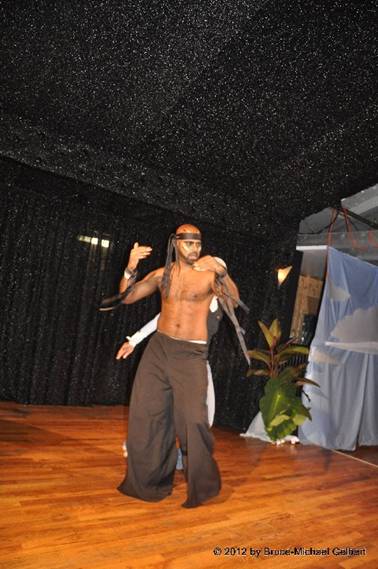 Roger, dancing at the Ball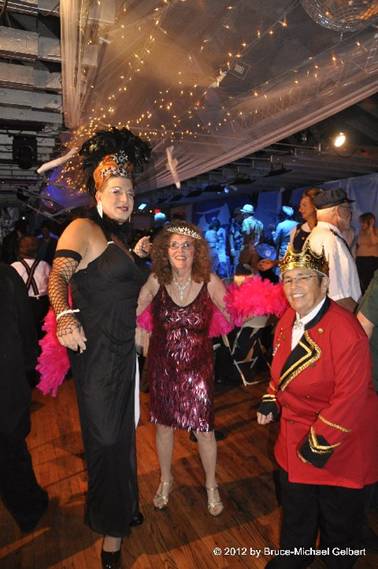 Ann Phetamine, Lady Baba (Barbara Hirsch) & Duke of Earl (Linda Dickerman)
Note:  Fire Island Sun thanks APCG outgoing President Martha Pitkin for her year of outstanding service and congratulates Panzi as the new president
                                       Jeannie Lieberman, Publisher